James Cole Talks Jeff Sessions And Marijuana Legalization
Former Deputy Attorney General James Cole wasn't especially surprised when he learned earlier this year that Attorney General Jeff Sessions rescinded his 2013 landmark namesake memo that provided guidance to U.S. attorneys on marijuana enforcement priorities. But he's also skeptical that the policy regression will stand the test of time.
In a phone interview with Marijuana Moment, Cole discussed how the memo came to fruition (he conversed with President Barack Obama during the drafting, but declined to comment on the substance of those conversations), the future of cannabis policy in the United States and how, contrary to Sessions's past statements, good people do smoke marijuana.
Cole, who will be a keynote speaker at the National Cannabis Industry Association's Cannabis Business Summit & Expo later this month, is currently a partner at the law firm Sidley Austin LLP.
This interview has been lightly edited for length and clarity. 
Marijuana Moment: Can you describe your reaction after hearing that Jeff Sessions rescinded your memo?
James Cole: I was not completely surprised. Certainly, the attorney general had expressed his views about marijuana and the marijuana industry. He had also, however, expressed views that he thought that the memo did a pretty good job of trying to rectify and regulate a difficult area because of the legal complications of it.
As to his reasons that it was unnecessary, I didn't agree with that. I thought that, in fact, it was necessary. My concern in drafting the memo was public safety and trying to make sure that, accepting the fact that marijuana was going to be used on an increasing basis based on the resolutions in the states, you wanted to keep the cartels and the gangs out of it. And the best way to do that was by providing a regulatory scheme that would allow legitimate businesses that are well-regulated to exist so they can comply with the law, so that any revenue that may be generated can be brought into the state coffers, so that the enforcement of the regulations can be funded.
It just seemed to me that certainty being the hallmark of any business,  the uniformity of the policy throughout the United States was a necessary element. Right now you've got 93 different U.S. attorneys who are given the discretion to decide what to do, and that does not bring certainty or uniformity. Whether there will be a change of enforcement activity, I don't know. There's certainly a change in policy and there's certainly less comfort in the industry about what to do.
MM: On that last point, it doesn't appear that there's been a lot of eagerness on the part of federal prosecutors to crack down on the legal marijuana industry since the memo was rescinded. What do you make of that?
JC: I think some of it is a political reality. In the states that have legalized marijuana, obviously U.S. attorneys—although a lot of them are not permanently appointed, many are just acting at this point—they are political creatures. They are politically appointed in one form or another, and many times they look at being a U.S. attorney as a political stepping stone. So I think they're responsive to what the political will is in the states where they reside. 
That's one of the realities that really enters into the enforcement mechanism. Is this really a place to use the resources of the federal government or not? The concerns that come in that jurisdiction can be vast and wide, and you may have a U.S. attorney in one jurisdiction—one that doesn't have legalization—reaching out into a jurisdiction that does have legalization because there's some kind of jurisdiction hook. I haven't seen that yet. I don't know if that's ever going to happen, but that could be one of the concerns. At the end of the day, the rescission of the memo may prove to be more symbolic than it is substantive.
MM: When you started drafting the memo, were you having conversations about the issue with President Obama or White House staffers?
JC: Yes.
MM: Can you speak to the nature of those conversations?
JC: No, I cannot. No, I don't talk about my conversations with the president.
MM: What would you tell marijuana business owners concerned about the possibility of a federal crackdown?
JC: Obviously, in most jurisdictions, lawyers are limited in what kind of advice they can give in this space because it is illegal under federal law. So we can advise quite easily about whether or not a particular course of conduct that somebody wants to take is legal or not. We can advise on what we believe the Department of Justice enforcement policy is—it's a little less certain than it used to be. We can advise on what other laws come into play.
But ultimately, it comes down to a risk appetite for most companies that want to operate here as to whether or not they will accept a level of risk that whatever they're doing may get prosecuted with whatever comes with that—which is both the threat of fines, maybe imprisonment, perhaps forfeiture.
MM: Do you feel that federal marijuana legalization is an inevitability?
JC: I believe it is. I look at the new [congressional] legislation that's been proposed, which is, I believe, simple and straightforward. I think Congress is where the activity needs to take place. I think it is moving toward that. There's growing acceptance of it. I think it's a matter of 'when' and not 'if' at this point.
MM: Are there good people who smoke marijuana, contrary to what Sessions has said in the past?
JC: Yes, there are. There are. There are cancer patients, there are people with glaucoma, who get palliative effects from smoking marijuana. I wouldn't call them bad people. I disagree with that.
Analysis: GOP Congress Has Blocked Dozens Of Marijuana Amendments
Photo courtesy of the Department of Justice. 
Colorado Earned $423 Million In Marijuana Tax Revenue Last Year
More than $12 billion in marijuana has been sold since legalization in 2014, with the state collecting over $2 billion in taxes.
By Robert Davis, The Center Square
Colorado brought in a record $423 million in tax revenue from marijuana sales last year, according to the latest market report from the state's Department of Revenue (DOR).
In all, Colorado has sold more than $2 billion in marijuana through November 2021, making it the second consecutive year that the state has eclipsed that mark. In 2020, the state collected $387 million in taxes from the sales.
Colorado's tax revenue total also implies that the state beat its previous record of $2.1 billion in sales, though DOR said it will release the final numbers next month.
More than $12 billion in marijuana has been sold since legalization in 2014, with the state collecting over $2 billion in taxes.
🚨New record alert!🚨 In 2021, Colorado collected over $423 million in revenue from marijuana sales (compared to the previous record of over $387 million in 2020). Colorado also surpassed $2B in tax and fee revenue and $12B in marijuana sales to date. https://t.co/M5zrEiSNYR pic.twitter.com/XxpZzyV1XQ

— CO Dept. of Revenue (@CO_Revenue) January 12, 2022
Colorado collects its marijuana taxes from a 2.9 percent state sales tax on marijuana sold in stores, a 15percent state retail marijuana sales tax and a 15 percent retail marijuana excise tax on wholesale sales and transfers of marijuana. The state also collects fee revenue from marijuana license and application fees.
In December, Colorado collected more than $30 million in taxes, capping off a five-month streak of declining tax revenue.
The state also recorded more than $158 million in sales in November, with both medical and recreational marijuana showing significant declines in sales.
Colorado sold $131 million in recreational marijuana in November, an 11 percent drop when compared to October.
Similarly, November's medical marijuana sales totaled $26 million, representing a drop of more than 10 percent on a month-over-month basis.
The story was first published by The Center Square.
Delaware Lawmakers File New Marijuana Legalization Bill With Key Equity Revisions
Arizona Hits Recreational Marijuana Sales Record, With New Program Catching Up To Medical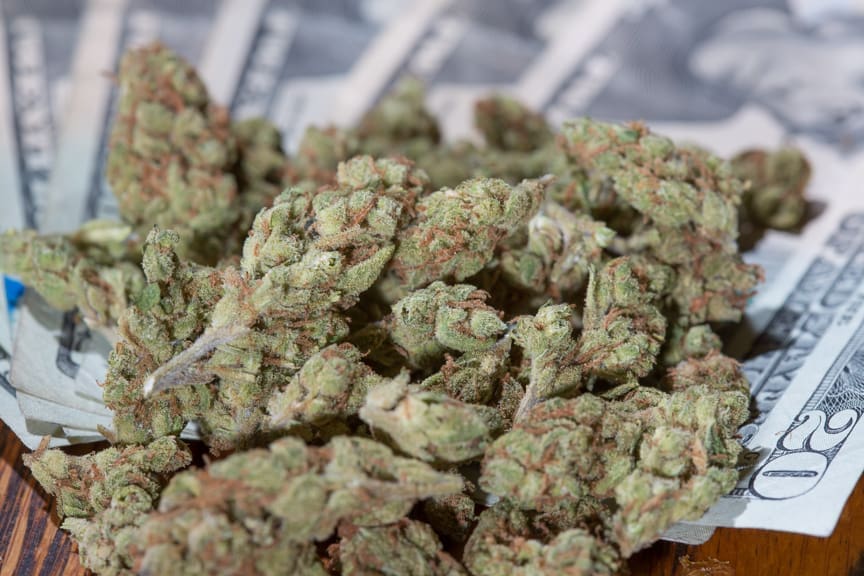 Medical cannabis sales eclipsed recreational from February through October—adult-use sales began on January 22—but in November, those numbers were almost identical.
By David Abbott, Arizona Mirror
Arizona cannabis sales continued on an upward trajectory in 2021, with the Arizona Department of Revenue reporting more than $1.23 billion in combined cannabis sales through the first 11 months of the year.
In November, adult-use recreational cannabis sales hit a new peak and crossed $60 million for the first time. Medical sales have fluctuated throughout the year, topping out at about $73 million in March and April.
Medical sales eclipsed recreational from February through October—adult-use sales began on January 22—but in November, those numbers were almost identical, with the medical program bringing in an estimated $60,365,545, while recreational sales reached $60,299,191.
In October, estimated cannabis sales for both programs were within $7 million of each other, the first time recreational sales came within $10 million of medical sales. But the adult-use market is in its infancy and is expected to match the medical program's economic heft within a few years.
Cannabis sales also provided a solid tax contribution in 2021.
TAXABLE Sales (Estimated) to date

| PERIOD COVERED | ADULT USE‐420 | MEDICAL‐ 203 | EXCISE TAX |
| --- | --- | --- | --- |
| Jan‐21 | $7,370,460 | $42,140,608 | $11,391,371 |
| Feb‐21 | $32,697,512 | $55,320,625 | $39,246,992 |
| Mar‐21 | $51,628,266 | $72,934,129 | $55,808,898 |
| Apr‐21 | $54,037,990 | $72,944,477 | $58,954,469 |
| May‐21 | $52,843,171 | $70,158,567 | $59,372,157 |
| Jun‐21 | $50,943,017 | $64,854,708 | $56,749,799 |
| Jul‐21 | $54,324,542 | $70,880,576 | $58,740,337 |
| Aug-21 | $51,877,656 | $65,492,643 | $57,675,654 |
| Sep-21 | $52,450,298 | $62,704,561 | $57,663,164 |
| Oct-21 | $59,508,253 | $65,415,461 | $62,446,719 |
| Nov-21 | $60,299,191 | $60,365,545 | $63,187,702 |
| Dec-21 | $20,922 | $591,294 | $0 |
| | $528,001,278 | $703,803,194 | $581,237,261 |
The state collects 16 percent excise tax on recreational sales in addition to the standard sales tax; medical patients pay a 6 percent excise tax. Local jurisdictions charge an additional 2 percent or so for all marijuana sales.
Taxes collected in November for recreational cannabis sales were $5,055,950, with medical slightly less at $5,026,317. The excise tax reached $10,110,032 for a total of $20,192,299 in tax revenue from November marijuana sales.
Proposition 207, which voters approved in 2020 to legalize adult use of cannabis, included specific uses for taxes collected on the recreational side. One-third is dedicated to community college and provisional community college districts; 31 percent to public safety—police, fire departments, fire districts, first responders—25 percent to the Arizona Highway User Revenue Fund and 10 percent to the justice reinvestment fund, dedicated to providing public health services, counseling, job training and other social services for communities that have been adversely affected and disproportionately impacted by marijuana arrests and criminalization.
The state collected a total of $196,447,570 in tax revenue the first 11 months of 2021 from cannabis sales, with $44,533,436 from recreational, $58,916,172 from medical and $92,997,962 from the excise tax.
This story was first published by Arizona Mirror.
Florida Marijuana Activists Pivot To 2024 For Legalization Ballot Initiative
Michigan Breaks Another Marijuana Sales Record For December, State Officials Say
Michigan closed out 2021 with another record-breaking month of adult-use marijuana sales in December, state officials say.
The state saw more than $135 million in recreational cannabis purchases and about $33 million in medical marijuana sales last month.
Andrew Brisbo, executive director of the Michigan Marijuana Regulatory Agency (MRA), said on Monday that the numbers "marked another high for the adult-use industry." The previous adult-use marijuana sales record happened in October, with about $128 million in purchases.
It's good to note that the new high is not because of increasing prices. In fact, prices in medical and adult-use continue to drop, month over month, and year over year.

Dec 2020: adult use was $350/oz & medical was $265/oz.

Dec 2021: adult-use at $185/oz & medical at $175/oz.

— Andrew Brisbo (@AndrewBrisbo) January 10, 2022
"It's good to note that the new high is not because of increasing prices," he said. "In fact, prices in medical and adult-use continue to drop, month over month, and year over year."
While December set the new record for adult-use marijuana purchases, the state saw the most combined recreational and medical cannabis sales in July, with about $171 million sold.
The latest data brings Michigan's total cannabis sales for 2021 to $1,311,951,737 for adult-use and $481,225,540 for medical marijuana. And those purchases are translating into hundreds of millions of dollars in tax revenue for the state.
About $131 million is going to a cannabis excise tax fund that supports various initiatives such as infrastructure and public education, MRA spokesman David Harns said. Another $115 million will support the state general fund.
Taxes flowing into the state of Michigan because of legalized marijuana in 2021:

$131.2 million goes to the marijuana excise fund which gets divvied up amongst local government, roads, and schools.

$115.4 million goes to the state sales tax bucket.

Almost 1/4 billion in taxes. https://t.co/kw2N4shya1

— David Harns (@DavidHarns) January 10, 2022
In nearby Illinois, December was also another record-breaking month, with $137.9 million in adult-use marijuana sales.
Last year, Illinois took in almost $100 million more in tax revenue from recreational cannabis sales than from alcohol, state data shows. And cannabis tax dollars have exceeded those for liquor every month since February.
Part of that marijuana tax revenue is actively funding equity initiatives in the state. For example, Illinois officials announced last month that applications are opening for $45 million in new grants—funded by cannabis tax dollars—that will support programs meant to reinvest in communities most harmed by the drug war.
States that have legalized cannabis have collectively garnered more than $10 billion in tax revenue since the first legal sales started in 2014, according to a report released by the Marijuana Policy Project (MPP) last week.
In Arizona, medical and adult-use marijuana sales topped $1 billion in the first ten months of the year, state tax officials said.
California collected about $817 million in adult-use marijuana tax revenue during the 2020-2021 fiscal year, state officials estimated in August. That's 55 percent more cannabis earnings for state coffers than was generated in the prior fiscal year.
A recent scientific analysis of sales data in Alaska, Colorado, Oregon and Washington State found that marijuana purchases "have increased more during the COVID-19 pandemic than in the previous two years."
In July alone, at least three states saw record-breaking sales for recreational cannabis. The same goes for Missouri's medical marijuana program.
GOP Texas Governor Says People Shouldn't Be Jailed Over Marijuana Possession, But Misstates Current Law