James Cole Talks Jeff Sessions And Marijuana Legalization
Former Deputy Attorney General James Cole wasn't especially surprised when he learned earlier this year that Attorney General Jeff Sessions rescinded his 2013 landmark namesake memo that provided guidance to U.S. attorneys on marijuana enforcement priorities. But he's also skeptical that the policy regression will stand the test of time.
In a phone interview with Marijuana Moment, Cole discussed how the memo came to fruition (he conversed with President Barack Obama during the drafting, but declined to comment on the substance of those conversations), the future of cannabis policy in the United States and how, contrary to Sessions's past statements, good people do smoke marijuana.
Cole, who will be a keynote speaker at the National Cannabis Industry Association's Cannabis Business Summit & Expo later this month, is currently a partner at the law firm Sidley Austin LLP.
This interview has been lightly edited for length and clarity. 
Marijuana Moment: Can you describe your reaction after hearing that Jeff Sessions rescinded your memo?
James Cole: I was not completely surprised. Certainly, the attorney general had expressed his views about marijuana and the marijuana industry. He had also, however, expressed views that he thought that the memo did a pretty good job of trying to rectify and regulate a difficult area because of the legal complications of it.
As to his reasons that it was unnecessary, I didn't agree with that. I thought that, in fact, it was necessary. My concern in drafting the memo was public safety and trying to make sure that, accepting the fact that marijuana was going to be used on an increasing basis based on the resolutions in the states, you wanted to keep the cartels and the gangs out of it. And the best way to do that was by providing a regulatory scheme that would allow legitimate businesses that are well-regulated to exist so they can comply with the law, so that any revenue that may be generated can be brought into the state coffers, so that the enforcement of the regulations can be funded.
It just seemed to me that certainty being the hallmark of any business,  the uniformity of the policy throughout the United States was a necessary element. Right now you've got 93 different U.S. attorneys who are given the discretion to decide what to do, and that does not bring certainty or uniformity. Whether there will be a change of enforcement activity, I don't know. There's certainly a change in policy and there's certainly less comfort in the industry about what to do.
MM: On that last point, it doesn't appear that there's been a lot of eagerness on the part of federal prosecutors to crack down on the legal marijuana industry since the memo was rescinded. What do you make of that?
JC: I think some of it is a political reality. In the states that have legalized marijuana, obviously U.S. attorneys—although a lot of them are not permanently appointed, many are just acting at this point—they are political creatures. They are politically appointed in one form or another, and many times they look at being a U.S. attorney as a political stepping stone. So I think they're responsive to what the political will is in the states where they reside. 
That's one of the realities that really enters into the enforcement mechanism. Is this really a place to use the resources of the federal government or not? The concerns that come in that jurisdiction can be vast and wide, and you may have a U.S. attorney in one jurisdiction—one that doesn't have legalization—reaching out into a jurisdiction that does have legalization because there's some kind of jurisdiction hook. I haven't seen that yet. I don't know if that's ever going to happen, but that could be one of the concerns. At the end of the day, the rescission of the memo may prove to be more symbolic than it is substantive.
MM: When you started drafting the memo, were you having conversations about the issue with President Obama or White House staffers?
JC: Yes.
MM: Can you speak to the nature of those conversations?
JC: No, I cannot. No, I don't talk about my conversations with the president.
MM: What would you tell marijuana business owners concerned about the possibility of a federal crackdown?
JC: Obviously, in most jurisdictions, lawyers are limited in what kind of advice they can give in this space because it is illegal under federal law. So we can advise quite easily about whether or not a particular course of conduct that somebody wants to take is legal or not. We can advise on what we believe the Department of Justice enforcement policy is—it's a little less certain than it used to be. We can advise on what other laws come into play.
But ultimately, it comes down to a risk appetite for most companies that want to operate here as to whether or not they will accept a level of risk that whatever they're doing may get prosecuted with whatever comes with that—which is both the threat of fines, maybe imprisonment, perhaps forfeiture.
MM: Do you feel that federal marijuana legalization is an inevitability?
JC: I believe it is. I look at the new [congressional] legislation that's been proposed, which is, I believe, simple and straightforward. I think Congress is where the activity needs to take place. I think it is moving toward that. There's growing acceptance of it. I think it's a matter of 'when' and not 'if' at this point.
MM: Are there good people who smoke marijuana, contrary to what Sessions has said in the past?
JC: Yes, there are. There are. There are cancer patients, there are people with glaucoma, who get palliative effects from smoking marijuana. I wouldn't call them bad people. I disagree with that.
Analysis: GOP Congress Has Blocked Dozens Of Marijuana Amendments
Photo courtesy of the Department of Justice. 
Number Of Banks Working With Marijuana Businesses Levels Off, Federal Data Shows
The number of banks and credit unions that service the marijuana industry largely leveled off in the last quarter, according to new federal data released late last week. And that market trend could reflect shifting expectations among financial institutions about the likelihood of Congress approving cannabis banking legislation.
While the House did eventually pass the Secure and Fair Enforcement (SAFE) Banking Act, which would shield banks that accept marijuana business clients from being penalized by federal regulators, that vote happened just five days before the end of the fourth quarter of the federal fiscal year and not prior to the summer recess weeks earlier, as had previously been expected.
Marijuana Moment first reported that a vote was imminent about two weeks prior to the House action.
It's possible that banks were waiting to see the congressional action before further servicing the market and were disappointed that the Democratic-controlled chamber did not act on the legislation before lawmakers broke for the summer break. Previous quarters have seen significant upticks in the number of banks and credit unions working with marijuana businesses, especially since the end of 2018.
But this last quarter, the Financial Crimes Enforcement Network (FinCEN) reported that 563 banks and 160 credit unions were serving cannabis companies as of September 30, compared to 553 banks and 162 credit unions at the end of the previous quarter. That's a small increase for banks and a slight dip for credit unions, signaling a shift in pace as lawmakers work to get the bipartisan banking bill to the president's desk.
But now that the House has acted, and signals point to the Senate following suit, industry watchers are bullish about getting the key reform across the finish line this Congress.
"I get the sense that people in the financial community are optimistic about the chances of cannabis banking reform happening in the near future from our work with groups like the [American Bankers Association] and [Credit Union National Association] on the SAFE Banking Act," Morgan Fox, media relations director for the National Cannabis Industry Association, told Marijuana Moment.
FinCEN also said that short-term declines in these numbers "may be explained by filers exceeding the 90 day follow-on Suspicious Activity Report (SAR) filing requirement," a process that banks are mandated to follow in accordance with 2014 cannabis banking guidance issued under the Obama administration.
"Several filers take 180 days or more to file a continuing activity report," the agency said. "After 90 days, a depository institution is no longer counted as providing banking services until a new guidance-related SAR is received."
Those caveats were also included in previous quarterly reports that had shown increases in the number of financial institutions working with the cannabis industry, however.
The latest update also contains data on the number of marijuana-related SARs that have been filed, which exceeded 100,000 for the first time as of the quarter's end. (There appears to be a mistake in the narrative of FinCEN's report, as it states the numbers reflect SARs filed by the end of June instead of September.)
FinCEN also placed the SARs in one of three categories: marijuana limited, marijuana priority and marijuana termination.
As usual, most (76,203) were considered "marijuana limited," which refers to cannabis businesses that seem to be operating in compliance with state law, and therefore meet the agency's standard for being serviceable under existing federal guidelines.
The second largest category was for "marijuana termination" SARs, or marijuana businesses that violated at least one federal enforcement priority or state regulation and so "the financial institution has decided to terminate its relationship with" the firm.
About 7,800 SARs fit the definition of "marijuana priority," which is defined as a business that "may raise one or more of the red flags" under federal guidelines, or they "may not be fully compliant with the appropriate state's regulations" and so they'd be under investigation.
Whether the leveling off trend will continue is yet to be seen. However, if the Senate does advance the SAFE Banking Act and it is enacted, advocates expect a surge in banks embracing the cannabis industry. The chair of the Senate Banking Committee has said that his panel will vote on marijuana banking legislation before the year's end, though he suggested he'd like certain changes from the House-passed version.
Head Of Nation's Only Federally Legal Marijuana Farm Develops THC Eye Drops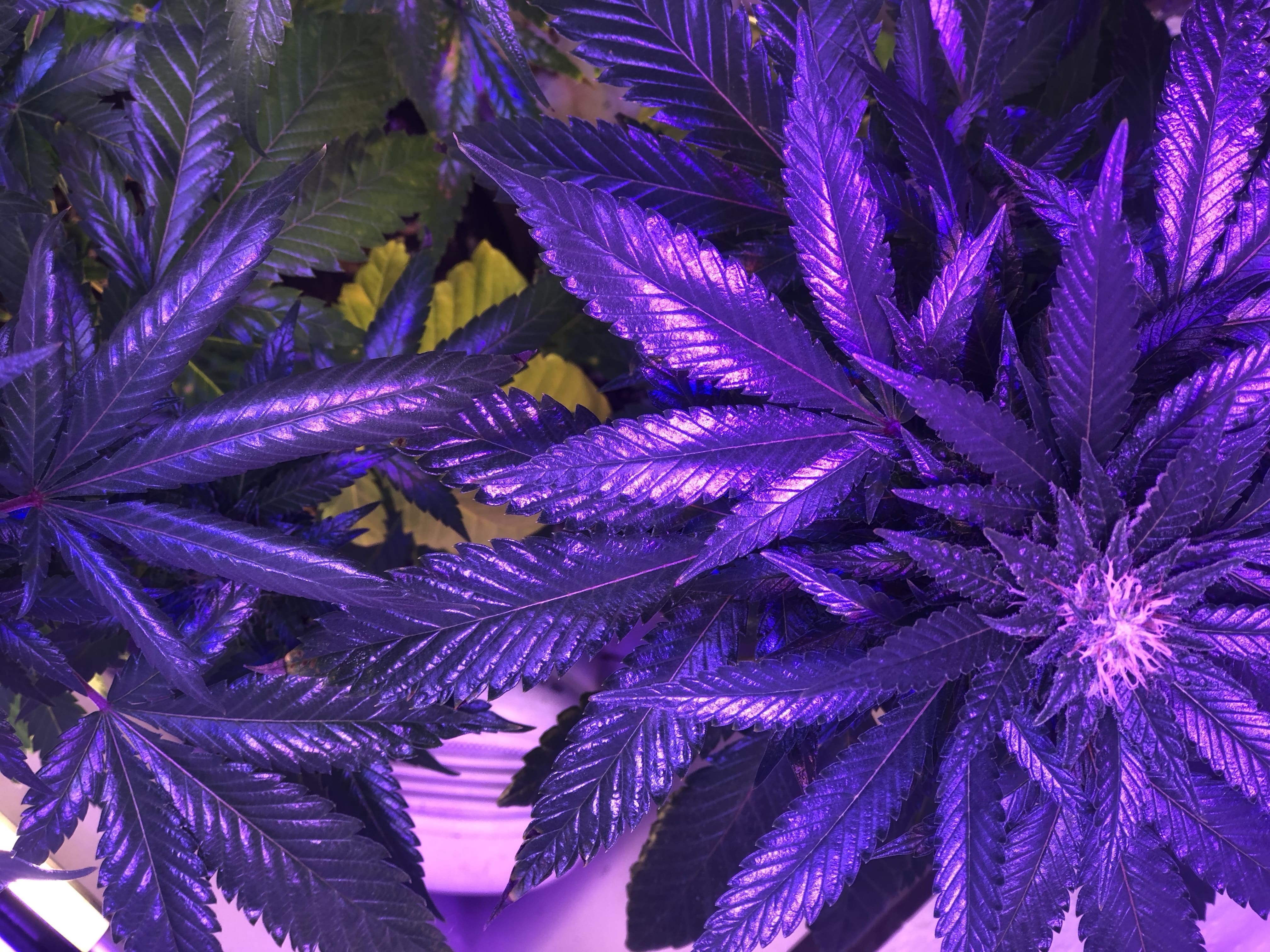 The head of the nation's only federally approved marijuana farm has revealed that he is developing cannabis eye drops to treat glaucoma.
In a podcast interview, pharmacologist Mahmoud ElSohly, director of the University of Mississippi's Marijuana Research Project, discussed the history of how an eye doctor discovered that cannabis can relieve the interocular pressure associated with glaucoma. But while the THC in the plant treated the symptoms, it also means patients experience the high.
"The best way to treat glaucoma is not to take a drug that will affect your brain, affect your ability to function, the whole rest of your body just to lower the pressure inside the eyes," ElSohly argued. "The way to do this is to develop, let's say, eye drops, eye drops from marijuana."
Both his lab and a separate, unnamed company that licensed the idea are looking into the eye drop possibility, with the company having already begun clinical trials, ElSohly said. It's a notable advancement because THC is lipophilic, acting like an oil, and so "it doesn't penetrate into the inner compartments of the eye to lower the pressure."
"Therefore, only if you take systemically—meaning if you inhale it or swallow it or something—but then you deal with all the side effects of THC," he said in the interview, which was recorded in February and published this month. "Now we're developing a pharmaceutical product, and it's been licensed by the way now, that we take the THC molecule and we modify it in a certain way to allow it to go inside the eye, and once inside, it breaks off and releases THC just in the eye to lower the pressure."
"You don't feel any psychological activity, it doesn't even get into your blood. It's all localized in the eye," he said. "We have this product now that is being licensed and being developed as an eye drop."
Listen to the conversation about the THC eye drops, which begins around 15:40, below: 
"That's the way to develop pharmaceuticals based on cannabis but not cannabis, based on marijuana but not marijuana," he added during the appearance on the podcast of anti-legalization organization National Families In Action, for which ElSohly serves as a scientific advisory board member. "That's the way to do it and develop the medicine."
The targeted treatment of glaucoma using the novel delivery method that ElSohly described is noteworthy, but it also underscores the potential for the development of other valuable treatment options derived from marijuana that's being inhibited under prohibition. One barrier that researchers and lawmakers alike have identified is the substandard quality of cannabis produced at ElSohly's farm.
Currently, the University of Mississippi is the only federally approved source of research-grade marijuana, but scientists have complained about the cannabis supply, which one study found is genetically closer to hemp than products available in state-legal markets. That raises questions about the validity of studies that rely on the government's marijuana.
The Drug Enforcement Administration said in September that it is taking steps to approve additional marijuana farms beyond ElSohly's Mississippi operation, three years after the agency initially invited applications for such facilities.
In an earlier podcast segment released in September, ElSohly made a series of remarks that some viewed as reflective of a fundamental misunderstanding of marijuana issues.
The director characterized cannabis containing eight percent THC as "extremely high potency" and expressed confusion as to why individuals would seek out varieties in the commercial market that contain "20 percent or 15 or 18 or any of those high amounts."
But ElSohly was thinking about marijuana consumption in the context of standardized clinical trials, where individuals would have to consume an entire joint in one sitting in order to compare the effects of a controlled dose with other subjects. Others have pointed out that consumers might prefer higher concentration products because they can achieve the desired effect without having to smoke as much.
Former VA Secretary Who Oversaw Marijuana Research Blockade Now Backs Cannabis Studies For Veterans
SXSW Announces Two Dozen Marijuana Panels For 2020 Festival
South by Southwest (SXSW) revealed the festival's 2020 lineup this week, and it includes 24 panels dedicated exclusively to cannabis issues.
The sessions are part of SXSW's "Cannabusiness" convergence track, which will invite attendees to learn about "the technological, cultural, financial, legal and political ecosystems that are defining the cannabis-focused enterprises of both today and tomorrow," according to a description on the event site.
In July, the Austin-based festival announced that it was soliciting panel ideas from the public. More than 150 marijuana-related panel proposals were submitted—more than double the submissions for this year's event—and SXSW invited individuals to vote on their top choices throughout August. Ultimately, 24 cannabis-focused panels made the final cut, including one that isn't in the Cannabusiness Track.
Here are some examples that stand out: 
Descheduling Cannabis: Be Careful What You Wish—Leading cannabis industry stakeholders discuss how removing cannabis from the list of federally banned substances could be destructive to the market as it exists today by allowing for a corporatized marijuana model. Panelists including The Arview Group CEO Troy Dayton will address how descheduling could "decimate the dispensary system and see the destruction of millions of dollars of investment."
Duty Bound: Why the DoD Should Embrace Cannabis—Active duty military members and veterans stand to greatly benefit from marijuana, this panel argues, by "alleviating both mental and physical traumas" while at the same time saving tax dollars. "During our panel we'll dive into the specific individual, national, and even global benefits of allowing for active duty cannabis use in the US military," a description states.
Featured Session: Cat Packer—Top Los Angeles marijuana regulator Cat Packer will talk about her role in the "licensing and regulation of commercial cannabis activity" as well as managing "the implementation of the City's cannabis related policies and programs."
Cannabis in Canada: What We've Learned—Panelists from Leafly, Spiritleaf, Tilray, 48North and Hill+Knowlton will discuss the impacts of marijuana legalization in Canada, including talks about the impact on local economies and industry innovation.
Can Social Equity Help Heal The War On Drugs?—This panel will look at the disproportionate impact of cannabis prohibition on disadvantaged communities, efforts to enact restorative justice policies and how those measures have affected the business community.
The Future of the Cannabis Industry is Colored—Another social justice-focused panel, this event will look at actionable things that people can do to ensure that the legal marijuana market is equitable. "The right and just thing to do for racially equity industry is also the profitable thing to do in business," a description of the panel states. Kris Krane of 4Front Investments, Simply Pure CEO Wanda James and representatives of the People's Dispensary will participate.
Frenemies: Cannabis Activists & Cannabis Industry—Krane, who also previous served as executive director of Students for Sensible Drug Policy (SSDP), will also lead a session that explores the complicated relationship between the reform advocacy world and the marijuana industry. He will take a "deep dive into this relationship, examining how the two can support each other, where they clash" and why he thinks "the industry is obligated to support the drug policy reform movement."
Boutique Cannabis Needs Appellations—Individuals fighting to get a designation for cannabis products that reflect where they were produced will discuss the importance of the business move.
Forbidden Territories: Women & Children First!—This panel will focus on the use of cannabis in the treatment of conditions that afflict women and children. "This session will explore this taboo topic, explore the science that supports the use of cannabis for these populations as well as what we as physicians have learned from our patients about cannabis."
Hemp: Game Changers—Representatives from Canopy Growth, Vincente Sederberg LLP and outdoor apparel company Patagonia will discuss marijuana's non-intoxicating cousin, hemp, as part of a panel centered on the "rapidly evolving new industry."
Is Cannabis Media Coverage Fair or Biased?—Panelists including Business Insider reporter Jeremy Berke and Rolling Stone contributor Amanda Chicago Lewis will look at the media landscape for marijuana coverage. "They'll delve into how media coverage has changed for cannabis companies and discuss the high bar companies need to achieve to gain media attention," as well as addressing "how misinformation persists and how the careful art of semantics—such as using the word dope vs. cannabis—changes reader perceptions."
Marijuana Today: Live Podcast Recording—The weekly podcast Marijuana Today will record live for a segment that "will focus on the status of efforts to reform federal law and to promote equity in the cannabis industry." SSDP Executive Director Betty Aldworth will participate in the event.
Medical Cannabis: From Rogue to Recovery to Riches—A Texas state senator will join a panel to discuss the evolution of the cannabis reform movement as well as future "business and social opportunities" for the industry. The panel of "government, medical and family activists will uncover the unexpected alliances formed—and strategies for collaboration for commercial success in a complex marketplace."
Navigating an Emerging Cannabis Beverage Market—While federal regulators are playing catchup, a market for cannabis-infused beverages has exploded. This panel will explore the business and "share insights and lessons learned as they navigate the rapidly changing landscape in hopes of bringing world-class cannabis beverages to market."
"Cannabusiness Track includes content that will appeal to more experienced professionals in this rapidly evolving industry, as well as to newcomers who are just starting to enter this space," SXSW said.
At this year's SXSW event, in March, social equity activists protested an appearance by former House Speaker John Boehner (R-OH), who opposed legalization while in Congress but now sits on the board of a large cannabis company.
Michael J. Fox Parkinson's Foundation Urges Congress To Pass Three Marijuana Research Bills
Photo courtesy of Mike Latimer.