James Cole Talks Jeff Sessions And Marijuana Legalization
Former Deputy Attorney General James Cole wasn't especially surprised when he learned earlier this year that Attorney General Jeff Sessions rescinded his 2013 landmark namesake memo that provided guidance to U.S. attorneys on marijuana enforcement priorities. But he's also skeptical that the policy regression will stand the test of time.
In a phone interview with Marijuana Moment, Cole discussed how the memo came to fruition (he conversed with President Barack Obama during the drafting, but declined to comment on the substance of those conversations), the future of cannabis policy in the United States and how, contrary to Sessions's past statements, good people do smoke marijuana.
Cole, who will be a keynote speaker at the National Cannabis Industry Association's Cannabis Business Summit & Expo later this month, is currently a partner at the law firm Sidley Austin LLP.
This interview has been lightly edited for length and clarity. 
Marijuana Moment: Can you describe your reaction after hearing that Jeff Sessions rescinded your memo?
James Cole: I was not completely surprised. Certainly, the attorney general had expressed his views about marijuana and the marijuana industry. He had also, however, expressed views that he thought that the memo did a pretty good job of trying to rectify and regulate a difficult area because of the legal complications of it.
As to his reasons that it was unnecessary, I didn't agree with that. I thought that, in fact, it was necessary. My concern in drafting the memo was public safety and trying to make sure that, accepting the fact that marijuana was going to be used on an increasing basis based on the resolutions in the states, you wanted to keep the cartels and the gangs out of it. And the best way to do that was by providing a regulatory scheme that would allow legitimate businesses that are well-regulated to exist so they can comply with the law, so that any revenue that may be generated can be brought into the state coffers, so that the enforcement of the regulations can be funded.
It just seemed to me that certainty being the hallmark of any business,  the uniformity of the policy throughout the United States was a necessary element. Right now you've got 93 different U.S. attorneys who are given the discretion to decide what to do, and that does not bring certainty or uniformity. Whether there will be a change of enforcement activity, I don't know. There's certainly a change in policy and there's certainly less comfort in the industry about what to do.
MM: On that last point, it doesn't appear that there's been a lot of eagerness on the part of federal prosecutors to crack down on the legal marijuana industry since the memo was rescinded. What do you make of that?
JC: I think some of it is a political reality. In the states that have legalized marijuana, obviously U.S. attorneys—although a lot of them are not permanently appointed, many are just acting at this point—they are political creatures. They are politically appointed in one form or another, and many times they look at being a U.S. attorney as a political stepping stone. So I think they're responsive to what the political will is in the states where they reside. 
That's one of the realities that really enters into the enforcement mechanism. Is this really a place to use the resources of the federal government or not? The concerns that come in that jurisdiction can be vast and wide, and you may have a U.S. attorney in one jurisdiction—one that doesn't have legalization—reaching out into a jurisdiction that does have legalization because there's some kind of jurisdiction hook. I haven't seen that yet. I don't know if that's ever going to happen, but that could be one of the concerns. At the end of the day, the rescission of the memo may prove to be more symbolic than it is substantive.
MM: When you started drafting the memo, were you having conversations about the issue with President Obama or White House staffers?
JC: Yes.
MM: Can you speak to the nature of those conversations?
JC: No, I cannot. No, I don't talk about my conversations with the president.
MM: What would you tell marijuana business owners concerned about the possibility of a federal crackdown?
JC: Obviously, in most jurisdictions, lawyers are limited in what kind of advice they can give in this space because it is illegal under federal law. So we can advise quite easily about whether or not a particular course of conduct that somebody wants to take is legal or not. We can advise on what we believe the Department of Justice enforcement policy is—it's a little less certain than it used to be. We can advise on what other laws come into play.
But ultimately, it comes down to a risk appetite for most companies that want to operate here as to whether or not they will accept a level of risk that whatever they're doing may get prosecuted with whatever comes with that—which is both the threat of fines, maybe imprisonment, perhaps forfeiture.
MM: Do you feel that federal marijuana legalization is an inevitability?
JC: I believe it is. I look at the new [congressional] legislation that's been proposed, which is, I believe, simple and straightforward. I think Congress is where the activity needs to take place. I think it is moving toward that. There's growing acceptance of it. I think it's a matter of 'when' and not 'if' at this point.
MM: Are there good people who smoke marijuana, contrary to what Sessions has said in the past?
JC: Yes, there are. There are. There are cancer patients, there are people with glaucoma, who get palliative effects from smoking marijuana. I wouldn't call them bad people. I disagree with that.
Analysis: GOP Congress Has Blocked Dozens Of Marijuana Amendments
Photo courtesy of the Department of Justice. 
Major Alcohol Association Endorses States' Rights To Legalize Marijuana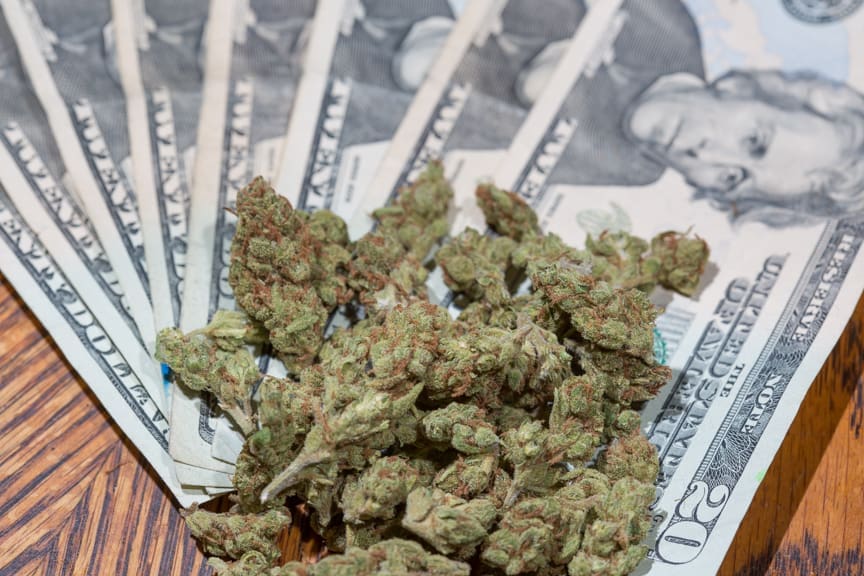 For the first time ever, a major alcohol association has come out in support of ending federal marijuana prohibition so that states can legalize cannabis without interference.
The Wine & Spirits Wholesalers of America (WSWA) announced "an official policy position in favor of a state's right to establish a legal, well-regulated, adult-use cannabis marketplace," in a press release on Thursday.
Today, we became the first and only beverage alcohol association to announce our position in favor of a state's right to establish a legal, well-regulated, adult-use #cannabis marketplace. Read our full statement: https://t.co/0rHHN3aEzU

— WSWA (@WSWAMedia) July 13, 2018
The announcement represented a significant departure from the association's past statements on marijuana reform. Just two years ago, WSWA said in a sponsored advertisement that it was "neutral on the issue of legalization," going on to caution congressional officials about the "dangers associated with the abuse and misuse of marijuana," including drug-impaired driving.
Now the alcohol trade group is singing a different tune.
"The legal cannabis market continues to expand in the United States, generating $7.2 billion in economic activity in 2016," Thursday's press release reads. "WSWA believes that, similar to alcohol, the federal government should give states the power to legalize cannabis, but should ensure they meet an appropriate regulatory threshold."
"Eight decades ago, Americans acknowledged that the Prohibition of alcohol was a failed policy. The state-based system of regulation, adopted after Prohibition, created a U.S. beverage alcohol market that is the safest, most competitive and best regulated in the world." — WSWA Acting Executive Vice President for External Affairs Dawson Hobbs
WSWA went on to outline 13 policies it recommended for states that legalize recreational marijuana.
A minimum age of 21 for purchase, possession and use, along with penalties for providing cannabis to minors;
Establishment of Driving Under the Influence impaired driving standards;
Licensing of producers, processors, distributors and retailers; Policies to prevent vertical monopoly/integration;
Hours and days of sale parity with beverage alcohol;
Tax collection and enforcement; Measures to prevent diversion of cannabis to other states;
Restrictions on sale/common carrier delivery;
Labeling requirements that include potency and health requirements;
Testing of formulas to ensure product purity and consistency;
Advertising restrictions designed to discourage underage access and promote responsible consumption;
Restrictions on health claims on packaging;
Establishment of a designated agency overseeing cannabis industry regulation in each state;
Penalties for licensee violations on par with the state's alcohol regulations;
and Regulations that ensure all products in market can be tracked/traced to source processor/producer.
So what changed from two years ago?
While the group's sudden embrace of local cannabis legalization efforts might strike some as odd given the intrinsic, competitive dynamic that's developed between alcohol and marijuana interests, one aspect of the press release reveals how the broader booze industry could stand to profit:
"Legalization should include regulations that set age restrictions on buyers, as well as license and regulate the supply chain of cannabis, including growers, distributors, retailers and testing laboratories." [Emphasis added.]
In other words, marijuana legalization might take a bite out of alcohol sales—as recent studies have shown—but the cannabis industry has diverse roles for various players to fill. Ancillary operators such as distributors now working under the current three-tier model for alcohol could be used in states with legal, regulated marijuana markets.
Hobbs denied that the association was trying to help the alcohol industry cash in on legal cannabis during an interview with Fox Business on Thursday.
"No, what we're talking about is just creating a pathway for states to have federal recognition of legalization by enacting appropriate regulation that creates a safe and reliable marketplace," Hobbs argued. He also said that the association wouldn't be lobbying Attorney General Jeff Sessions to take action on federal marijuana policy, but rather the group's focus would be on Congress.
Marijuana Moment reached out to WSWA for comment, but a representative was not immediately available.
What remains to be seen is whether other alcohol associations will follow suit. After all, a handful of alcohol interests, including the Arizona Wine and Spirits Wholesale Association and the Boston Beer Company donated to campaigns opposing legalization efforts during the 2016 election.
With this latest development from a major alcohol association, it seems the industry is conceding: If you can't beat 'em, join 'em.
Another encouraging signal of cannabis becoming ever more established and mainstream. https://t.co/uJtNBiTd9k

— Earl Blumenauer (@repblumenauer) July 14, 2018
Cuomo Administration Report Backs Marijuana Legalization In New York
Congress Could Vote On These Marijuana Amendments Next Week (Unless GOP Blocks Them Again)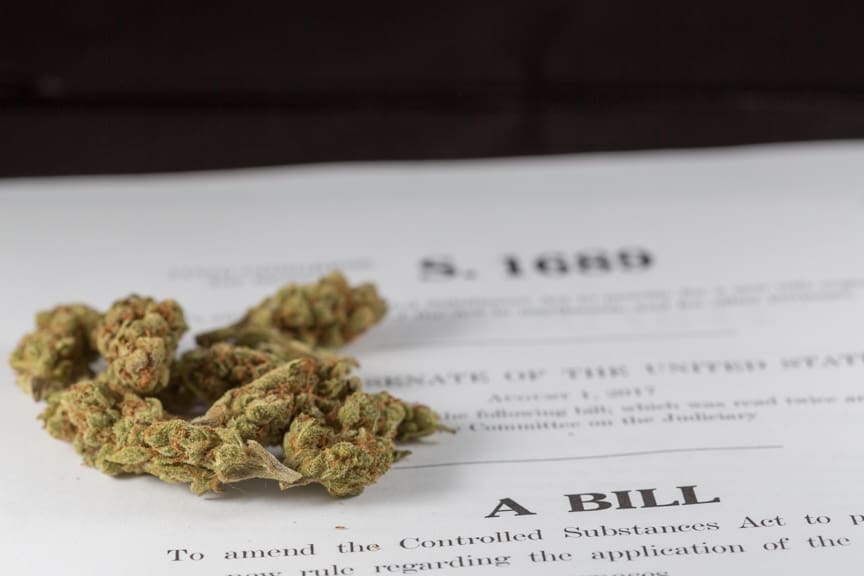 The U.S. House of Representatives could vote next week on amendments that would let marijuana businesses access banks and allow the city of Washington, D.C. to spend its own money on legalizing and regulating recreational cannabis sales.
That's if Republican leaders don't block their colleagues from even being able to consider the measures on the floor.
The House Rules Committee, led by ardent prohibitionist Chairman Pete Sessions (R-TX) has already stymied nearly three dozen cannabis amendments from advancing during the current Congress, as shown by a Marijuana Moment analysis earlier this week. Exactly zero marijuana-related measures have been cleared by GOP leaders for floor votes since the summer of 2016.
Analysis: GOP Congress Has Blocked Dozens Of Marijuana Amendments
But that hasn't stopped a growing bipartisan list of lawmakers who support cannabis law reform from continuing to try.
The two newly proposed amendments on banking and D.C. are being offered to a large-scale bill to fund parts of the federal government for Fiscal Year 2019. The legislation is expected to be considered by the Rules Committee next week before being sent to the floor.
The pending D.C. measure would allow the city to expand on its current voter-approved law that allows adults to legally use, possess and grow small amounts of marijuana. An ongoing federal appropriations rider has prevented officials from adding a system of taxed and regulated cannabis sales.
The amendment, filed by Rep. Eleanor Holmes Norton (D-DC), with the support of Reps. Dana Rohrabacher (R-CA), Barbara Lee (D-CA) and Earl Blumenauer (D-OR), would strip the marijuana regulation ban from the budget bill so the city could spend its own money enacting whatever cannabis laws it sees fit.
"I will expose any Member who interferes in D.C.'s local affairs so their constituents see them focusing on our business instead of theirs by trying to force a vote on the House floor on each and every anti-home-rule rider," Norton said in a press release that also addressed other measures she filed to beat back congressional interference in the district's lawmaking processes.
The second new cannabis amendment would prevent federal regulators from punishing a bank "solely because the institution provides financial services to an entity that is a manufacturer, producer, or a person that participates in any business or organized activity that involves handling marijuana or marijuana products and engages in such activity pursuant to a law established by a State or a unit of local government."
Similar amendments to let cannabis businesses access banks were defeated in by House and Senate Appropriations committees last month.
A marijuana banking measure was approved on the House floor in 2014 by a margin of 231 to 192, but its language was not included in final enacted legislation that year.
The current amendment is sponsored by Rep. Denny Heck (D-WA), along with Rohrabacher, Blumenauer, Lee, and Norton. They are joined by Reps. Ed Perlmutter (D-CO), Jared Polis (D-CO), Dina Titus (D-NV), Don Young (R-AK), Jacky Rosen (D-NV), Jason Lewis (R-MN), Matt Gaetz (R-FL), Tom McClintock (R-CA), Jared Huffman (D-CA), Chellie Pingree (D-ME), Betty McCollum (D-MN) and Tulsi Gabbard (D-HI).
That is by far the most cosponsors of any of the 229 amendments filed on the pending FY2019 funding bill so far.
Proud to join my colleague @RepDennyHeck on an amendment to the Financial Services Approps Bill to protect financial institutions working with legally-operating cannabis businesses. This is important for hundreds of businesses in Nevada. https://t.co/ju7DKvltJG

— Dina Titus (@repdinatitus) July 11, 2018
But huge bipartisan cosponsor lists haven't prevented Pete Sessions and the Rules Committee from preventing floor votes on cannabis measures for the past several years. It remains to be seen if this time will be different.
Readers who support Marijuana Moment on Patreon can read the full text of the newly proposed cannabis amendments below:
Cuomo Encourages Banks To Work With Medical Marijuana And Hemp Businesses
Banks in New York should feel free to open accounts for medical marijuana and hemp business without fear of being punished by state regulators, Gov. Andrew Cuomo's administration said on Tuesday.
Despite the fact that a growing number of states are moving to allow medical cannabis or recreational marijuana, its use, production and sales remain illegal under federal law. And that means that many banks refrain from serving related businesses out of fear of running afoul of federal money laundering and drug laws.
"These limitations create unique burdens for legal marijuana businesses," the New York Department of Financial Services said in a new guidance document. "For example, companies pay employees with envelopes of cash, carry bags containing thousands of dollars to purchase money orders, and some pay taxes in cash. It also has been reported that some businesses have opened bank accounts through holding companies or use of personal bank accounts."
"Forcing medical marijuana and industrial hemp businesses to operate solely with cash creates a public safety issue, as cash intensive businesses and their suppliers, employees and customers become targets for criminals. Large amounts of cash distributed outside the regulated banking system is unacceptable and creates risks to the companies, and their employees and business partners. Further, large scale cash operations impede tracking funds for tax and anti-money laundering purposes. None of this is necessary."
"Positions taken by the federal government are only exacerbating these problems, rather than remedying them. New York must act."
In the new document, state regulators say that the state "will not impose any regulatory action on any New York State chartered bank or credit union solely for establishing a banking relationship with a medical marijuana-related business that operates a compliant business in New York, as long as the New York State chartered bank or credit union complies with the requirements of" Obama-era Justice and Treasury Department memos intended to discourage federal interference in state cannabis laws.
Similar guidance is provided in the memo for banks working with hemp businesses that operate in accordance with relevant state and federal laws.
The move by New York officials is likely to be welcomed by the cannabis industry and financial services providers, but it is unclear whether it will actually encourage additional banks to work with marijuana businesses. That's because Cuomo's administration has no power to amend federal law, which remains unchanged, for now.
"The ability to establish a banking relationship is a challenge that legal industries face unlike no other," Cuomo, a Democrat, said in a press release. "As the federal government continues to sow discord surrounding the medical marijuana and industrial hemp businesses, New York has made significant progress in creating a supportive economic development and regulatory landscape for these companies."
U.S. House and Senate committees last month rejected amendments to allow banks to serve cannabis businesses without being punished by federal regulators.
The new 10-page guidance document says several times that the state "encourages" banks to begin working with medical marijuana and hemp businesses.
Federal data shows that a growing number of financial institutions are working with marijuana growers, processors and retailers despite federal uncertainty.
The move comes as Cuomo's health department prepares to release a report endorsing broader legalization of marijuana, something that governor once vigorously opposed but now seems more open to in light of a primary challenge from anti-prohibition advocate Cynthia Nixon.
The state Democratic Party called for marijuana legalization at its convention in May.
Top New York Health Official Embraces Marijuana Legalization
Photo courtesy of Zack Seward.