Congress Could Vote On These Marijuana Amendments Next Week (Unless GOP Blocks Them Again)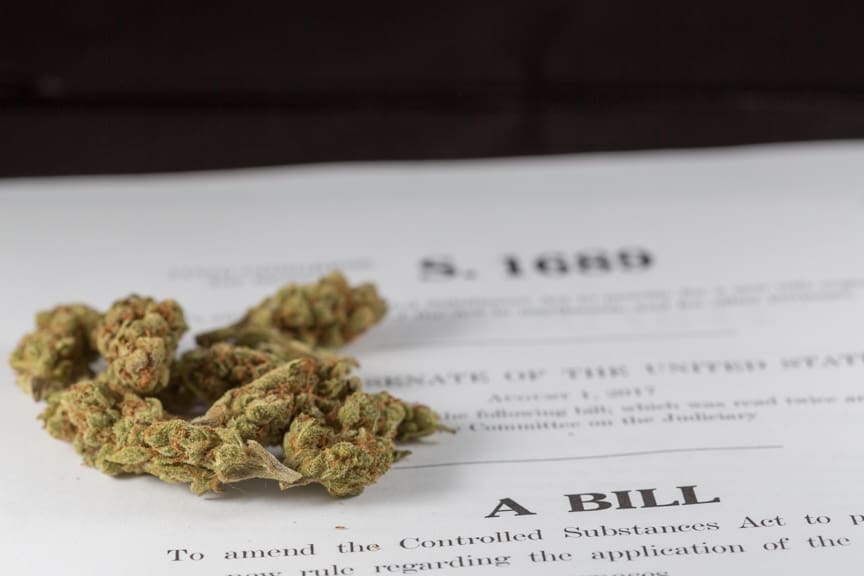 The U.S. House of Representatives could vote next week on amendments that would let marijuana businesses access banks and allow the city of Washington, D.C. to spend its own money on legalizing and regulating recreational cannabis sales.
That's if Republican leaders don't block their colleagues from even being able to consider the measures on the floor.
The House Rules Committee, led by ardent prohibitionist Chairman Pete Sessions (R-TX) has already stymied nearly three dozen cannabis amendments from advancing during the current Congress, as shown by a Marijuana Moment analysis earlier this week. Exactly zero marijuana-related measures have been cleared by GOP leaders for floor votes since the summer of 2016.
Analysis: GOP Congress Has Blocked Dozens Of Marijuana Amendments
But that hasn't stopped a growing bipartisan list of lawmakers who support cannabis law reform from continuing to try.
The two newly proposed amendments on banking and D.C. are being offered to a large-scale bill to fund parts of the federal government for Fiscal Year 2019. The legislation is expected to be considered by the Rules Committee next week before being sent to the floor.
The pending D.C. measure would allow the city to expand on its current voter-approved law that allows adults to legally use, possess and grow small amounts of marijuana. An ongoing federal appropriations rider has prevented officials from adding a system of taxed and regulated cannabis sales.
The amendment, filed by Rep. Eleanor Holmes Norton (D-DC), with the support of Reps. Dana Rohrabacher (R-CA), Barbara Lee (D-CA) and Earl Blumenauer (D-OR), would strip the marijuana regulation ban from the budget bill so the city could spend its own money enacting whatever cannabis laws it sees fit.
"I will expose any Member who interferes in D.C.'s local affairs so their constituents see them focusing on our business instead of theirs by trying to force a vote on the House floor on each and every anti-home-rule rider," Norton said in a press release that also addressed other measures she filed to beat back congressional interference in the district's lawmaking processes.
The second new cannabis amendment would prevent federal regulators from punishing a bank "solely because the institution provides financial services to an entity that is a manufacturer, producer, or a person that participates in any business or organized activity that involves handling marijuana or marijuana products and engages in such activity pursuant to a law established by a State or a unit of local government."
Similar amendments to let cannabis businesses access banks were defeated in by House and Senate Appropriations committees last month.
A marijuana banking measure was approved on the House floor in 2014 by a margin of 231 to 192, but its language was not included in final enacted legislation that year.
The current amendment is sponsored by Rep. Denny Heck (D-WA), along with Rohrabacher, Blumenauer, Lee, and Norton. They are joined by Reps. Ed Perlmutter (D-CO), Jared Polis (D-CO), Dina Titus (D-NV), Don Young (R-AK), Jacky Rosen (D-NV), Jason Lewis (R-MN), Matt Gaetz (R-FL), Tom McClintock (R-CA), Jared Huffman (D-CA), Chellie Pingree (D-ME), Betty McCollum (D-MN) and Tulsi Gabbard (D-HI).
That is by far the most cosponsors of any of the 229 amendments filed on the pending FY2019 funding bill so far.
Proud to join my colleague @RepDennyHeck on an amendment to the Financial Services Approps Bill to protect financial institutions working with legally-operating cannabis businesses. This is important for hundreds of businesses in Nevada. https://t.co/ju7DKvltJG

— Dina Titus (@repdinatitus) July 11, 2018
But huge bipartisan cosponsor lists haven't prevented Pete Sessions and the Rules Committee from preventing floor votes on cannabis measures for the past several years. It remains to be seen if this time will be different.
Readers who support Marijuana Moment on Patreon can read the full text of the newly proposed cannabis amendments below:
Hemp Will Be A Top 10 Product In 2019, Whole Foods Predicts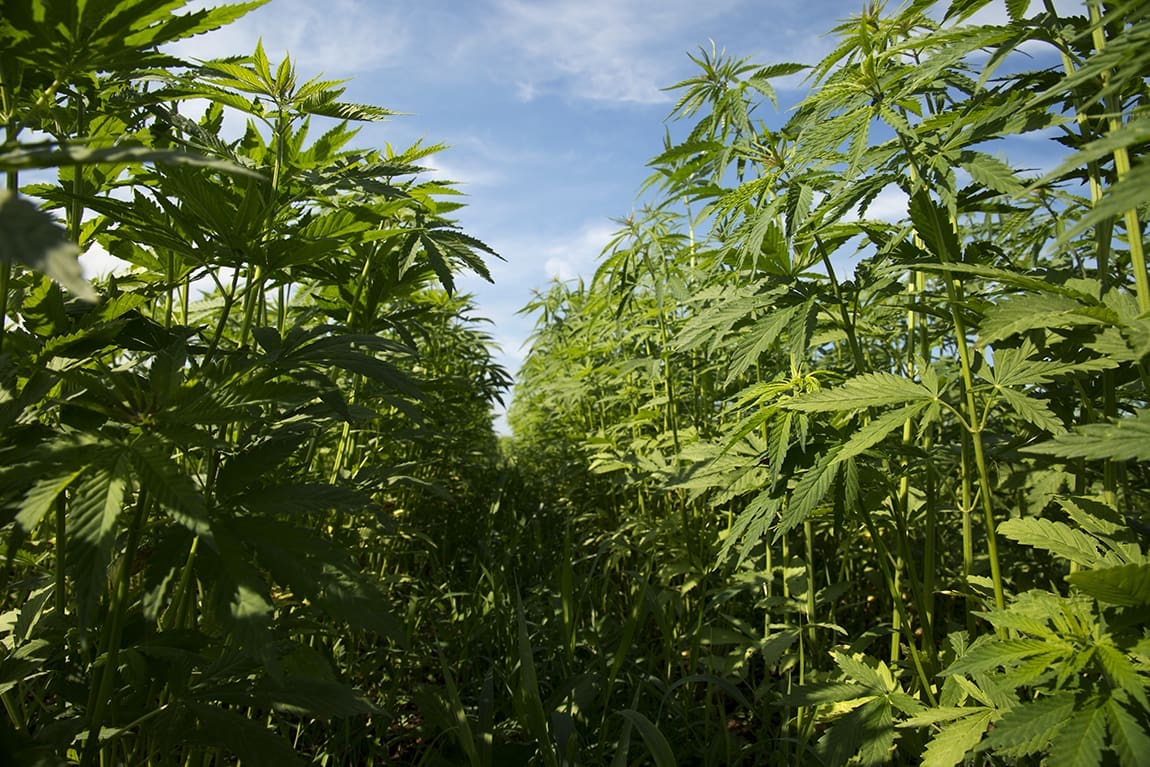 The gurus at Whole Foods Market have spoken: hemp products, already incredibly popular, will be a top 10 food trend in 2019.
In a press release, the company said it relied on "seasoned trend-spotters" who have "more than 100 years of combined experience in product sourcing, studying consumer preferences and participating in food and wellness industry exhibitions worldwide," to compile its new report on what to expect next year.
So what will be flying off the shelves in 2019? According to the experts, lots and lots of hemp.
"Hemp hearts, seeds and oils are nothing new to food and body care lovers—they're in everything from waffle mix to dried pastas," the company wrote. "But a new interest in the potential benefits stemming from other parts of hemp plants has many brands looking to explore the booming cannabis biz."
"While CBD oil is still technically taboo (prohibited in food, body care and dietary supplements under federal law), retailers, culinary experts and consumers can't miss the cannabis craze when visiting food industry trade shows, food innovators conferences or even local farmers markets."
(For the record, there's a lot of confusion and disagreement about the federal legality of hemp-derived CBD oil, which you can read more about here.)
The trend won't stop at CBD, either. Apparently phytocannabinoids, those compounds that are present in cannabis but also in other plants, are "becoming more visible and prevalent."
"It's clear that hemp-derived products are going mainstream, if not by wide distribution, then by word of mouth!"
Hemp products that the trend-spotters recommended include a line of health supplements containing phytocannabinoids, a face cream comprised of hemp stem cells and organic shelled hemp seeds.
While cultivating marijuana's non-intoxicating cousin is currently illegal in the U.S. outside of exceptions for state-approved hemp research programs authorized under the 2014 Farm Bill, there's a strong possibility that industrial hemp will be broadly legalized—possibly by the end of the year—once the House and Senate reconcile their versions of a new Farm Bill and put it on the president's desk.
Senate Majority Leader Mitch McConnell (R-KY), who introduced the provision, issued a "guarantee" last week that hemp legalization will be included in the final legislation.
That would give the hemp business an even greater boost going into the new year.
Photo courtesy of Brendan Cleak.
Washington Still Doesn't Know What Good Marijuana Is (Or How To Test For It)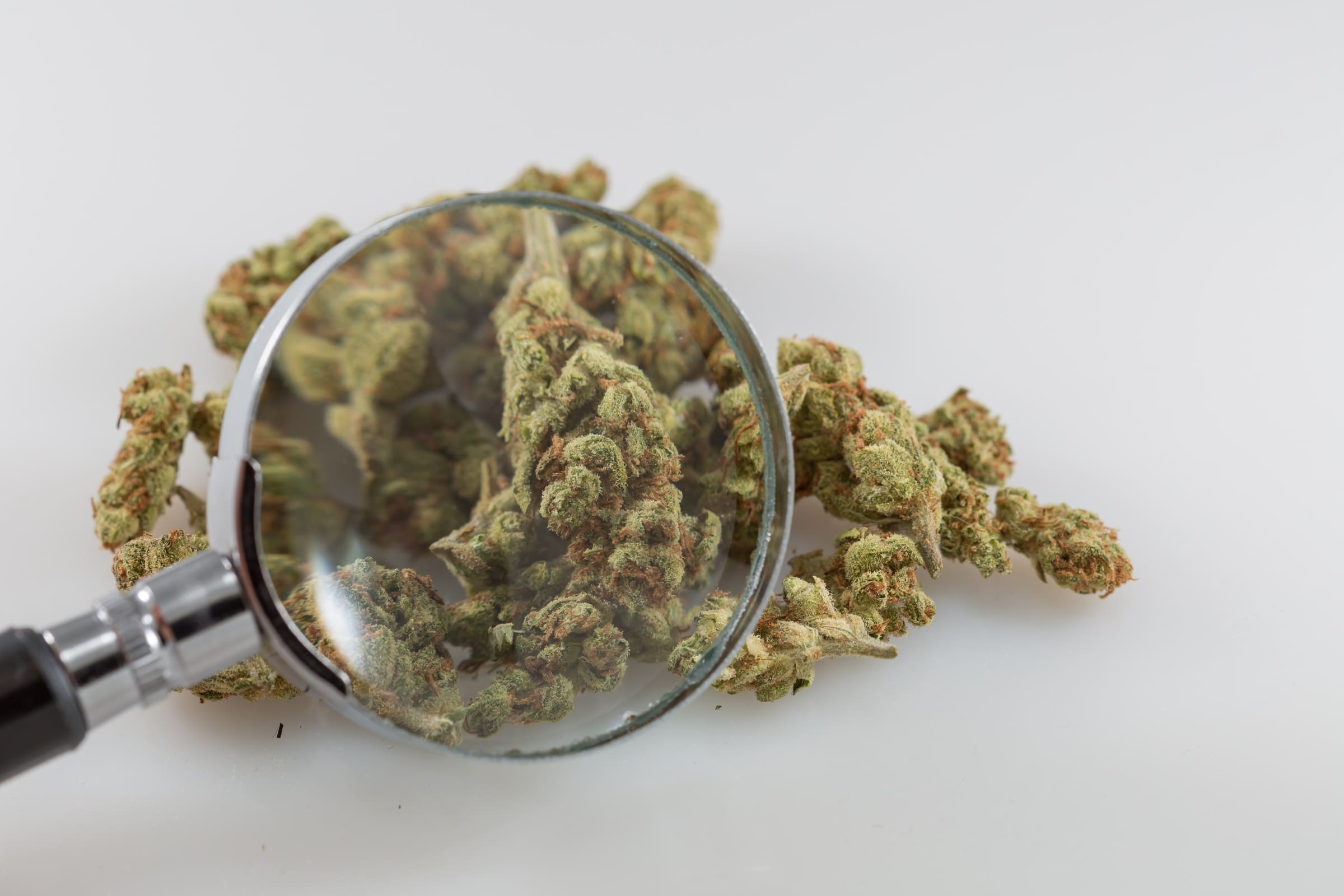 Retail sales of legal marijuana have been underway in Washington state for more than four years—and state regulators in charge of quality control still aren't sure what good cannabis is, or how to test for it.
All product sold in stores is supposed to be tested for mold, pesticides and other contaminants by labs evaluated and accredited by a private company under contract.
That will change sometime soon. The Washington State Liquor and Cannabis Board, which regulates marijuana sales, has until January 15 to come up with recommendations for how the state should begin accrediting testing labs.
But in order to do that, regulators—or state lawmakers, or both—have to decide what, exactly, makes good weed. And nobody—not in Washington state, nor elsewhere in the U.S. where marijuana is legal—can seem to agree what that is, according to a draft government report posted online Thursday.
"Current quality standards… are insufficient to support a robust, science-based cannabis laboratory accreditation program," the Washington Department of Ecology document says.
A "Cannabis Science Workgroup" comprised of experts in chemistry, biology, medicine and other fields to determine minimum standards for cannabis quality should be formed, wrote Sara Sekerak, a senior chemist and project manager at the department.
To reach this determination, researchers with the agency reviewed quality-control standards in four states. They found that "[w]idely accepted quality standards for testing cannabis and cannabis products do not yet exist."
"Accreditation does not designate product standards or quality standards," the report adds. "However, these are necessary to support meaningful accreditation."
Eventually, testing labs in Washington will be accredited by a state agency. Until that happens, quality may remain erratic.
Because of weak or nonexistent state rules, labs "are allowed to design their own levels" of quality control and quality assurance. There are no readily available samples of agreed-upon "quality" cannabis to set a basic standard by, as there is for drinking water and other consumer goods.
Untrained workers collecting samples for testing may taint the samples. And current accreditation standards applied by the International Organization for Standardization (ISO) are not sufficient, the report found.
Washington State Prepares To Rewrite Marijuana Testing And Packaging Rules
New York Liquor Stores Want To Sell Marijuana
Instead of creating a whole new system of specialized stores to distribute marijuana when it becomes legal, New York should just allow existing liquor and wine retail outlets to sell cannabis to adults. That's the position of a new advocacy effort launched by owners of booze shops this month.
"With more than 2,000 wine and liquor stores from Buffalo to Montauk, we offer existing retail space with quick and cheap access to the market in every corner of the state," reads the website for the group, which is called The Last Store on Main Street. "That means more tax revenue, and sooner, for the State to fulfill basic responsibilities and invest in the future of our neighborhoods."
The group, which previously defeated an effort to allow wine sales in grocery stores, says that its members shops "operate under a highly regulated system that can easily and reasonably be expanded to cover marijuana retail without building new bureaucracy that only serves to eat into the tax revenues the industry creates."
Jeff Saunders, the group's founder, said alcohol retailers are worried that unless they are allowed to sell cannabis, their revenues could suffer.
"Recreational marijuana sales have resulted in significant declines in wine and liquor sales in other states, resulting in job loss and even stores closing," he said, according to the news outlet New York Upstate.
On the group's website, New Yorkers who agree with the goal of allowing weed sales in liquor stores can send prewritten letters to their state lawmakers that describe the move an "obvious win-win opportunity for a bedrock industry of New York's Main Street economies and the future of our state."
The effort to shape how legalization could roll out comes as the administration of Gov. Andrew Cuomo (D) is taking steps to bring about the end of marijuana prohibition.
Earlier this year, Cuomo directed the state Health Department to study legalizing marijuana, a move that led to a report that found that doing so would have more benefits than risks.
State officials are conducting a series of listening sessions around the state on the topic, and the governor created a task force to draft legalization legislation that lawmakers can consider in 2019.
Meanwhile, lawmakers are already holding hearings on ways to end cannabis prohibition.
New York Bill Would Require Medical Marijuana Be Covered By Public Health Insurance
Photo courtesy of Marilyn Acosta.