High-Witnesses: New Study Reveals How Marijuana Consumers Can Help Solve Crimes
It's not uncommon for people who witness crimes to report being under the influence of some drug. But until recently, research has primarily focused on the effects of alcohol intoxication on eyewitnesses.
A recent study, published in the journal Applied Cognitive Psychology, attempted to fill that information gap, as eyewitness reliability can be a key factor in criminal justice proceedings. The findings appear to challenge stoner stereotypes, revealing that marijuana consumers aren't actually liabilities when it comes to crime solving.
The researchers wanted to figure out how cannabis use impacted accurate or incorrect recall of details, the identification of individuals in a lineup setting and the confidence of participants in that lineup identification. To do that, they recruited 120 adults (a mix of sober and intoxicated) at a coffee shop in Amsterdam and showed them a two-minute video of a convenience store robbery.
After viewing the video, participants were asked to freely recall as many details as they could remember. This was the one test where cannabis consumers fell short compared to sober participants. Those who were intoxicated "reported significantly fewer correct detail than did sober participants," the researchers wrote. 
That's not to say stoned participants remembered more inaccurate details; rather, it's a matter of quantity. They just didn't remember as many correct details compared to the control group.
And of the four tests that the researchers conducted, this test was the outlier. People who had smoked marijuana—regardless of the dose—were just as accurate and inaccurate for the details they did recall.
"Thus, cannabis intoxication was not associated with either a decrease in correct identifications or an increase in false alarms."
Things got even more interesting when it came to the lineup portion of the study. Contrary to expectations, marijuana consumers were just as likely to accurately identify the suspect in the video from a photo of six similar looking individuals. But perhaps more surprising, they also reported higher confidence in their lineup identification compared to the control group.
"The level of confidence expressed in a lineup identification can have a significant impact on judgments about the credibility of the eyewitness and the likely guilt of the suspect," the researchers wrote. "This finding is not in line with the hypothesis that intoxicated participants would compensate for anticipated poorer performance by adjusting their confidence ratings downward."
The study was first published in April but seems to have gone mostly unnoticed until The British Psychological Society picked it up this week.
The researchers proposed two theories about about the study's counterintuitive finding: First, it's possible that the marijuana itself was responsible, as cannabis is believed to enhance internal focus. Second, participants who consumed cannabis might be more acutely aware of assumptions about marijuana use as it applies to cognitive functioning—and so they paid closer attention to "internal cues."
While there's certainly evidence suggesting that getting high can temporarily impair a person's short-term memory, this new study adds to the growing body of literature revealing how marijuana use might actually boost certain aspects of a person's cognitive functioning.
Colorado Legalization Didn't Increase Teen Marijuana Use, Another Study Finds
Psychedelics May Help If You Have A Drinking Problem, Study Suggests
On the heels of Denver becoming the first city in the country to decriminalize psilocybin mushrooms, new research suggests that using psychedelic substances may help some people with alcohol use disorder (AUD).
"Findings indicate that, in some cases, naturalistic psychedelic use outside of treatment settings is followed by pronounced and enduring reductions in alcohol misuse," states the study, which suggests that the substances have "the potential for dramatic change."
The findings, published in the Journal of Psychopharmacology last week, support past studies that link psychedelic use in clinical and religious settings with a decrease in unhealthy alcohol consumption.
Researchers from Johns Hopkins University School of Medicine were interested in getting a better understanding of people's experiences with using psilocybin, LSD and other mind-altering substances in a non-clinical, natural environment (at home, for example). They utilized an anonymous online survey (which remained accessible from October 2015 to August 2017) to ultimately capture the perspectives of 343 adults.
Aside from demographic information, the survey asked participants to take several standard psychiatric assessments regarding alcohol use. They were also asked to explain what their psychedelic experience was like, including what substances they consumed, how intense of a reaction they felt after consumption and what kind of long-term effects they endured.
Most participants, it turns out, were pretty heavy drinkers prior to their psychedelic experience: About 72 percent reported symptoms that classified them as having severe AUD. They consumed an average of 25.5 drinks per week, and reported having this problem for approximately seven years.
As for their individual mystical experiences, 36 percent reported using psilocybin and 38 percent reported using LSD. Other substances surfaced in the survey responses included ayahuasca and DMT. Most participants said they consumed the drugs for psychological or spiritual exploration.
According to the study, however, the effects lasted well beyond their individual psychedelic journeys.
"Almost all respondents reported that they had greatly reduced or quit drinking alcohol since their reference psychedelic experience as evidenced by a current self-reported mean of 4.3 drinks per week, down from a mean of 25.5 drinks per week before the reference psychedelic experience," the study's authors wrote. Only 10 percent stated they had hoped using substance of choice would help them drink less.
At the time they responded to the survey, a majority of participants no longer met the criteria for an AUD. While at least half of the sample experienced some alcohol withdrawal symptoms, including cravings, depression and irritability, many said their symptoms appeared to be "much less severe" compared to previous efforts to reduce their alcohol use. For most of them, the psychedelic experience happened a year or more prior to participating in the study.
"Although such benefits cannot be wholly separated from accompanying reductions in unhealthy alcohol use," the study's authors write, "they are consistent with reports of persisting positive effects of psychedelics lasting well beyond the period of acute drug action."
There are a number of reasons why psychedelic substances may help reduce alcohol misuse, but a key factor that stands out, according to the study, is the spiritual and mystical-like effects the drugs seem to have for some people.
"Spirituality has long been thought to play an important role in recovery from alcohol dependence, and has been posited as a protective factor against alcohol misuse," the study states. "Spirituality and spiritual practice have also been found to correlate with abstinence in alcohol dependence recovery. Though a major focus of research on spirituality and alcohol misuse has been on Alcoholics Anonymous (AA) and 12-step programs, psychedelics may represent an alternative path to spiritual or otherwise highly meaningful experiences that can help reframe life priorities and values, enhance self-efficacy, and increase motivation to change."
Continued research into the potential benefits of psychedelics could be profound, especially considering the sheer number of people who struggle with heavy alcohol use. According to the National Institute on Alcohol Abuse and Alcoholism, AUD affects more than 15 million Americans a year.
"When you talk to someone who has managed to overcome addiction, they often talk about how they had to answer big picture questions that connect to what's important in life," Matthew Johnson, an associate professor at Johns Hopkins and one of the authors on the study, told Inverse. "Psychedelics prompt those kinds of questions. Even though we have a lot more to explore, I think it's likely that it's the intense nature of the drug's psychological experience that's underlying its high success rates."
Lawmakers Schedule Psychedelic Decriminalization Hearing In Oakland
Photo courtesy of Pretty Drugthings.
Two Federal Agencies Schedule Meetings To Discuss Marijuana-Related Issues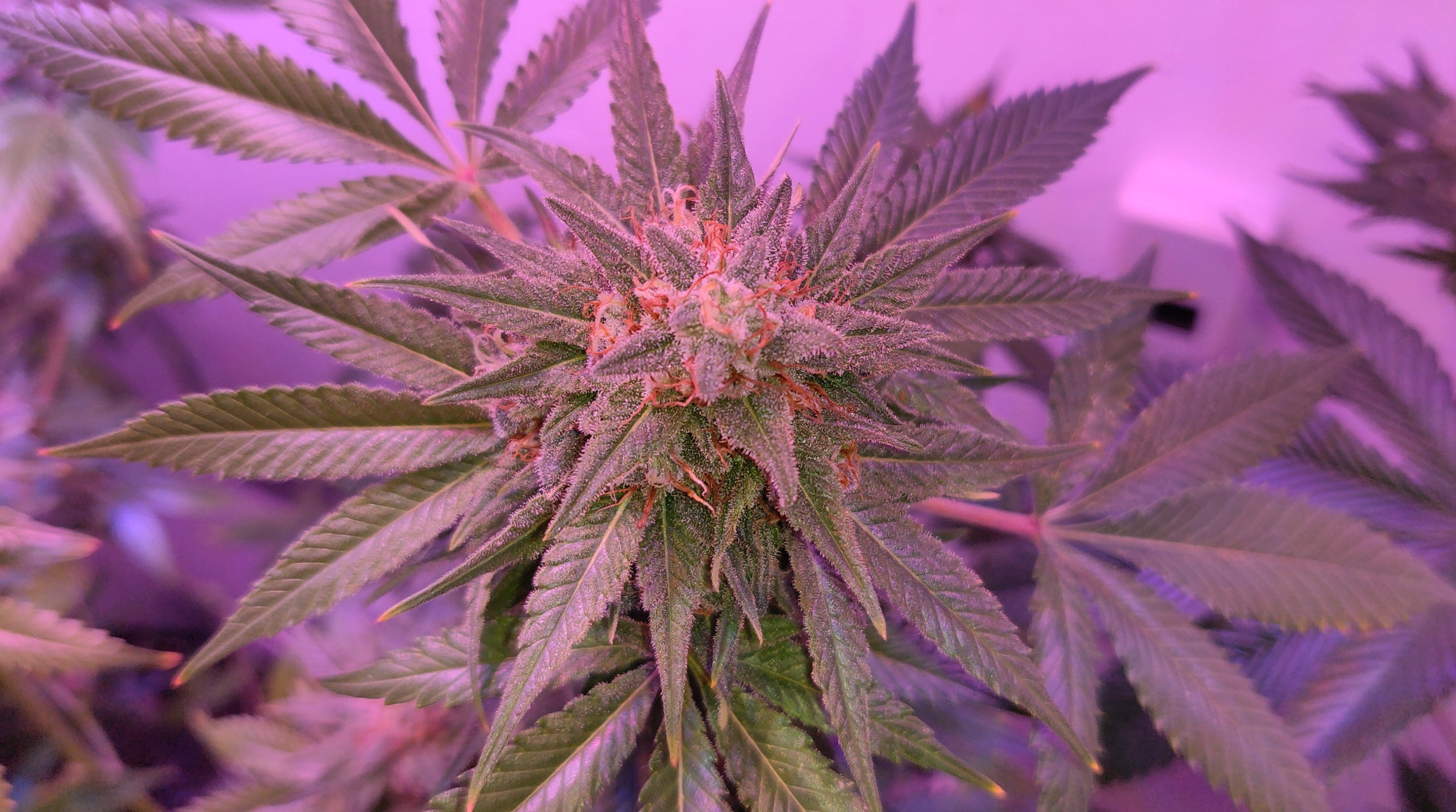 Two federal agencies recently announced that they will be holding meetings this summer to discuss public health and safety issues related to marijuana.
The Centers for Disease Control and Prevention (CDC) said in a notice published in the Federal Register last week that its Board of Scientific Counselors will convene on July 16 and 17 to tackle a wide variety of topics, including how to prevent the spread of infectious diseases and how to balance intramural and extramural research initiatives.
On the second day of the meeting, which will be open to the public, the panel of experts will also discuss the role of the CDC's National Center for Injury Prevention and Control in "addressing public health concerns related to marijuana."
The notice is light on specifics, but the CDC has historically weighed in on the impacts of cannabis use on pregnancy, driving and young people.
Separately, on June 11 and 12, members of the Substance Abuse and Mental Health Services Administration's Drug Testing Advisory Board will meet for a conversation about federal workplace drug testing policies. Part of that meeting will involve a discussion of "emerging issues surrounding marijuana legalization."
While the Federal Register filing does not spell out which "emerging issues" will be specifically addressed during the first day's public session, it also notes that the board will discuss the "impact of cannabis laws on drug testing and future direction" in a closed session on the second day of the meeting.
The federal discussion comes as marijuana reform advocates have stepped up efforts to end the employer practice of penalizing workers who test positive for THC metabolites.
In New York City, for example, a City Council measure prohibiting pre-employment drug testing for cannabis in specific industries and another barring such tests for people on probation were both enacted this month without the mayor's signature.
While federal marijuana laws continue to strictly prohibit cannabis, the growing legalization movement has forced various agencies to address the issue. Officials from some federal divisions have observed in recent months that the scheduling status of marijuana under federal law has inhibited research into its public health benefits and risks.
In December, representatives from the Food and Drug Administration, Drug Enforcement Administration and National Institute on Drug Abuse were part of a workshop focusing on cannabis research.
U.S. government agencies have also used Federal Register notices to solicit the public's help in identifying studies about the effects of cannabis on disorders such as Alzheimer's disease.
NAACP And ACLU Ask Congress To Suspend DEA's Drug Enforcement Activities
Photo courtesy of Mike Latimer.
Gun-Related Suicides Fell In California After Medical Marijuana Became Legal, Study Shows
The total number of suicides in California per year, including those committed with firearms, declined after the state legalized marijuana use for medical purposes, according to a new study.
"Findings reveal that rates of total suicide and gun suicide dropped significantly in the aftermath of Proposition 215," the researchers concluded, referring to the California law legalizing medical cannabis that voters approved in 1996.
Nationally, the number of suicides increased by 24 percent from 1999 to 2014—the same 15-year period during which many states began approving access to medical marijuana.
"The systematic evidence connecting this trend to the availability of medical marijuana is ambiguous, however," the team behind the new study wrote.
For the paper, published this month in Archives of Suicide Research, researchers at the University of California Irvine looked at the total number of suicides, the number of gun-related suicides and the number of non-gun-related suicides recorded by the state for the years between 1970 and 2004. They also looked at data from the 41 states that did not legalize marijuana during the same time period to get an idea of what might have happened if California had not approved access to medical cannabis.
Ultimately, the authors observed a notable decline in intentional deaths in the years after Prop 215 was approved. "In particular, for all suicides, our results demonstrate that California's 1996 intervention led to an average reduction of 398.9 suicides per year and a cumulative reduction of approximately 3,191 suicides during 1997-2004," the study states. "Similarly, legalization led to a reduction in gun suicides of 208 per year on average and a cumulative reduction of approximately 1,668 fewer gun suicides during 1997-2004."
The impact of medical marijuana on rates of non-gun suicides in the state, however, was deemed "ambiguous."
The question, of course, is what could explain these overall findings?
The study offers a few different theories. One focuses on how marijuana use may help remove the actual motivation for suicide. People with mental conditions such as depression, for example, may find that marijuana alleviates their symptoms.
"If marijuana alleviates the acute stress associated with these disorders, we expect suicide risk to decrease following legalization of medical marijuana," the authors wrote. "The evidence for this is mixed, however."
The same goes for people with alcohol use disorder, which is associated with an elevated risk of suicide: If people are using marijuana in place of alcohol, that risk may be reduced.
"If marijuana and alcohol use are combined, one might expect no change in suicide risk or even an increase in suicide following legalization," the paper reasons. "If marijuana replaces alcohol, on the other hand, one might expect a decrease in suicide risk following legalization."
But most data on marijuana as an alcohol substitute is based on self-reports, which can be unreliable.
There's also the issue of gun accessibility for medical marijuana patients; U.S. law prohibits anyone who uses federally illegal controlled substances, including cannabis, from obtaining firearms. As a majority of suicides involve guns, researchers suggest that access to medical marijuana may have precluded some people from purchasing firearms, thus leading to the decline in suicide rates. (For what it's worth, California also has some of the toughest gun laws in the country.)
The study's authors point out that testing these various theories "may reveal insight into why we do not find the expected reduction in non-gun suicides following legalization."
In 2018, former National Rifle Association president David Keene argued that federal restrictions regarding cannabis and gun access were causing "real problems" for patients, writing in an op-ed that "hundreds of thousands of gun owners … are being forced to either trade their Second Amendment rights for a chance to live pain-free or risk prosecution and imprisonment."
Last month, a Republican congressman filed a bill that would allow medical marijuana patients the ability to purchase and own firearms.
GOP Congressman's Bill Would Let Medical Marijuana Patients Possess Guns