Here Are The Top 20 Most And Least Marijuana-Friendly U.S. Colleges
It's back-to-school season, and as college students get ready to move into their dorms, some might be wondering about campus culture—including whether their school is marijuana friendly.
The Princeton Review is here to help. Besides ranking colleges overall each year, it also includes breakout sections offering ratings on a wide range of college features. For this year's issue, the review guide looked at the top 20 universities where students use cannabis the most and least.
To compile the list, released earlier this week, Princeton Review asked 140,000 students at 385 schools a simple question: "How widely is marijuana used at your school?"
The results, for the most part, aren't especially shocking. In general, marijuana is consumed most frequently at colleges located in states with looser cannabis laws, or more libertarian climates. Students are least likely to consume cannabis, according to the rankings, if they attend religious or military schools, or if the campuses are located in states with more restrictive cannabis policies.
Here are the most marijuana-friendly colleges: 
1. University of Vermont (Burlington, Vermont)
2. Pitzer College (Claremont, California)
3. University of Rhode Island (Kingston, Rhode Island)
4. Wesleyan University (Middletown, Connecticut)
5. Skidmore College (Saratoga Springs, New York)
6. Reed College (Portland, Oregon)
7. University of Maine (Orono, Maine)
8. Bard College (Annandale-on-Hudson, New York)
9. Marlboro College (Marlboro, Vermont)
10. University of California at Santa Barbara (Santa Barbara, California)
11. Warren Wilson College (Asheville, North Carolina)
12. Sarah Lawrence College (Bronxville, New York)
13. State University of New York, Purchase College (Purchase, New York)
14. Champlain College (Burlington, Vermont)
15. Colorado College (Colorado Springs, Colorado)
16. University of Colorado at Boulder (Boulder, Colorado)
17. Ithaca College (Ithaca, New York)
18. University of Wisconsin at Madison (Madison, Wisconsin)
19. Syracuse University (Syracuse, New York)
20. Hamilton College (Clinton, New York)
Here are the least cannabis-friendly colleges:
1. United States Air Force Academy (USAF Academy, Colorado)
2. United States Military Academy (West Point, New York)
3. United States Naval Academy (Annapolis, Maryland)
4. College of the Ozarks (Point Lookout, Missouri)
5. Thomas Aquinas College (Santa Paula, California)
6. Brigham Young University (Provo, Utah)
7. Wheaton College (Wheaton, Illinois)
8. City University of New York, Baruch College (New York, New York)
9. Calvin University (Grand Rapids, Michigan)
10. Grove City College (Grove City, Pennsylvania)
11. City University of New York, Hunter College (New York, New York)
12. Baylor University (Waco, Texas)
13. Gordon College (Wenham, Massachusetts)
14. Hillsdale College (Hillsdale, Michigan)
15. Illinois Institute of Technology (Chicago, Illinois)
16. Stephens College (Columbia, Missouri)
17. University of Dallas (Irving, Texas)
18. Pepperdine University (Malibu, California)
19. Agnes Scott College (Decatur, Georgia)
20. Simmons University (Boston, Massachusetts)
Regardless of how much or little students at a given college consume marijuana, those who choose to partake could be at risk of losing the means by which they pay for their tuition. Drug convictions can lead to the loss of federal financial aid, which is why some lawmakers are pushing for legislation to protect such students from being denied access to education over a substance that is becoming legal in more and more places.
Young Americans Are More Likely To Smoke Marijuana Than Cigarettes, Poll Finds
Photo courtesy of Pixabay.
Snoop Dogg Has A Salaried Marijuana Blunt Roller On Staff
Snoop Dogg pays a person between $40,000-$50,000 per year to roll blunts for him, he said during a recent appearance on The Howard Stern Show.
Comedian Seth Rogen confirmed that he's watched the employee practice his craft during sessions with Snoop.
"He knows how to gauge the look on somebody's face when it seems like they want a blunt, and if they do, he gives you one," Rogen said.
"Timing. That motherfucker's timing is impeccable," Snoop said.
Stern asked Snoop to clarify if this person was actually hired by him and the rapper replied "that's his J-O-B, his occupation."
"On his resume, it says, 'what do you do? I'm a blunt roller," he said. "P-B-R, professional blunt roller."
"If you're great at something I need, I'm hiring you."
Not only does Snoop pay him upwards of $50,000 to roll blunts, the employee also gets perks: he's welcome to smoke the marijuana he rolls, goes on all-expense-paid trips while Snoop is traveling on tours and gets free items like clothing whenever companies give their products to the artist.
That seems like a pretty good deal compared to an opening within the federal government to mass produce joints for research purposes. The contractor who secures that position is subject to drug testing and presumably isn't touring the world on the government's dime.
That said, the job with Snoop likely isn't a walk in the park. In a Reddit AMA in 2012, the rapper said he smokes 81 blunts per day.
Rogen said he's spent hours smoking with Snoop and has found himself mesmerized by the worker's craft.
"There's been like 40 minutes where I'm like, 'I'm just watching this guy and I'm just going to see what is going on here,'" he said, "As someone who smokes a lot of weed, it's fucking fascinating."
"Honestly, the amount of time I spend rolling joints, it might be worth my while financially to hire someone to do that," Rogen said.
A video of the comments, released on Tuesday, is more cannabis content from the same Stern interview where Snoop and Rogen also offered advice on smoking marijuana for novices.
Seth Rogen And Snoop Dogg Offer Marijuana Advice To First-Time Consumers
Photo courtesy of YouTube/The Howard Stern Show.
Police Ask Florida Man To Stop Calling 911 About His Stolen Marijuana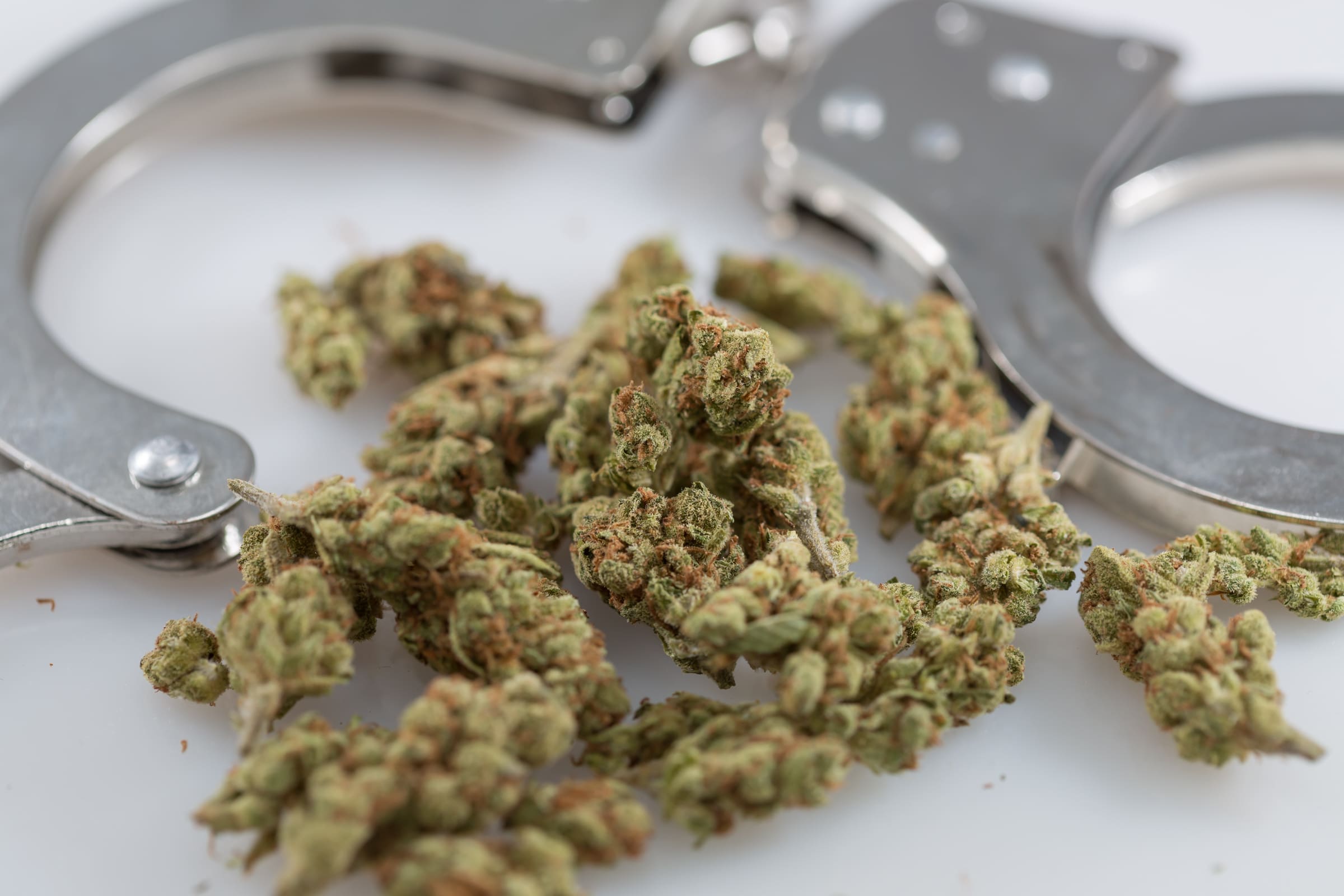 A Florida sheriff's department had to ask a man to stop repeatedly calling 911 to report his roommate allegedly stealing $20 worth of marijuana this weekend.
The Pasco Sheriff's Office shared details about the incident in a video posted on Twitter on Saturday as part of its "#TweetAlong" program, where viewers can a behind-the-scenes look at law enforcement activities.
"Alright, so I just received a call—a guy is calling in saying his roommate stole his weed, $20 worth, and he's upset," Deputy Neal Zalva said in the video. "He keeps calling 911 so I have to give a call to tell him to stop calling about this weed."
Someone called dispatch because his weed was stolen. Deputy Zalva is making contact. #TweetAlong pic.twitter.com/eDTZv8YhiD

— Pasco Sheriff (@PascoSheriff) October 13, 2019
About an hour later, the deputy gave an update.
"Going back to the guy calling in to report his drugs stolen, I called him and let him know not to call the sheriff's office and report his drugs," he said. "He started to freak out a little bit on the phone and then hung up on me shortly after."
Update on our welfare check and the previous call of someone's drugs being stolen! #TweetAlong pic.twitter.com/2ijaXZgGxf

— Pasco Sheriff (@PascoSheriff) October 13, 2019
While medical cannabis is legal in Florida, low-level possession (under 20 grams) without a patient certification is still a misdemeanor offense that's punishable by a maximum $1,000 fine and up to a year in jail.
The department told the Associated Press that no charges were filed against the caller.
There are two measures seeking to legalize marijuana for adult use in the state in 2020, including one that's being backed by industry stakeholders. Organizers for the other campaign submitted enough signatures in July to prompt a state Supreme Court review of its ballot language.
California Governor Signs Marijuana Tax Fairness Bill But Vetoes Cannabis In Hospitals
Seth Rogen And Snoop Dogg Offer Marijuana Advice To First-Time Consumers
Seth Rogen and Snoop Dogg have some advice for first-time marijuana consumers: if you bump into them and want to sesh, limit yourself to one hit—or even half a hit.
The cannabis icons joked about their shared love for the plant and offered some tips for novices during an appearance on The Howard Stern Show on Tuesday.
Stern started by asking if the pair had smoked together before. Not surprisingly, they confirmed participating in joint sessions and both agreed that they were enjoyable experiences
"What do you mean when you say you enjoy smoking with Seth?" the host asked Snoop. "Are there people who can bum you out?"
"Yeah, because they talk too motherfuckin' much and they just get in the way, but Seth enjoys the moment. He's creative," the rapper replied. "This motherfucker knows how to make a joint that looks like a cross."
"He's a bad motherfucker at that," he said. "When he pulled that cross out, I was like, 'God, let there be light!'"
Stern also brought up the fact that one of the show's producers, JD Harmeyer, planned to smoke cannabis for the first time. For the occasion, Stern told Harmeyer he should probably stick to no more than three hits, and he asked his guests if that was good advice.
"I'd start with one," Rogen said.
"I'd say a half of one," Snoop said.
"This is from two guys who have had too many motherfuckers come up and get way too high," Rogen added.
"And fall out," Snoop said. "I have a lot of people [say], 'my dream is to smoke with you.' Bang. He dying, I'm gone."
On Monday, actress Jennifer Aniston also gave Harmeyer advice and urged him to "pace yourself" because "it could be the best day of your life or the worst day of your life" depending on how much he smoked.
Later on Tuesday's show, Snoop and Rogen gave Harmeyer some more advice about what kind of cannabis to smoke while flipping through a menu that appears to be from the nation's first marijuana cafe, operated by Lowell Farms in Los Angeles.
Snoop said that the producer should stick to a sativa "because it's a little bit lighter and it's more of an introduction."
Rogen agreed that it should be a sativa, but he said the concentration of THC should be on the higher end "to make sure you actually feel something because you might not."
"But again, one fucking hit," the actor, who also owns a cannabis company called Houseplant, reiterated.
Rogen has also leveraged his marijuana stardom for philanthropic purposes, putting on an adult carnival where the plant was featured to raise money for research into Alzheimer's disease.
He appeared at a congressional hearing in 2014 and joked that while people might expect him to advocate for marijuana reform before the Senate committee, he was actually there to promote research into the disease, which his mother-in-law suffers from.
More recently, Rogen participated in a PSA meant to raise awareness of National Expungement Week, a series of events that took place throughout the country last month meant to help people erase criminal convictions, including those for non-violent cannabis offenses, from their records.
Breaking Bad Teams Up With Marijuana Company MedMen To Promote New Netflix Film
Photo courtesy of YouTube/The Howard Stern Show.