Federal Judge Wants To Allow Medical Marijuana For Man On Probation
A federal judge said this week she would allow a man on supervised release to use medical marijuana—saying that she suspects it is "the greatest thing for pain"—but regrets that her hands are tied by current law.
Attorney Joseph Vita wrote a letter to U.S. District Judge Colleen McMahon on Sunday, asking for the court's permission to allow his client, Derrick Atkins, to use cannabis in compliance with New York state law to treat chronic back pain.
Vita said his client "has continued to struggle with chronic back pain for which he has sought appropriate medical treatment" and that he "does not wish to treat this condition with opiate medications because of the severe side effects and risk of addiction."
Upon the recommendation of a probation officer, Atkins applied for and obtained a medical cannabis card.
The judge hand-wrote a note on Vita's letter expressing sympathy with his client.
"Federal law prohibits the use of marijuana for any purpose," she said. "Sadly, therefore, I can't authorize this—even if I think that medical marijuana is the greatest thing for pain (and I suspect it is)."
"I would authorize this if I could—but I, as a federal judge, am constrained by the fact that federal law bans it."
An image of the document was shared on Twitter by USA Today reporter Brad Heath.
Lawyer: May my client use medical marijuana while on supervised release?

Judge: "Sadly … I can't authorize this – even if I think that medical marijuana is the greatest thing for pain (and I suspect it is). I would authorize this if I could." pic.twitter.com/VnmoR9lsVy

— Brad Heath (@bradheath) January 22, 2019
Last year, a similar case presented itself in Minnesota. A man convicted of felony firearm and drug violations obtained a medical marijuana recommendation for chronic pain from a physician and asked his probation officer whether he could use it in compliance with state law. One of the terms of his release was that he could not use a controlled substance "except as prescribed by a physician."
The probation officer advised against it, but when the man later tested positive for marijuana, he insisted to the district court that he was adhering to the terms of his release. The court recognized that the language of the requirement was somewhat confusing in the context of Minnesota's legal medical cannabis program and granted him time to find federally legal pain medication.
When he appealed that decision to the Eighth Circuit Court of Appeals, the court made clear there was no exception under federal law to allow for cannabis use.
In that case, the appeals court simply said "the state's law conflicts with federal law."
McMahon's new response to the attorney in the New York case further demonstrates how those conflicting laws can be a source of frustration for both patients and the people charged with carrying out federal law.
Federal Judge Rules For Medical Marijuana Grower In Free Speech Case
Massachusetts Lawmakers Approve Bill Allowing Safe Injection Facilities For Illegal Drugs
A Massachusetts legislative committee recently approved a bill that would legalize safe injection sites where individuals could consume illicit drugs in a medically supervised environment and receive resources to seek treatment.
The objective of these facilities is harm reduction. People could safely inject drugs with access to sterilized needles—without the fear of being arrested and incarcerated—and medical professionals could administer lifesaving medication in the event of an overdose. Individuals would also be able to consult with staff about substance misuse treatment options.
Earlier this month, the Joint Committee on Mental Health, Substance Abuse and Recovery approved the legislation, which had been redrafted from an earlier, less far-reaching proposal.
Under the measure, the state Department of Public Health would be tasked with establishing a minimum of two safe injection facilities for a 10-year pilot program. The department would have to create a licensing scheme for the sites, and local boards of health would have to agree to allow them to operate in their jurisdictions.
"The department of public health shall promulgate rules and regulations necessary for the operation of a supervised consumption site, including but not limited to, establishing a process to apply for licensure," the text of the bill states. "Entities that provide health and social services, including private organizations and municipal departments, shall be eligible to apply for licensure to operate a supervised consumption site."
Each safe consumption facility would have to provide sanitized spaces, injection supplies and harm reduction consultations. They would also have to ensure that individuals are clinically observed, with staff giving them access to treatment resources. Additionally, there would be safety and security requirements, as well as outreach to communities where the facilities are located.
Also included in the bill are protections against civil or criminal punishment for a facility's staff, volunteers and property owners.
"The message we send to those who are faced with the disease of addiction is that we see you, we value you, and we want you to live," Rep. Marjorie Decker (D), chair of the committee that advanced the legislation, said in a press release.
During the decade-long pilot program, the Department of Public Health would submit annual reports to lawmakers including data on how many people are utilizing the facilities, overdose reversals, referrals to addiction treatment and needles and syringes collected and distributed.
In Philadelphia, plans to open the nation's first safe injection site were put on pause in February due to local pushback. That came after activists with the organization behind the push, Safehouse, scored a legal victory when a U.S. district judge ruled that establishing such a facility would not violate federal law.
Nonetheless, the community pushback signals that Massachusetts advocates and legislators may have their work cut out for them if the measure is ultimately enacted.
The Rhode Island Senate approved a bill last year that would similarly create a harm reduction center pilot program, authorizing the establishment of safe injection facilities.
Several former Democratic presidential candidates—including Sens. Bernie Sanders (I-VT) and Elizabeth Warren (D-MA), former South Bend, Indiana Mayor Pete Buttigieg, former Rep. Beto O'Rourke (D-TX), Andrew Yang and former Housing and Urban Development Secretary Julián Castro—voiced support for legalizing safe consumption sites as a harm reduction option.
Presumptive Democratic nominee Joe Biden has not endorsed such facilities, however. The Trump administration's Justice Department proactively went to court to fight against allowing the Philadelphia facility to open.
A recent study found that people "who reported using supervised injection facilities on an at least weekly basis had a reduced risk of dying compared to those who reported less than weekly or no use of this health service."
Joe Biden Says 'I Know A Lot Of Weed Smokers' To Justify His Opposition To Legalizing Marijuana
Photo courtesy of Flickr/Governor Tom Wolf.
Oregon Marijuana Sales Spike During Pandemic, But Officials Expect Market To 'Mellow'
Amid one of the sharpest economic downturns in state history, Oregon marijuana sales continue to roll along at a healthier-than-normal pace. State budget officials say that shelter-in-place policies and economic stimulus programs have kept marijuana sales "quite strong" during the pandemic so far.
Since March 1, the sales of adult-use marijuana products are up 60 percent compared to a year ago, the state Office of Economic Analysis said in its latest quarterly budget forecast published last week.
"These increases are not only related to the stockpiling consumers did after the sheltering in place policies were enacted," the report says, "but have continued through April and early May."
In April alone, consumers bought $89 million worth of legal cannabis products—a record amount—thanks in part to what officials described as a "4/20 bump." While the boost in sales figures are due in part to rising prices, state budget analysts said that "underlying demand is up as well."
"The increase in sales for other marijuana products, like concentrates, edibles and the like, are due to significant gains in consumer demand as prices are flat or down," analysts reasoned.
The June 2020 budget forecast estimates that the current increase in marijuana sales will yield an extra $9 million in state tax revenue during the 2019-2021 budget period. It's a rare bright spot in the overall budget report, which state analysts described as "the largest downward revision to the quarterly forecast that our office has ever had to make."
But even the marijuana sector's boost may be time limited.
"Expectations are that some of these increases are due to temporary factors like the one-time household recovery rebates, expanded unemployment insurance benefits, and the shelter in place style policies," the report says. "As the impact of these programs fade in the months ahead, and bars and restaurants reopen to a larger degree, marijuana sales are expected to mellow."
Demand for marijuana is also expected to fall in coming years due to a lower overall economic outlook, which is projected to reduce Oregon's population and cut average incomes. "A relatively smaller population indicates fewer potential customers," the report notes, "and lower total personal income than previously assumed indicates less consumer demand."
The projected slowdown in sales isn't expected to make an impact until the next budget period, beginning in 2021. At that point, the forecast says, sales will begin trending down by 5 percent relative to the current period "due to the lower economic outlook" associated with COVID-19.
The pandemic has also changed how Oregonians are making marijuana purchases, the report found, though perhaps not as much as one might expect. The share of sales completed by delivery services more than doubled in recent months, but it remained relatively small, making up just 1.4 percent of total sales. As the Office of Economic Analysis observed, "Consumers still prefer to shop in store."
Oregon is one of a handful of states looking to legal cannabis sales to help buoy tax revenues. A report published last month by cannabis regulators in Michigan, where legal sales to adults began this past December, forecasts annual marijuana sales in that state to top $3 billion as the market matures. That would mean another 13,500 jobs and roughly $500 million per year in taxes to state coffers. Factoring in the effects on peripheral businesses, the state found, the "total economic impact is estimated to be $7.85 billion with a total impact on employment of 23,700."
Although tax revenue from cannabis sales will help pad budgets in many legal states, the Oregon report doesn't mince words: The pandemic's hit to the state's economy will be drastic. Oregon's current recession is "the deepest on record with data going back to 1939," according to state analysts, and it hit with virtually no warning. "The path looks more like what happens to economic activity during a labor strike or in the aftermath of a natural disaster."
For its part, Oregon's Office of Economic Analysis predicts a relatively swift recovery. "While this recession is extremely severe, it is expected to be shorter in duration than the Great Recession," analysts wrote. "The economy should return to health by mid-decade."
New Mexico Governor Says Legalizing Marijuana Would've Funded Programs Cut Due To Coronavirus
New Mexico Governor Says Legalizing Marijuana Would've Funded Programs Cut Due To Coronavirus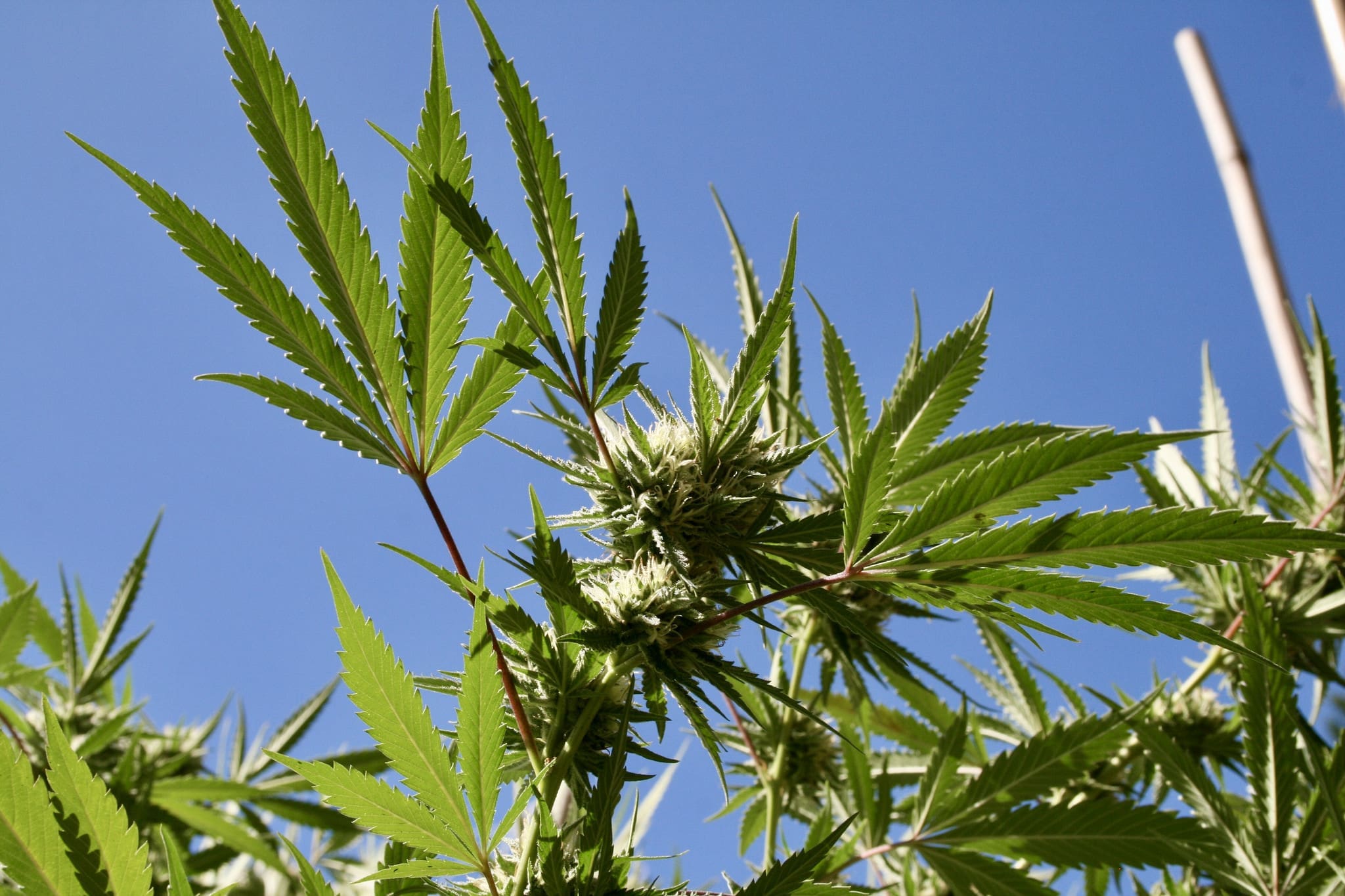 The governor of New Mexico said last week that the state needs to explore every option for economic relief, and that includes passing marijuana legalization.
Near the end of a two-hour livestream updating residents on the state's coronavirus response efforts on Wednesday, Gov. Michelle Lujan Grisham (D) was asked whether she was in favor of the legislature passing adult-use legalization during an upcoming special session to generate tax revenue to offset financial challenges caused by the pandemic.
"Let's end on a high note," the governor joked, adding that she felt suspensions of various capital projects due to the health crisis "likely would not have occurred" if lawmakers had legalized recreational marijuana during this year's regular session as she'd unsuccessfully urged them to do.
"The projections are nearly $100 million of recurring revenue into the budget" from cannabis legalization, she said. "If we want economic support and economic relief, then we have to use every economic idea. And I want to point out also that the vast majority of New Mexicans favor recreational cannabis."
Watch the governor's marijuana comments, starting around 2:18:10 into the video below: 
Lujan Grisham hinted that she may actively campaign against lawmakers who blocked her legalization bill in this year's regular session.
"We have an opportunity," she said. "I think all of our policymakers need to think clearly—and they should expect me to be supporting in the next general election—we have to pass recreational cannabis in the state. We need to diversify our economy, we need to increase opportunity for recurring revenue and we have to rebuild an economy that has suffered dramatically during this public health crisis."
The governor made a similar argument last month, though she also acknowledged that the $100 million revenue estimate, which was released by a working group the governor formed to study the impact of legalization last year, would likely have been affected by the pandemic.
It should also be noted that the $100 million figure is an estimate of the combined tax revenue from the existing medical cannabis market and the add-on of adult-use sales. And that's after the latter market matures.
Further, a legalization bill that passed one Senate committee earlier this year only to be rejected in another before the close of the short 30-day session stipulated that sales would have begun on July 1, meaning the state would not have been able to collect the much-needed revenue in the midst of the health crisis, unless emergency action was taken.
Legalization might not have happened as planned during New Mexico's regular 2020 legislative session, but the governor said in February that she's open to letting voters decide on the policy change via a ballot referendum.
While the Lujan Grisham didn't directly answer the question about whether legalization should be pursued during the special session in June, a spokesperson for her office recently said that it's unlikely the reform move will happen during the window.
New York Governor Says 'I Believe We Will' Legalize Marijuana
Photo courtesy of Brian Shamblen.