Federal Courts Hear Major Marijuana Cases This Week
If plaintiffs in two far-reaching lawsuits being heard in federal courts this week have their way, marijuana will no longer be classified under the U.S.'s most restrictive category, and the federal government will have to rescind a policy that treats cannabidiol as a Schedule I drug even when it is derived from legal hemp.
On Wednesday, a federal district court judge in Manhattan will hear oral arguments in a case alleging that cannabis is improperly classified under the most restrictive category of Schedule I, which is supposed to be reserved for drugs with no medical value.
Plaintiffs in the case include former NFL player Marvin Washington and a 12-year-old girl who treats epilepsy with medical cannabis.
And on Thursday, a panel of judges from the U.S. Court of Appeals for the Ninth Circuit will convene in San Francisco to hear a separate case challenging a Drug Enforcement Administration (DEA) move that advocates say oversteps the agency's authority.
That dispute centers on a Federal Register notice DEA filed in late 2016 creating a new drug category code for marijuana extracts. The Hemp Industries Association and individual businesses are suing the government, claiming that the action puts in jeopardy farmers and researchers who are growing and processing legally grown hemp in accordance with provisions of the congressionally approved Farm Bill.
The Wednesday hearing, in the broader case about cannabis's Schedule I status, concerns a Justice Department motion to dismiss the lawsuit.
The case's impact "will not necessarily be immediate," Joseph Bondy, an attorney in the case, told Marijuana Moment in an interview. No matter who wins, it will likely be appealed to the U.S. Court of Appeals for the Second Circuit.
But the Justice Department might find itself having to begin compiling documents for discovery and preparing officials for depositions in the case very soon.
Presiding Judge Alvin K. Hellerstein has a "track record of ruling very, very quickly after the argument," Bondy said, meaning that he may officially reject the government's motion to dismiss as soon as Wednesday.
The judge is giving the case "prioritized attention," the New York Times reported.
While the Justice Department will almost certainly seek to prevent U.S. Attorney General Jeff Sessions from having to testify in the case, Bondy said he might have to anyway.
"He's been so vocal, and rescinded the Cole Memo and put all these things in place himself," he said in the interview. "He wasn't the passive repository of the Controlled Substances Act. This is going to unfold well if we just get over this hurdle. The whole landscape has shifted and it really favors us."
And even if the plaintiffs ultimately lose, or the case proceeds slowly, its impact will still be "powerful," Bondy predicted, saying it will likely lead to "additional fallout" in terms of emboldening policymakers to change cannabis laws legislatively.
Several similar lawsuits challenging how the federal government treats marijuana have been unsuccessful, but advocates believe that the shifting political climate surrounding the issue puts them in a better position for a favorable ruling this time.
"We might not have been able to do this 10 or 15 years ago," Bondy told the Times. "But the climate is very different now."
The two federal cannabis lawsuits represent an escalation in tactics as legalization advocates continue to gain momentum.
"This is a perfect a storm of cannabis legalization support and its growing momentum," Nelson Guerrero, co-founder of the Cannabis Cultural Association and plaintiff in case being heard on Wednesday, told Marijuana Moment in a statement. "As activists, we must use every avenue possible to move the needle forward to ultimately end cannabis prohibition – whether it's in the courts, on the streets, or through the media."
New York Governor Says Budget Uses Marijuana Revenue For Social Equity, With Details Forthcoming
New York Gov. Andrew Cuomo (D) on Tuesday previewed expected revenue from a legal marijuana program he's proposing through his annual budget, with more detailed legislative language set to be released later in the day.
The governor has repeatedly argued that taxing and regulating cannabis will help fill a historic, $15 billion budget deficit. And while the projected $350 million in annual revenue from marijuana taxes won't resolve the problem on its own, it represents one opportunity to boost an economy that has suffered amid the coronavirus pandemic.
"We also propose legalizing adult-use cannabis, which would raise about $350 million," Cuomo said in his budget speech, adding that "$100 million would go to a social equity fund. That would still give us $250 million towards the budget and our needs."
Watch Cuomo discuss his marijuana legalization proposal below:
While it's not immediately clear what that social equity fund would entail, it's a notable component that advocates are closely monitoring. An outline of his budget plan similarly said the proposal will "correct past harms by investing in areas that have disproportionally been impacted by the war on drugs."
Cuomo has twice pitched legalization through the budget, but reform legislation has stalled in part because of disagreements about how to allocate tax revenue. The governor has generally favored putting the monies in the state's general fund, while leading legislators and activists have pushed for a more targeted distribution centering communities most impacted by the drug war.
If the outline and this latest speech are any indication, it seems Cuomo may be coming around to the latter proposal. But again, the full details of the plan will come when actual legislative language is released later on Tuesday.
In any case, the legislature will have more influence this year after Senate Democrats secured a supermajority in the November election. If the governor were to veto any bill over details he didn't like, they could potentially have enough votes to override him.
There's growing recognition within the legislature about the seeming inevitability of marijuana reform this year, regardless of differing opinions on the specifics.
The top Republican in the New York Assembly said last month that he expects the legislature to legalize cannabis this coming session.
Senate Majority Leader Andrea Stewart-Cousins (D) said in November that she also anticipates that the reform will advance next year, though she noted that lawmakers will still have to decide on how tax revenue from marijuana sales is distributed.
Cuomo also said that month that the "pressure will be on" to legalize cannabis in the state and lawmakers will approve it "this year" to boost the economy amid the health crisis.
The push to legalize in New York could also be bolstered by the fact that voters in neighboring New Jersey approved a legalization referendum in November.
Legislators prefiled a bill to legalize cannabis in New York earlier this month. The legislation, introduced in the Senate by Sen. Liz Krueger (D) and 18 other lawmakers, is identical to a version she filed last year that did not advance.
Separately, several other bills that focus on medical marijuana were recently prefiled in New York, and they touch on a wide range of topics—from tenants' rights for medical cannabis patients to health insurance coverage for marijuana products.
New Virginia Senate Marijuana Committee Holds First Hearing On Legalization Bill
Photo elements courtesy of Metropolitan Transportation Authority and Carlos Gracia.
New Virginia Senate Marijuana Committee Holds First Hearing On Legalization Bill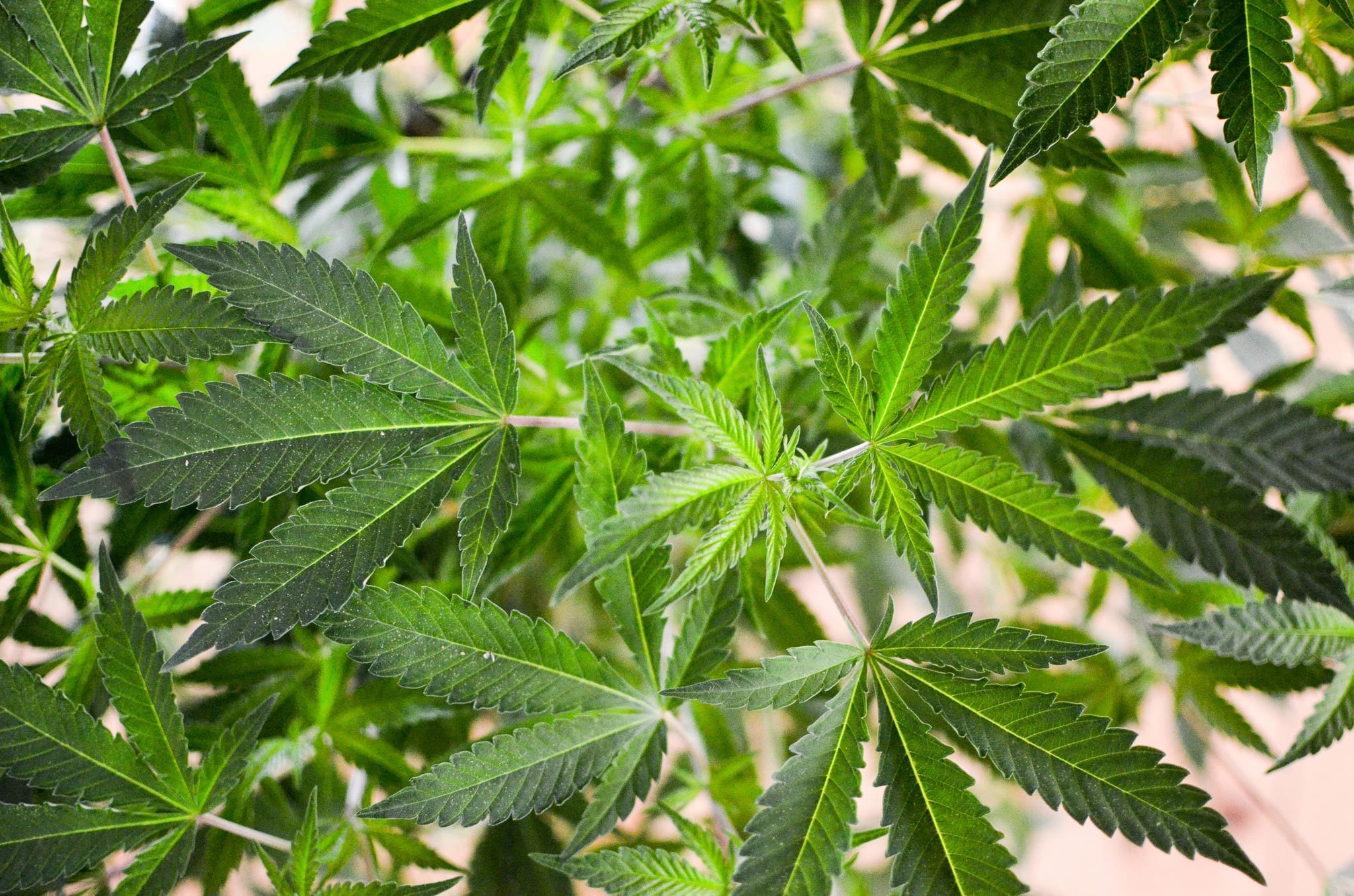 A new Virginia Senate subcommittee focused solely on marijuana held its first hearing on Tuesday to discuss a bill to legalize cannabis in the Commonwealth.
Lawmakers did not vote on the proposal but took public testimony and put questions to state officials about certain regulatory components of the legislation. The panel gave informal feedback on key provisions such as which agency should be responsible for regulating the legal market and how advisory board members would be appointed.
The bill, which was unveiled by Gov. Ralph Northam (D) last week and quickly considered by the Senate Rehabilitation and Social Services Committee on Friday, would create a system of regulated and taxed marijuana sales and production, and allow adults 21 and older to purchase and possess up to one ounce of cannabis and cultivate up to four plants for personal use, two of which could be mature.
It's being carried by top Senate and House leaders and is set for a follow-up hearing in the Senate Rehabilitation Marijuana Subcommittee on Wednesday. At that point, the panel will take up formal revisions to the legislation, Chairman Jeremey McPike (D) said.
Following the subcommittee meetings, the full Rehabilitation committee is expected to vote on Friday to advance the legislation to the Judiciary Committee. After that, it will be referred to the Finance Committee before coming to the full Senate floor.
"We know that the prohibition on cannabis in both our Commonwealth and our country has failed, and over the years hundreds of thousands of Virginians have been branded criminals and disadvantaged," Sen. Adam Ebbin (D), who is one of the chief sponsors of the bill, said at the beginning of the hearing.
As members moved through the details of the legislation, the chair informally "took the temperature" of the committee on a number of issues by asking lawmakers to raise their hands in support or in opposition to various components.
When it came to the question of which agency should regulate the program, lawmakers seemed largely split, though more members expressed interest in establishing a new independent agency to take on that responsibility, rather than task the state's existing Alcoholic Beverage Control Authority (ABC) with taking on cannabis, as would be the case under the governor's legislation as introduced.
The debate centered on which approach would be the most efficient and equitable, and would allow the legal market to come online more quickly.
"ABC has its hand full enough," Sen. Lionell Spruill (D) said. "This is not a job for ABC."
But Deputy Secretary of Agriculture and Forestry Brad Copenhaver, who testified on behalf of the Northam administration, argued that ABC can "do it more quickly" than an entirely new agency and would be able to "hit the ground running."
ABC "has a great relationship with the regulated community that it currently serves" and could replicate that for the cannabis industry, he said.
Members also discussed a component of the bill that concerns the rights of individual jurisdictions to allow or disallow marijuana businesses to operate in their areas. As currently drafted, the legislation would make it so localities would have to proactively opt-in to permit retailers. That could be done through an action of a local city council or via a ballot measure initiated by voters.
Lawmakers debated whether that policy might create pockets throughout the state, which could have economic consequences and allow the illicit market to thrive. At the same time, several members said it was important to give those individual municipalities some level of autonomy over the market.
During the public testimony portion of the hearing, various stakeholders spoke about provisions of the bill that they support or oppose.
Jenn Michelle Pedini, the executive director of Virginia NORML who also serves as the organization's national development director, testified before the subcommittee and said it's the group's "pleasure to support the legislation."
However, "we would offer that currently legislation does lack employment and parental rights protections for those who are are either participating in the industry, or are consuming or cultivating responsibly," they said.
Marijuana legalization is a racial justice issue.

Any legislation moving forward must center Black and Brown communities and the people who are most impacted by the war on drugs.

These are what we're pushing for. Learn more at https://t.co/PMDGtJMT21 @thcjusticenow pic.twitter.com/9fFwrekaLZ

— ACLU of Virginia (@ACLUVA) January 19, 2021
Another problematic provision from advocates' perspective is that the bill would make public consumption a misdemeanor, whereas currently it is a civil offense punishable by a $25 fine. Additionally, it seems to increase the fine for people aged 18-20 who possess cannabis. But those issues were specifically not taken up by the Rehabilitation Committee, as it lacks jurisdiction over matters concerning crimes and penalties.
A representative of the American Automobile Association (AAA) testified in opposition to the bill, arguing that enacting the reform would lead to an increase in impaired driving.
The legislation's provisions have been informed by two official state studies on legalization that were recently conducted by a legislative commission and a separate working group comprised of four Virginia cabinet secretaries and other officials, both of which looked at how to effectively implement legalization and submitted recommendations to the governor's office late last year.
Those studies were required under a marijuana decriminalization bill that was approved last year.
Many of those recommendations have been incorporated into the new legislation, including provisions to promote social equity in the cannabis market. Notably, it would also apportion almost half of the tax revenue the state collects from marijuana sales to funding pre-kindergarten education—a policy championed by First Lady Pamela Northam.
A new 21 percent tax would be imposed on cannabis sales, and local jurisdictions that allow marijuana businesses to operate could levy an additional three percent tax. Existing state sales taxes would also apply on purchases, for a total potential 30 percent tax rate.
Revenue from the new state tax would go toward funding pre-k education (40 percent), a Cannabis Equity Reinvestment Fund (30 percent), substance misuse and treatment programs (25 percent) and public health initiatives (five percent).
This introduction of the bill comes one month after the governor included provisions to lay the groundwork for cannabis legalization in a budget proposal that also calls for millions of dollars to support expungements. Northam had campaigned on merely decriminalizing possession, but he publicly backed broader legalization of marijuana for adult use in November.
Northam said during his State of the Commonwealth address last week that cannabis prohibition was deliberately enacted as a means to discriminate against people of color.
Separate legislation to legalize cannabis for adult use was filed by Del. Steve Heretick (D) earlier this month. A companion version of that bill, sponsored by Sen. Joe Morrisey (D), was also up for consideration by the Senate panel on Tuesday, but he asked that it be "rolled in" to the governor's proposal and that he be added as a chief sponsor. That request was approved by members.
Meanwhile, legislation to stop police from searching people or seizing property based solely on the smell of marijuana in Virginia is set to take effect after lawmakers adopted recommended changes from the governor in October.
Also during the recently concluded special session, Northam signed another bill that will allow people issued summonses for cannabis offenses under the state's new decriminalization law to prepay their civil penalty rather than having show up in court.
Washington State Marijuana Homegrow Bill Draws Smooth Reception At Initial Hearing
Photo courtesy of Philip Steffan.
Washington State Marijuana Homegrow Bill Draws Smooth Reception At Initial Hearing
A renewed effort in Washington State to allow adults to grow marijuana at home had its first hearing in Olympia last week, with a House committee considering a bill that would permit individuals to cultivate up to six cannabis plants for personal use.
A committee vote on the proposal could come as soon as this Friday.
Though Washington was among the first states in the nation to legalize commercial marijuana, growing the plant at home for recreational use remains a felony. Lawmakers have repeatedly rejected past personal cultivation proposals in the years since voters approved a 2012 legalization initiative, citing obstacles to enforcement and a worry that homegrown cannabis would be sold on the illicit market.
If last Friday's hearing is any indication, however, this year could be different. Public testimony on the new homegrow bill, HB 1019, was relatively low-key, and most questions from lawmakers focused on minor details, such as how homegrow would compare to home beer brewing and whether landlords should be able to prohibit plants in rental units.
"I was surprised by the reasonableness of it," said John Kingsbury, co-founder of advocacy group Homegrow Washington, told Marijuana Moment in an email after the hearing. "It isn't always this way. In fact, it has never been this smooth before."
The bill, HB 1019, is currently in the House Commerce and Gaming Committee, which is chaired by Rep. Shelley Kloba (D), who is also the lead sponsor of the homegrow proposal. During an executive session later this week, lawmakers could vote to advance the legislation.
"This is a bill we've seen a few times before in this committee," Kloba said at the recent public hearing, noting that momentum for the policy shift has only grown as homegrow has become "a fairly standard part" of marijuana legalization in other states. "Prohibiting homegrow is an antiquated policy, and it is time for us to evolve in this space."
That point was echoed by homegrow advocates, who noted that nearly every other U.S. state that has legalized marijuana for adults allows home cultivation. Washington, by contrast, allows only registered medical marijuana patients to grow their own cannabis.
"This bill is well in line with the trend from other states, underscoring that we are not in front of this issue but rather coming into harmony with other legal states," testified Lara Kaminsky, government affairs liaison for The Cannabis Alliance, an industry advocacy group.
The only other state with legal cannabis sales that forbids home cultivation is Illinois, where the offense is treated as a civil infraction rather than a felony. New Jersey, which legalized marijuana in November's election but has yet to launch legal sales, will also outlaw homegrow under implementation legislation on the desk of Gov. Phil Murphy (D).
Washington activists initially excluded homegrow from their 2012 initiative over worry that the policy might not be embraced by voters. Until that point, no other state had yet legalized marijuana for adult use.
Policymakers have also expressed concerns that letting people grow their own marijuana at home could reduce state tax revenue from commercial cannabis sales or divert homegrown product into the illegal market. But successful homegrow policies in other states, advocates said, have shown those fears to be overblown.
"What's being proposed here would not be a bold new experiment, but rather a well-worn path," Kingsbury said. "Crime hasn't exploded in states that allow home growing, and tax revenues have not suffered."
Under the new legislation, home growers could be charged with a civil infraction if odors from their plants cause a public nuisance or if plants can be seen from public property. Those provisions, which weren't included in past Washington homegrow bills, are meant to provide recourse for neighbors and prevent plants from being stolen.
—
Marijuana Moment is already tracking more than 250 cannabis, psychedelics and drug policy bills in state legislatures and Congress this year. Patreon supporters pledging at least $25/month get access to our interactive maps, charts and hearing calendar so they don't miss any developments.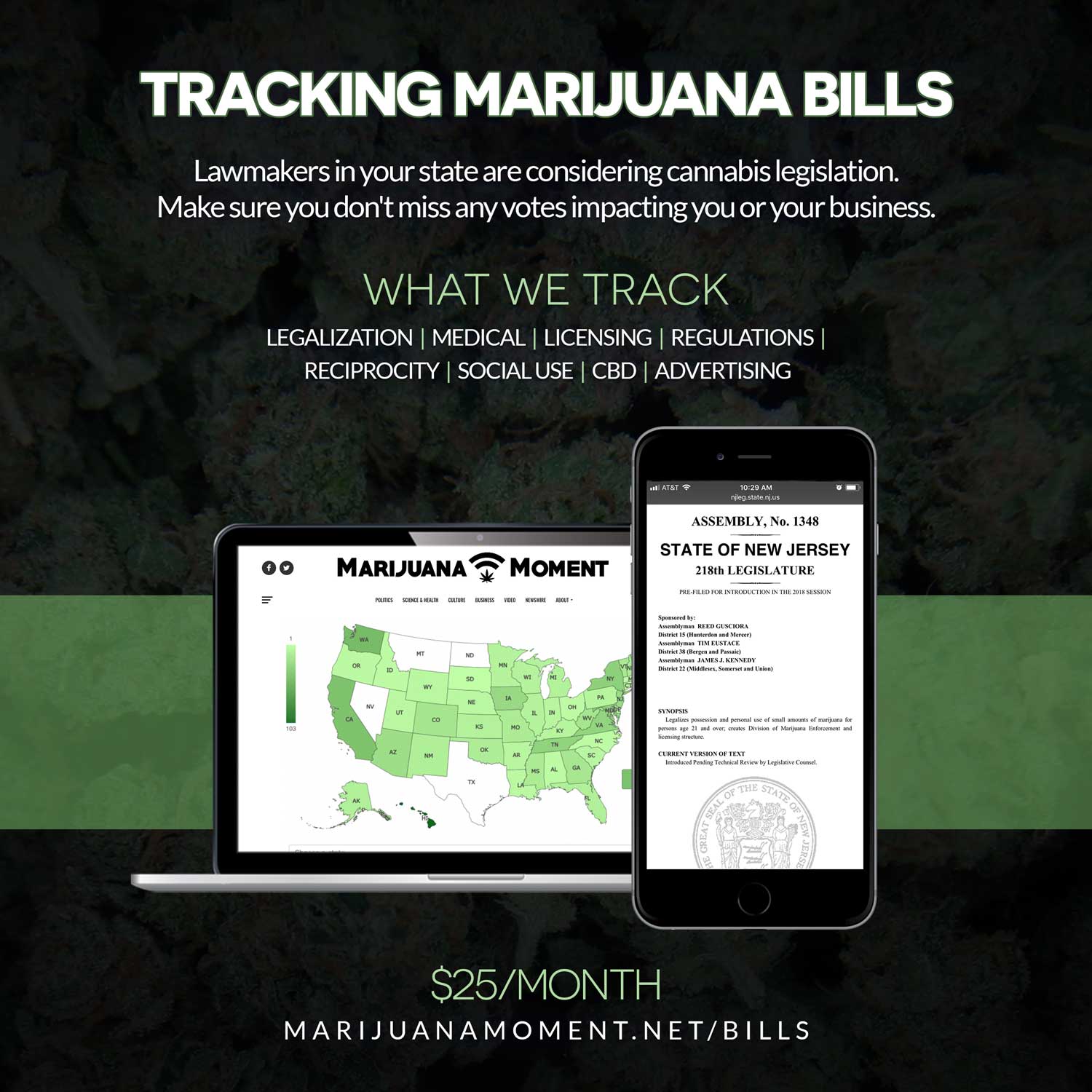 Learn more about our marijuana bill tracker and become a supporter on Patreon to get access.
—
Stanley Garnett, a former Colorado district attorney who now works at cannabis-focused law firm Brownstein Hyatt Farber Schreck, called HB 1019 a "prudent and thoughtful" bill.
"I think the possibility of spinoff problems from a law enforcement perspective are very very limited," the former prosecutor testified.
But some in Washington law enforcement are still skeptical. James McMahan, policy director for the Washington Association of Police Chiefs and Sheriffs, said the group's members are concerned the homegrow law would be difficult to enforce and could expose children to marijuana. He said the proposal "is inconsistent and contrary to the reasons why we understand the voters enacted Initiative 502," the state's legalization law.
"We want to caution you all on what your expectations are of our ability to do this," McMahan told lawmakers about enforcement of the proposal. "Many of the restrictions and limitations in this bill are things that would only be known if our officers were inside the home."
For example, police wouldn't know whether residents were growing more than the allowed limit unless they obtained a warrant to enter and search the property, McMahan said, "which we think is going to be fairly rare."
Advocates pointed out that it's already standard practice in law enforcement to seek a warrant if police have reasonable suspicion to believe a person is breaking the law. "This is the system we have for other concerns with illegal activity," Kingsbury said, "and that system appears to be working well."
State Rep. Melanie Morgan (D) also pushed back against McMahan's claim that HB 1019 would expose more children to marijuana. "We allow drinking in the home. We allow smoking in the home. We allow home brewing in the home, among other things," she said. "I get it that you have your safety concerns, because that's your job, but I would rather—instead of me saying that it's no good—that we collaborate together."
Morgan also took issue with a provision in the current bill that would allow landlords to prohibit tenants from growing marijuana in rental properties. "We're rolling this out," she said, "but it's starting to be inequitable in that not everybody will have the ability to participate."
Meanwhile, drug reformers are watching closely for the expected introduction of a measure that would decriminalize possession of all drugs. It's expected that measure could be unveiled as soon as this week.
New York, Virginia And Other States Consider New Drug Decriminalization Bills