FDA Rejects Anti-Legalization Pharma Co's Cannabis Drug Request
The same drug company that donated $500,000 to a campaign to defeat marijuana legalization in its home state of Arizona in 2016 is now actively fighting to deter competition against its own synthetic THC product. Efforts to extend its exclusive right to manufacture the drug have resulted in a back-and-forth with a federal agency that ultimately resulted in the pharma firm's request being summarily rejected.
Insys Therapeutics, a pharmaceutical company that came under fire over its anti-legalization election spending, is also known for producing potent opioids and a drug called Syndros, a synthesized THC product containing dronabinol that's similar to Marinol, except that it's a liquid preparation rather than a pill.
To many advocates, the company's anti-legalization spending reeked of conflicts of interest. Was Insys worried that legal weed in Arizona represented a threat to its bottom line? The company essentially admitted as much in 2007, writing in a disclosure statement to the Securities and Exchange Commission (SEC) that "the market for dronabinol product sales would likely be significantly reduced and our ability to generate revenue and our business prospects would be materially adversely affected" if marijuana or synthetic cannabinoids were legalized.
Now, according to publicly available documents, Insys is engaging in another type of battle. It wants extended exclusivity over its oral dronabinol product. And in October 2017, the company asked the Food and Drug Administration (FDA) to decline applications from competitors seeking to produce generic versions of Syndros.
Insys has already sued two such drug companies, Par Pharmaceuticals and Alkem Laboratories, after learning that they had submitted Abbreviated New Drug Applications (ANDA)—the first step in the process of gaining approval for generic versions of existing drugs—which "triggered a 30-month stay" in one case, Insys senior vice president of regulatory affairs Stephen Sherman noted in a October 2017 citizen petition to the FDA.
Citizen Petition From Insys Therapeutics, Inc (2) by KyleJaeger on Scribd
In light of disclosures that drugmakers were submitting FDA applications to develop generic versions that referenced Syndros, which might eventually provide patients with cheaper alternatives, Insys appealed to the FDA.
Its request was in two-parts: 1) It asked the FDA to decline to "receive or approve" any ANDA applications that didn't establish "in vivo bioequivalence" to its drug, and 2) that any ANDA applications for its drug "include fed and fasted state bioequivalence studies."
In essence, Insys argued that its drug was too complex to be replicated by generic competitors that didn't first conduct extensive testing demonstrating its biochemical likeness.
In a letter made public earlier this month, the FDA flatly denied the company's petition. The government agency disputed the claims Insys included in its letter and clarified how the ANDA approval process works.
Petition Response Letter From FDA CDER to Insys Therapeutics, Inc (1) by KyleJaeger on Scribd
Robin Feldman, professor of law and director of the Institute for Innovation Law at UC Hastings College of the Law in San Francisco, literally wrote the book on all the different ways that mainstream pharmaceutical companies try to subvert generic competition.
She told Marijuana Moment that the bioequivalence testing Insys requested was already required in any ANDA application, so it was kind of like "petitioning the FDA to say 'we insist that you do what it is that we all know you're going to do.' And with that, you get five months of delay." In a phone interview, Feldman couldn't help but laugh as she was read another section of the drug company's citizen petition. That section says:
"Insys notes that it is currently awaiting an FDA exclusivity determination with respect to SYNDROS and expects to receive three years of exclusivity based on the submission of new clinical studies essential to approval."
"Companies pile these exclusivities on one after another to keep generic competitors off the market as long as possible," Feldman said. "So the reason I laughed is what you are seeing is a multipronged effort by the brand company to stave off generic entry as long as possible."
"They're using a variety of techniques: citizen petition, additional regulatory exclusivity, and adding these on. Each delay may be of limited time, but they may be extremely valuable—and together, they can add up to significant costs to the consumer," she said.
In her book and published studies, Feldman reported that approximately 80 percent of citizen petitions, like the one submitted by Insys, were denied by the FDA. Submitting a citizen petition is often a delay tactic for drug companies hoping to maintain exclusivity over their brands, because "[d]elaying generic competition for as little as six months can be worth half a billion dollars in sales for a blockbuster drug," she wrote in an op-ed for STAT.
False or misleading citizen petitions from drugmakers are so common, in fact, that Feldman created a beta "alert system" for users to submit and detect suspect petitions. When she ran Insys's October 2017 petition through the system, it "came back with red flags," she said.
Insys Therapeutics did not respond to requests for comment by the time of publication. This story will be updated if the company sends comment.
Number Of Banks Reporting Cannabis Business Clients Dips After Hemp Rules Change
The number of accounts that banks and credit unions informed federal regulators they are maintaining for cannabis businesses dipped slightly at the end of the last quarter, according to new data. But that seems to be primarily related to revised reporting requirements for financial institutions servicing hemp-specific businesses following that crop's federal legalization, rather than a decline in the number of marijuana companies with bank accounts.
Under guidance issued by the Obama administration in 2014 that remains in effect, banks and credit unions are required to submit suspicious activity reports, or SARs, if they elect to provide financial services to marijuana businesses. As more states have legalized marijuana, the number of cannabis-related SARs filed has consistently increased, though it began to level off late last year, a federal report released this week shows.
The Financial Crimes Enforcement Network (FinCEN) reported that SARs for marijuana businesses declined from 747 as of November 2019 to 739 by the end of the following month.
While the overall number is higher than was reported in the previously quarterly data (723), the recent dip appears to coincide with updated guidance to financial institutions that FinCEN and other federal regulators issued at the beginning of December.
Those memos clarified that because the 2018 Farm Bill removed hemp from the Controlled Substances Act, banks are no longer required to automatically submit SARs for businesses that produce, process or sell the crop and products derived from it.
Some in the industry expected to see a sizable spike in the number of banks that work with marijuana firms after the House of Representatives passed a bill last year that would protect financial institutions from being penalized for doing so by federal regulators. Even though the legislation has stalled in the Senate and has not yet been enacted into law, the bipartisan margin of support it got in the House has ben seen as a signal that formal federal changes are likely on the way.
While the new data doesn't show that expected big increase, that could be partially explained by the change in hemp's legal status.
Of the 739 depository institutions servicing marijuana businesses, 203 "indicated that they were providing banking services to hemp-related businesses," the agency said. Based on the language of the SARs, FinCEN said it was likely that 61 financial institutions provide services to companies that exclusively market hemp and not marijuana.
As more banks and credit unions become aware of the updated guidance on hemp reporting standards, it's possible that fewer institutions will issue SARs for what FinCEN defines as a "marijuana-related business."
The agency also said that short-term declines in overall numbers "may be explained by filers exceeding the 90 day follow-on Suspicious Activity Report (SAR) filing requirement."
All that said, if Congress passes the Secure and Fair Enforcement (SAFE) Banking Act, the number of financial institutions working with marijuana firms will likely increase substantially, as banks would then have the security of a codified law to protect them against adverse actions.
"Hemp-related reductions in filings aside, I think these latest FinCEN numbers continue to show that most banks are extremely hesitant to work with cannabis businesses in the absence of clarifying legislation," Morgan Fox, media relations director for the National Cannabis Industry Association, told Marijuana Moment. "I would imagine that this problem still exists for hemp producers given the relatively small drop in banks filings SARS that is attributed to changes in filing requirements for hemp-related activity."
"This level of banking access does not come close to fulfilling the needs of regulated cannabis businesses or their employees, and ensures that issues we are seeing with public safety and lack of access to capital for small businesses will continue," he said. "The Senate must act now to remedy these problems, and it can start by holding a markup on the House-approved version of the SAFE Banking Act in the Senate Banking Committee as soon as possible."
Sen. Cory Gardner (R-CO), a lead sponsor of the bill, said last week that he expects the Senate to take it up within months and revealed that lawmakers are "close" to reaching a compromise with Banking Committee Chairman Mike Crapo (R-ID), who has proposed several restrictive changes to the House-passed legislation.
USDA Touts Hemp Industry's Growth But Says Challenges Remain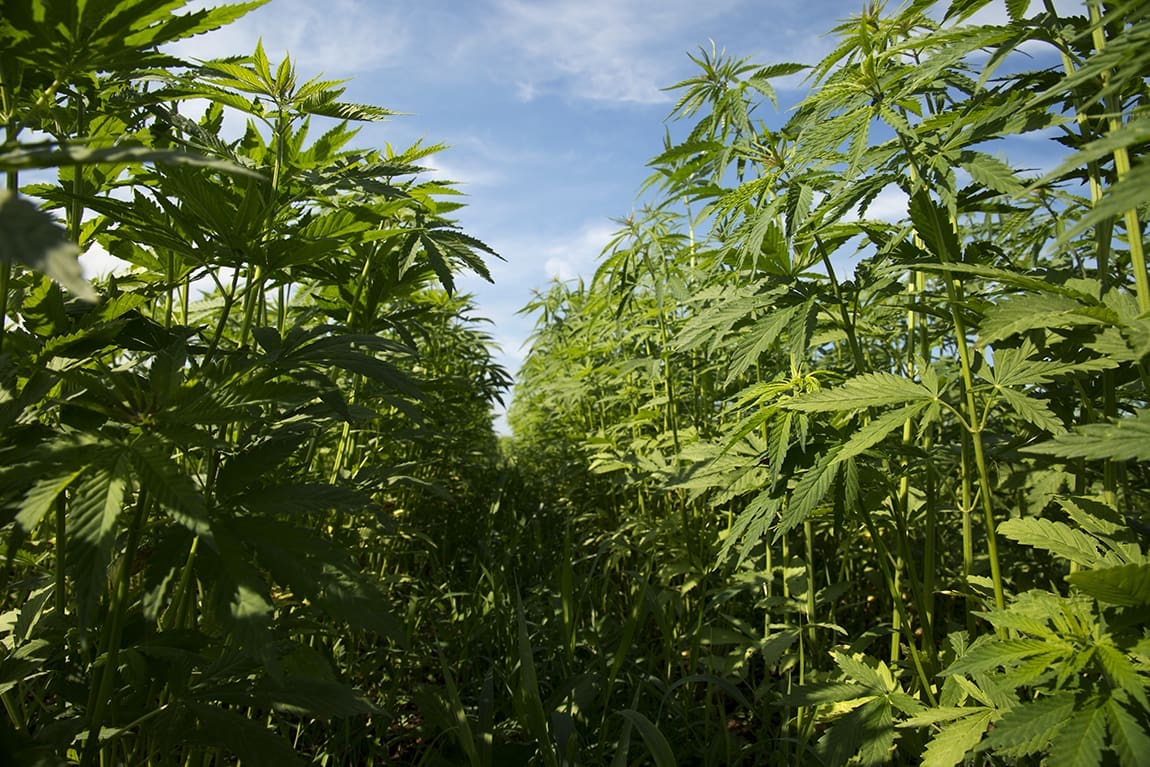 Hemp production in the U.S. has scaled up rapidly since lawmakers lifted federal prohibition of the crop, with more acres of hemp grown in the country today than at any point since the 1940s. But the fledgling industry is still very much in flux, and reporting practices that vary wildly from state to state have hampered efforts to fully understand it.
Those are the top-level takeaways of a report released Wednesday by the U.S. Department of Agriculture (USDA) that explores the economic viability of the American hemp industry as the country transitions to a legal era.
After decades of prohibition due to hemp's close relationship to its high-THC cannabis cousin marijuana, Congress in 2014 approved state-level pilot programs, allowing growers in certain states to produce and sell hemp as part of limited research initiatives. In 2018, lawmakers went further, ending federal hemp prohibition entirely. Since then, the sector has exploded.
"Under the pilot programs, United States industrial hemp acreage reported by States increased from zero in 2013 to over 90,000 acres in 2018, the largest U.S. hemp acreage since the 146,200 acres planted in 1943," the USDA study found. "By December 2019, hemp could be grown legally in every State except Idaho, Mississippi, and South Dakota."
As of last year, more than 146,065 acres of planted hemp were reported to the agency.
US industrial #hemp acreage reported by State pilot programs increased from zero in 2013 to over 90,000 acres in 2018. https://t.co/Uukn12YX4W pic.twitter.com/993VONvSu4

— Economic Research Service (@USDA_ERS) February 19, 2020
The 83-page report, "Economic Viability of Industrial Hemp in the United States: A Review of State Pilot Programs," attempts to draw conclusions about the legal, logistical and economic challenges that might arise as US farmers return to a crop that hasn't been grown in the country for generations.
One of the biggest obstacles, the study shows, is keeping everyone on the same page.
"There is no systematic comprehensive data source regarding the emerging United States hemp industry or requirement to report a consistent set of data for the pilot programs," noted the authors, who said they drew on annual reports, website information, internal USDA data, unstructured discussions with state agencies and other third-party information to compile the document.
"States collected data at various times and levels of aggregation," the study says. "For example, some States report hemp data by intended end use (i.e., grain, fiber, cannabidiol (CBD) or other extracts) while others do not report data."
Inconsistency between state requirements was one of the main obstacles highlighted by the report. USDA found that state-level hemp programs ran into a handful of common problems, starting with the difficulty of passing state-level legislation to regulate the new programs. Other problems arose in obtaining "critical production inputs," such as seeds and insecticides, or in trying to easily distinguish industrial hemp from high-THC marijuana, which remains federally illegal.
A fundamental problem, the USDA report found, was "lack of basic data and information for decision-making"—something that should come as no surprise to anyone who's watched a legislative hearing on cannabis.
Getting stakeholders involved early seemed to help smooth some wrinkles, the study found. In some states, authors wrote, "hemp legislation failed repeatedly, typically because of law enforcement concerns or lack of public support."
"Colorado and Kentucky are two examples of States that included law enforcement stakeholders early when establishing their pilot programs," the report notes. "This allowed an early basis for dialogue and shared knowledge."
Data from state pilot programs also led analysts to conclude that while industrial hemp is a burgeoning industry in the U.S., it likely won't emerge as a strong economic player in every state.
"As with other crops, it is not likely that hemp will be economically viable in every State," the study concludes. "States that moved quickly to establish pilot programs were not leading producers of competing major field crops," it found, and "growers are not likely to plant or process hemp if more profitable options exist.
Hemp-producing states could also run into competition internationally, the report says, acknowledging that the U.S. is one of many hemp-producing regions globally. "While the reintroduction of hemp production in the United States is relatively recent," it says, "hemp production has already been legal in other parts of the world," including Canada, Europe and China.
Under a recent trade deal with the U.S., China agreed to import more American-grown hemp and other agricultural products over the next two years.
For now, the rising tide of interest in hemp-derived CBD appears to be lifting all boats. "Global production was small and relatively stable until the recent worldwide interest in CBD oil," the USDA study found. "There is some demand for hemp as a sustainable natural fiber, hemp seeds and protein as a food ingredient, and hemp extracts for cosmetics and food, but CBD oil has been the primary source of demand growth."
Earlier this month, USDA officials said they won't be able to comply with a request by farmers and some state lawmakers to increase the federal THC limit on industrial hemp, which is currently defined as cannabis that contains no more than 0.3 percent THC. Advocates had asked for that limit to be increased to 1 percent, but the agency said that's a job for Congress.
They did, however, say that a new public comment period will be opened before hemp rules are finalized.
Photo courtesy of Brendan Cleak.
Businesses Are More Profitable And Innovative In States With Legal Marijuana, Study Finds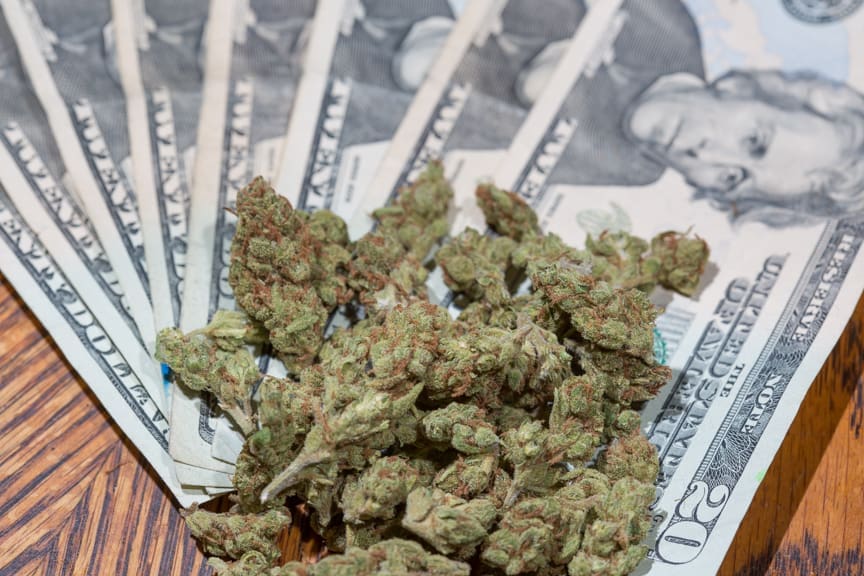 States have been experimenting with various forms of marijuana legalization for years and, according to new research, business is better where cannabis is legal.
To investigate the impact legalization has on the economy, researchers at the University of Iowa analyzed 9,810 corporations between 1991 and 2017, finding "a multitude of positive effects" after a state enacts medical marijuana laws.
"Firms headquartered in marijuana-legalizing states receive higher market valuations, earn higher abnormal stock returns, improve employee productivity, and increase innovation," the authors said.
The study, which was reviewed by Marijuana Moment but has yet to be published, found that having cannabis laws on the books can unleash the previously untapped potential of employees and helps companies attract new talent.
Corporations "become more productive and hire more productive human capital from out of state after the passage of the law," the authors wrote.
They also report that "firms earn higher net income per employee" after a medical cannabis law is passed, and "the positive impact is sustained over the next two years."
Additionally, the study found a 4.2 percent increase in company value, which translates into an average increase of the market-value of corporations by $166 million after a medical marijuana law is enacted.
"Firms experience an increase in profitability likely due to the positive shock to the human capital post-legalization," the study finds.
"State-level medical marijuana laws have a considerable positive impact on firms in the state, likely by having a positive impact on the human capital of firms."
Higher profits and more productivity aren't the only benefits a company sees after marijuana is legalized. When it comes to stock prices, companies located in states with medical cannabis fare better than those in jurisdictions where the plant is prohibited.
Additionally, the stock value of corporations in medical marijuana states increased by 4.56 percent. An "equal-weighted portfolio" composed of similar stocks located in states without a medical marijuana program showed a loss of about two percent annually.
Returns on stocks were also 4.44 percent higher per year for companies in states that have legalized.
What's the source of such financial benefits? The authors suggested that companies will ramp up innovation after marijuana laws are passed, making the company more profitable over time, compared to their counterparts in areas that don't permit cannabis at all.
"Our results imply that after marijuana legalization, firms not only apply for more patents and receive more citations on those patents, but also are more productive and efficient in generation innovation output from labor and [research and development] input," the study determined.
"We also find an increase in both entrepreneurial activity and venture capital funding in states that legalize marijuana."
Finally, the study measures the "innovation productivity" of those working, living and moving to the state, following the passage of a medical marijuana law.
"The inventors that are in the state both before and after legalization become more creative" post-legalization, the authors found.
And when it comes to attracting new talent from other states, "more inventors relocate to states after medical marijuana legalization than before passage of the law."
The benefit is two-fold for such corporations. In addition to being "able to attract more productive inventors" in states with medical marijuana "relative to states that do not legalize," existing employees also see an uptick in innovation after a cannabis law is passed, the study concluded.
House Lawmakers Caution Key Senate Chairman Not To Overhaul Marijuana Banking Bill