FDA Finally Sends Overdue CBD Enforcement Update To Congress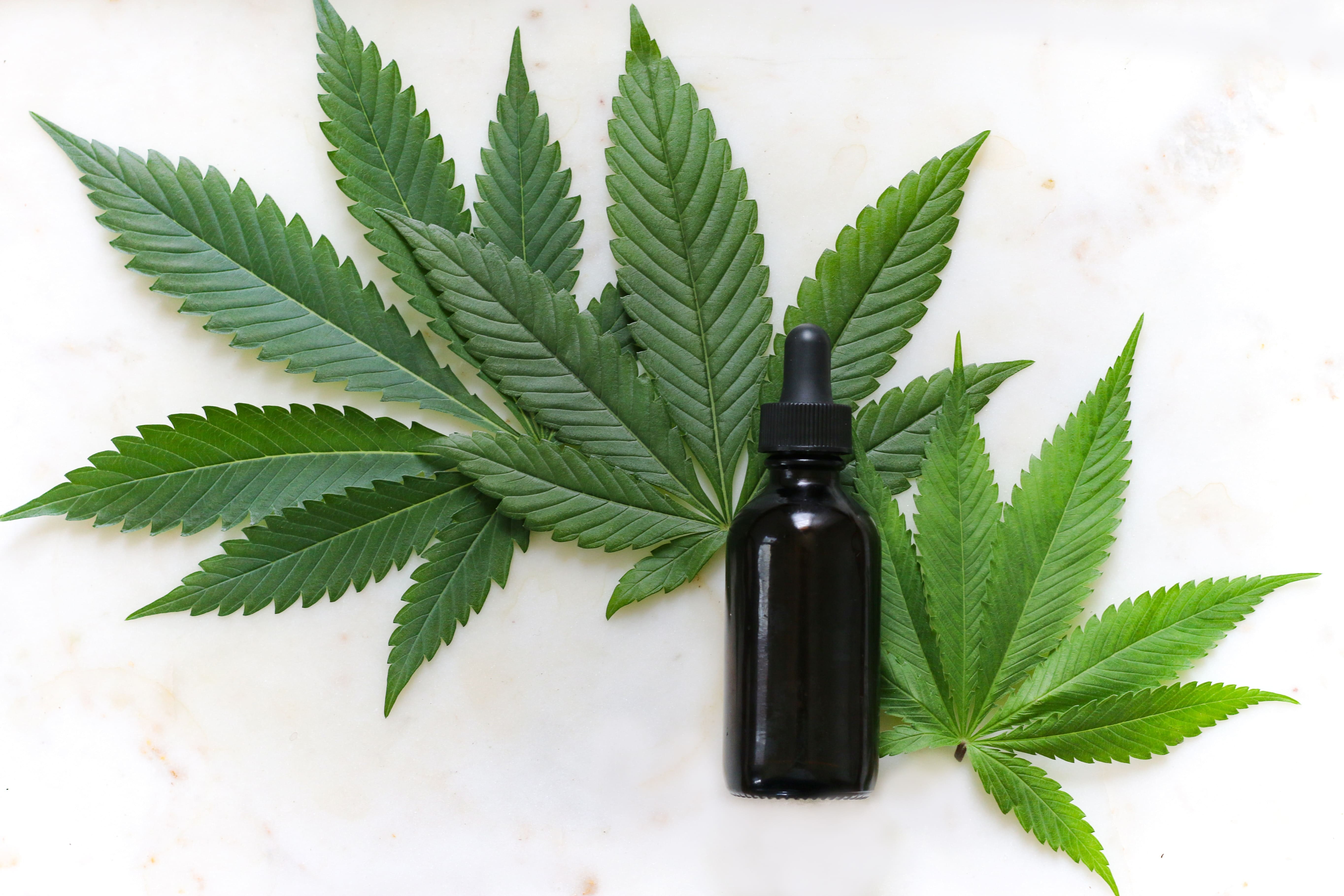 The Food and Drug Administration (FDA) issued an update to Congress this week on the status of rulemaking for CBD.
While the process remains ongoing, the agency announced that it is actively exploring pathways to allow for the marketing of cannabidiol as a dietary supplement and is developing enforcement discretion guidance. It will also be reopening a public docket to solicit additional scientific information about the risk and benefits of the cannabis compound.
After hemp and its derivatives were federally legalized under the 2018 Farm Bill, FDA was mandated under separate appropriations legislation passed late last year to provide an update on its regulatory approach to CBD within 60 days. That deadline passed last month, but the report and a supplementary notice were made public on Thursday.
"FDA is currently evaluating issuance of a risk-based enforcement policy that would provide greater transparency and clarity regarding factors FDA intends to take into account in prioritizing enforcement decisions," the agency told lawmakers. "Any enforcement policy would need to balance the goals of protecting the public and providing more clarity to industry and the public regarding FDA's enforcement priorities while FDA takes potential steps to establish a clear regulatory pathway."
FDA has previously issued warnings to CBD companies that make unsubstantiated claims about the therapeutic potential of the non-intoxicating compounds, and it said it remains concerned about such practices and will continue to take enforcement action against such businesses.
The agency reviewed what's known about CBD—acknowledging that data was limited "because cannabis-derived CBD was a Schedule I controlled substance" prior to hemp legalization. The roadblocks to research caused by marijuana's ongoing restrictive Schedule I status is something legalization advocates have long pointed out.
"Thus, limited systematic data exist to inform our approach," FDA wrote. "As more data on CBD become available, we will be able to refine—and, perhaps in some cases, revise—our thinking and approaches."
The report notes that there are means to develop FDA-approved drugs based on CBD, as has been done for one prescription medication to treat severe seizure disorders, but it stressed that "CBD is not a risk-free substance" and could impact liver health and have adverse interactions with other drugs. Further, the agency said it is concerned about mislabeling and the presence of adulterants in unregulated products.
That said, FDA said it is "actively evaluating what and how much data would be sufficient to support a conclusion that CBD can safely be allowed in dietary supplements under certain conditions." To expedite the process, it is also "evaluating issuance of a risk-based enforcement policy that would provide greater transparency and clarity regarding FDA's enforcement priorities while FDA potentially engages in the process of a rulemaking."
"Any enforcement policy would need to balance the goals of protecting the public and providing more clarity to industry and the public regarding FDA's enforcement priorities based on the known risks to public health. As we move forward, FDA intends to continue taking action to address violations we identify that put the public at risk."
There are a number of questions that FDA is considering as it continues to develop regulations for CBD products.
"1. What happens if you use CBD daily for sustained periods of time?
2. What level of intake triggers the known risks associated with CBD?
3. How do different methods of exposure affect intake (e.g., oral consumption, topical, smoking or vaping)?
4. What is the effect of CBD on the developing brain (such as children who take CBD)?
5. What are the effects of CBD on an unborn child or breastfed newborn?
6. How does CBD interact with herbs and botanicals?
7. Does CBD cause male reproductive toxicity in humans, as has been reported in studies of animals?
8. Are there differing safety concerns for use in certain animal species, breeds, or classes?
9. Are any residues formed in edible tissues of food producing animals?"
While CBD is not currently allowed to be marketed as a dietary supplement, FDA wrote that it "has the authority to remove this exclusion through rulemaking." Answering these questions—through the reopened public docket as well as discussions with government partners—will help facilitate that process. The docket will remain open "indefinitely" for stakeholders to submit relevant information to assist in the rulemaking process, it said.
"We recognize the high level of interest in dietary supplements as a potential pathway for products containing CBD, and we are actively evaluating potential rulemaking to allow CBD in dietary supplements," FDA said.
"Given the significant public interest in the potential for CBD dietary supplements, as well as the extent to which many such products are available on the market, FDA has been taking a highly proactive approach to analyzing relevant safety questions. Rather than waiting for data to be submitted, we have been actively working to identify and review all available data to understand the risk profile of CBD and the potential for CBD to be safely included in dietary supplements, under certain conditions of use."
But allowing CBD to be sold as a dietary supplement creates certain concerns, it said. For example, dietary supplement makers are not regulated in the same way as, say, pharmaceutical companies, and so that would "limit our ability to provide systematic and comprehensive oversight over all CBD products."
To fill the gap in product-specific information about CBD, FDA said it will set up a system for proprietary data to be submitted to the agency in the hopes that the process "will enable responsible industry participants to share relevant information with FDA about specific products, which could help inform appropriate regulatory steps."
Another notable component of the report concerns CBD vaping products. The agency said such products increase the risk of toxicity issues and could also appeal to youth. It emphasized that CBD vaping items cannot be marketed as a drug without FDA approval.
"We remain focused on educating the public about the number of questions that remain regarding CBD's safety," FDA said in a separate notice for the public on Thursday. "There may be risks that need to be considered before using CBD products outside of the monitored setting of a prescription from your health care provider."
We're seeing CBD being marketed in a number of different products & understand consumers are seeking out these novel products for a variety of perceived health-related or other reasons. Aside from one prescription drug, no other CBD products have been evaluated/approved by FDA.

— Dr. Stephen M. Hahn (@SteveFDA) March 5, 2020
Though FDA has consulted with government partners at the federal, state, local and international levels, it has yet to do so for tribal entities. The agency stands "ready to do so," the report states, adding that FDA plans to host a call with state public health officials on CBD safety issues.
FDA said it has received feedback inquiring about whether "full spectrum" or "broad spectrum" hemp products that contain CBD are allowed to be marketed. There's a lack of clarity to that end because, as the agency noted, while such terms generally indicate that the products are not CBD isolates, some contain high levels of the compound.
"We are actively seeking information from individual manufacturers, trade groups, and others regarding the processes by which 'full spectrum' and 'broad spectrum' hemp extracts are derived, what the content of such extracts is, and how these products may compare to CBD isolate products," it said. "Such information will be critical to informing our evaluation of the regulatory status of such products."
These efforts are in line with our mission to protect the public, foster innovation & promote consumer confidence. We're committed to working efficiently to further clarify our regulatory approach – using science as our guide & upholding our rigorous public health standards.

— Dr. Stephen M. Hahn (@SteveFDA) March 5, 2020
The agency also acknowledged a separate congressional mandate to conduct product sampling of CBD products on the market to determine the extent to which there is contamination or adulteration. It said it is actively developing a plan to accomplish that within the 180-deadline set in last year's spending legislation.
"As this report outlines, we have made progress, but there are still areas where timely attention is needed," FDA said. "Ultimately, we remain steadfast and committed to working with all stakeholders to ensure the protection and promotion of public health. This is especially so with respect to our government partners at the federal, state, local, territorial, tribal and international levels."
While the report does not offer much in the way of policy updates and largely describes ongoing efforts to develop CBD rules, FDA does appear to be heeding the opinion of lawmakers and stakeholders who have repeatedly implored the agency to provide a pathway for marketing of the compound.
Relatedly, the newly installed commissioner of FDA said last week that given the widespread availability and interest in CBD, it would be a "fool's game" to ban them.
Read the full FDA report on CBD below:
FDA CBD report by Marijuana Moment on Scribd
Top Federal Drug Official Discusses Marijuana Benefits And Risks At Congressional Hearing
Photo by Kimzy Nanney.