Company Gets Trademark For The Word 'Psilocybin,' Frustrating Decriminalization Advocates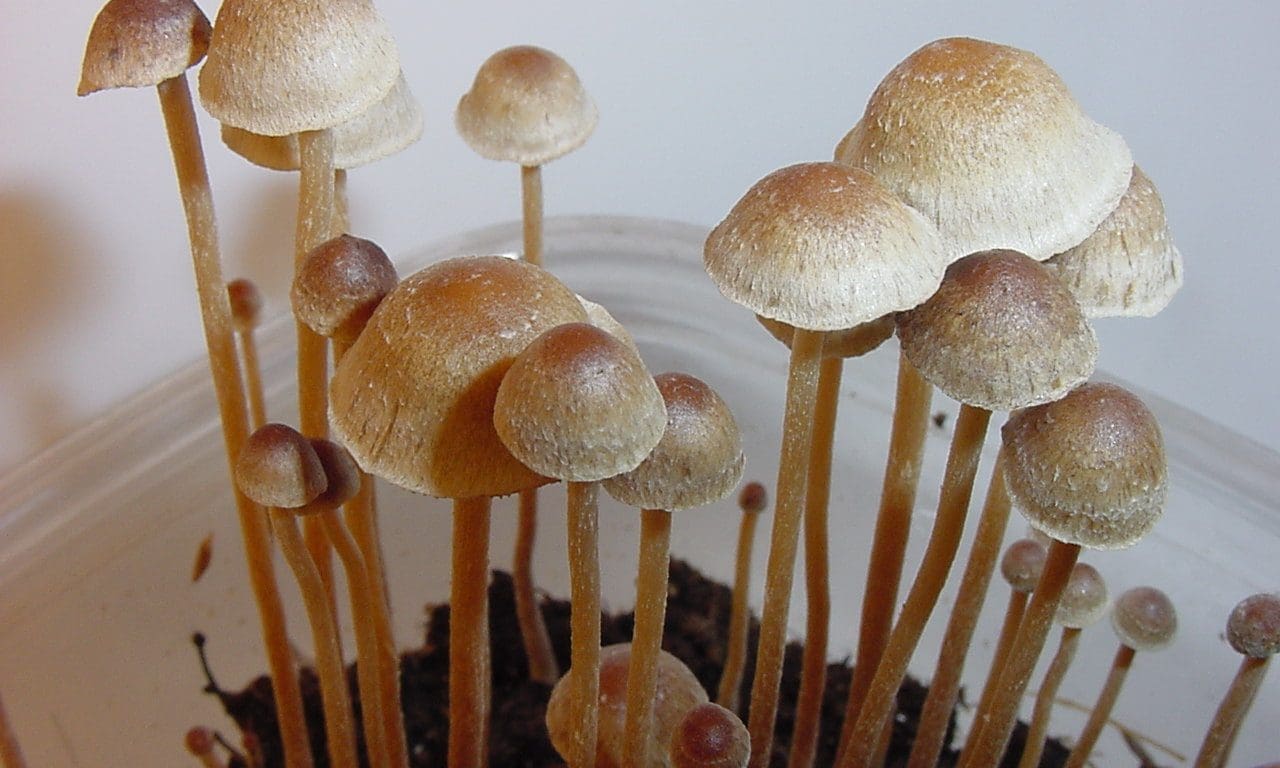 As psychedelics reform efforts pick up across the U.S., there's an increasing weariness among advocates about the potential corporatization that may follow.
That's why many found it alarming when a California-based company announced on Thursday that it had successfully trademarked the word "psilocybin," the main psychoactive constituent of so-called magic mushrooms.
Psilocybin™ is a brand of chocolates that do not contain the psychedelic itself but are meant to "begin educating, enlightening and supporting the community in upgrading their inner vibrations in order to get everything they want of their time here on earth," according to a mission statement.
Soon after founder Scarlet Ravin shared news of the trademark on LinkedIn, advocates raised questions and concerns: What does that mean on a practical level for other psilocybin organizations? Why should one brand get exclusive rights (to a certain legal extent) to the scientific name of a natural substance?
The reality of this particular trademark is more nuanced than it might appear at first glance. While it's true that the company was granted the distinction by the U.S. Patent and Trademark Office, it's specifically for educational materials and it's listed on the supplemental register, rather than the principal register, which means it would be incumbent upon the brand to prove that it has earned distinctiveness of the mark if the issue went to court.
"It's certainly good for her business to have that mark, but I think at the end of the day, it's going to be somewhat weak," Larry Sandell, an intellectual property attorney at Mei & Mark LLP, told Marijuana Moment. He added that this example is "indicative that people are trying to stake early claims to IP."
"Even if they might be somewhat overreaching, people see a potential new market here and they want to stake out their ground," he said. "It's a big next space that people are anticipating a legal market. Maybe it's where cannabis was five to 10 years ago."
Despite those legal limitations, reform advocates view the trademark as emblematic of a bigger issue—that someone would presume to take ownership of a substance that's at the center of a national debate on whether or not to criminalize individuals for using it.
Kevin Matthews, who led the successful campaign to decriminalize psilocybin mushrooms in Denver last year and is the founder of the national psychedelics advocacy group SPORE, told Marijuana Moment that he didn't doubt Ravin had the right intentions—to promote education into the substance—but he said the decision to trademark is nonetheless questionable.
"This being an open-source movement, trademarking the word psilocybin, in some ways it feels like—although I don't think this is her intention—it's lacking perspective," he said. "Does that mean we can't use psilocybin as SPORE because we're an educational non-profit and she's a for-profit branded company? It doesn't make a lot of sense to me. She needs to let go of the trademark."
Ravin said that her goal in trademarking psilocybin was to prevent the substance from being becoming the next cannabis, which she said has been corrupted from its "true spiritual, medicinal benefit" and turned into a corporate commodity.
"Knowing that psilocybin is going to be next [to be legalized] I feel strongly guided by the deepest part of my heart to really offer a sense of education of what could be when you take such a strong, beautiful medicine and to give people an education platform here and now to let them know what's coming, how to receive it, how to get the most benefit from," she told Marijuana Moment in a phone interview.
"We paved the way for this being a medicinal offering and not a consumer, recreational shitshow. That was our intention," Ravin said. "The only way that we are going to have access to mainstream consumers is by having some sort of trademark on the word so that we can use it for something that's not what it actually is."
"With this being something that we can now put into market with a box of chocolates that has no psilocybin in it, but as you can already see, it creates a platform for discussion of what the beauty of this plant can do," she said. "Me and my movement and my team, we don't own the word. We're not going to ever sue anyone who also uses the word—we're opening a doorway for ourselves and anyone that wants to see this educated upon so that we can hit people who are unfamiliar with it now with downloads to actually have this be a safe, successful psychedelic transition."
Asked to react to criticism about the trademark from advocates, Ravin said "we're all here to follow spirit guidance to show love and light, and the visions I had of doing what we're doing now was based upon breaking boundaries and breaking perceptions and allowing people to have an opportunity to sink into being one unit."
"Yeah, it might be coming out, we might be using the platform of psilocybin. We can use any platform to do this," she said. "We can use any platform to come together as a whole, and the longer that people sit in duality and say, 'oh now she's going to have a stronger voice than me is just looking at something not through their heart,' it's looking at it through ego and judgement."
"The more that we describe what we're doing, the more people I think will start to feel our unity and we'll be able to move together as a stronger force than pointing fingers and trying to separate one another," she said. "Those days are done."
Ravin said that once the Psilocybin™ chocolates are ready for market, she plans to contribute 10 percent of profits to the Multidisciplinary Association for Psychedelic Studies (MAPS), which is involved in researching therapeutic benefits of psychedelic substances.
Congressman Backs Ballot Measure To Legalize Psychedelic Mushrooms For Therapeutic Use
Photo courtesy of Wikimedia/Workman.