Bernie Sanders Launches Marijuana Petition
U.S. Sen. Bernie Sanders (I-VT) is asking his supporters to pressure Congress to legalize marijuana and end the broader "war on drugs."
In an email sent to the former (and possibly future) presidential candidate's campaign e-mail list on Wednesday night, the senator wrote that the federal government's anti-cannabis approach is "an issue of grave consequence."
Citing racial disparities in enforcement, Sanders said that "marijuana prohibition is part of a larger failed war on drugs that has led to the great national crisis of mass incarceration."
He's asking supporters to sign an online petition calling on federal lawmakers to treat drugs as a health issue instead of a crime and "invest in programs that focus on treatment and prevention."
Calling the rescheduling of cannabis a "a first step," he said that marijuana's current classification in a more restrictive category than cocaine "doesn't make any sense."
"Let's have states decide the issue of marijuana for themselves like they do with alcohol," he wrote. "More and more states are moving in the direction of decriminalization. Let them make those decisions without federal interference."
In late 2015, amidst his bid for the Democratic presidential nomination, Sanders filed the first-ever marijuana descheduling bill to be introduced in the U.S. Senate.
The legislation ended up going nowhere after earning zero co-sponsors.
Sanders hasn't introduced any new marijuana bills during the current 115th Congress, which began  more than a year ago, but he has signed on as a co-sponsor of cannabis banking legislation filed by Sen. Jeff Merkley (D-OR).
The Vermont senator hasn't yet co-sponsored a bill Sen. Cory Booker (D-NJ) filed that would remove marijuana from the Controlled Substances Act, similar to Sanders's 114th Congress proposal. The Booker legislation goes even further by withholding funding from states with racially discriminatory cannabis enforcement.
In addition to Sanders, other potential 2020 Democratic presidential candidates Sens. Elizabeth Warren (D-MA) and Kamala Harris (D-CA) are signed on to the banking bill. Warren and potential presidential contender Sen. Kirsten Gillibrand (D-NY) are also co-sponsors of a separate comprehensive medical cannabis bill that Booker, himself a rumored 2020 candidate, introduced.
Read the full text of Sanders's marijuana e-mail below:
I am writing you about an issue of grave consequence that affects the lives of millions of Americans and greatly impacts our democracy – namely the continued federal prohibition on marijuana and the need for reform of our criminal justice system.
As you know, a number of states (including my state of Vermont) have decriminalized or legalized the possession, use and sale of marijuana in recent years. Under the Obama Administration, the Justice Department took no action against these states or the people in those states. However, the Trump Administration has taken a very different stance with Attorney General Jeff Sessions threatening to prosecute. That would be a huge mistake and move us in exactly the wrong direction.
Here's why:
Millions of Americans have had their lives impacted by the federal prohibition on marijuana – arrests, convictions and even jail time. Even when people don't go to jail, the criminal record they receive makes it harder for them to find a job, get housing or go to college. Is this a widespread problem? It sure is. In 2016 alone, over half a million people were arrested for marijuana possession.
These harmful impacts are felt far more acutely in communities of color and poor communities because enforcement of marijuana laws is much stricter there than in more affluent, white communities. Incredibly, African Americans are four times more likely to be arrested for marijuana even though marijuana usage rates are basically the same across racial lines.
Of course, marijuana prohibition is part of a larger failed war on drugs that has led to the great national crisis of mass incarceration. Some 1.5 million people were arrested for a drug related offense in 2016 – over 80 percent of which were for possession alone. We need to stop criminalizing addiction. We need to stop criminalizing recreational marijuana use.
The criminal justice system is not the answer to drug abuse. Addiction is a health problem and we should start treating it that way. While communities all across the country lack adequate resources for treatment or prevention, we are spending approximately $50 billion a year on the war on drugs. That's absurd. We need to get our priorities right.
And that starts with making our voices heard:
Sign my petition if you agree it is long past time for the government to end its failed war on drugs and instead invest in programs that focus on treatment and prevention of drug abuse. This is an important issue that impacts almost everyone and we should all make our voices heard.
This so-called war on drugs has led us to have over 2 million people in prison – disproportionately poor and from communities of color. Our incarceration rate is the highest in the world – higher even than authoritarian countries like China, Saudi Arabia, and Russia.
Further, what is not often discussed is how the war on drugs and mass incarceration is impacting the essence of our democracy. People with felony convictions cannot vote in many states. Today, for that reason alone, over 6 million Americans are denied access to the ballot.
Uneven enforcement and the fact that people of color receive longer sentences for the same offenses than white defendants means more felony convictions in those communities. And that means – surprise, surprise – fewer voters.
In other words, the war on drugs is robbing those minority and lower income communities of their political power. In Florida, Kentucky and Tennessee over 20 percent of voting age African Americans are disenfranchised because of felony convictions. It's not too hard to figure out what's going on here. The communities most impacted by these policies are systematically stripped of their ability in our democratic system to politically fight back.
Why hasn't something been done to fix this problem? You know the reason. The sad truth is that some politicians benefit from people not being able to vote. All too often these are the same politicians who are trying to disenfranchise voters in other ways, such as restrictive voter ID laws or extreme gerrymandering.
This has got to change.
We need the highest voter turnout in the world, not the highest incarceration rate. We need to provide treatment for people with substance abuse problems, not lock them up.
As a first step, we need to remove marijuana from Category 1 of the federal Controlled Substances Act where it is currently ranked alongside drugs like heroin. In fact, marijuana is classified more harshly than cocaine. That doesn't make any sense.
Let's have states decide the issue of marijuana for themselves like they do with alcohol. More and more states are moving in the direction of decriminalization. Let them make those decisions without federal interference.
Let's invest in the prevention and treatment of substance abuse.
Let's reform our criminal laws and take other steps to dismantle mass incarceration. Among other steps forward we need to ban private prisons and create new federal policing standards.
Let's restore the voting rights of all Americans.
If you share my goal of making these important reforms please sign this petition:
Sign my petition if you agree it is long past time for the government to end its failed war on drugs and instead invest in programs that focus on treatment and prevention of drug abuse. This is an important issue that impacts almost everyone and we should all make our voices heard.
In Solidarity,
Bernie Sanders
Photo courtesy of Phil Roeder.
Kamala Harris Touts 'Commitment' To Marijuana Decriminalization And Expungements Under Biden Administration
Democratic vice presidential nominee Kamala Harris (D-CA) again pledged in a new interview that decriminalizing marijuana would be an administrative priority if she and Joe Biden are elected.
Speaking to The Grio on Saturday, the senator discussed the would-be Democratic administration's criminal justice agenda, contrasting it with that of President Donald Trump. She reiterated the cannabis reform would be among their policy goals.
"We have a commitment to decriminalizing marijuana and expunging the records of people who have been convicted of marijuana offenses," Harris said. "When you look at the awful war on drugs and the disproportionate impact it had on black men and creating then criminal records that have deprived people of access to jobs and housing and basic benefits."
Watch Harris discuss criminal justice and marijuana reform, starting around 12:00 into the video below: 
While reform advocates have appreciated the senator's repeated calls for cannabis reform on the campaign trail, they've taken issue with her tendency to refer to the drug war in the past tense—as she did here by talking about the impact the policy "had"—as though those prosecutions and enforcement disparities haven't persisted.
In fact, recently released FBI data shows that there were 1,558,862 drug-related arrests in the U.S. last year, about a third of which were for marijuana. That amounts to a new drug bust every 20 seconds on average.
There's also some frustration that Harris has scaled back her reform push since joining the Democratic ticket as Biden's running mate. During her own run for the presidential nomination, she called for comprehensive marijuana legalization—a policy not supported by the former vice president despite its popularity among Democrats.
Harris, who is the lead Senate sponsor of a bill to federally deschedule marijuana, said last month that a Biden administration would not be "half-steppin'" cannabis reform or pursuing "incrementalism," but that's exactly how advocates would define simple decriminalization.
In any case, the senator has repeatedly discussed cannabis decriminalization on the trail. She similarly said during a vice presidential debate earlier this month that she and Biden "will decriminalize marijuana and we will expunge the records of those who have been convicted of marijuana."
In addition to those policies, Biden backs modestly rescheduling the drug under federal law, letting states set their own policies and legalizing medical cannabis.
Top Senate Democrat Includes Marijuana Banking Protections In New Coronavirus Relief Bill
Photo element courtesy of California Attorney General's Office.
Top Senate Democrat Includes Marijuana Banking Protections In New Coronavirus Relief Bill
The top Democrat in the Senate introduced a coronavirus relief bill on Monday that contains provisions to protect banks that service state-legal marijuana businesses from being penalized by federal regulators.
As Congress and the White House continue to negotiate details of a potential COVID-19 relief deal, Senate Minority Leader Chuck Schumer (D-NY) seemed to take a page from a recently passed House version that also includes language of the Secure and Fair Enforcement (SAFE) Banking Act.
It's unclear whether the Trump administration or Republican-controlled Senate will be amenable to including cannabis provisions in any package that has a chance of being enacted, but advocates view Schumer's move in the meantime as a positive signal that Democrats will continue to press the issue.
If lawmakers hope to pass the next round of coronavirus relief ahead of the election, Tuesday appears to be the last opportunity to strike a deal. House Speaker Nancy Pelosi (D-CA) and Treasury Secretary Steven Mnuchin have been actively attempting to find common ground on COVID-19 aid, but it remains to be seen whether they will reach an agreement that can be approved by both chambers and signed by the president.
The cannabis banking language has twice appeared in House-passed COVID-19 proposals, and the chamber has approved it both times. That said, it hasn't advanced without controversy, as multiple Republican lawmakers and White House officials have criticized its inclusion, arguing that it is not germane to the issue at hand.
Senate Majority Leader Mitch McConnell (R-KY) in particular has been a vocal opponent of the measure, though he's largely tailored his criticism to certain provisions of the SAFE Banking Act that require industry diversity reporting.
Democrats and reform advocates have defended adding the marijuana-related components to a coronavirus bill, stressing that it would mitigate the spread of the virus by giving cannabis businesses access to the banking system and minimizing cash-only transactions. It could would also increase access to financial institutions in a way that could give small businesses access to needed capital, they say.
Senate Republicans did not add cannabis banking language to their own version of COVID relief legislation filed in July.
But Democratic leaders in both chambers are evidently willing to keep up the fight, and the House even highlighted the diversity component in a summary of its legislation. House Speaker Nancy Pelosi (D-CA) said in July that she agrees that the banking measure is an appropriate component of the bill.
In July, bipartisan treasurers from 15 states and one territory sent a letter to congressional leadership, urging the inclusion of the SAFE Banking Act in any COVID-19 legislation that's sent to the president's desk. Following GOP attacks on the House proposal, a group of Democratic state treasurers renewed that call.
The House last year approved the standalone SAFE Banking Act. For months, the legislation has gone without action in the Senate Banking Committee, where negotiations have been ongoing.
Where the newly filed Senate COVID-19 bill goes from here is uncertain—but its introduction gives some reason to believe that Schumer sees a potential path forward. It also signals that the cannabis issue, including broader legislation to end federal prohibition, is poised to advance in 2021 if Democrats win control of the chamber in next month's elections.
Pelosi has said that she will decide by the end of Tuesday whether the negotiations with the Trump administration can lead to a relief package that could be passed before Election Day.
Marijuana Legalization In Texas Would Generate Billions In Tax Revenue, New Economic Analysis Shows
Marijuana Legalization In Texas Would Generate Billions In Tax Revenue, New Economic Analysis Shows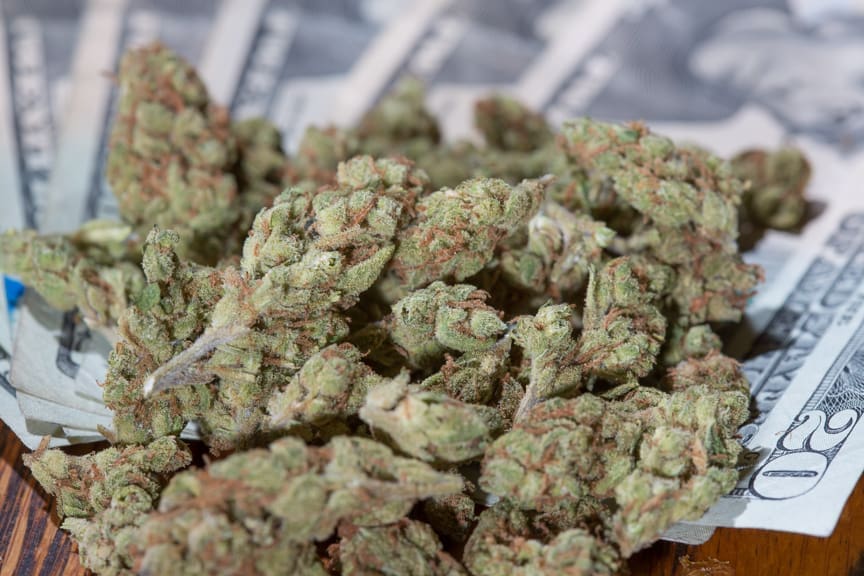 Texas stands to generate billions of dollars in marijuana tax revenue and create tens of thousands of jobs if the plant is legalized, according to a new economic analysis.
While the legislature has been resistant to pursue the policy change, the report from Vicente Sederberg LLP makes a compelling case for legalizing and regulating cannabis sales in the state, at least from an economic perspective.
It finds that, given the estimated adult-use marijuana market, there would be $2.7 billion in cannabis sales annually in Texas. And if the state followed Colorado's tax model, it could bring in more than $1.1 billion in marijuana tax dollars per biennium.
Further, the comparative analysis projects that 20,000-40,000 jobs would be directly created in the legal industry, in addition to ancillary positions for "contractors and construction firms, electrical and water service providers, HVAC manufacturers and installers, processing equipment producers and retailers, and other professionals."
"We also expect it would bolster the hospitality industry, which would benefit communities that rely on tourism; especially those that have recently been severely impacted by the novel coronavirus, such as San Antonio, Houston, and Corpus Christi," the report states.
Beyond tax revenue from cannabis sales, Texas could also see an extra $10 million annually if business licensing fees are set at $5,000.
"In addition to generating revenue and creating jobs, regulating cannabis for adult use would also realize significant criminal justice savings," the report says, adding that Texas would save an estimated $311 million per year in criminal justice resources if marijuana was legalized.
"States across the country are seeing the benefits of legalizing and regulating cannabis," Shawn Hauser, a partner at Vicente Sederberg, said in a press release. "It is inspiring lawmakers in prohibition states to reexamine the efficacy and costs of their current policies and take a closer look at the alternatives."
New report authored by VS economist Andrew Livingston shows the massive potential of legalizing cannabis in the Lone Star Statehttps://t.co/4ZbkcsY9qN#VSInsights #CannabisLegalization #Cannabis #CannabisLaw #CannabisRegulation #Texas #TX #TexasCannabis #TXCannabis

— Vicente Sederberg (@VScannabislaw) October 19, 2020
"A regulated cannabis market would be an economic boon for the Lonestar State," she said. "Hundreds of millions of dollars in new tax revenue and tens of thousands of new jobs would be especially helpful in overcoming the losses stemming from the COVID-19 pandemic. Texas is leaving an enormous amount of money on the table by keeping cannabis illegal."
Marijuana reform could also potentially clear up regulatory complications that have resulted from the state's legalization of the plant's non-intoxicating cousin, hemp.
Because the crops are virtually indistinguishable, it appears that hemp's new legal status has made it difficult for police to determine whether a given seized substance is allowable hemp or still-illegal marijuana, and that has led to fewer cannabis cases overall.
Prosecutors have dismissed hundreds of low-level cannabis cases since hemp was legalized. And state officials announced in February that labs wouldn't be performing testing in misdemeanor cases, with the Texas Department of Public Safety saying it "will not have the capacity to accept those."
Marijuana possession arrests fell almost 30 percent in Texas from 2018 to 2019, according to state data released last month.
The Texas House speaker in July acknowledged that legalizing cannabis could help resolve the state's budget shortfall—but he doesn't support the policy change regardless.
"Repealing marijuana prohibition and replacing it with a reasonably regulated market is a win-win for Texas," Heather Fazio, director of Texans for Responsible Marijuana Policy, told Marijuana Moment. "Even with modest taxation, legal cannabis for adult use would bring in much needed revenue and free up valuable public safety resources."
"Considering our projected budget shortfall, Texas lawmakers should consider this a big opportunity for our pro-business state," she said. "The people of Texas will also benefit when we are no longer saddling responsible cannabis consumers with criminal records that often keep them from accessing education and employment."
Last year, the House voted to approve a decriminalization bill that would've made possession of one ounce or less of cannabis punishable by a $500 fine and no jail time, but it failed to advance to a Senate floor vote by the end of the session.
Meanwhile, the state's Department of State Health Services attempted to impose a ban on the sale of smokeable hemp, but they were sued and a judge gave the plaintiffs a procedural victory in July, temporarily lifting the prohibition. The judge said last month that the ban can't be enforced until the case is heard in court in 2021.
Read Vicente Sederberg's report on the economic impact of legalization in Texas below: 
Economic Benefits of Regula… by Marijuana Moment
Legalizing Marijuana Is Risky, Trump-Appointed Prosecutor Warns Montana Voters Ahead Of Election