As Denver Post Guts Cannabist, Former Editor Ricardo Baca May Buy It
Marijuana Moment is republishing the following press release with the permission of Grasslands.
'I Am Absolutely Gutted':
As The Denver Post Cuts Staffing to Groundbreaking Marijuana News Vertical The Cannabist, Site's Founder and Original Editor Laments its Unjustified Collapse 
Once Considered Among the Hottest Brands in New Media, Industry-Leading Marijuana Journalism Site The Cannabist No Longer Has a Dedicated Staff After The Denver Post Lays Off One-Third of its Newsroom
DENVER, Colorado—April 27, 2018—Embattled Colorado newspaper The Denver Post is no longer staffing its groundbreaking, first-of-its-kind marijuana news vertical The Cannabist, newsroom leadership confirmed Friday—a decision that is surprising cannabis and journalism circles today.
The Cannabist was founded in 2013 by veteran journalist Ricardo Baca as the world's first adult-use cannabis market was about to launch in Colorado. As The Post's first-ever Marijuana Editor, Mr. Baca and his team created the site from scratch and developed a robust national readership that appreciated the unique vertical's journalism-first approach to covering the newly legal industry, the policy surrounding it and the culture that grew from legalization. Feature-length documentary Rolling Papers—a film "more about marijuana journalism than the big picture, and as such it's a worthwhile endeavor," wrote Chicago Sun-Times film critic Richard Roeper in his three-star review—documented both The Cannabist's debut and the 2014 world premiere of state-regulated legal marijuana sales.
As the site's founder and original editor-in-chief, journalist and thought leader Ricardo Baca was brokenhearted to hear the news.
"I am absolutely gutted today," says Mr. Baca, who founded Grasslands: A Journalism-Minded Agency in early 2017 after resigning from The Post, where he worked as a reporter, critic and editor for 15 years. "We were so lucky to know The Cannabist as we did, and The Denver Post was lucky that we caught this lightning in a bottle during those historic days. We avoided the blind, pro-legalization activism of publications like High Times, and we also were an objective news source to counter prohibitionist misinformation that had plagued so much of the mainstream media's irresponsible coverage of cannabis throughout the last eight decades.
"But it's devastating to have helped create a news and culture site that changed the way so many people, journalists included, talked about marijuana—and to watch it fall apart, especially now that legal cannabis is increasingly becoming the law of the land. Now more than ever, we need serious journalists covering these state-legal marijuana markets, but this trend is not encouraging, as we're also seeing staff reductions at the San Francisco Chronicle's Green State vertical and elsewhere. If The Post's most recent staff reduction broke my heart, which it unquestionably did, this news about The Cannabist losing its dedicated staff is thoroughly drubbing the rest of my internal organs with a meat tenderizer.
"These layoffs are putting The Cannabist on life support and destroying The Post's ability to comprehensively cover Colorado, and it is entirely to blame on Alden Global Capital, the black-hearted hedge fund that owns Digital First Media and 100 American newspapers, including The Post. These vulture capitalists are literally hated throughout Denver, and while everyone from Gov. John Hickenlooper and Mayor Michael Hancock stands in support of The Post, we need to continue to let Alden Global Capital know that they are not welcome in Colorado, and they need to sell The Denver Post to a more responsible owner who will finally curb this undemocratic bloodletting."
In less than two years under Mr. Baca's leadership, The Cannabist was luring more readers than veteran publication High Times' website, according to media-tracking organization comScore. In less than three years, Mr. Baca had grown the staff from just himself to a seven-person full-time team that included four editorial and three advertising employees.
But after Mr. Baca resigned from The Post in December 2016, the newspaper started making cuts to the vertical's staff, nixing the General Manager advertising position and reassigning the remaining two Cannabist-focused sales staff in early 2017. That December, The Cannabist's editorial staff was cut from four to three during a separate newsroom-wide staff reduction.
And in April 2018, after the newspaper's editor told newsroom staff that it would be laying off one-third of its editorial employees, two Cannabist staffers announced they were leaving for other opportunities; later that month, Cannabist editor-in-chief Alex Pasquariello was told the paper was cutting editorial staffing to the site and that his position no longer existed.
The Denver Post has been in the national news recently because of a historic staff reduction and the resulting editorial-page public revolt against the newspaper's hedge-fund ownership via a package of op-eds and columns. Mr. Baca returned to newsprint recently to pen one of the cover op-eds for The Post'sattention-grabbing opinion section.
Mr. Baca's agency Grasslands is in early discussions with Post leadership about potentially purchasing The Cannabist should they decide to sell it.
# # #
About Grasslands
Grasslands is a journalism-minded agency, helping clients in a variety of industries with informed public relations, thoughtful content marketing, contextual social media, top-notch thought leadership work, impactful newsletter campaigns and compelling event execution. The Content Team, led by 20-year newspaper veteran Ricardo Baca, has nearly 45 years of top-level journalism experience at outlets including The Denver Post, the Chicago Sun-Times, the Rocky Mountain News, The Daily Beast and elsewhere. The Public Relations Team, led by 20-year New York City agency veteran Shawna McGregor, has nearly 35 years of high-level communications experience with clients including People magazine, IKEA North America, K12 Inc. and the American Wind Energy Association. Join the Grasslands conversation on Facebook, Twitter and Instagram.
Missouri Launches Medical Marijuana Sales At State's First Dispensaries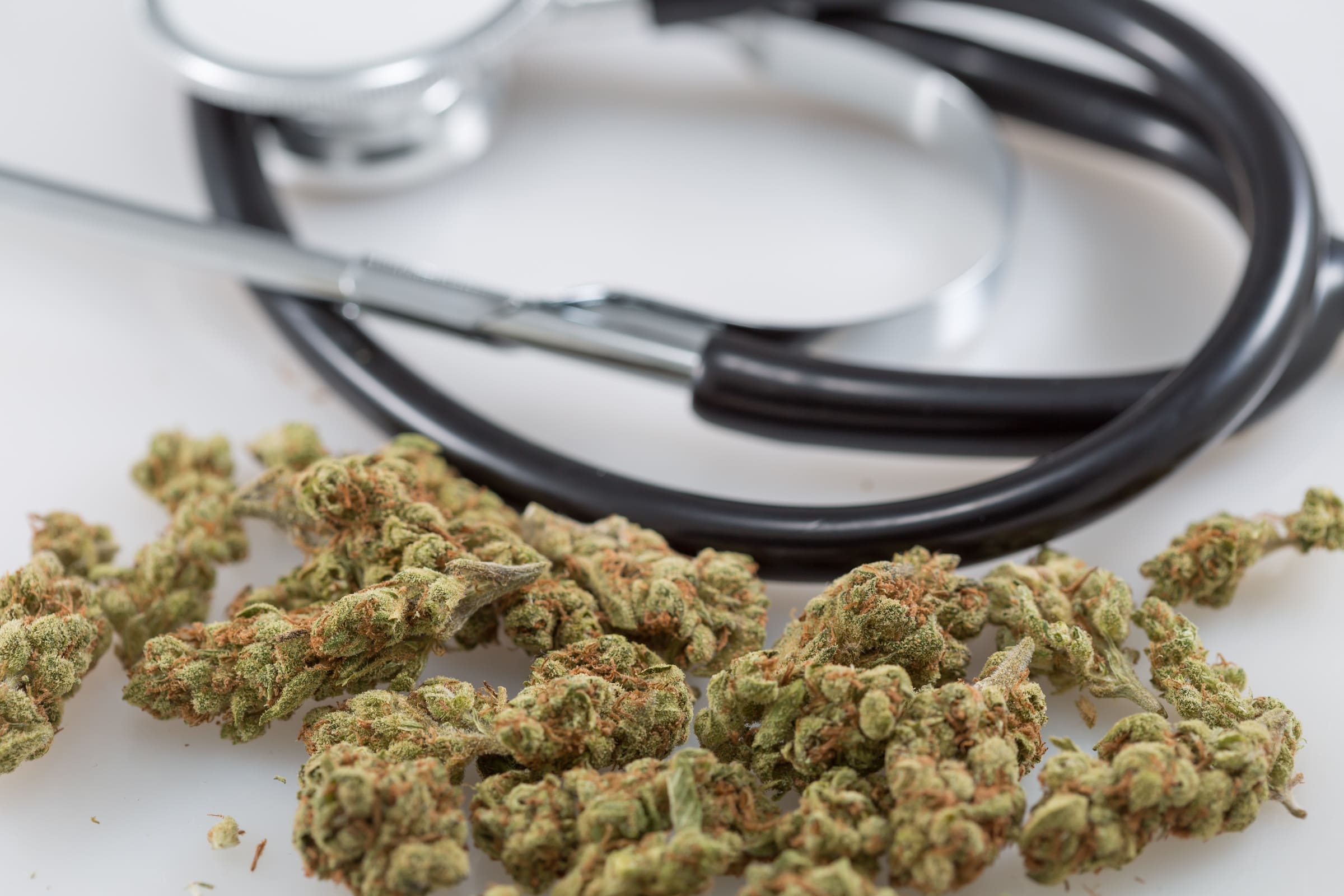 Less than two years after Missouri voters approved a ballot measure to legalize medical marijuana, dispensaries made the state's first cannabis sales to patients on Saturday.
N'Bliss Cannabis opened the doors of two separate St. Louis County locations, in Ellisville and Manchester.
I was honored to watch Larry, a cancer survivor, and his wife Sue, an RN, make the state's first legal medical cannabis purchase this morning in St Louis. @mocanntrade @NewApproachMO pic.twitter.com/rCudrkdbfI

— Jack Cardetti (@jackcardetti) October 17, 2020
"Missouri patients have always been our north star as we work to implement the state's medical marijuana program," Dr. Randall Williams, director of the Missouri Department of Health and Senior Services, said in a press release. "We greatly appreciate how hard everyone has worked so that patients can begin accessing a safe and well-regulated program."
Officials have touted the speed with which they have gotten the voter-approved cannabis program off the ground, saying it is "one of the fastest implementations of a medical marijuana program in the United States."
"A tremendous amount of work has occurred by the licensed facilities and our team to get us to this point, and we continue to hear from more facilities that they are ready or almost ready for their commencement inspection," Lyndall Fraker, director of the Section for Medical Marijuana Regulation, said in a press release. "We look forward to seeing these facilities open their doors to serve patients and caregivers."
First #medicalmarijuana sales to patients in #MO take place today.

DHSS interactive facility map: https://t.co/Os2yc0jBdU pic.twitter.com/tpzztI9sOh

— Mo Health & Sr Srvcs (@HealthyLivingMo) October 17, 2020
The impending launch of sales on Saturday was first announced by the Missouri Medical Cannabis Trade Association on Friday and reported by The Springfield News-Leader.
The wait is finally over! Tomorrow morning at 9am @NBlissCannabis will open the doors to their Ellisville and Manchester locations for the first medical marijuana sales in Missouri! Congrats to the whole N'Bliss team! The #MOMMJ industry is up and running! pic.twitter.com/wyZIcoyLBv

— MoCannTrade (@mocanntrade) October 16, 2020
The state, which has so far licensed 192 dispensaries and expects most of them to open their doors by the end of the year, posted an interactive map that tracks the status of approved medical marijuana businesses.
For months, regulators have been caught up in lawsuits and appeals challenging their licensing decisions, with revenues that would otherwise go to supporting veteran services instead being allocated to covering legal costs.
Missouri isn't the only state to see medical cannabis sales launch this weekend. Virginia's first medical marijuana dispensary also held its grand opening on Saturday.
Meanwhile, recreational sales of marijuana rolled out in Maine last week—four years after voters there approved a legalization ballot measure.
Another New Jersey Poll Shows Marijuana Legalization Passing By A Huge Margin
Illinois Continues Record-Breaking Marijuana Sales Streak, New State Data For September Shows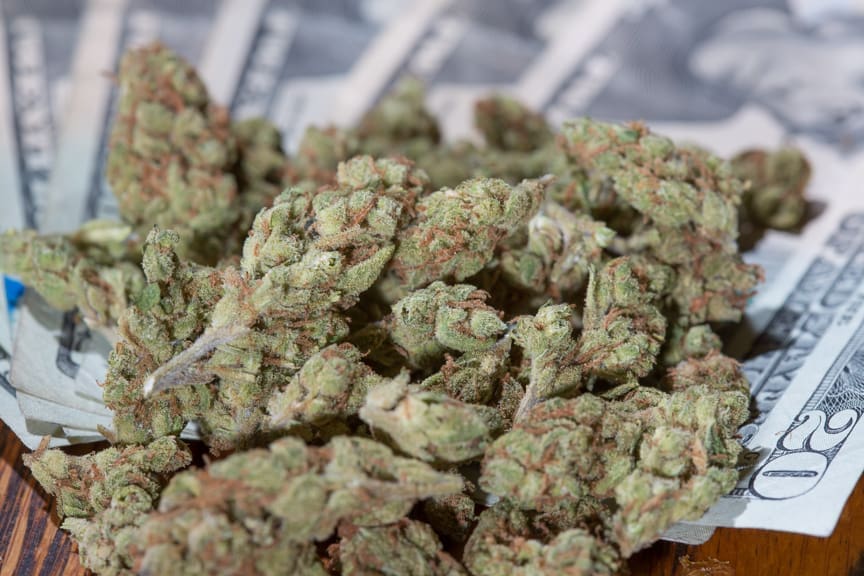 For the fifth month in a row, Illinois is again reporting record-breaking marijuana sales, the state Department of Financial and Professional Regulation announced on Monday.
Despite the coronavirus pandemic, Illinois has seen escalating cannabis sales month-over-month. In September, consumers purchased more than 1.4 million marijuana products worth a total of nearly $67 million. Almost $18 million of those sales came from out-of-state visitors.
In August, the total sales reached about $64 million—the previous monthly record. The new adult-use sales figures don't include data about purchases made through the state's medical cannabis program.
This latest data seems to support the notion that the state's marijuana market is "recession-proof" and "pandemic-proof," as a top regulator said in August.
State officials have emphasized that while the strong sales trend is positive economic news, they're primarily interested in using tax revenue to reinvest in communities most impacted by the drug war. Illinois brought in $52 million in cannabis tax revenue in the first six months since retail sales started in January, the state announced in July, 25 percent of which will go toward a social equity program.
"We were not doing this to make as much money as fast as we possibly could," Toi Hutchinson, senior cannabis advisor to Gov. J.B Pritzker (D), said. "We were actually doing this for people," with a focus on supporting communities most impacted by the drug war.
In May, the state also announced that it was making available $31.5 million in restorative justice grants funded by marijuana tax revenue.
That said, ensuring an equitable market as promised hasn't been easy. Regulators have recently faced lawsuits after dozens of would-be social equity licensees were denied an opportunity to participate in a licensing lottery over alleged problems with their applications. The state said it would approve 75, but only 21 ultimately qualified—and critics complain that the resources it takes to submit an acceptable application creates barriers for the exact people the special licenses are supposed to help.
The governor announced last month that new procedures would be implemented allowing rejected applicants to submit corrected forms. But on Monday, three investors who are finalists from the initial round filed a lawsuit against the state, alleging that the administration's decision to permit resubmissions was politically motivated and illegal.
For now, the out-of-state sales data seems to support Pritzker's prediction during his State of the State address in January that cannabis tourism would bolster the state's coffers.
Prior to implementation, the pardoned more than 11,000 people with prior marijuana convictions.
Over in Oregon, officials have been witnessing a similar sales trend amid the global health crisis. Data released in August reveals that the state saw about $106 million in medical and recreational cannabis sales, marking the third month in a row that sales exceeded $100 million.
Vote For Marijuana Legalization Referendum To Promote Social Justice, New Jersey Governor Says
California Governor Approves Changes To Marijuana Banking And Labeling Laws
California Gov. Gavin Newsom (D) signed a handful of marijuana bills into law on Tuesday, making a series of small adjustments to the nation's largest legal cannabis system. More sweeping proposals such as overhauling the state's marijuana regulatory structure will have to wait until next year, the governor said.
Among the biggest of the new changes are revisions to banking and advertising laws. With many legal marijuana businesses are still unable to access financial services, Newsom signed a bill (AB 1525) to remove state penalties against banks that work with cannabis clients.
"This bill has the potential to increase the provisions of financial services to the legal cannabis industry," Newsom wrote in a signing statement, "and for that reason, I support it."
Democrats in Congress, meanwhile, have been working for months to remove obstacles to these businesses' access to financial services at the federal level. A coronavirus relief bill released by House Democratic leaders on Monday is the latest piece of legislation to include marijuana banking protections. Past efforts to include such provisions have been scuttled by Senate Republicans.
In his signing statement on the banking bill, Newsom directed state cannabis regulators to establish rules meant to protect the privacy of marijuana businesses that seek financial services, urging that data be kept confidential and is used only "for the provision of financial services to support licensees."
Another bill (SB 67) the governor signed on Tuesday will finally establish a cannabis appellation program, meant to indicate where marijuana is grown and how that might influence its character. The system is similar to how wine regions are regulated.
Under the new law, growers and processors under the new law will be forbidden from using the name of a city or other designated region in product marketing unless all of that product's cannabis is grown in that region. Similar protections already apply at the county level.
For outdoor growers, the new law recognizes the importance of terrior—the unique combination of soil, sun and other environmental factors that can influence the character of a cannabis plant. For indoor growers, it provides a way to represent a hometown or cash in on regional cachet.
Most of the other new changes that the governor signed into law are relatively minor and will likely go unnoticed by consumers. One, for example, builds in more wiggle room on the amount of THC in edibles (AB 1458), while another would allow state-licensed cannabis testing labs to provide services to law enforcement (SB 1244).
The bills were approved by state lawmakers earlier this month, as the state's legislative session drew to a close.
Other pieces of cannabis legislation passed by the legislature this session were met with the governor's veto. On Tuesday, Newsom rejected a proposal (AB 1470) that would have allowed processors to submit unpackaged products to testing labs, which industry lobbyists said would reduce costs. Currently products must be submitted in their final form, complete with retail packaging. Newsom said the proposal "conflicts with current regulations…that prevent contaminated and unsafe products from entering the retail market."
"While I support reducing packaging waste, allowing products to be tested not in their final form could result in consumer harm and have a disproportionate impact on small operators," Newsom said in a veto statement.
Those changes to testing procedures should instead be considered next year, Newsom said, as part of a pending plan to streamline California's cannabis licensing and regulatory agencies.
"I have directed my administration to consolidate the state regulatory agencies that currently enforce cannabis health and safety standards to pursue all appropriate measures to ease costs and reduce unnecessary packaging," he wrote. "This proposal should be considered as part of that process."
Newsom also last week vetoed a bill (AB 545) that would have begun to dissolve the state Bureau of Cannabis Control, which oversees the legal industry. In a statement, the governor called that legislation "premature" given his plans for broader reform.
"My Administration has proposed consolidating the regulatory authority currently divided between three state entities into one single department," Newsom wrote, "which we hope to achieve next year in partnership with the Legislature."
Earlier this month, the governor signed into law one of the industry's top priorities for the year—a measure (AB 1872) that freezes state cannabis cultivation and excise taxes for the entirety of 2021. The law is intended to provide financial stability for cannabis businesses in California, where taxes on marijuana are among the highest in the nation.
The state's leading marijuana trade group, the California Cannabis Industry Association (CCIA), applauded the governor's moves. All the bills approved by Newsom this week had the industry group's support.
"We thank Governor Newsom for prioritizing these bills, which seek to reduce regulatory burdens, improve enforcement, expand financial services and enhance the state's cannabis appellation's program," CCIA Executive Director Lindsay Robinson said in a message to supporters on Wednesday. "Like so many, the cannabis industry has faced a series of unexpected challenges and setbacks in 2020. We look forward to continuing to work with the Newsom Administration, and the Legislature, as we pursue a robust policy agenda in 2021."
New Jersey Governor Works To Get Out The Vote For Marijuana Legalization Referendum
Image element courtesy of Gage Skidmore