As Denver Post Guts Cannabist, Former Editor Ricardo Baca May Buy It
Marijuana Moment is republishing the following press release with the permission of Grasslands.
'I Am Absolutely Gutted':
As The Denver Post Cuts Staffing to Groundbreaking Marijuana News Vertical The Cannabist, Site's Founder and Original Editor Laments its Unjustified Collapse 
Once Considered Among the Hottest Brands in New Media, Industry-Leading Marijuana Journalism Site The Cannabist No Longer Has a Dedicated Staff After The Denver Post Lays Off One-Third of its Newsroom
DENVER, Colorado—April 27, 2018—Embattled Colorado newspaper The Denver Post is no longer staffing its groundbreaking, first-of-its-kind marijuana news vertical The Cannabist, newsroom leadership confirmed Friday—a decision that is surprising cannabis and journalism circles today.
The Cannabist was founded in 2013 by veteran journalist Ricardo Baca as the world's first adult-use cannabis market was about to launch in Colorado. As The Post's first-ever Marijuana Editor, Mr. Baca and his team created the site from scratch and developed a robust national readership that appreciated the unique vertical's journalism-first approach to covering the newly legal industry, the policy surrounding it and the culture that grew from legalization. Feature-length documentary Rolling Papers—a film "more about marijuana journalism than the big picture, and as such it's a worthwhile endeavor," wrote Chicago Sun-Times film critic Richard Roeper in his three-star review—documented both The Cannabist's debut and the 2014 world premiere of state-regulated legal marijuana sales.
As the site's founder and original editor-in-chief, journalist and thought leader Ricardo Baca was brokenhearted to hear the news.
"I am absolutely gutted today," says Mr. Baca, who founded Grasslands: A Journalism-Minded Agency in early 2017 after resigning from The Post, where he worked as a reporter, critic and editor for 15 years. "We were so lucky to know The Cannabist as we did, and The Denver Post was lucky that we caught this lightning in a bottle during those historic days. We avoided the blind, pro-legalization activism of publications like High Times, and we also were an objective news source to counter prohibitionist misinformation that had plagued so much of the mainstream media's irresponsible coverage of cannabis throughout the last eight decades.
"But it's devastating to have helped create a news and culture site that changed the way so many people, journalists included, talked about marijuana—and to watch it fall apart, especially now that legal cannabis is increasingly becoming the law of the land. Now more than ever, we need serious journalists covering these state-legal marijuana markets, but this trend is not encouraging, as we're also seeing staff reductions at the San Francisco Chronicle's Green State vertical and elsewhere. If The Post's most recent staff reduction broke my heart, which it unquestionably did, this news about The Cannabist losing its dedicated staff is thoroughly drubbing the rest of my internal organs with a meat tenderizer.
"These layoffs are putting The Cannabist on life support and destroying The Post's ability to comprehensively cover Colorado, and it is entirely to blame on Alden Global Capital, the black-hearted hedge fund that owns Digital First Media and 100 American newspapers, including The Post. These vulture capitalists are literally hated throughout Denver, and while everyone from Gov. John Hickenlooper and Mayor Michael Hancock stands in support of The Post, we need to continue to let Alden Global Capital know that they are not welcome in Colorado, and they need to sell The Denver Post to a more responsible owner who will finally curb this undemocratic bloodletting."
In less than two years under Mr. Baca's leadership, The Cannabist was luring more readers than veteran publication High Times' website, according to media-tracking organization comScore. In less than three years, Mr. Baca had grown the staff from just himself to a seven-person full-time team that included four editorial and three advertising employees.
But after Mr. Baca resigned from The Post in December 2016, the newspaper started making cuts to the vertical's staff, nixing the General Manager advertising position and reassigning the remaining two Cannabist-focused sales staff in early 2017. That December, The Cannabist's editorial staff was cut from four to three during a separate newsroom-wide staff reduction.
And in April 2018, after the newspaper's editor told newsroom staff that it would be laying off one-third of its editorial employees, two Cannabist staffers announced they were leaving for other opportunities; later that month, Cannabist editor-in-chief Alex Pasquariello was told the paper was cutting editorial staffing to the site and that his position no longer existed.
The Denver Post has been in the national news recently because of a historic staff reduction and the resulting editorial-page public revolt against the newspaper's hedge-fund ownership via a package of op-eds and columns. Mr. Baca returned to newsprint recently to pen one of the cover op-eds for The Post'sattention-grabbing opinion section.
Mr. Baca's agency Grasslands is in early discussions with Post leadership about potentially purchasing The Cannabist should they decide to sell it.
# # #
About Grasslands
Grasslands is a journalism-minded agency, helping clients in a variety of industries with informed public relations, thoughtful content marketing, contextual social media, top-notch thought leadership work, impactful newsletter campaigns and compelling event execution. The Content Team, led by 20-year newspaper veteran Ricardo Baca, has nearly 45 years of top-level journalism experience at outlets including The Denver Post, the Chicago Sun-Times, the Rocky Mountain News, The Daily Beast and elsewhere. The Public Relations Team, led by 20-year New York City agency veteran Shawna McGregor, has nearly 35 years of high-level communications experience with clients including People magazine, IKEA North America, K12 Inc. and the American Wind Energy Association. Join the Grasslands conversation on Facebook, Twitter and Instagram.
Illinois Will 'Blow Past' $1 Billion In Legal Marijuana Sales In 2021, Chamber Of Commerce President Says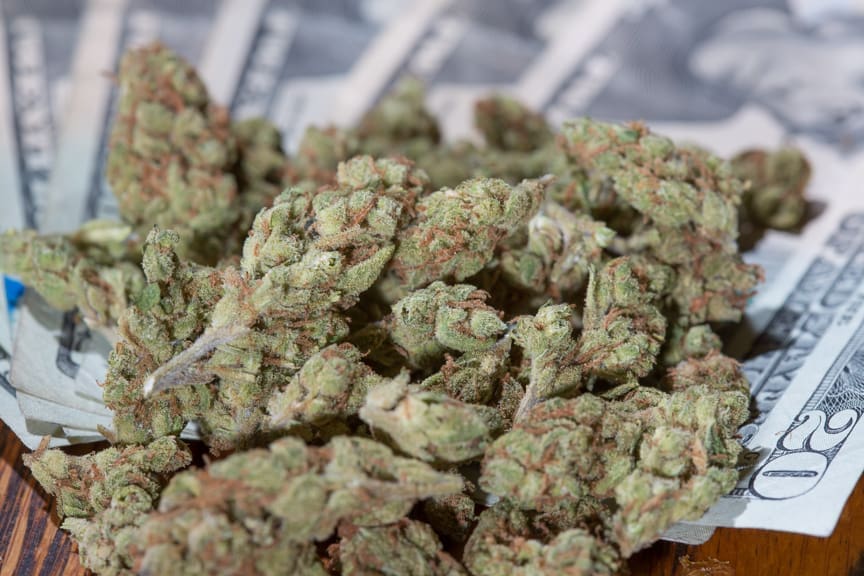 "Are we going to get to a billion dollars? I think we're going to blow past the billion dollars based on the experience in smaller states," the Chamber leader said.
By Elyse Kelly, The Center Square
Illinois's cannabis industry is growing up fast, with adult-use recreational cannabis sales expected to hit $1 billion by year-end.
In March alone, Illinoisans spent $110 million on recreational marijuana.
Todd Maisch, president and CEO of the Illinois Chamber of Commerce, said one factor contributing to Illinois' explosive growth is that most neighboring states haven't legalized marijuana yet.
"What we saw early on in states like Washington and Colorado is they did have demand come in from surrounding states, which frankly benefits our industry and benefits the taxes collected," Maisch said.
Cannabis sales have already surpassed alcohol's tax revenues for the state, and Maisch said he thinks $1 billion estimates are conservative.
"Are we going to get to a billion dollars? I think we're going to blow past the billion dollars based on the experience in smaller states," Maisch said.
There are only a couple of things that could stop Illinois' explosive cannabis market growth, Maisch said. He said that policymakers could ruin things by pushing taxes too high as evidenced by the tobacco market.
"As taxes have gone up and up and up, they've pushed people all the way into the black market or they've created this grey market in which people are ostensibly paying some of the taxes, but they're still getting sources of tobacco products that avoid much of the tax," Maisch said.
The other thing that could head off continued growth is other states opening up recreational-use markets.
"So if you start to see surrounding states go to recreational, that's definitely going to flatten the curve because we're not going to be pulling in demand from other states," Maisch said.
Maisch points out some concerns that accompany the explosion of Illinois's recreational cannabis market including workforce preparedness.
"All of those individuals who are deciding to go ahead and consume this product are really taking themselves out of a lot of job opportunities that they would otherwise be qualified, so there's a real upside and a downside," Maisch said.
While it's easy to track the revenues this industry brings into state coffers, he points out, it will be harder to track the lack of productivity and qualified individuals to operate heavy machinery and other jobs that require employees to pass a drug test.
This story was first published by The Center Square.
DEA Finally Ready To End Federal Marijuana Research Monopoly, Agency Notifies Grower Applicants
Missouri Regulators Derail Medical Marijuana Business Ownership Disclosure Effort With Veto Threat
Missouri regulators say they feel requiring medical marijuana business license ownership disclosures under a House-approved amendment could be unconstitutional, and they may urge the governor to veto the legislation. 
By Jason Hancock, Missouri Independent
An effort by lawmakers to require disclosure of ownership information for businesses granted medical marijuana licenses was derailed on Thursday, when state regulators suggested a possible gubernatorial veto.
On Tuesday, the Missouri House voted to require the Department of Health and Senior Services provide legislative oversight committees with records regarding who owns the businesses licensed to grow, transport and sell medical marijuana.
The provision was added as an amendment to another bill pertaining to nonprofit organizations.
Its sponsor, Rep. Peter Merideth, D-St. Louis, said DHSS's decision to deem ownership records confidential has caused problems in providing oversight of the program. He pointed to recent analysis by The Independent and The Missourian of the 192 dispensary licenses issued by the state that found several instances where a single entity was connected to more than five dispensary licenses.
The state constitution prohibits the state from issuing more than five dispensary licenses to any entity under substantially common control, ownership or management.
On Thursday, a conference committee met to work out differences in the underlying bill between the House and Senate.
Sen. Eric Burlison, a Republican from Battlefield and the bill's sponsor, called the medical marijuana amendment an "awesome idea. I think it's awesome."
However, he said opposition from the department puts the entire bill in jeopardy.
"The department came to me," he said, "and said they felt that this was unconstitutional."
DHSS has justified withholding information from public disclosure by pointing to a portion of the medical marijuana constitutional amendment adopted by voters in 2018 that says the department shall "maintain the confidentiality of reports or other information obtained from an applicant or licensee containing any individualized data, information, or records related to the licensee or its operation… ."
Alex Tuttle, a lobbyist for DHSS, said if the bill were to pass with the medical marijuana amendment still attached, the department may recommend Gov. Mike Parson veto it.
The threat of a veto proved persuasive, as several members of the conference committee expressed apprehension about the idea of the amendment sinking the entire bill.
Merideth said the department's conclusion is incorrect. And besides, he said, the amendment is narrowly tailored so that the information wouldn't be made public. It would only be turned over to legislative oversight committees.
Rep. Jered Taylor, R-Republic, chairman of the special committee on government oversight, said the amendment is essential to ensure state regulators "are following the constitution, that they're doing what they're supposed to be doing."
The medical marijuana program has faced intense scrutiny in the two years since it was created by voters.
A House committee spent months looking into widespread reports of irregularities in how license applications were scored and allegations of conflicts of interest within DHSS and a private company hired to score applications.
In November 2019, DHSS received a grand jury subpoena, which was issued by the United States District Court for the Western District. It demanded the agency turn over all records pertaining to four medical marijuana license applications.
The copy of the subpoena that was made public redacted the identity of the four applicants at the request of the FBI. Lyndall Fraker, director of medical marijuana regulation, later said during a deposition that the subpoena wasn't directed at the department but rather was connected to an FBI investigation center in Independence.
More recently, Parson faced criticism for a fundraiser with medical marijuana business owners for his political action committee, Uniting Missouri.
The group reported raising $45,000 in large donations from the fundraiser. More than half of that money came from a PAC connected to Steve Tilley, a lobbyist with numerous medical marijuana clients who has been under FBI scrutiny for more than a year.
This story was first published by Missouri Independent.
GOP Senator Who Trashed Marijuana Banking Amendment Years Ago Is Now Cosponsoring Reform Bill
Colorado Sold More Than Half A Billion Dollars In Legal Marijuana In 2021's First Three Months
More than $10.5 billion in cannabis has been sold in Colorado since it was legalized in 2014. Those sales translate into over $1.7 billion in tax revenue that goes towards public schools, infrastructure projects and local government programs.
By Robert Davis, The Center Square
Colorado's marijuana sales eclipsed the half-billion dollar mark in the first quarter of 2021, the state Department of Revenue (DOR) said on Tuesday.
In all, marijuana sales were over $560 million between January and March. More than $10.5 billion in marijuana has been sold in Colorado since it was legalized in 2014.
Those sales translate into over $1.7 billion in tax revenue that goes towards public schools, infrastructure projects and local government programs.
DOR compiles its monthly marijuana sales report by adding the state's medical and recreational sales together. The total does not include marijuana accessories or any products that do not contain medical marijuana.
Marijuana sales reached $207 million in the month of March alone. In exchange, the state collected $39.6 million in taxes.
Marijuana tax revenue is collected through three state taxes: a 2.9 percent sales tax on marijuana sold in stores, a 15 percent tax on retail marijuana and a 15 percent retail marijuana excise tax.
State law requires 71 percent of the total to be remitted to the marijuana tax cash fund, a budget account that is statutorily required to fund health care, health education, substance abuse prevention and treatment programs and law enforcement.
The remaining 29 percent is then subdivided between the state public school fund and the general fund. Schools receive just over 12 percent of the total while the general fund receives greater than 15 percent.
In April, the public school fund received over $14 million. The account supports school construction projects and is controlled by the School Board Investment Fund, a three-member panel responsible for maintaining the fund's capital that was established in 2016.
Meanwhile, the marijuana tax cash fund received over $16 million and the general fund received $3.5 million.
This story was first published by The Center Square.
Congressional Bill To Federally Legalize Marijuana Filed By Republican Lawmakers