Activists Take Steps To Decriminalize Psychedelics In Washington, D.C.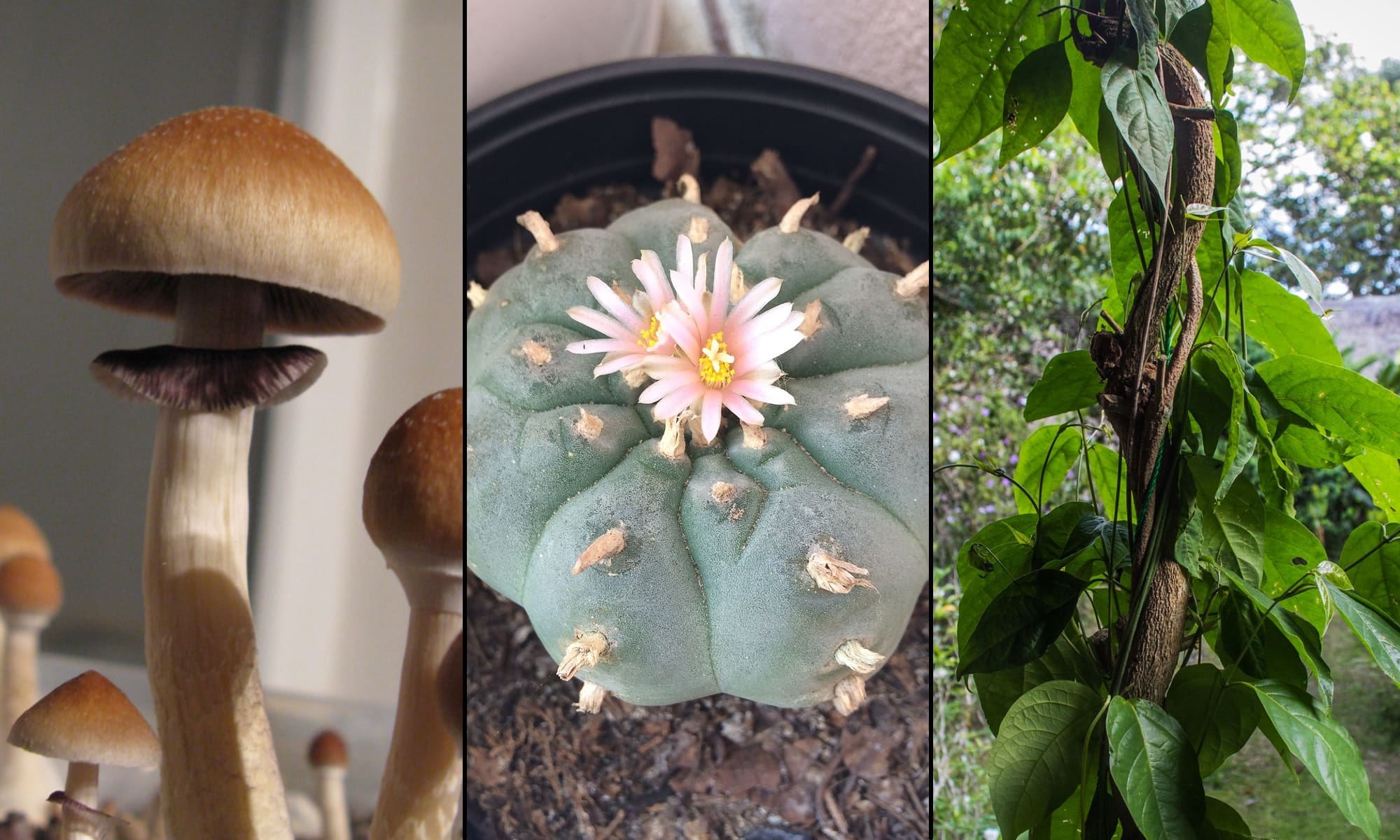 Psychedelics decriminalization could be coming to the nation's capital, where advocates recently submitted a ballot initiative to make entheogenic substances among the city's lowest law enforcement priorities.
In Washington, D.C., members of the group Decriminalize Nature D.C. met at a pizzeria last Wednesday to organize the campaign, which will dually pursue the policy change for substances like psilocybin, ayahuasca, mescaline and ibogaine through the 2020 ballot process and legislatively through the District Council.
The effort is being led by Melissa Lavasani, a mother of two whose personal experience overcoming depression and other mental health challenges by using psychedelics inspired her involvement.
As the team waits to hear from the city's Board of Elections about whether the measure can proceed, Lavasni said members will focus on raising attention to the issue and demonstrating that there's public support for psychedelics reform. D.C. is uniquely positioned to advance the conversation nationwide, she told Marijuana Moment in a phone interview on Thursday.
The following interview with Lavasani has been lightly edited for length and clarity.
Marijuana Moment: Tell me about how the Wednesday meeting went.
Melissa Lavasani: I think about 100 people were there. It was a really positive reception. It was my first time talking about it publicly and I was extremely nervous. But we had advocates there, we had regular citizens, we had D.C. government officials and attorneys—there's a wide variety of people that are interested in this. It was nice to see the diversity, and it's kind of exciting.
MM: Right now, there's this ballot initiative. Are you exploring a legislative approach through the Council as well?
ML: Yes, absolutely. This is definitely a two-pronged tactic here. We are talking to Council about potentially getting a bill through that way, legislatively.
But we know that this is kind of a sensitive issue with people, especially in a city like Washington, D.C., where it's a liberal town but people have some conservative ideas. We want to show that there is public support for this as well, so in a way, we're educating people with the ballot initiative and getting people on board with this.
But in that, we're also showing our legislature that there is public support. It's kind of like, 'hey if you guys aren't going to do this, we're going to just pursue the ballot initiative and we're going to have a vote and it's going to pass.'
MM: What makes psychedelics reform in D.C. unique from other cities like Denver and Oakland that have pursued the policy change?
ML: D.C. is special. We're a city, we're a state. We kind of function in multiple ways and we don't have control of the laws we have here, Congress approves everything we do. The Harris rider [which bars D.C. from reducing penalties for Schedule I drugs] really prevents us from actually decriminalizing it. All we're asking here is that we just make this a lowest priority for law enforcement, and that's really all we can do right now until we get statehood.
There's now like 100 cities that are pursuing this and I think we have an opportunity to set a precedent for the country, and I feel like the world is really watching us as well. D.C. gets extra attention and a lot of the focus is on the federal level, especially the executive right now. It would be nice for people to know that there's people living here and there's normal people with normal problems. It makes us a little more human. But also, it's kind of like, we have an opportunity to really change how we view health in general and mental health especially.
MM: Do you anticipate facing legal challenges to the initiative?
ML: I don't know. We might run into challenges.
Right now we're at the stage where the Board of Elections is evaluating whether this an appropriate subject, and if they deem this not to be an appropriate section, we will pursue litigation. That's our first hurdle legally. But we don't know what we're going to say.
We have a hearing February 12 and we'll see what they say then. But really, this is about educating. I think if we do a really good with educating D.C. Council on how effective these treatments are, I think we can get everyone on the same page.
MM: If your group is successful, do you expect it to shift the conversation around psychedelics in Congress?
ML: I hope so. I really hope so. Especially since I am a mom to two little kids, I just feel like we're shifting the conversation from these are dangerous substances to this is actual practical. We could flip our medical model on its heard here, and this is one step closer to that. Because what we're doing now doesn't work.
There are people who are sick and tired and really dying all over the country, and Congress should be looking at this.
MM: I heard you have a meeting with a councilmember coming up. What can you say about that?
ML: I'm meeting with Charles Allen, who is the Ward 6 councilman and his committee is the Judiciary Committee, so this falls under him. I haven't even broached the topic of this with him. It's just like get a feel, let's educate him on my experience and he's a father to two children as well. I'm hoping this is relatable in a way and we'll see what he says.
MM: Is David Bronner of Dr. Bronner's providing funding for the campaign like he is for other decriminalization efforts?
ML: He has dedicated around $100,000 for this and he's committed. He's focusing on D.C. right now, and this is important to him and he knows there's potentially a lot of visibility on this issue if this happens in D.C., and that can spread very quickly nationally and influence other jurisdictions into doing this. He really wants this to happen and we have his full support.
MM: Can you share your story about how you ended up getting involved in this reform movement?
ML: My first experience with depression my entire life was after my first daughter was born in 2014. I had a pretty traumatic birth with her—her heart stopped multiple times during labor and I had to have an emergency C-section where my epidural wore off so I felt the entire procedure. I wasn't sure I was going to bring home a baby at that point so it was one of those crazy moments in your life, but she came out totally fine after a pretty dramatic entrance.
Those kind of experiences, I think you put them away in your head and you power through like moms usually power through things. It affected me in a way that nothing else have affected me before, and I felt completely numb from being a new mom, I wasn't connecting to my new baby. I saw all the other new moms around me in the community just being in this joyous state that I couldn't relate to, so I isolated myself and just wouldn't leave my house for days on end. That experience drastically improved when I went back to work and I got into my routine again.
With my second pregnancy, I developed very painful sciatica, a nerve issue in your spine that causes pain to run up and down your body. I was having chronic pain every day, I was crawling up the stairs, I couldn't even stand up straight. I developed what's called antepartum depression, which is depression during pregnancy.
I remember I was at a checkup around five or six months and my normal physician wasn't in the office. It was a newer physician in the practice, she walked in the door and she simply asked me how I was doing and I burst into tears. The floodgates opened. As soon as I looked up, she was handing me a prescription to antidepressants. I raised some concerns about this and she said, 'trust me, it's totally fine. It's healthy for you, it's fine for the baby. Just take this until you deliver the baby and then you'll get off of it.'
I was very hesitant to get on anything at this point. You go from one kid to two kids, your family dynamic is changing. I was worried about how everything was going to affect my career, my marriage, and I thought if I started taking this medication, I was just going to add another issue that I had to deal with down the road, so once again I powered through.
I delivered a healthy baby, but very soon after that, my depression really amped up. I assumed it would just go away on its own like it did the first time, but it absolutely did not. It got a lot worse. I developed anxiety, paranoia, delusions, I was hearing voices—it was pretty crazy—and then at the very peak, I was suicidal. My husband just didn't know what to do. I went to therapy and I would find excuses to not go, I was refusing antidepressants.
And I had a friend of mine who said just listen to this Joe Rogan podcast with Paul Stamets, who's now a pretty famous mycologist. His story about curing his stutter with one trip on mushrooms kind of blew my mind. Out of all my years of partying pre-children, I had never dipped into psychedelics before. My sister had one bad mushroom trip and she scared me from any kind of psychedelics. I was skeptical but at that point in time, I knew this was a life-or-death situation for me, so I began microdosing and I had amazing results with it. Within a week or so, a lot of my symptoms were going away and I felt like a normal person again.
I live in Washington, D.C., the federal government is here, I'm educated, I have a very normal job—I was scared. I was scared for losing my job or losing my kids and just losing everything I worked really hard for so the microdosing was a little inconsistent. While it did make me feel better, I could never get past the threshold of feeling cured.
Almost serendipitously, another friend of my had recommended this ayahuasca shaman who she had gone to. I saw a drastic change in here when she did her own ceremony with him, so I was like why not, let's give it a shot. I did a couple ceremonies with ayahuasca and my entire life turned around. My marriage was improving, I was enjoying life, I was enjoying my children. I actually got a new job in this time period, I was motivated again. It was shocking how effective these things worked for me and how quickly they worked.
On a whim, I was doing research about this stuff because it's fascinating to me, I was looking at what's going on in the brain and reading scientific articles that I barely understood and Decrim Denver popped up. I just googled the guy that was starting it, Kevin Matthews, and I reached out to him. I said, you know this is really interesting, nobody is working on this stuff in D.C. and I didn't know at what capacity I could contribute to this or even if I had the time to do this. I've got two little kids and job of my own.
Kevin connected us with a few other people and it didn't really go anywhere because things got busy in my life, but then Adam Eidinger contacted me because he had contacted Kevin Matthews and he said you have to call Melissa. Adam and I have had numerous conversations and my message resonated with him. He said I think you're going to be a really important part of this. I'm quote-unquote a normal person with a normal life who's had experience with this. I kind of break the mold with people who use psychedelics in a way. And I started to open up about my experiences within my own circles and I was getting really positive feedback.
During my depression, I didn't want to talk about anything with anyone. I felt even worse opening up at that time, but now that I'm out of the cloud, it was almost like people could really relate to this experience whether they use psychedelics or not.
MM: What do you think changed psychologically after you started using psychedelics for treatment?
ML: I think with depression, you start to develop all of these toxic thought patterns and you have a lot of negative self-talk and really bad self-worth. It was almost like immediately—and it sounds kind of nuts—but you can feel the pathways in your brain redirecting you in a different way. It's almost like your brain is telling you, you don't get to go in this direction anymore, you're going this way and this is the right way. That was the most profound thing for me.
It was almost like my body wanted me to be in that depressive state, but my mind was like, no we're not letting you do this when I was treating myself.
Read the proposed D.C. psychedelics decriminalization ballot initiative text below: 
Entheogenic Plant and Fungu… by Marijuana Moment on Scribd
Scientists Uncover 'Strong Relationship' Between Psychedelic Use And Connection With Nature
Photo elements courtesy of carlosemmaskype and Apollo.