Activists Take Steps To Decriminalize Psychedelics In Washington, D.C.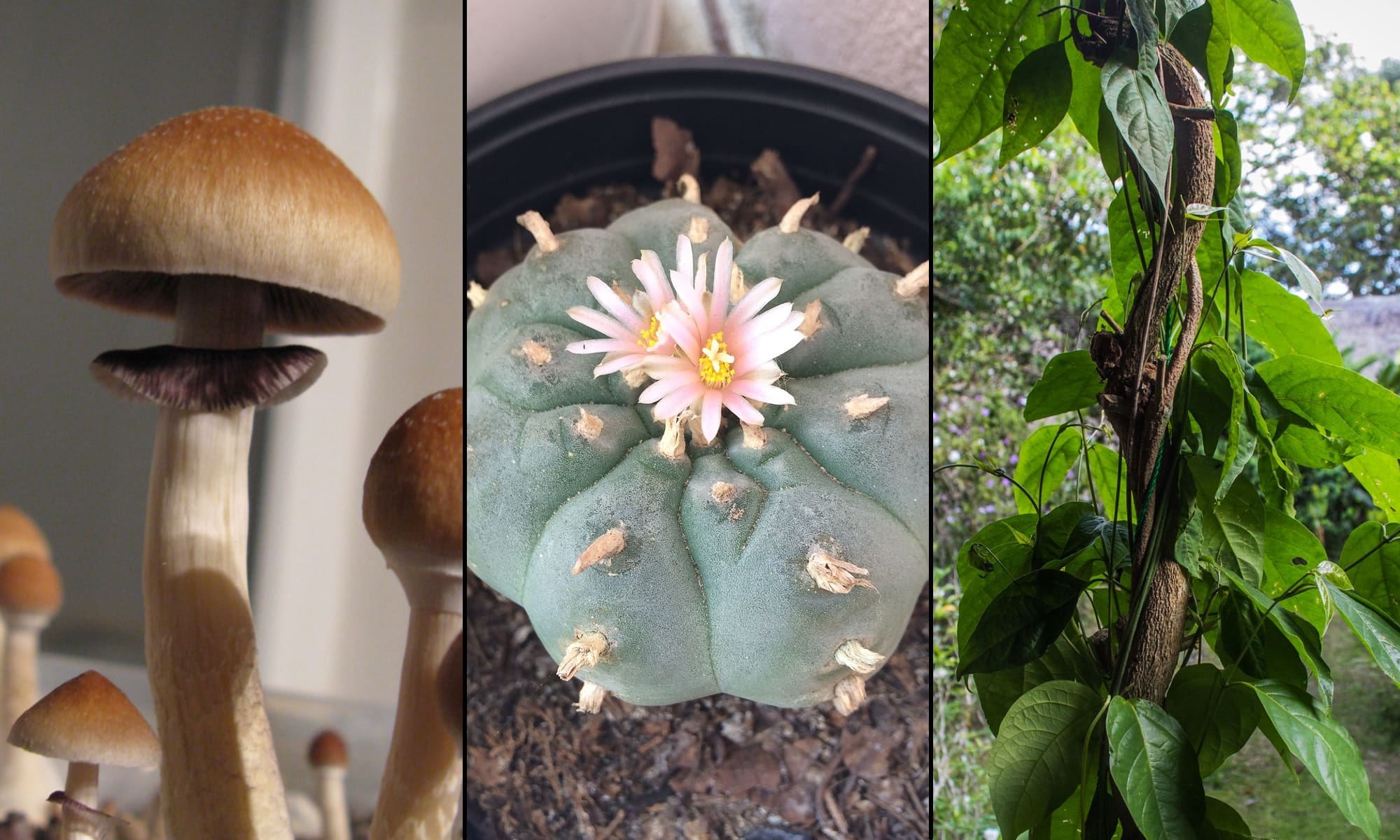 Psychedelics decriminalization could be coming to the nation's capital, where advocates recently submitted a ballot initiative to make entheogenic substances among the city's lowest law enforcement priorities.
In Washington, D.C., members of the group Decriminalize Nature D.C. met at a pizzeria last Wednesday to organize the campaign, which will dually pursue the policy change for substances like psilocybin, ayahuasca, mescaline and ibogaine through the 2020 ballot process and legislatively through the District Council.
The effort is being led by Melissa Lavasani, a mother of two whose personal experience overcoming depression and other mental health challenges by using psychedelics inspired her involvement.
As the team waits to hear from the city's Board of Elections about whether the measure can proceed, Lavasni said members will focus on raising attention to the issue and demonstrating that there's public support for psychedelics reform. D.C. is uniquely positioned to advance the conversation nationwide, she told Marijuana Moment in a phone interview on Thursday.
The following interview with Lavasani has been lightly edited for length and clarity.
Marijuana Moment: Tell me about how the Wednesday meeting went.
Melissa Lavasani: I think about 100 people were there. It was a really positive reception. It was my first time talking about it publicly and I was extremely nervous. But we had advocates there, we had regular citizens, we had D.C. government officials and attorneys—there's a wide variety of people that are interested in this. It was nice to see the diversity, and it's kind of exciting.
MM: Right now, there's this ballot initiative. Are you exploring a legislative approach through the Council as well?
ML: Yes, absolutely. This is definitely a two-pronged tactic here. We are talking to Council about potentially getting a bill through that way, legislatively.
But we know that this is kind of a sensitive issue with people, especially in a city like Washington, D.C., where it's a liberal town but people have some conservative ideas. We want to show that there is public support for this as well, so in a way, we're educating people with the ballot initiative and getting people on board with this.
But in that, we're also showing our legislature that there is public support. It's kind of like, 'hey if you guys aren't going to do this, we're going to just pursue the ballot initiative and we're going to have a vote and it's going to pass.'
MM: What makes psychedelics reform in D.C. unique from other cities like Denver and Oakland that have pursued the policy change?
ML: D.C. is special. We're a city, we're a state. We kind of function in multiple ways and we don't have control of the laws we have here, Congress approves everything we do. The Harris rider [which bars D.C. from reducing penalties for Schedule I drugs] really prevents us from actually decriminalizing it. All we're asking here is that we just make this a lowest priority for law enforcement, and that's really all we can do right now until we get statehood.
There's now like 100 cities that are pursuing this and I think we have an opportunity to set a precedent for the country, and I feel like the world is really watching us as well. D.C. gets extra attention and a lot of the focus is on the federal level, especially the executive right now. It would be nice for people to know that there's people living here and there's normal people with normal problems. It makes us a little more human. But also, it's kind of like, we have an opportunity to really change how we view health in general and mental health especially.
MM: Do you anticipate facing legal challenges to the initiative?
ML: I don't know. We might run into challenges.
Right now we're at the stage where the Board of Elections is evaluating whether this an appropriate subject, and if they deem this not to be an appropriate section, we will pursue litigation. That's our first hurdle legally. But we don't know what we're going to say.
We have a hearing February 12 and we'll see what they say then. But really, this is about educating. I think if we do a really good with educating D.C. Council on how effective these treatments are, I think we can get everyone on the same page.
MM: If your group is successful, do you expect it to shift the conversation around psychedelics in Congress?
ML: I hope so. I really hope so. Especially since I am a mom to two little kids, I just feel like we're shifting the conversation from these are dangerous substances to this is actual practical. We could flip our medical model on its heard here, and this is one step closer to that. Because what we're doing now doesn't work.
There are people who are sick and tired and really dying all over the country, and Congress should be looking at this.
MM: I heard you have a meeting with a councilmember coming up. What can you say about that?
ML: I'm meeting with Charles Allen, who is the Ward 6 councilman and his committee is the Judiciary Committee, so this falls under him. I haven't even broached the topic of this with him. It's just like get a feel, let's educate him on my experience and he's a father to two children as well. I'm hoping this is relatable in a way and we'll see what he says.
MM: Is David Bronner of Dr. Bronner's providing funding for the campaign like he is for other decriminalization efforts?
ML: He has dedicated around $100,000 for this and he's committed. He's focusing on D.C. right now, and this is important to him and he knows there's potentially a lot of visibility on this issue if this happens in D.C., and that can spread very quickly nationally and influence other jurisdictions into doing this. He really wants this to happen and we have his full support.
MM: Can you share your story about how you ended up getting involved in this reform movement?
ML: My first experience with depression my entire life was after my first daughter was born in 2014. I had a pretty traumatic birth with her—her heart stopped multiple times during labor and I had to have an emergency C-section where my epidural wore off so I felt the entire procedure. I wasn't sure I was going to bring home a baby at that point so it was one of those crazy moments in your life, but she came out totally fine after a pretty dramatic entrance.
Those kind of experiences, I think you put them away in your head and you power through like moms usually power through things. It affected me in a way that nothing else have affected me before, and I felt completely numb from being a new mom, I wasn't connecting to my new baby. I saw all the other new moms around me in the community just being in this joyous state that I couldn't relate to, so I isolated myself and just wouldn't leave my house for days on end. That experience drastically improved when I went back to work and I got into my routine again.
With my second pregnancy, I developed very painful sciatica, a nerve issue in your spine that causes pain to run up and down your body. I was having chronic pain every day, I was crawling up the stairs, I couldn't even stand up straight. I developed what's called antepartum depression, which is depression during pregnancy.
I remember I was at a checkup around five or six months and my normal physician wasn't in the office. It was a newer physician in the practice, she walked in the door and she simply asked me how I was doing and I burst into tears. The floodgates opened. As soon as I looked up, she was handing me a prescription to antidepressants. I raised some concerns about this and she said, 'trust me, it's totally fine. It's healthy for you, it's fine for the baby. Just take this until you deliver the baby and then you'll get off of it.'
I was very hesitant to get on anything at this point. You go from one kid to two kids, your family dynamic is changing. I was worried about how everything was going to affect my career, my marriage, and I thought if I started taking this medication, I was just going to add another issue that I had to deal with down the road, so once again I powered through.
I delivered a healthy baby, but very soon after that, my depression really amped up. I assumed it would just go away on its own like it did the first time, but it absolutely did not. It got a lot worse. I developed anxiety, paranoia, delusions, I was hearing voices—it was pretty crazy—and then at the very peak, I was suicidal. My husband just didn't know what to do. I went to therapy and I would find excuses to not go, I was refusing antidepressants.
And I had a friend of mine who said just listen to this Joe Rogan podcast with Paul Stamets, who's now a pretty famous mycologist. His story about curing his stutter with one trip on mushrooms kind of blew my mind. Out of all my years of partying pre-children, I had never dipped into psychedelics before. My sister had one bad mushroom trip and she scared me from any kind of psychedelics. I was skeptical but at that point in time, I knew this was a life-or-death situation for me, so I began microdosing and I had amazing results with it. Within a week or so, a lot of my symptoms were going away and I felt like a normal person again.
I live in Washington, D.C., the federal government is here, I'm educated, I have a very normal job—I was scared. I was scared for losing my job or losing my kids and just losing everything I worked really hard for so the microdosing was a little inconsistent. While it did make me feel better, I could never get past the threshold of feeling cured.
Almost serendipitously, another friend of my had recommended this ayahuasca shaman who she had gone to. I saw a drastic change in here when she did her own ceremony with him, so I was like why not, let's give it a shot. I did a couple ceremonies with ayahuasca and my entire life turned around. My marriage was improving, I was enjoying life, I was enjoying my children. I actually got a new job in this time period, I was motivated again. It was shocking how effective these things worked for me and how quickly they worked.
On a whim, I was doing research about this stuff because it's fascinating to me, I was looking at what's going on in the brain and reading scientific articles that I barely understood and Decrim Denver popped up. I just googled the guy that was starting it, Kevin Matthews, and I reached out to him. I said, you know this is really interesting, nobody is working on this stuff in D.C. and I didn't know at what capacity I could contribute to this or even if I had the time to do this. I've got two little kids and job of my own.
Kevin connected us with a few other people and it didn't really go anywhere because things got busy in my life, but then Adam Eidinger contacted me because he had contacted Kevin Matthews and he said you have to call Melissa. Adam and I have had numerous conversations and my message resonated with him. He said I think you're going to be a really important part of this. I'm quote-unquote a normal person with a normal life who's had experience with this. I kind of break the mold with people who use psychedelics in a way. And I started to open up about my experiences within my own circles and I was getting really positive feedback.
During my depression, I didn't want to talk about anything with anyone. I felt even worse opening up at that time, but now that I'm out of the cloud, it was almost like people could really relate to this experience whether they use psychedelics or not.
MM: What do you think changed psychologically after you started using psychedelics for treatment?
ML: I think with depression, you start to develop all of these toxic thought patterns and you have a lot of negative self-talk and really bad self-worth. It was almost like immediately—and it sounds kind of nuts—but you can feel the pathways in your brain redirecting you in a different way. It's almost like your brain is telling you, you don't get to go in this direction anymore, you're going this way and this is the right way. That was the most profound thing for me.
It was almost like my body wanted me to be in that depressive state, but my mind was like, no we're not letting you do this when I was treating myself.
Read the proposed D.C. psychedelics decriminalization ballot initiative text below: 
Entheogenic Plant and Fungu… by Marijuana Moment on Scribd
Scientists Uncover 'Strong Relationship' Between Psychedelic Use And Connection With Nature
Photo elements courtesy of carlosemmaskype and Apollo.
Did Kamala Harris Flip-Flop On Marijuana Again To Adopt Biden's Anti-Legalization Position?
Does Vice President Kamala Harris still support legalizing marijuana? According to a short passage buried in a new Bloomberg report about efforts to appoint a new top White House drug policy official, the answer seems to be no.
Harris, who sponsored a comprehensive Senate bill to end federal cannabis prohibition in 2019, has now reportedly adopted the same position as President Joe Biden, who opposes legalization, the outlet reported on Monday.
There have been signs that might be the case, as Harris has stepped back her calls for broad reform in recent months, opting instead to push for cannabis decriminalization and expungements in line with the president's agenda. She spent significant time during her own presidential campaign making the case for federally legalizing marijuana, but that specific narrative has been largely abandoned since she joined Biden's presidential ticket in August.
Decriminalization and expungements is the favored policy of Biden, who also backs medical cannabis legalization, modestly rescheduling the plant under federal law and letting states set their own policies on the issue.
Bloomberg reported that an aide Harris's team said her "positions are now the same as Biden's," though the source asked not to be named because the vice president hasn't announced the policy shift. Marijuana Moment reached out to three press staffers in the vice president's office for clarification, but they did not respond by the time of publication.
The lack of specificity leaves rooms for the possibility that the staffer was referring to Biden changing his position and embracing legalization as Harris has. But considering that the vice president's rhetoric on the issue has shifted—with her reaffirming an administration commitment to simply "decriminalizing marijuana" and expunging records, rather than legalize the plant—it appears more likely that it's Harris whose views have changed.
In September, for example, she simply said that "we will decriminalize the use of marijuana and automatically expunge all marijuana use convictions and incarceration for drug use alone."
This wouldn't be the first time Harris has flip-flopped on cannabis. She was staunchly opposed to legalization and actively campaigned against a California reform initiative on the 2010 ballot during her time as the state's attorney general, co-authoring an official voter guide argument stating that the measure "seriously compromises the safety of our communities, roadways, and workplaces."
In 2014, Harris was asked about marijuana legalization in light of her Republican opponent for attorney general supporting it, and she dismissively laughed off the question.
But in 2018, she adopted a pro-legalization stance and signed onto descheduling legislation, saying "we need to start regulating marijuana."
What this latest reported shift means practically for marijuana reform in 2021 is unclear. Senate Majority Leader Chuck Schumer (D-NY), Senate Finance Committee Chairman Ron Wyden (D-OR) and Sen. Cory Booker (D-NJ) are moving forward with plans to introduce a legalization bill this session, and they've already met with advocates and stakeholders to gain input on what that legislation should include.
If they were willing to push the issue despite Biden's ongoing opposition to adult-use legalization, it stands to reason they will stay the course if reports about the vice president's stance are true. That said, with the Senate split evenly among Democrats and Republicans, her position on the issue could come to the fore in the event that she's needed as the tie-breaking vote on a legalization bill on the floor.
Coincidentally, it's likely that parts of Harris's Marijuana Opportunity, Reinvestment and Expungement (MORE) Act will be incorporated into their proposal, as the House version passed in that chamber last year and advocates favor its strong social equity provisions.
The news about Harris's apparent change of heart on cannabis policy came as part of a Bloomberg report on the White House search for a "drug czar" to lead the Office of National Drug Control Policy. Former Rep. Patrick Kennedy (D-RI), a cofounder of the nation's leading marijuana prohibitionist group, has been publicly lobbying the administration for an appointment to the position—much to the chagrin of reform advocates.
Meanwhile, an arguably more consequential nominee when it comes to federal drug policy is going through the confirmation process and said last week that he doesn't think Justice Department resources should be wasted going after individuals acting in compliance with state marijuana laws.
"It does not seem to me useful the use of limited resources that we have to be pursuing prosecutions in states that have legalized and are regulating the use of marijuana, either medically or otherwise," Judge Merrick Garland told the Senate Judiciary Committee.
Separately, the Biden administration is instituting a new policy of granting waivers to some White House staff who've used cannabis. The Office of Personnel Management has also distributed a memo last week to federal agencies stipulating that admitting to past marijuana use should not automatically disqualify people from being employed in the federal government.
New Mexico Lawmakers Will Work To Unify Conflicting Marijuana Proposals This Week Following House Passage
Photo element courtesy of California Attorney General's Office.
New Mexico Lawmakers Will Work To Unify Conflicting Marijuana Proposals This Week Following House Passage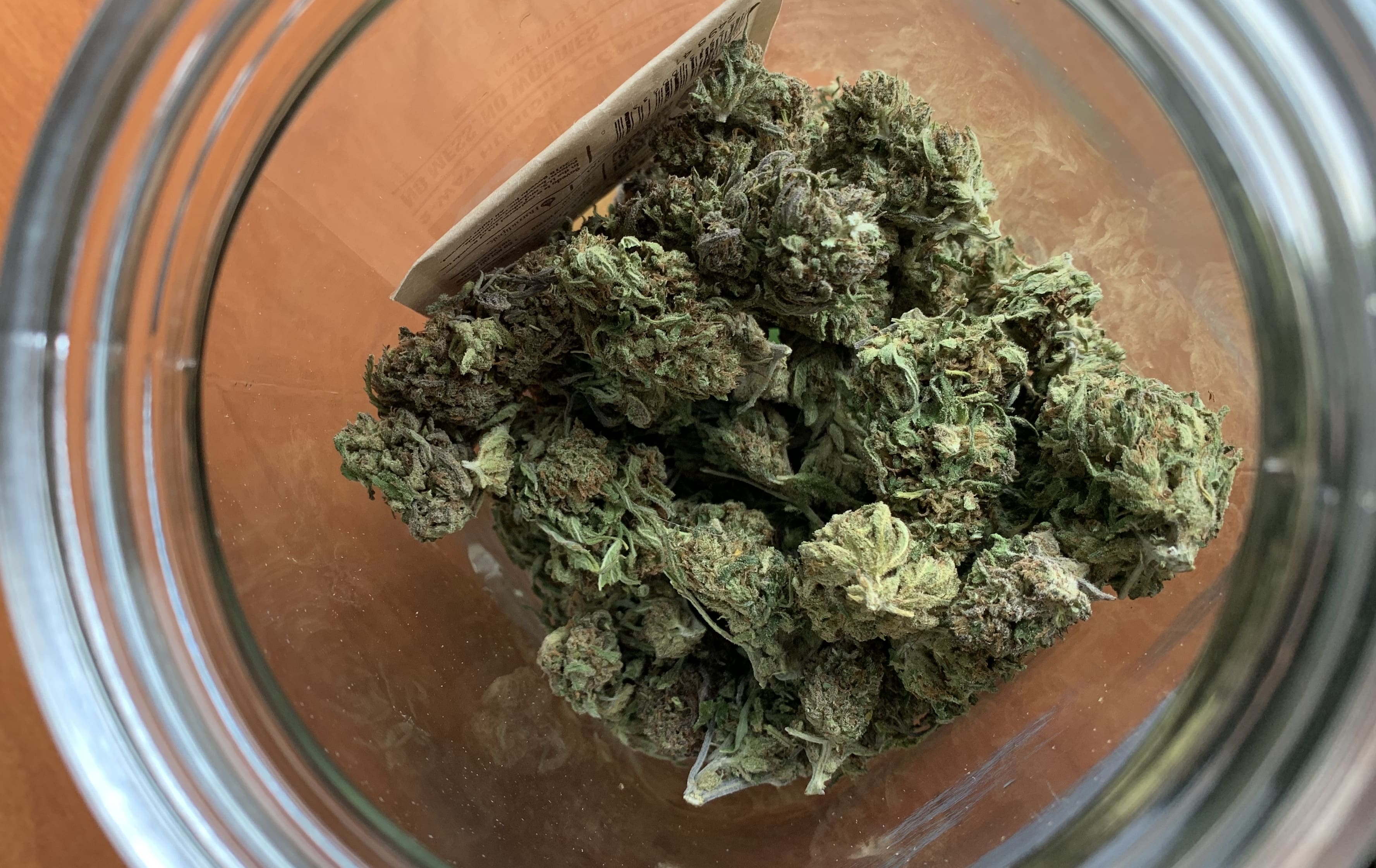 One day after New Mexico's House of Representatives passed legislation to legalize marijuana for adults 21 and older, a Senate panel held a Saturday hearing to take initial testimony on three competing legalization bills introduced in that chamber.
The committee did not vote on any of the measures, instead using the hearing to compare the various Senate proposals to one another as well as to the House-passed legislation, HB 12. "I think we're just trying to get a feel for these four bills," said Senate Tax, Business and Transportation Committee Chairman Benny Shendo Jr. (D), who led the hearing.
The bills' sponsors will now work to combine elements of the various Senate proposals before returning to the committee for a possible vote next Saturday. Despite overlap on some issues, major disagreements remain over the structure of the commercial cannabis market, how tax revenue will be allocated and the makeup of a state oversight board that would regulate the new industry.
"In the next week, basically, the sponsors of these four bills need to see if we can get to one bill," Senate Majority Leader Peter Wirth (D) said at the hearing, "and make a decision in this committee so that we don't end up in a situation where there's just multiple moving pieces."
If backers can't do that, Wirth added, "there's a good chance we end up with nothing" by the time the legislative session ends on March 20.
First up for Discussion in Senate Tax, Business & Transportation Committee: Senate Bill 13, CANNABIS REGULATION ACT (Ivey-Soto) https://t.co/ts1cR6URou#nmleg #nmpol

— NM Senate Democrats (@NMSenateDems) February 27, 2021
Sen. Jacob Candelaria's (D) SB 363 is the most closely aligned with the House measure, although Republican members of the Senate panel said they prefer SB 288, introduced by GOP Sen. Cliff Pirtle, who said he brought the measure "because I felt like something as important as legalizing the sale of recreational cannabis really needed to have a bipartisan approach."
Sen. Craig Brandt (R), a member of the Senate panel, indicated he's open to legalization depending on how it's done.
"I think I can support this issue with the right pieces," he said at the end of Saturday's hearing, adding that SB 288 is "very close" to what he'd like to see in marijuana legislation. "There are certain things that I cannot and will not support in the House bill."
The third cannabis bill being introduced to the Senate Tax, Business & Transportation Committee this morning is Senate Bill 363 (Candelaria)https://t.co/sWa06a3RFU#nmleg #nmpol @SenCandelaria

— NM Senate Democrats (@NMSenateDems) February 27, 2021
The third bill in the Senate, SB 13, is a pared-down version of the other legalization proposals and is seen as a comparative outlier. The industry-backed bill's House companion, HB 17, sponsored by Rep. Tara Lujan (D), was defeated in a House committee earlier this month as lawmakers proceeded with HB 12.
Lujan spoke in favor of SB 13 at the Senate hearing on behalf of the bill's sponsor, Sen. Daniel Ivey-Soto (D), warning the panel against adopting an overly complex bill.
"There is a lot of stuff going on here," Lujan said, "and I've seen cannabis legislation fail because it's too complicated."
But Rep. Javier Martínez (D), lead sponsor for HB 12, seemed to dismiss that criticism later in the hearing, stressing that it's important the new law be comprehensive.
—
Marijuana Moment is already tracking more than 700 cannabis, psychedelics and drug policy bills in state legislatures and Congress this year. Patreon supporters pledging at least $25/month get access to our interactive maps, charts and hearing calendar so they don't miss any developments.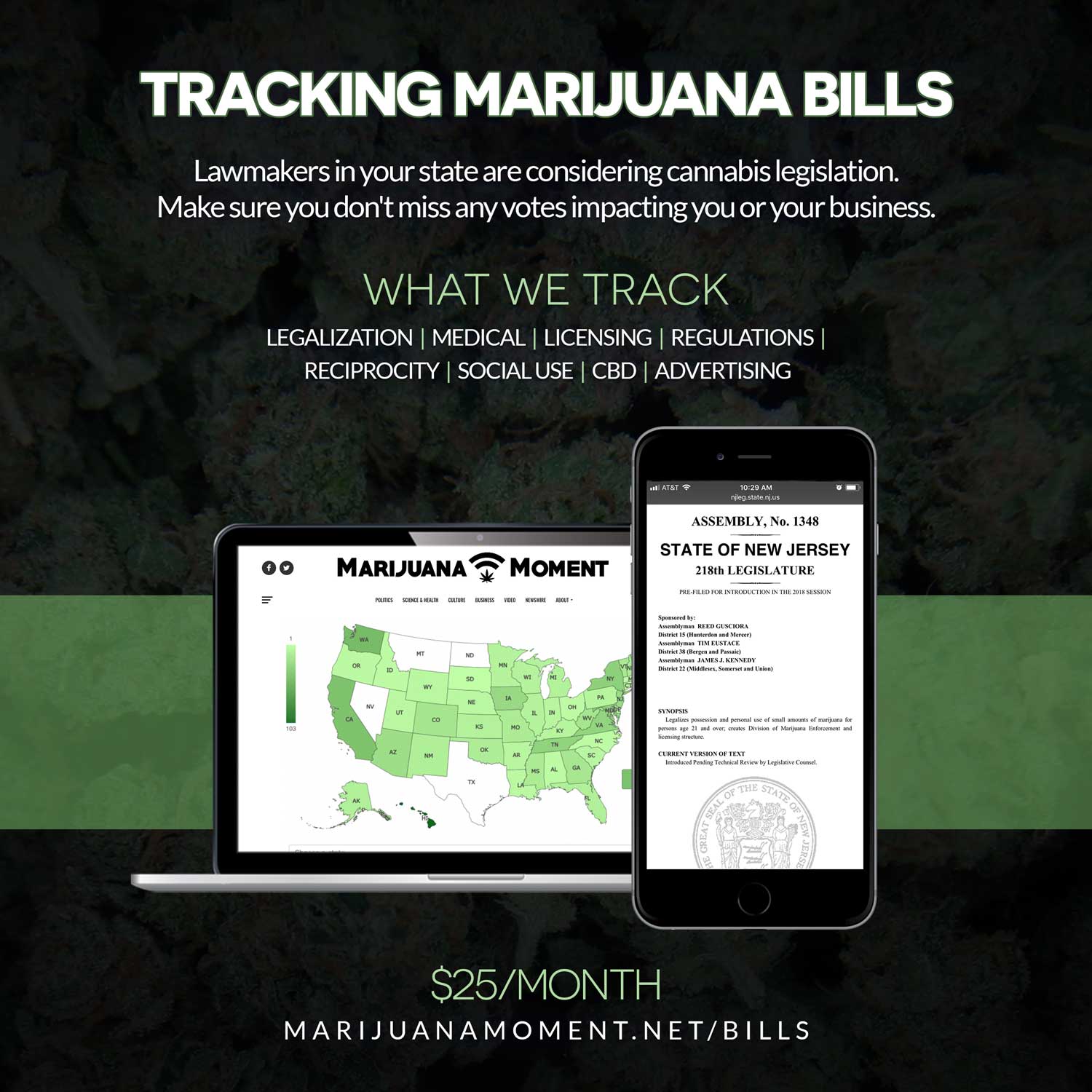 Learn more about our marijuana bill tracker and become a supporter on Patreon to get access.
—
"This is a big deal," he said. "This is a big industry that we're about to create, and we get a chance to design what the industry will look like ahead of time. That hasn't happened with the other big industries in New Mexico."
Martínez's bill, passed Friday by House lawmakers in a 39–21 vote, would set up an extensive system of licensing and regulation for the cannabis industry. Rules for the new market would need to be implemented by January 2022. Small businesses and existing medical marijuana companies could begin selling products that same month, with other businesses set to open in September 2022.
The bill would allow adults to possess "at least" two ounces of cannabis (regulators could set limits beyond that) and grow up to six mature and six immature plants for personal use.
Senate Tax, Business & Transportation Committee now taking public comment on the four cannabis measures being presented today. This meeting will provide an opportunity for public comment and committee discussion only. #nmleg #nmpol

— NM Senate Democrats (@NMSenateDems) February 27, 2021
Martínez said SB 363 was the most similar to the House bill of all the Senate measures, calling it "very, very aligned to what we're doing."
Much of Saturday's committee hearing focused on proposed limits on business licenses and how many plants licensed producers could grow. Not only will those rules determine how easily people can enter the new market, but they'll also likely affect available supply—a big determinant of product prices.
Both HB 12 and SB 363 would allow businesses with cultivation licenses to grow an unlimited number of plants and create a separate category of small, so-called microbusinesses that could grow a small number of plants and then process and sell marijuana products directly. Those businesses would have a lower barrier to entry in terms of licensing and fees, aimed at ensuring wider access to the industry.
SB 288, meanwhile, wouldn't create separate license categories but would set a per-plant fee on licensing in an effort to allow a lower point of entry for small growers.
One important difference between HB 12 and SB 363, Candelaria pointed out to the panel, is that his Senate bill would allow standalone businesses to establish cannabis consumption areas, designated zones where marijuana could be used openly. The areas would be regulated by the same board that would oversee the commercial industry.
The House-passed bill would allow social consumption, too, but would limit consumption licenses to businesses engaged in other elements of the industry, such as retail marijuana stores.
Pirtle, the sponsor of SB 288, said his bill approaches legalization with the aim of ending underground sales, not necessarily raising revenue. "The first goal when legalizing cannabis," he said at the beginning of his testimony, "is to put the illicit market out of business."
While there's some disagreement over how to model tax projections, estimates of how much revenue the market could raise range between $13 million and $25 million for the first year of legal sales and as much as $150 million by year five.
SB 288 would raise less money due to its comparatively lower taxes, which Pirtle said would help make legal sales more competitive with the illicit market. His measure would route virtually all of the money back to municipal governments where the cannabis transactions take place. "Those are the communities that are going to be impacted," Pirtle said, "so they can add more police officers or cop cars."
Candelaria, for his part, said taxes rates aren't the way to ensure legal businesses are competitive with the illicit market. Ensuring adequate supply, such as through allowing unlimited cultivation under SB 363 and HB 12, would do far more to ensure legal products can compete on price.
"As the result of New Mexico's plant cap" on existing medical marijuana businesses, he said, "one gram of medical cannabis costs approximately on average $10 in New Mexico. It costs $8.15 a gram in Arizona and $5.96 in Colorado."
Those prices in Arizona and Colorado, he added, include tax.
The three Senate bills also differ on how they would address social equity and racial justice. While those issues were raised only in passing at Friday's hearing, drug reform advocates have said they prefer HB 12's equity provisions over any of the Senate bills.
"HB 12 legalizes cannabis in an equitable way that begins to repair the harms that have disproportionately impacted Hispanic/Latinx, Black, Native and Indigenous people in New Mexico," Emily Kaltenbach, senior director of resident States and New Mexico for the Drug Policy Alliance, told Marijuana Moment after Friday's vote in the House. "New Mexicans are absolutely ready to see marijuana legalization become a reality in the state, but they have made it clear that repairing the damage done by the drug war is non-negotiable."
The House measure would establish a fund to reinvest in communities most impacted by the war on drugs, especially Black and brown communities, and includes provisions to automatically expunge prior convictions.
SB 363 includes expungement and release provisions that "mimic" those in HB 12, Candelaria told the committee, noting that his bill would also criminal reduce penalties for possession all controlled substances, not just marijuana. Simple possession of a controlled substance would become a misdemeanor under SB 363 rather than a fourth-degree felony.
Candelaria proposed that his bill, SB 363, be the main vehicle to reconcile with the House measure. "What I think makes the most sense," he told the committee chairman, "is because the House bill has already gone through the process, is that…my bill is basically merged into House Bill 12. I think they are the most similar, both in values and their approach."
He added that he and Pirtle "already have plans to have lunch on Monday," to discuss how to incorporate SB 288.
If all goes well, lawmakers will have whittled down the number of bills by the committee's scheduled meeting on the measures this coming Saturday.
"I think the message was pretty loud and clear to the sponsors," Shendo, the panel's chairman, said at the end of this weekend's hearing. "They've got a lot of work ahead of them, and I hope I get invited to one of those lunches."
Meanwhile, New Mexico Gov. Michelle Lujan Grisham (D) has repeatedly described legalization as a means to boost the economy, especially amid the coronavirus pandemic. She said during a State of the State address in January that "a crisis like the one we've experienced last year can be viewed as a loss or as an invitation to rethink the status quo—to be ambitious and creative and bold."
The governor also included cannabis legalization as part of her 2021 legislative agenda and said in a recent interview that she's "still really optimistic about cannabis" this session.
Additional pressure to end cannabis prohibition this year is coming from neighboring Arizona, where voters approved legalization in November and where sales officially launched in January. New Mexico shares another border with Colorado, one of the first states to legalize for adult use.
Cannabis is also expected to be legalized across the southern border, in Mexico, with lawmakers facing a Supreme Court mandate to end prohibition by April.
Last year in New Mexico, a Senate panel passed a bill to legalize cannabis for adult use passed one New Mexico Senate committee —a measure promptly rejected in another committee before the end of the 30-day legislative session.
In 2019, the House approved a legalization bill that included provisions to put marijuana sales mostly in state-run stores, but it died in the Senate. Later that year, Gov. Lujan Grisham created a working group to study cannabis legalization and issue recommendations.
Polling indicates that voters are ready for the policy change. A survey released in October found that a strong majority of New Mexico residents are in favor of legalization with social equity provisions in place, and about half support decriminalizing drug possession more broadly.
Last May, the governor signaled that she was considering actively campaigning against lawmakers who blocked her legalization bill in 2020. She also said that she's open to letting voters decide on the policy change via a ballot referendum if lawmakers can't send a legalization bill to her desk.
Washington, D.C. Could Allow Marijuana Sales Under Mayor's New Bill And Democratic Control Of Congress
Photo courtesy of Kimberly Lawson
Washington, D.C. Could Allow Marijuana Sales Under Mayor's New Bill And Democratic Control Of Congress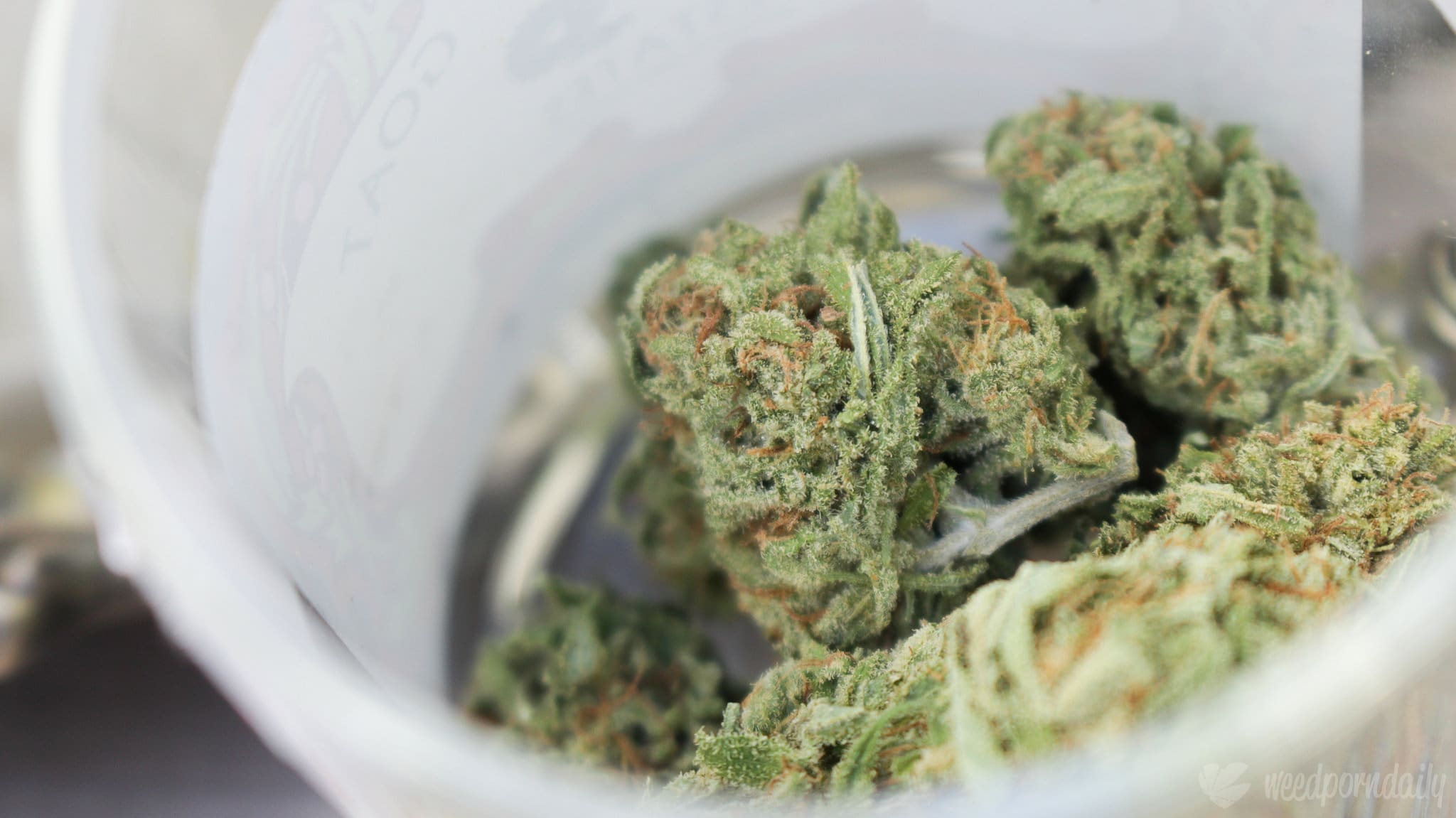 The mayor of Washington, D.C. on Friday introduced a bill to create a regulated marijuana market in the District. And while similar legislation has been introduced in past years, the new proposal comes as Democrats take control of both chambers of Congress—a situation that bodes well for removing a federal spending rider that has long blocked legal cannabis sales from being implemented in the nation's capital.
In other words, there's renewed hope among advocates that 2021 will finally be the year that a commercial cannabis industry can be established in D.C., where voters approved an initiative legalizing marijuana possession and home cultivation in 2014. Congressional appropriations legislation has since prevented the District from authorizing sales, with Republicans in the majority in at least one chamber on Capitol Hill.
Mayor Muriel Bowser's (D) bill largely reflects past proposals, though it does include new licensing provisions and funding mechanisms that are meant to bolster social equity in the industry.
Today, we introduced the Safe Cannabis Sales Act of 2021 to create an equitable adult-use cannabis program, advance a safer and more just DC, and empower and uplift residents who have been disproportionately affected by the criminalization of cannabis.

— Mayor Muriel Bowser (@MayorBowser) February 26, 2021
"This is about safety, equity, and justice," Bowser said in a press release. "Through this legislation, we can fulfill the will of D.C. voters, reduce barriers for entering the cannabis industry, and invest in programs that serve residents and neighborhoods hardest hit by the criminalization of marijuana."
Under the Safe Cannabis Sales Act, adults 21 and older would be allowed to purchase marijuana from licensed dispensaries starting October 1, 2022. A 17 percent tax would be imposed on cannabis sales.
The bill would provide for automatic expungements of prior marijuana convictions and use part of the tax revenue from cannabis sales to support reinvestments in communities most impacted by prohibition. It would also create a new licensing category for delivery services, with a stipulation that eligibility is continent on residency and income factors, such as requiring owners to have lived in certain low-income wards for at least five years.
—
Marijuana Moment is already tracking more than 700 cannabis, psychedelics and drug policy bills in state legislatures and Congress this year. Patreon supporters pledging at least $25/month get access to our interactive maps, charts and hearing calendar so they don't miss any developments.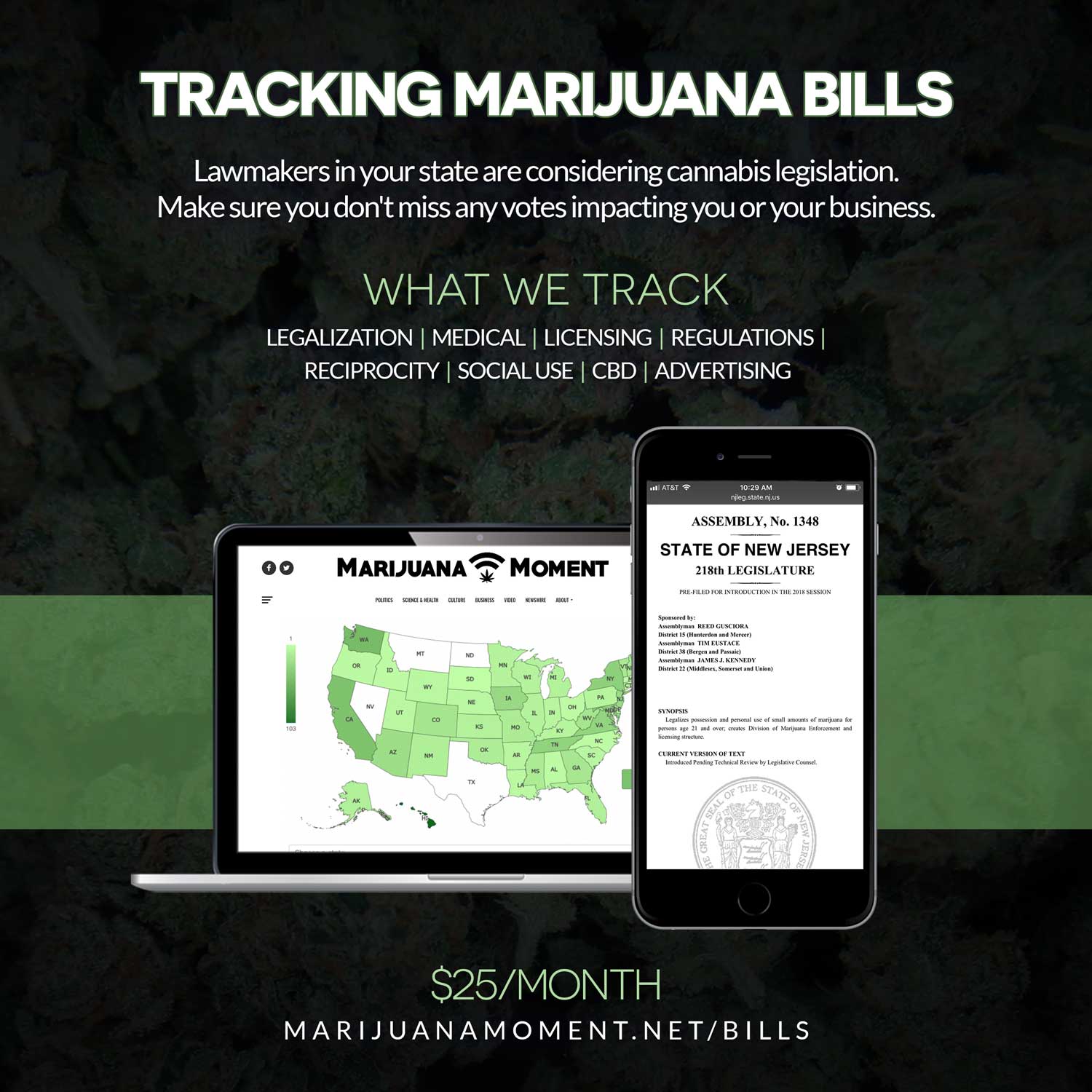 Learn more about our marijuana bill tracker and become a supporter on Patreon to get access.
—
The proposal calls for some tax revenue to be used for grants to be awarded to "locally disadvantaged certified business enterprises to open/expand sit-down restaurants in Wards 7/8. Additional monies would be used to support small grocery stores in those areas. Starting in fiscal year 2023, revenue would fund "school supplies, equipment, and afterschool sports and activities for students attending public schools" in those wards.
With respect to licensing, the legislation would also provide "preference points for certain cannabis business applications for returning citizens or D.C. residents arrested or convicted of a cannabis offense or to a cannabis certified business enterprise or veteran owned business enterprises."
The activist group D.C. Marijuana Justice expressed concerns with several provisions of Bowser's bill, including that it could limit the amount of cannabis that people could possess after growing the plant at home under the city's current law.
You know the "cannabis that has been cut from the cannabis plant" weighs MORE immediately after it is cut from the plant due to water weight.

One *BRANCH* from the cannabis plant, with leaves, buds, and stem can weigh well over 10ozs after it's been cut. pic.twitter.com/i5foTTkCsE

— DC Marijuana Justice💨🏛💨🏛💨🏛💨 (@DCMJ2014) February 27, 2021
Last year, the mayor released a budget plan for the 2021 fiscal year that contained a signal that the local government was preparing to implement regulations for retail marijuana sales just as soon as Congress allowed it by shifting the city's current medical cannabis program to the jurisdiction of the Alcoholic Beverage Regulation Administration (ABRA).
Bowser also unveiled a legalization bill in 2019, and part of it called for ABRA to regulate the legal industry and for the agency to be renamed the Alcoholic Beverage and Cannabis Administration, a change that is also included in the mayor's latest legislation.
Meanwhile, next door to the District, lawmakers in Virginia sent a marijuana legalization bill to the desk of Gov. Ralph Northam (D) on Saturday. On the other side of the city, legislators in Maryland are also considering legalizing cannabis this year.
In D.C., Bowser approved legislation in December to decriminalize possession of drug paraphernalia for personal use and promote harm reduction.
Activists filed a proposed ballot initiative to legalize marijuana sales in August, but it did not advance.
Separately, a local councilman introduced a bill in October that would expand opportunities for formerly incarcerated people to participate in the city's existing medical cannabis market. The new legislation from Bowser would specifically make it so "returning citizens and D.C. residents with a criminal background" could work or manage a marijuana businesses. And those with past cannabis convictions could own a marijuana business.
Read the mayor's marijuana sales bill below: 
Safe Cannabis Sales Act of … by Marijuana Moment
Marijuana Use Won't Automatically Block People From Federal Jobs, Biden Administration Memo Says
Photo courtesy of WeedPornDaily.