37 Members Of Congress Ask Biden To Issue Mass Marijuana Pardons Ahead Of Legalization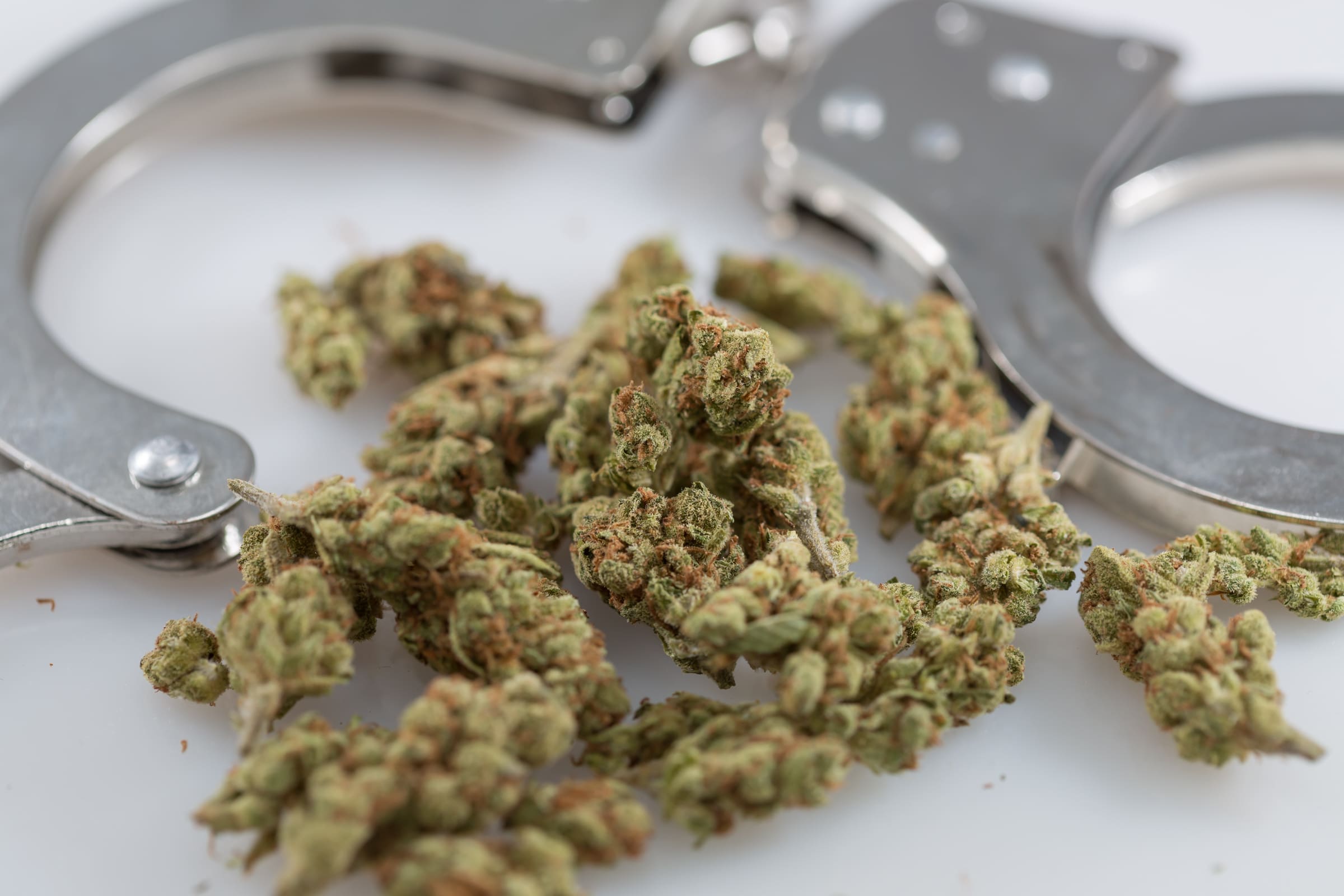 Thirty-seven members of Congress sent a letter to President Biden on Thursday, calling on him to use executive authority to mass pardon all people with non-violent federal marijuana convictions.
The ask for this unique form of presidential clemency is based on actions taken by Presidents Gerald Ford and Jimmy Carter in the 1970s to categorically forgive Americans who avoided the draft for the Vietnam War.
In the letter—led by Congressional Cannabis Caucus cochairs Reps. Earl Blumenauer (D-OR) and Barbara Lee (D-CA)—the lawmakers noted the expansion of the state-legal marijuana legalization movement and last year's House vote in favor of a bill to end federal cannabis prohibition.
The failed cannabis prohibition has had horrific consequences for communities of color, especially young Black men, who've had their lives destroyed by selective enforcement.

Today, we are urging @POTUS to act now to pardon past federal marijuana convictions. #CannabisJusticeNOW pic.twitter.com/VJblFnaMbv

— Earl Blumenauer (@repblumenauer) February 18, 2021
However, "until the day that Congress sends you a marijuana reform bill to sign, you have a unique ability to lead on criminal justice reform and provide immediate relief to thousands of Americans," they wrote.
"During your previous tenure at the White House, President Obama understood that decades of harsh and discriminatory federal drug laws unfairly trapped minority individuals and communities in cycles of despair," the letter states. "Your Administration has the power to expand on this legacy and issue a general pardon to all former federal, non-violent cannabis offenders in the U.S and trigger resentencing for all those who remain federally incarcerated on non-violent, cannabis-only offenses for activity now legal under state laws."
The War on Drugs has wreaked havoc on Black & Brown communities. In our fight for cannabis reform, we must work toward restorative justice for those most impacted.

That's why @RepBlumenauer and I called on @POTUS to pardon past federal marijuana convictions. pic.twitter.com/Y8bdKg1Cp1

— Rep. Barbara Lee (@RepBarbaraLee) February 18, 2021
A general pardon, as the groups are calling for, is distinct from the individual acts of clemency that have been done by the past few presidents. What Carter did in 1977 was issue a proclamation laying out criteria for who would be eligible for relief. Those who violated the Military Selective Service Act by avoiding the draft in a certain timeframe were able, under his action, to submit documentation to show that they qualify and would then be systematically pardoned.
The lawmakers noted that each of the last five presidents have granted relief on a case-by-case basis to people convicted of federal cannabis offenses. But by following Carter's general pardon model, Biden could "begin the process of 'winning the peace' in the War on Drugs by ending it and working to make whole those who have been harmed," they said.
As Congress works to end the senseless prohibition of cannabis and the failed war on drugs that has destroyed countless lives, @POTUS must take action to pardon federal cannabis convictions.

More than 30 lawmakers joined me and @RepBarbaraLee
in calling for #CannabisJusticeNOW⤵️ pic.twitter.com/FYH8Q4mS85

— Earl Blumenauer (@repblumenauer) February 18, 2021
The letter also points out that Biden voiced support for automatic expungements for prior marijuana convictions during his campaign. But while he backs modest reforms like expungements, legalizing medical cannabis, rescheduling marijuana and letting states set their own cannabis policies, the president remains opposed to adult-use legalization.
"President Biden's leadership on issuing pardons to nonviolent federal marijuana offenders would demonstrate a down payment on his campaign promise to prioritize criminal justice reform and similarly inspire similar justice-oriented actions in a non-partisan fashion around the country," NORML Political Director Justin Strekal said in a press release.
"Shortly after President Biden's election, the House of Representatives voted to end the federal prohibition of marijuana," he said. "Now in a new legislative session, President Biden should follow their lead and move to immediately provide relief to those who continue to suffer from a criminal record for a nonviolent federal marijuana offense."
Among the letter's 37 signatories are House Judiciary Committee Chairman Jerrold Nadler (D-NY), House Rules Committee Chairman James McGovern (D-MA) and Small Business Committee Chairwoman Nydia Velázquez (D-NY). Also signing are Reps. Ed Perlmutter (D-CO), Luis Correa (D-CA) and Alexandria Ocasio-Cortez (D-NY).
On Monday, a coalition of advocacy and industry groups made a similar plea to the Biden administration, using Presidents Day to send a letting urging him to "to clearly demonstrate your commitment to criminal justice reform by immediately issuing a general pardon to all former federal, non-violent cannabis offenders."
Read the new congressional letter to Biden on marijuana clemency below: 
Cannabis Clemency Letter fo… by Marijuana Moment
New Jersey Lawmakers' Marijuana Talks Break Down Months After Voters Approve Legalization