Why Marijuana Consumers Have Smaller Waistlines Than Non-Users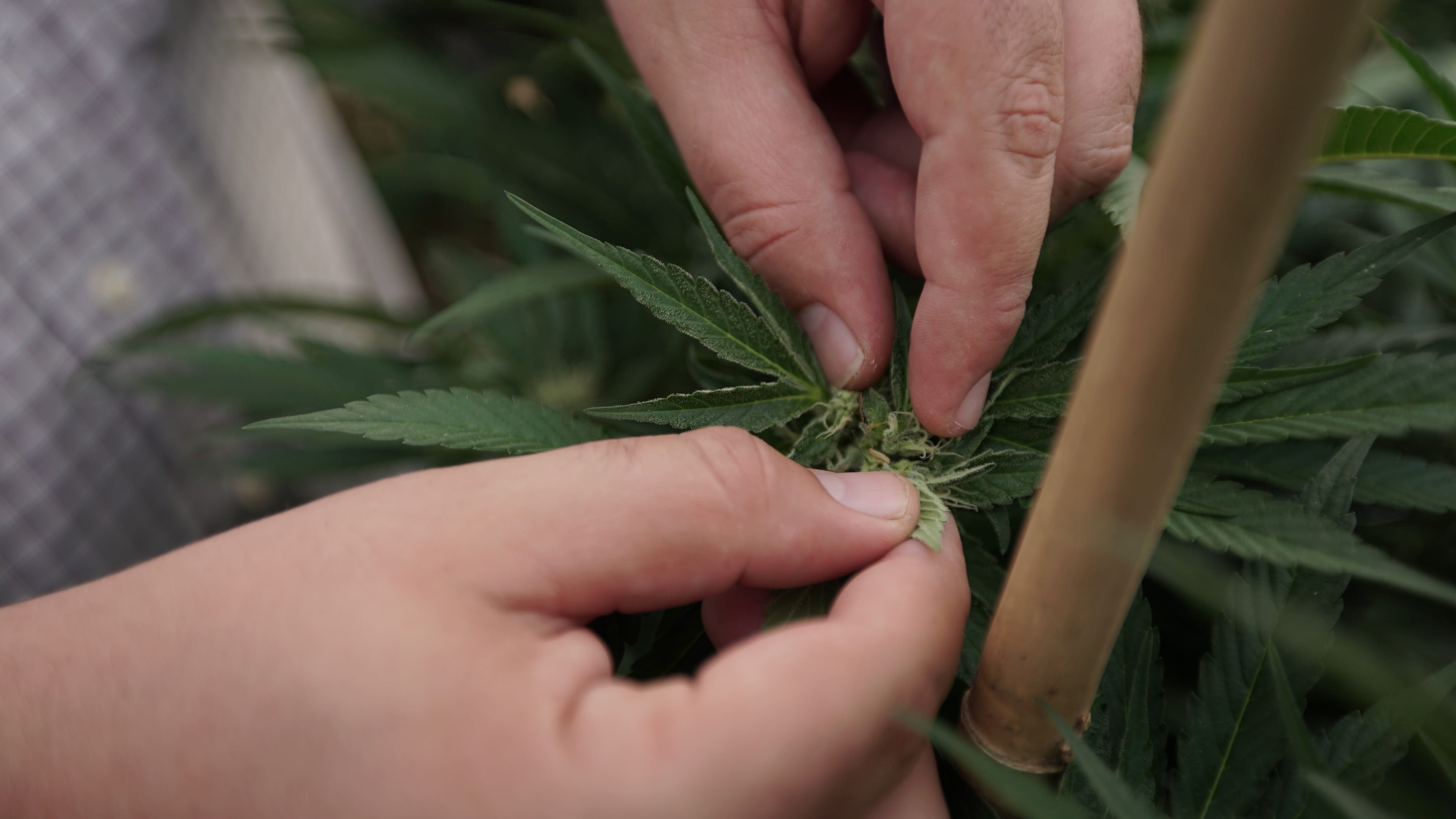 It's a well-established fact that marijuana causes users to experience acute hunger—a phenomenon known as the munchies. But curiously, research also has found that the average cannabis consumer actually has a slimmer waistline compared to non-users.
For a while, that stereotype-defying finding has left researchers scratching their heads. Thankfully, a new study out of Indiana University, which is pending publication, offers a compelling, theoretical explanation.
Before we get into the specifics of the study, some background: humans have endocannabinoid systems that are responsible for things like regulating sleep, appetite, stress and metabolism. Ingredients in marijuana like THC and other cannabinoids are known to stimulate receptors in the endocannabinoid system, which can produce a wide range of physiological effects.
OK, but how does this explain why cannabis users are generally slimmer than non-users?
Well, the researchers started with a simple observation. Western diets—exceptionally high in carbs and sugar—are associated with a series of chronic health conditions such as obesity. One commonality among people who suffer from these conditions is that they have a higher ratio of omega-6 to omega-3 fatty acids in the body.
There is "abundant evidence" that this increased ratio of omega fats causes overstimulation of a main cannabinoid receptor, which "leads to metabolic syndrome, contributing to chronic diseases," the study authors wrote.
People who are able to reduce their level of this specific cannabinoid receptor (CB1R) often experience weight loss. There are different ways to achieve this effect, but one possibility identified in earlier research is the introduction of cannabis into the equation. Marijuana causes a downregulation of CB1R, a receptor that "plays a major role in assimilation, storage and conservation of energy."
In layman's terms, this means that while consuming cannabis certainly heightens hunger among users in the short-term, it also helps people properly manage that food after it's entered the body. Even four months after you stop using cannabis, that effect is still present. Therefore, the researchers concluded, the impact of cannabis use on the CB1R receptor "more than offsets the short-term increase in energy stores that follow" a case of the munchies.
Again, however, this is a theoretical explanation based on existing research about the endocannabinoid system, marijuana and metabolism. As the researchers emphasized in their conclusion, the study raises many questions, including:
"How many other conditions respond in opposite directions during acute and long-term exposures to Cannabis? How does this paradox impact therapeutic uses of Cannabis? Do the long-term effects of Cannabis use arising from downregulation of CB1R exacerbate the underlying condition that drove patients to therapeutic use of Cannabis in the first place? For example, if a patient uses Cannabis for anxiety, will the resulting downregulation of CB1R result in increased anxiety between therapeutic doses? How does dosage influence this relationship? Is CB2R also downregulated during Cannabis use, and if so, what are the implications for treatment of CB2R-related conditions with Cannabis?"
For the time being, we'll have to wait on those answers. But if you were perplexed by headlines and social media posts about marijuana consumer being skinner than their non-using counterparts, this study may well serve as an important piece of the puzzle.
Legalizing Drugs Would Boost US Budgets By $100 Billion, Harvard Researcher Concludes
Bees Like Big Hemp And They Cannot Lie, Study Shows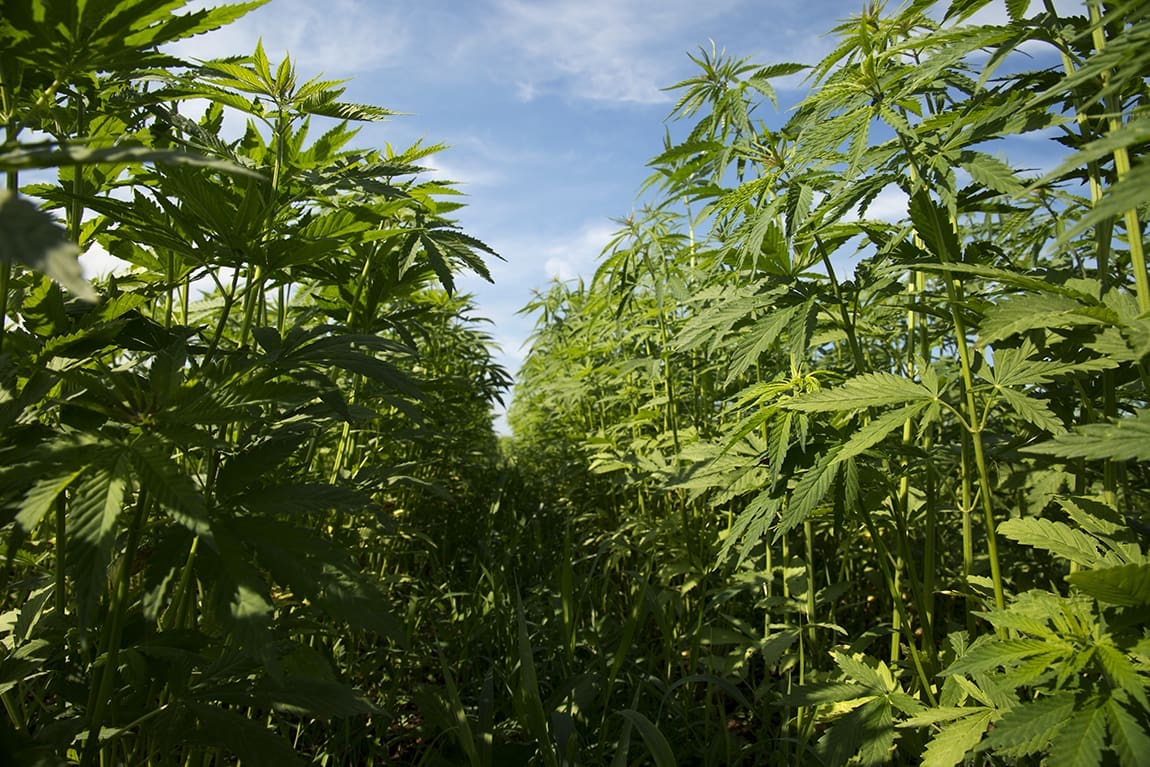 Some pollinators tend to flock to hemp, but according to a recent study, the taller the trees, the more plentiful the bees.
Researchers at Cornell University collected bees at 11 hemp farms in the Finger Lakes region of central New York in the summer of 2018 to identify which ones are attracted to hemp and "to analyze the effects of landscape composition" when they visit the crop.
In the study, published in the journal Environmental Entomology last week, the team found that plant height is "strongly correlated" with bee abundance and that hemp plants at least two meters tall attract "nearly 17 times the number of [bee] visits compared to short plants."
Both the sheer number and species of bees found visiting hemp "increased with plant height."
Additionally, they found that the cash crop can support 16 different bee varieties in the northeastern United States.
Of the 355 individual bees captured by "repeated sweep net collections," 60 percent were Apis mellifera, or western honey bees, while 30 percent were Bombus impatiens, the most commonly encountered bumblebee in eastern North America, which "is intensively relied upon" for pollination, the authors note.
"As cultivation of hemp increases, growers, land managers, and policy makers should consider its value in supporting bee communities and take its attractiveness to bees into account when developing pest management strategies," they wrote.
"Plant height…was strongly correlated with bee species richness and abundance for hemp plots with taller varieties attracting a broader diversity of bee species."
A similar study published earlier this year in Colorado concluded that bees are uniquely attracted to hemp, a finding that may inform more sustainable agricultural practices.
Although hemp does not have the characteristic vivid colors, enticing aromas and other alluring features that tempt insects and other pollinators, it nevertheless produces large amounts of pollen at a time of the year when there's typically a shortage—meaning hemp can be an important and plentiful source of food and nectar for bees when they need it.
The authors noted that bee populations—wild and domesticated alike—have taken a hit in recent years due to "large scale, intensified agriculture." According to the study, "landscape simplification," or the replacement of native plants with cash crops, "negatively impacted" the total number of bees near hemp, but did not affect the number of species found. This research suggests that hemp, especially tall plants, could be crucial to stemming declining bee populations.
New York has taken significant steps to encourage the cultivation of hemp. In 2015, the Empire State launched a hemp agricultural research pilot program. Two years later, the state lifted limits on the number of sites authorized for hemp growth and research and expanded the program to include businesses and farmers.
Congress paved the way for a massive expansion of hemp production in 2018 after Senate Majority Leader Mitch McConnell (R) pushed to add a provision legalizing hemp into the 2018 Farm Bill, helping to make his home state of Kentucky a significant hemp producer.
Senate Minority Leader Chuck Schumer (D-NY) has also been a champion of the hemp industry, and he's taken steps to ensure that his state reaps the benefits of the crop's legalization. After the Farm Bill was enacted, Schumer celebrated an announcement from a major cannabis company that said it would be investing millions into a hemp park in New York.
And after that company, Canopy Growth Corp., experienced a staffing shakeup, he called executives directly to confirm that plans were still on to launch the site.
People Are Skipping Sleep Aids In Favor of Marijuana, Study Reports
Photo courtesy of Brendan Cleak.
People Are Skipping Sleep Aids In Favor of Marijuana, Study Reports
The scientific community is still unclear on whether or not marijuana can actually help treat sleep disturbances such as insomnia. A new study, however, found that fewer people purchase over-the-counter (OTC) sleep medications when they have legal access to cannabis.
"Our results show that the market share growth for sleep aids shrank with the entry of recreational cannabis dispensaries by more than 200% relative to the mean market share growth in our sample, and the strength of the association increased with each subsequent dispensary," the paper, published in the December edition of Complementary Therapies in Medicine, concludes. "In particular, cannabis appears to compete favorably with OTC sleep aids, especially those containing diphenhydramine and doxylamine, which constitute 87.4% of the market for OTC sleep aids."
"Recreational cannabis dispensaries greatly increase the number of individuals able to legally treat sleep disorders using cannabis, particularly those with mild to moderate sleep disorders."
Researchers at the University of New Mexico and California State Polytechnic University used retail scanner data collected by the Nielsen Company to help them understand how access to recreational marijuana affected the sales of OTC sleep medications purchased at local stores in Colorado.
In their analysis, they studied the market shares of overall sleep aids—including supplements such as melatonin and pharmaceuticals such as diphenhydramine—at 587 stores. They also used monthly data from the Colorado Department of Revenue to compare the number of recreational dispensaries in each county as well as local cannabis retail sales figures.
"The negative association between cannabis access and sleep aid sales suggests a consumer preference for cannabis."
It became legal for Colorado residents to purchase cannabis for adult use on January 1, 2014, and the study period covered December 2013 through December 2014.
According to the results, the market share for sleep aids was neither rising nor declining prior to a dispensary opening in the same county. After one did, however, the market share declined with each month of its existence. A regression model showed that sleep aid market share growth decreased by 236 percent after a dispensary entered the market, and this negative association increased as the number of dispensaries grew.
"The magnitude of the market share decline increases as more dispensaries enter a county and with higher county-level cannabis sales."
"For the first time, we show a statistically significant negative association between recreational access to cannabis and OTC sleep aid sales, suggesting that at least some recreational purchasers are using cannabis for therapeutic rather than recreational purposes," the study's authors write.
"Additionally, despite a lack of direct clinical evidence on the effectiveness of self-managed cannabis as a sleep aid, our results indicate that enough individuals are switching from OTC sleep aids to recreational cannabis that we can identify a statistically significant reduction in the market share growth of OTC sleep aids in conjunction with access to recreational cannabis using a statistically conservative county-month-level treatment variable and a quasi-experimental research design," the paper concluded.
"Our results are consistent with evidence that legal access to medical cannabis is associated with reductions in Scheduled II-V prescription medications (e.g., opioids and sedatives), many of which may be used in part as sleep aids," the authors wrote.
"These findings support survey evidence that many individuals use cannabis to treat insomnia, although sleep disturbances are not a specific qualifying condition under any U.S. state-level medical cannabis law."
Study author Sarah Stith, an applied microeconomist at the University of New Mexico, explained in a statement: "From a public health perspective, the possible widespread use of cannabis for less severe medical conditions both highlights its therapeutic potential and raises concerns regarding the risk-benefit tradeoffs of substituting a substance associated with abuse and dependence for relatively ineffective OTC medications with typically low levels of abuse potential."
"From an economic or business perspective, regardless of underlying mechanism, our documentation of changing purchase behaviors has implications for multimillion-dollar US markets with OTC sleep aids likely just one example," she said. "It is important for the medical community to recognize that the lack of medical guidance does not necessarily lead to a lack of medical use. Dispensaries and online forums are stepping up to fill the information vacuum as individuals are forced to take treatment into their own hands, with statistically evident effects on treatment choices."
A 'Significant' Number Of Patients Stopped Taking Benzodiazepines After Starting Medical Marijuana
Photo by Wesley Gibbs on Unsplash 
Scientist Talks Benefits Of Psychedelics At Federal Health Agency Event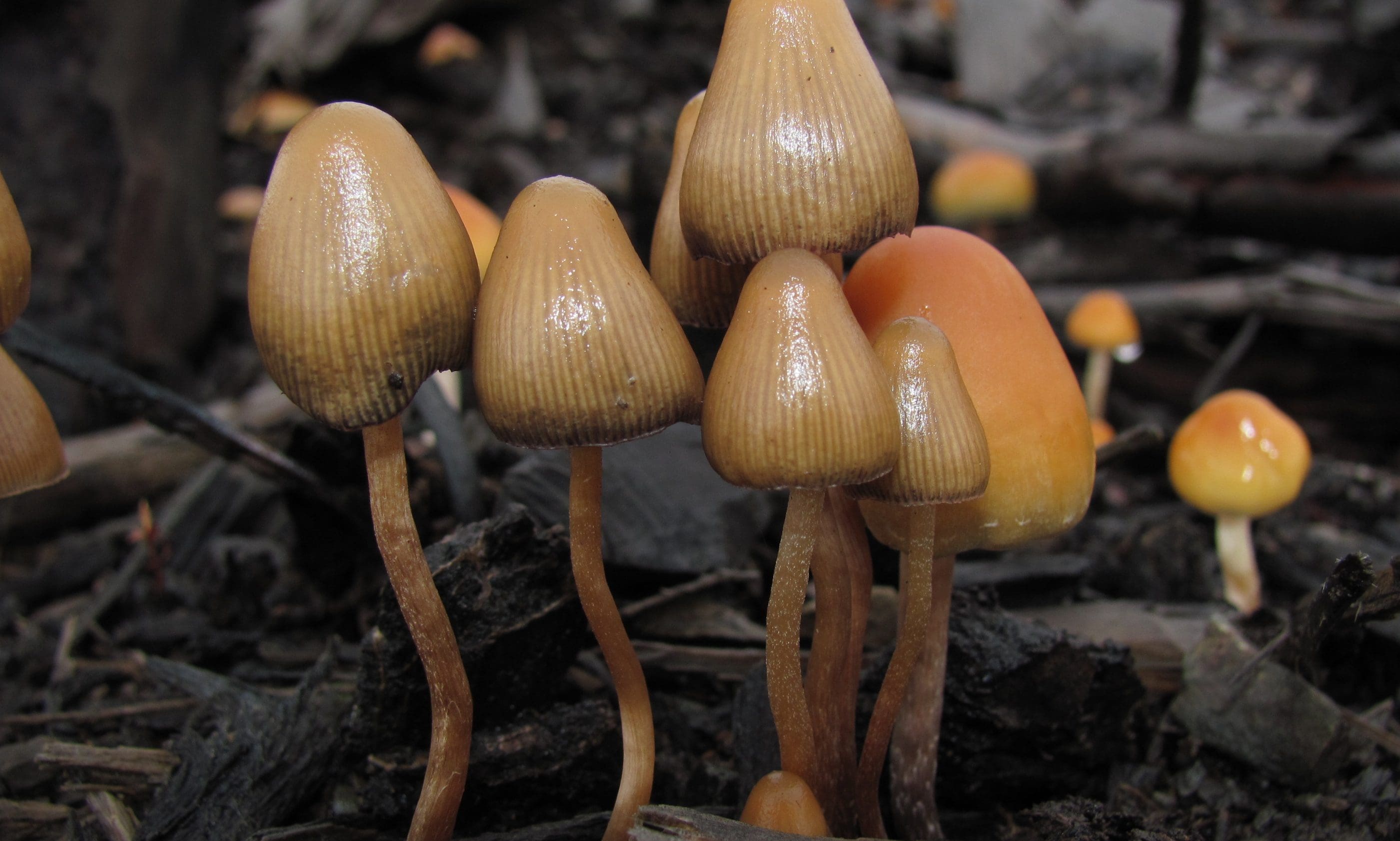 A federal health agency hosted a leading psychedelics researcher on Tuesday for an event focused on the therapeutic potential of controlled substances such as psilocybin and DMT.
Roland Griffiths, who has spent decades studying various entheogenic plants and fungi, described the existing scientific literature and future research objectives during a speech organized by the National Institute of Mental Health (NIMH). The event was part of NIMH's "Innovation Speaker" series.
The discussion, titled "Psilocybin: History, Neuropharmacology, and Implications for Therapeutics," went over studies on the impact of psychedelics on mental health conditions such as depression and substance misuse, the subjective experience of individuals who've used such substances for recreational or spiritual purposes and the need for additional research into potential medical applications for psychedelics.
For example, Griffiths presented a slide on the "phenomenological dimensions of mystical experience" elicited from psychedelics. People reported a greater sense of unity, sacredness, "universal love" and "transcendence of time and space," among other feelings.
He also explained how research has shown that the medically supervised administration of moderate to high doses of psilocybin, the main psychoactive ingredient in so-called magic mushrooms, "can produce substantial and enduring decreases in depressive mood."
When he was later asked about the risks of psilocybin, Griffiths said the compound is "pretty benign physiologically" and that relatively rare side effects such as increased blood pressure and nausea are often secondary effects attributable to anxiety.
Throughout the presentation, the researcher, who heads Johns Hopkins University's newly launched Center for Psychedelic Research, stressed the need for further studies, stating that if there's "opportunity to do any level of analysis" on psychedelics, it should be pursued.
At 3 p.m. ET, TODAY, don't miss Dr. Roland Griffiths, our next @NIMHgov Director's Innovation Speaker! Dr. Griffiths will discuss his research on the behavioral and subjective effects of mood-altering drugs—namely the psychedelic psilocybin. Watch here: https://t.co/4vddJamioQ pic.twitter.com/ZVzfbGXPuh

— Joshua A. Gordon (@NIMHDirector) December 3, 2019
He also offered a preview of one area of focus his research center will be exploring: microdosing. While much of the existing research has focused on the impacts of full doses of psychedelics, he said his team will be exploring how taking smaller doses on a more regular basis can affect mental health and wellbeing.
In his final slide, Griffiths talked about other areas of research that should be investigated. That includes answering questions about how factors such as genetics and personality "affect the likelihood" of having positive responses to psychedelics, what kind of "structural and functional changes in the brain can account for the acute and enduring effects of such experiences," what behavioral mechanisms are behind those changes and what therapeutic applications can be developed based on the data.
While federal agencies have largely avoided broad drug policy reform issues, there seems to be growing willingness to entertain conversations about psychedelics, as a decriminalization movement spreads nationwide.
For example, the heads of the Food and Drug Administration and NIH wrote a letter to a senator in June where they described the status of research into psychedelics such as psilocybin, LSD and ibogaine, which they said present an "opportunity to provide treatment to patients while expanding psychotherapy treatment options."
Top Drug Treatment Providers Push UK Government To Consider Decriminalization
Photo courtesy of Wikimedia/Mushroom Observer.