What's Really Behind Americans' Increased Support for Marijuana Legalization? Study Sheds Light
Americans' views on marijuana have rapidly evolved in recent years, with a strong majority now in favor of legalization. But what's really been behind the attitude shift?
A recent study published in the journal Social Science Research used data from national opinion polls such as the General Social Survey to test a series of hypotheses on the topic. Ultimately, many factors that are commonly attributed to shifting attitudes on social issues—such as race, gender and education—do not seem to apply to cannabis, the study found.
Rather, the post-1980 evolution of views on the issue appear to be related to changes in religious identity, a decrease in perceptions of risk toward marijuana use and changing attitudes about the criminal justice system. Here are the main findings:
—While shifting attitudes toward various issues can often be interpreted as generational shifts—with younger people replacing older ones and having their views more strongly represented—that's not the case with marijuana. The study found that "changes in cannabis legalization support since the 1980s are largely the result of intra-cohort changes in attitudes as opposed to cohort succession," meaning that views shifted across generations at roughly the same time.
—It does appear that an increase in the percentage of Americans who are religiously unaffiliated since 1991 has contributed to the increased support for legalization. The researchers estimated that the evolution of religious identity accounted for 12 percent of the attitude change.
(Related: A separate study recently found that religiosity accounts for some of the difference in marijuana legalization support between men and women.)
—The way that news outlets portray marijuana and its effects seems to have coincided with shifting views on legalization. "One influence that seems most plausible in contributing to changes in attitudes is an increase in the news media's framing of cannabis as a medical issue," the paper concluded. "[A] relatively high proportion of the change in views about the disapproval of cannabis are associated with a decrease in the percentage of people who see it as harmful."
—Increased rates of cannabis consumption didn't seem to have had a significant impact on how people viewed the issue, but changes in how people perceive the risk of occasional or regular marijuana use "accounted for 38 percent of the decrease in disapproving attitudes [toward legalization] over the period 2002-2014," according to the study.
—Opposition to marijuana reform was especially strong during the Reagan era, as anti-drug rhetoric ramped up. But in the decades that followed, more Americans came to the opinion that the drug war created an excessively punitive criminal justice system. The researchers found that attitudes toward cannabis legalization started shifting "before Americans began to feel that the criminal justice system was too harsh." But in the years since, "there could have been reciprocal effects whereby changing views in one area (e.g., criminal justice system) reinforced changing views in the other (e.g., cannabis)." All told, evolving views toward the criminal justice system accounted for 14 percent of the change in pro-legalization attitudes.
—Finally, one interesting result of the survey analysis showed that policy changes at the state level did not influence attitudes toward cannabis legalization. That is, simply residing in a state where marijuana has been legalized was not a statistically significant factor in the attitude shift. Similarly, living in a state that neighbors a legal state was not a factor either.
"This study advances our understanding of why attitudes changed through an empirical examination of a range of plausible explanations," the study authors wrote. "As cannabis becomes legal in more places, it is likely to remain an important topic, and Americans' views are likely to liberalize further."
Why Women Support Legal Marijuana Less Than Men, According To A New Study
Proof Of Marijuana Use Discovered At Ancient Biblical Site In Israel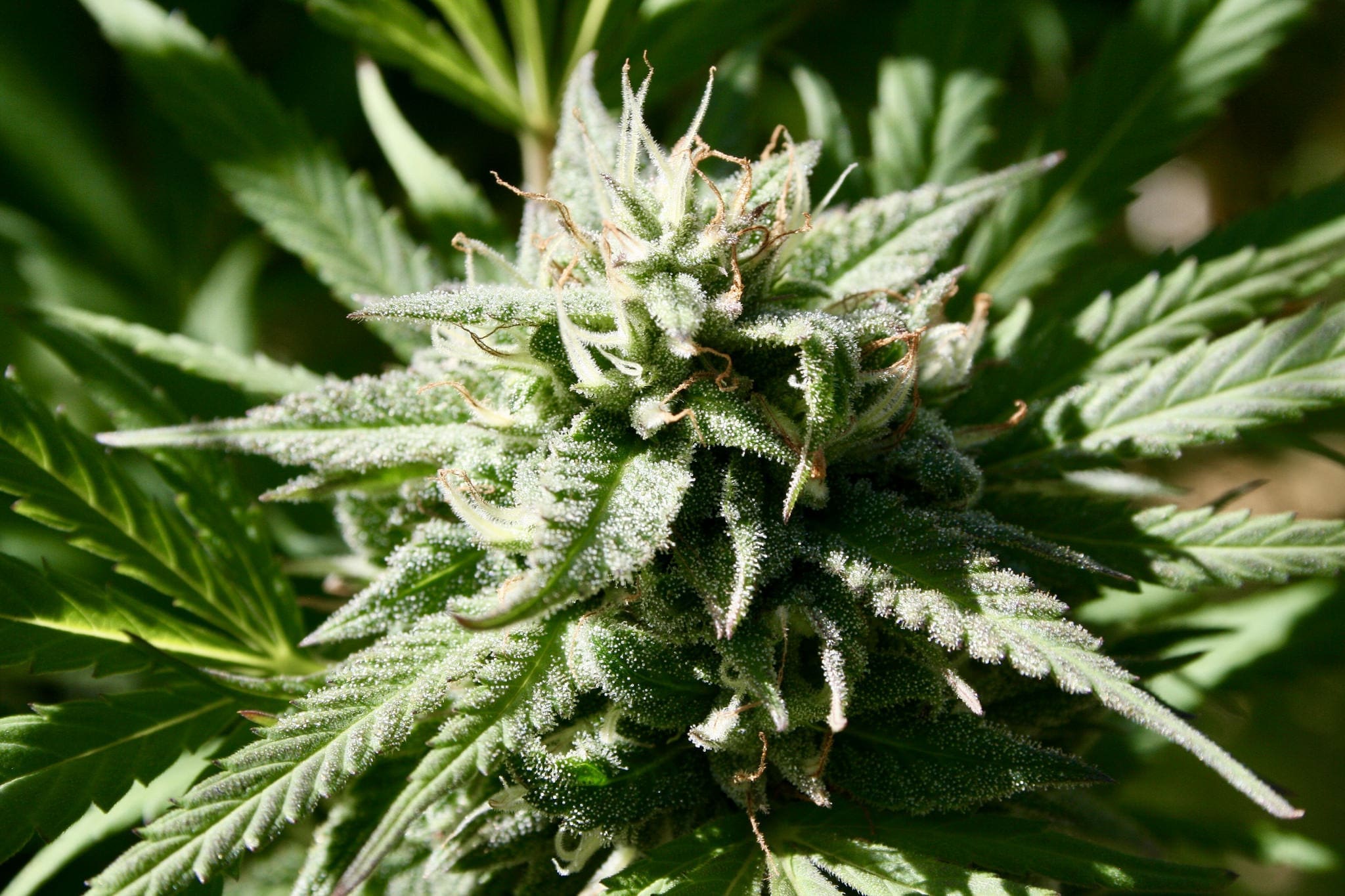 An ancient biblical tribe in Israel likely used marijuana to produce hallucinogenic effects as part of cultic rituals, according to a new study that identified cannabis resin on an alter in a shrine built around 750 BCE.
Two alters that appeared near the entrance of the "Holy of Holies" in the Judahite shrine were excavated about 50 years ago and now an analysis of the materials on top of the alters turned up evidence of marijuana combustion at the site.
The study, published Thursday in the journal Tel Aviv, states that "cannabis inflorescences were burnt there, conceivably as part of a ritual that took place in the shrine."
"It seems feasible to suggest that the use of cannabis on the Arad altar had a deliberate psychoactive role," the study concluded.
"Cannabis odors are not appealing," the researchers opined, "and do not justify bringing the inflorescences from afar. The frequent use of hallucinogenic materials for cultic purposes in the Ancient Near East and beyond is well known and goes back as early as prehistoric periods."
However, this is the first time physical evidence has been identified that indicates the tribe of Judah participated in marijuana-infused ceremonies. Evidence of frankincense being burned was also found at the site.
The team behind the study, from the Israel Museum and the Volcani Center, relied on two common methods of identifying cannabinoids: liquid chromatography and gas chromatography. They found components of marijuana known widely today such as THC, CBD, CBN and various terpenoids.
Researchers said it's unclear where the ancient tribe obtained cannabis, but they suspect that it "may have been imported from distant origins and were transported as dried resin (commonly known as hashish)."
To burn the marijuana and let out the smoke, it was apparently mixed with animal feces "to enable its mild heating," the study states.
"It seems likely that cannabis was used at Arad as a deliberate psychoactive, to stimulate ecstasy as part of cultic ceremonies," it continues. "If so, this is the first such evidence in the cult of Judah."
"The discovery of cannabis on the smaller altar was a surprise. Arad provides the earliest evidence for the use of cannabis in the Ancient Near East. Hallucinogenic substances are known from various neighboring cultures, but this is the first known evidence of hallucinogenic substance found in the Kingdom of Judah."
Eran Arie, a curator at the Israel Museum where the excavated shine is housed, told CNN that they "never thought about Judah taking part in these cultic practices."
"The fact that we found cannabis in an official cult place of Judah says something new about the cult of Judah," he said.
A separate study released last year documented how people from a diverse range of cultures have been using marijuana for thousands of years—in different forms and for different purposes. For example, cannabis was considered a "holy plant" in Tibet and was used in Tantric Buddhism to "facilitate meditations." It was also used in Arabic medicine to treat ear infections, skin diseases, flatulence, intestinal worms, neurological pain, fever and vomiting.
States With Medical Marijuana Laws Saw 20% Drop In Some Opioid Prescriptions
Photo courtesy of Brian Shamblen.
THC-Infused Semen Can Be A Side Effect Of Frequent Marijuana Use, Study Finds
Many people have had to take a urine test for cannabis, perhaps as a job requirement. Using the popular procedure, marijuana metabolites can in some cases be detected for weeks after a person's last use. But here's a question few may have thought to ask: Can THC be detected in semen?
According to a new study by a team of Harvard Medical School researchers, the answer is yes—at least sometimes. In a study of 12 participants who regularly consumed marijuana by inhalation, the researchers were able to detect delta-9 THC, the main psychoactive ingredient in cannabis, in two subjects' semen samples. And at least one metabolite of THC—what's left over after the body processes the compound—could be detected in all samples capable of being analyzed. "Two semen samples," the report says, "had insufficient volume to be analyzed."
Why the focus on THC in semen? In a word, pregnancy. Men of reproductive age, the study's authors note, "are the most prevalent consumers of marijuana, with 19.4% of men in the USA reporting use." A 2018 study cited by the authors found that 16.5 percent of men and 11.5 percent of women reported using marijuana while attempting to conceive.
How exactly THC affects reproductive systems and childhood development are questions the Harvard authors don't attempt to answer in the study. The primary goal of the proof-of-concept research, they explain, "was to determine whether THC can cross the blood-testis barrier." On that front, they appear to have succeeded.
"In the setting of a growing repository of data surrounding the effects of the endocannabinoid system in the regulation and maintenance of fertility and early pregnancy," the study says, "ours is the first report that the exogenous cannabinoid THC can be detected in any human reproductive matrix."
Because of the interest in whether THC could be detected at all, researchers focused on regular, long-term marijuana consumers. All participants indicated they had used the drug between 25 and 30 days of the last month, and most said they had been regular consumers for at least five years. "Consequently," the team said, "our study findings cannot be generalized to include ever users, light, or moderate users of marijuana."
Of the two participants whose semen contained detectable levels of THC itself, samples contained 0.97 nanograms per milliliter and 0.87 ng/mL.
But it wasn't clear what set those two participants apart. There was no correlation between semen THC and concentration of the metabolite THC carboxylic acid in urine, nor with time since last cannabis consumption, participant age or participant body mass index.
"It is puzzling that some, but not all, semen samples tested positive for THC," the study says. "There were no obvious factors that were strongly associated with detectable semen THC; thus, we can propose few predictors of the presence of THC in human semen. Future directions (of research) include identifying characteristics that may affect semen detectable THC levels."
How precisely THC affects semen—or the sperm within it, not to mention conception, pregnancy or childhood development—is still hard to say with certainty. As the Harvard researchers note in the study, "Evidence linking marijuana to reproductive outcomes is scarce and to date, often conflicting."
One study of 1,200 young Danish men, for example, found that those who smoked marijuana regularly had lower sperm counts than those who did not. Another study, of 662 older, subfertile men in Massachusetts, found that men who had ever smoked marijuana had significantly higher sperm counts than those who'd abstained.
As for the effects of THC on sperm, or conception itself, those also remain unclear. "The effect of marijuana on human gametes and fertilization is relatively unknown," the new paper says. Endocannabinoid receptors have been reported on sperm themselves, but "studies examining the direct effect of THC on human sperm are limited."
Most research so far has either been observational, by measuring THC through self-reporting or blood testing, or studied the behavior of sperm that had been washed in a laboratory with a THC solution. "Our findings, that THC can be directly quantified in human seminal fluid, lay the groundwork to allow for future studies," the new study says. "Since THC can be detected in the seminal fluid of some individuals, this might provide a direct method of measurement (rather than relying on self-reporting marijuana use, which is subjective and potentially unreliable, or serum levels which only reflect recent exposure) to bridge real-world clinical studies with the prior staged studies in which THC was directly incubated with washed sperm."
While the THC-washed sperm showed some concerning effects, including decreased motility and mitochondrial oxygen consumption, the Harvard team acknowledged the concentrations of THC used in those studies were significantly stronger than anything observed in their semen study: "It should be noted that even the lowest concentration of THC with which former studies incubated sperm was over tenfold higher than the concentration of THC detected in the semen of our study subjects."
In other words, the study is a stepping-stone to further research. And while the top-line findings might elicit some giggles, authors say the study is serious business.
"The ability to quantify cannabinoids in human reproductive tissues and fluids," they conclude, "gives us the capability to directly study the effects of cannabis on early human reproduction."
States With Medical Marijuana Laws Saw 20% Drop In Some Opioid Prescriptions
States With Medical Marijuana Laws Saw 20% Drop In Some Opioid Prescriptions
States with active medical marijuana laws saw certain opioid prescription rates drop nearly 20 percent compared to prohibition states, a first-of-its-kind study out of Columbia University's Irving Medical Center has found. Authors said the findings underscore the importance of providing patients with pain management alternatives, such as cannabis, in efforts to reduce opioid use.
Drug overdoses remain a leading cause of injury-related death in the United States, and the U.S. Centers for Disease Control and Prevention reports that 68 percent of those deaths involve illicit or prescription opioids. The new study examines opioid prescriptions made specifically by orthopedic surgeons, who it notes are the nation's third-highest prescribers of opioids.
"Although our study does not support a direct causal relationship, these population-level findings show that legalization of medical cannabis and patient access to dispensaries may be associated with reductions in opioid prescribing by orthopaedic surgeons," the study's authors concluded. "The observed trends reported in this study may be a reflection of growing availability of alternative pain management options for patients."
"We found that overall opioid prescribing by orthopaedic surgeons in this cohort was reduced in states permitting patient access to medical cannabis, compared with those who do not."
Analyzing nationwide Medicare Part D prescription drug data, researchers measured the aggregate daily doses of opioid medications prescribed by orthopedic surgeons in each state annually. They then looked for associations between that state-level data and the legal status of medical marijuana in each state.
As with past studies examining correlations between medical marijuana and opioid prescriptions, the Columbia analysis found a marked drop in prescriptions among states with medical cannabis laws (MCLs). "State MCLs were associated with a statistically significant reduction in aggregate opioid prescribing of 144,000 daily doses (19.7% reduction) annually," the study, published this month in the Journal of the American Academy of Orthopaedic Surgeons, says.
Medical cannabis laws "were associated with a statistically significant reduction of 72,000 daily doses of hydrocodone annually."
Not all state legal marijuana programs operate the same way, of course. It can also take years after a state adopts a medical cannabis law before its program is up and running. So the researchers looked at various specific factors, including when storefront dispensaries opened, whether state laws allowed home cultivation by patients, and whether recreational cannabis was legal for adults in each state.
Of the relationships that the researchers found were statistically significant, two stood out most clearly: States with active medical cannabis laws saw a 19.7 percent reductions in Medicare Part D opioid prescriptions made by orthopedic surgeons compared to states without medical cannabis laws. On a more granular level, states with operating storefront dispensaries saw a 13.1 percent reduction in those prescriptions.
Other relationships found by the researchers were just as likely to be due to chance. States with restrictive medical cannabis laws that allowed access only to low-THC products, for example, saw small, statistically insignificant increases in opioid prescriptions.
Researchers also "did not observe any significant association between total opioid prescriptions and home cultivation–only" medical cannabis laws, and concluded that "no significant association between recreational marijuana legalization and opioid prescribing was found."
In "states that allow physicians to recommend medical cannabis to patients for any reason, there was a significant reduction in prescriptions for fentanyl…"
Cannabis is a particularly appealing alternative pain medication to study the effect of, the authors wrote, "because of its efficacy in treatment of chronic and acute pain and its potential for replacing and/or reducing opioid treatment."
Researchers adjusted some of their data to better reflect not just the laws on the books but the actual accessibility of medical marijuana in each state. New York, for example, adopted a medical cannabis law in 2014, but home cultivation was prohibited and dispensaries didn't open until 2016. "As such," the authors wrote, "we did not classify New York as an MCL state or a dispensary-based MCL state until 2016."
The study also cautions that its results only mean so much. Because it relied on population-level data and didn't track individuals' opioid or medical marijuana use, "we could not make any conclusions about any direct effect of substitution of opioids for cannabis by patients on prescription trends." the authors wrote. "As such, our study does not draw conclusions of direct causation, but reports observed associations over time using a nationwide cohort database and multivariable regression analysis."
Still, the study's results contribute to a growing body of research indicating that medical cannabis accessibility significantly reduces statewide opioid use—and even opioid deaths. As the Columbia authors note in their report, "Multiple large nationwide database studies have shown that states with the legalization of medical marijuana have seen reductions in the opioid prescription rates and opioid-related mortality rates. The authors of these studies have theorized that in states where medical cannabis is more available, patients are likely to substitute cannabis for opioids in their pain management."
For example, a meta-study that was recently published also signaled that marijuana shows promise as a treatment option for chronic pain and could serve as an alternative to opioid-based painkillers.
Last month, researchers released a study that found cannabis can mitigate symptoms of opioid withdrawal.
In December, researchers determined that states with legal marijuana access experience decreases in opioid prescriptions, and a separate study released the previous month showed that daily marijuana consumption is associated with reduced opioid consumption among chronic pain patients.
Marijuana Seems To Reduce Opioid Use Among Chronic Pain Patients, Meta-Study Finds