Top State Cops Tell Congress To Legalize Marijuana As New Poll Shows Strong Voter Support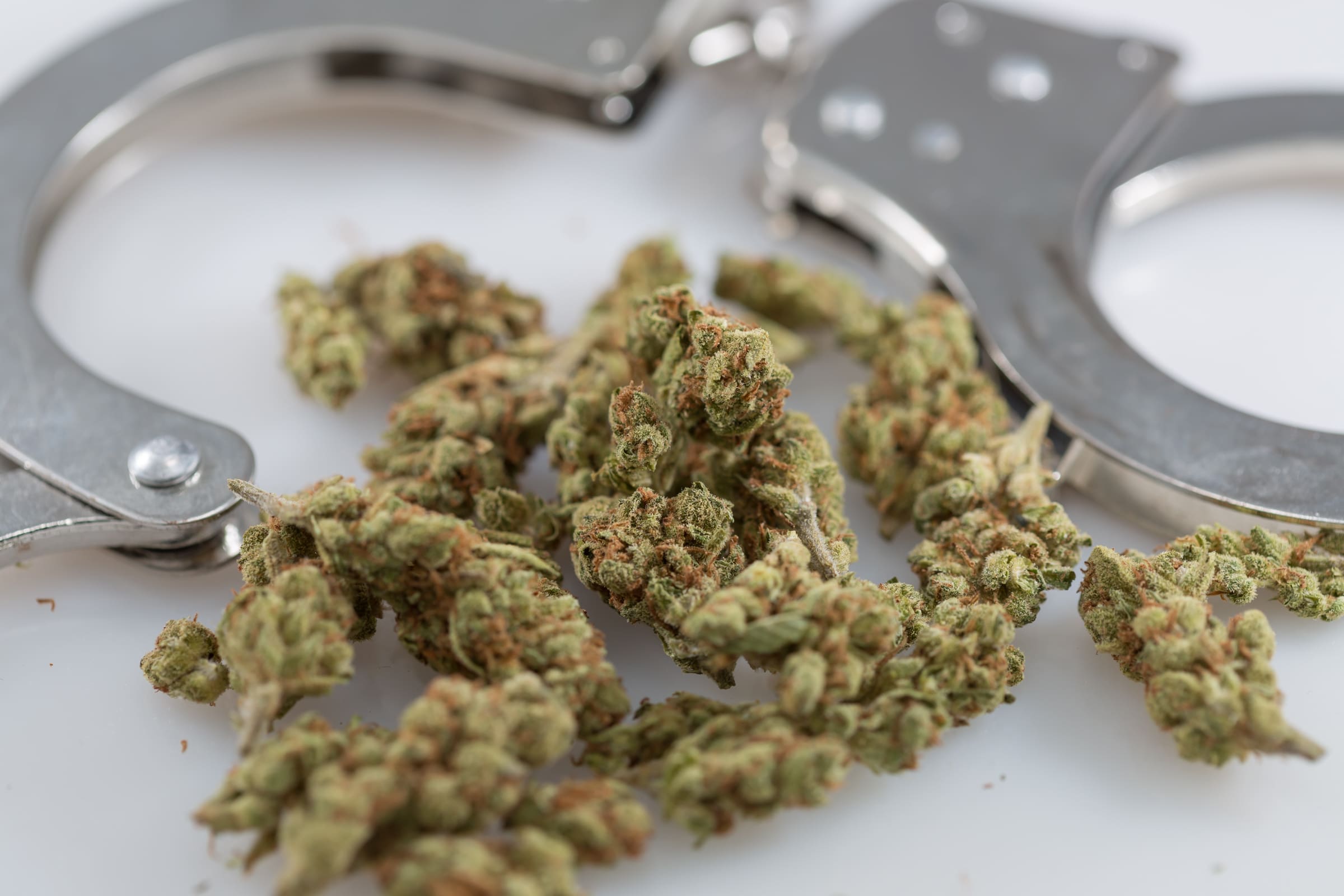 Four state attorneys general and about 50 other current and former law enforcement officials sent a letter to congressional leadership on Wednesday endorsing a federal marijuana legalization bill and urging that a vote on the legislation be held on the House floor next month.
The push comes as a new poll shows that 62 percent of likely voters, including 60 percent of Republicans, support the bill and its provisions.
"As front-line public safety experts, we believe that responsible regulation and control of marijuana will be more beneficial to society than prohibiting and criminalizing it," the law enforcement coalition wrote. "The COVID-19 pandemic shines a bright light on why this kind of reform is as urgent as ever as a matter of public health, safety, and better use of much needed resources."
Part of the solution, they said, would be passing the Marijuana Opportunity, Reinvestment and Expungement (MORE) Act. The bill cleared the House Judiciary Committee last year, and insiders told Marijuana Moment recently that there are plans in the works to get a floor vote in September.
"Indeed, legalizing, regulating, and controlling marijuana at the federal level is an opportunity to repair and strengthen the relationships between us and the people we serve; to shift public resources toward the most serious crimes; to reduce the size and influence of the illicit market; and to usher in an era of health-centered approaches—rather than criminal punishment—for people who use drugs," the criminal justice professionals wrote.
It's past time to repair the harms done to the communities that were targeted during the failed war on drugs. https://t.co/iPg40DqmkP

— Eric Gonzalez (@BrooklynDA) August 19, 2020
Signatories on the letter, which was organized by Law Enforcement Action Partnership (LEAP) and Fair and Just Prosecution, include the attorneys general of Delaware, Minnesota, New York and Oregon. A former attorney general of Ohio also signed, as did the National Black Police Association and dozens of current and former prosecutors and police officials.
I'm proud to join these law enforcement officials in saying we need to right the wrongs of the failed war on drugs.

We remain focused on combating violent crime, and the work we've done clearing cannabis records is opening doors for thousands and strengthening our communities. https://t.co/gRITyvZYDV

— State's Attorney Kim Foxx (@SAKimFoxx) August 19, 2020
The law enforcement representatives said that criminalizing low-level marijuana offenses breeds distrust in police and wastes their resources. Regulating cannabis, meanwhile, can help reduce youth access and promote public safety.
"The MORE Act provides a clear path forward that rights the wrongs of prohibition, and will significantly help law enforcement forge better relationships with the people we serve and bring justice to families of serious, violent crimes," the letter concludes. "We ask that Members of Congress support this critical piece of legislation and ensure that it is swiftly brought to the House floor for a vote in September."
It's long past time for Congress to decriminalize (or outright legalize) marijuana for adult recreational use. Proud to join 52 of my colleagues from near and far in signing on to this letter. https://t.co/DE8l3LS03f

— Justin Kollar (@JustinKollar) August 19, 2020
Support for the legislation among voters is also significant, according to a new survey commissioned by LEAP and Fair and Just Prosecution.
It found that 58 percent of likely voters, including 54 percent of Republicans, feel the federal government should legalize the use and sale of cannabis. When told about the specifics of the MORE Act, support increased to 62 percent overall.
Nearly seven-in-10 likely voters agreed that, at the very least, the federal government should allow states to set their own marijuana policies without intervention.
There's also bipartisan support for reinvesting some cannabis tax revenue into communities that have been disproportionately harmed by the drug war. Sixty-five percent of likely voters said those tax dollars "provide valuable revenue for states."
The survey, which involved interviews with 1,235 likely voters from May 8-9, is just one of the latest signals of public support for comprehensive marijuana reform as bill await action in Congress.
"As pressure on Congress continues to grow, now is the time for House leadership to publicly declare that they will hold a vote on the MORE Act prior to the upcoming election," Justin Strekal, political director of NORML, told Marijuana Moment. "It's that simple."
The MORE Act's chief sponsor in the House is Judiciary Committee Chairman Jerrold Nadler (D-NY), while Sen. Kamala Harris (D-CA), the Democratic vice presidential candidate, is carrying the Senate version.
The bill would federally deschedule cannabis, expunge the records of those with prior marijuana convictions and impose a federal five percent tax on sales, revenue from which would be reinvested in communities most impacted by the drug war.
It would also create a pathway for resentencing for those incarcerated for marijuana offenses, as well as protect immigrants from being denied citizenship over cannabis and prevent federal agencies from denying public benefits or security clearances due to its use.
During a press conference on the survey findings, Reps. Barbara Lee (D-CA) and Earl Blumenauer (D-OR), both co-chairs of the Congressional Cannabis Caucus, discussed the importance of advancing the MORE Act this Congress.
Lee said the poll "sends a clear message that the American people are decided. They want meaningful cannabis reform and Congress needs to catch up."
"It's crucial that we pass the MORE Act, which aims to correct the historical injustices of failed drug policies that have disproportionately impacted communities of color and low-income communities," she said.
Blumenauer said that there is "expectation that it may actually be on the floor next month."
"We've had unprecedented progress in this Congress. Now we are poised to be able to act," he said. "When we are deeply concerned about racial justice, nothing is more important than to pass the MORE Act and completely legalize cannabis."
This story has been updated to include comments from Lee and Blumenauer.
Read the letter from law enforcement and survey on marijuana reform below: 
MORE Act Endorsements And Poll by Marijuana Moment on Scribd
Federal Court Denies DEA Request To Dismiss Marijuana Rescheduling Case