The Cannabis Industry's Most Influential Event of the Year
This is a sponsored post by the National Cannabis Industry Association's Cannabis Business Summit & Expo.
Become a part of the nation's fastest growing industry this July 25-27 as the National Cannabis Industry Association celebrates five years of bringing together the best and brightest minds at their annual Cannabis Business Summit & Expo in San Jose, CA. See for yourself why industry leaders are calling #CannaBizSummit "a powerhouse of networking and marketing opportunities." If you are interested in the business of cannabis, this is one event you don't want to miss.
Prices Increase May 21
"This summit is a once in a lifetime opportunity to meet with like-minded fellow cannabis industry colleagues." – Karl Keich, Executive Director at Canna Consulting Group
These days, it's all about who you know, and what better way to get to know people than in a room where all 7,500+ work in the same field? Having an impression on your peers significantly increases the chance for future opportunities and exposure, especially in such a tight-knit industry. We provide an unparalleled opportunity to create lasting business relations with cannabis executives from across the nation.
"Whether you're in lighting, whether you're into the manufacturing or the tech. It's all here, all relevant companies that you can do business with." – Damien Payne, Firesale
Whether you're interested in showcasing your products to an audience with the proven highest concentration of legitimate buyers and sellers in the industry, or looking to shop all your business needs, NCIA has got you covered. Shop the SOLD OUT 120,000+ square foot expo floor which features 350+ industry-leading brands displaying their latest products, services, software, and hardware in an effort to aid you and your hunt to solve your business woes.
"Hear from the best of the best speaking in sessions here." – Jeannette Ward, Director of Data & Marketing at MJ Freeway
Utilizing the knowledge of others gives you a professional competitive edge. You'll never have enough seniority that you know everything about your industry – especially an industry that evolves as rapidly as the cannabis industry. By harnessing and applying information gathered by your competitors, and keeping up with the latest best practices, you're sure to stay at the top of your industry. NCIA panels feature a diverse lineup of speakers from cannabis law, tech, and more. With more than 150 thought leaders in five purposefully-constructed tracks, you're sure to learn something new, and by learning directly from those who are paving the way for us to conduct business, you will receive the most up-to-date information about regulations and policies before the competition, conveniently placing you at the forefront of the industry.
"This show really unites people who are really trying to scale their business and really trying to be an innovator by collaborating with everyone else. NCIA might be the epicenter of the cannabis business-to-business realm." – Sergio Castro, Convectium
Strengthen this incredible community by learning how fellow attendees have continued their implementation of education and elevation of the industry. Mingle with like-minded professionals with similar business struggles and successes. Learn which strategies work and which aren't worth your time.
Advocacy. Education. Community.
These three pillars are at the core of the National Cannabis Industry Association. Since day one, NCIA has worked hard to create events that are simply unmatched in quality to ensure that you and your cannabusiness succeed. This three-day educational event is your opportunity to:
• Advocate for YOUR Business – There is strength in numbers; discuss YOUR business needs directly with NCIA as well as how you can make a difference in the movement to reform cannabis policy.
• Educate Your Team – By keeping up on the latest industry best practices, not only will you be enhancing your sales techniques, but you'll also be sure to stay at the top of the cannabis market.
• Strengthen Your Community – Together, through education and a strong sense of community, we can elevate this industry and eradicate the stigma around cannabis.
The Cannabis Business Summit & Expo experience is one unparalleled by any other industry event. NCIA is in the business of helping you grow YOUR business. Whether you're an industry pro or a emerging entrepreneur, arm yourself with the latest tips and tricks from across the industry. Tickets are going fast – Don't miss out.
Use Code MOMENT15 to Save 15%
Prices Increase May 21
This is a sponsored post by the National Cannabis Industry Association's Cannabis Business Summit & Expo.
Marijuana Industry Not Eligible For Business Loans, Trump Administration Says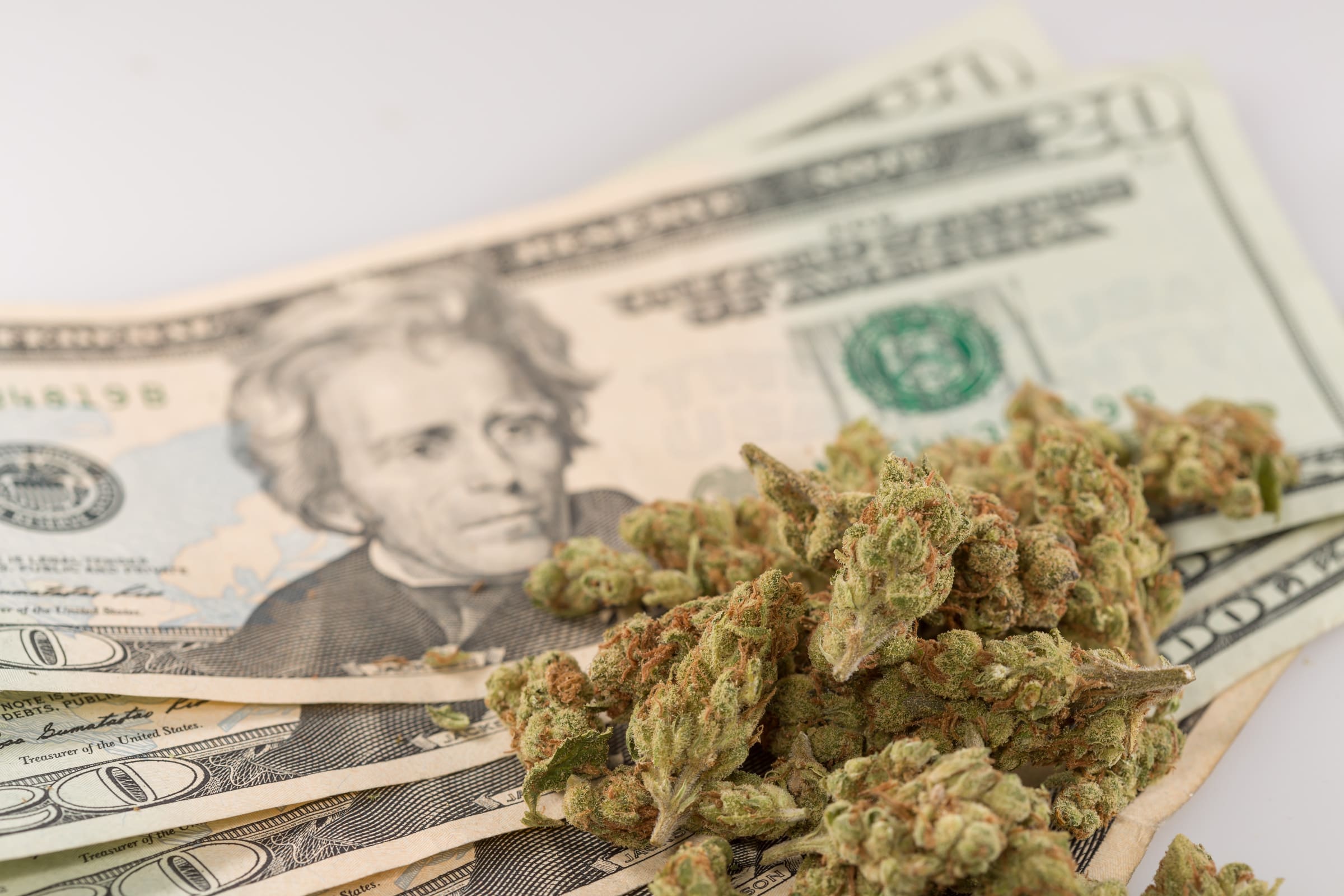 The U.S. Small Business Administration issued guidance earlier this month clarifying that marijuana businesses — and even some firms that don't touch the plant but serve those in the cannabis industry — cannot receive aid in the form of federally backed loans.
"Because federal law prohibits the distribution and sale of marijuana, financial transactions involving a marijuana-related business would generally involve funds derived from illegal activity," the new memo says. "Therefore, businesses that derive revenue from marijuana-related activities or that support the end-use of marijuana may be ineligible for SBA financial assistance."
The new document details the type of marijuana-related businesses that it says are "ineligible" to participate in the agency's loan programs:
(a) "Direct Marijuana Business" — a business that grows, produces, processes, distributes, or sells marijuana or marijuana products, edibles, or derivatives, regardless of the amount of such activity. This applies to personal use and medical use even if the business is legal under local or state law where the applicant business is or will be located.
(b) "Indirect Marijuana Business" — a business that derived any of its gross revenue for the previous year (or, if a start-up, projects to derive any of its gross revenue for the next year) from sales to Direct Marijuana Businesses of products or services that could reasonably be determined to support the use, growth, enhancement or other development of marijuana. Examples include businesses that provide testing services, or sell grow lights or hydroponic equipment, to one or more Direct Marijuana Businesses. In addition, businesses that sell smoking devices, pipes, bongs, inhalants, or other products that may be used in connection with marijuana are ineligible if the products are primarily intended or designed for such use or if the business markets the products for such use.
(c) Hemp-Related Business" — a business that grows, produces, processes, distributes or sells products purportedly made from "hemp" is ineligible unless the business can demonstrate that its business activities and products are legal under federal and state law. Examples of legal hemp products include paper, clothing and rope.
The new memo, issued by SBA Administrator Linda E. McMahon, is intended to provide clarification on a longer document laying out rules for loan programs that SBA issued earlier this year.
The policy document also specifies that SBA borrowers can't rent office space to marijuana-related businesses.
"For consistency with the changes identified above regarding marijuana-related businesses, Lenders are advised that, during the life of the SBA-guaranteed loan, a borrower may not lease space to the ineligible businesses described above because the collateral could be subject to seizure and because payments on the SBA loan would be derived from illegal activity," McMahon wrote. "If a borrower does lease to an ineligible marijuana-related business, SBA District Counsel should be consulted to determine what action should be taken."
As Denver Post Guts Cannabist, Former Editor Ricardo Baca May Buy It
Marijuana Moment is republishing the following press release with the permission of Grasslands.
'I Am Absolutely Gutted':
As The Denver Post Cuts Staffing to Groundbreaking Marijuana News Vertical The Cannabist, Site's Founder and Original Editor Laments its Unjustified Collapse 
Once Considered Among the Hottest Brands in New Media, Industry-Leading Marijuana Journalism Site The Cannabist No Longer Has a Dedicated Staff After The Denver Post Lays Off One-Third of its Newsroom
DENVER, Colorado—April 27, 2018—Embattled Colorado newspaper The Denver Post is no longer staffing its groundbreaking, first-of-its-kind marijuana news vertical The Cannabist, newsroom leadership confirmed Friday—a decision that is surprising cannabis and journalism circles today.
The Cannabist was founded in 2013 by veteran journalist Ricardo Baca as the world's first adult-use cannabis market was about to launch in Colorado. As The Post's first-ever Marijuana Editor, Mr. Baca and his team created the site from scratch and developed a robust national readership that appreciated the unique vertical's journalism-first approach to covering the newly legal industry, the policy surrounding it and the culture that grew from legalization. Feature-length documentary Rolling Papers—a film "more about marijuana journalism than the big picture, and as such it's a worthwhile endeavor," wrote Chicago Sun-Times film critic Richard Roeper in his three-star review—documented both The Cannabist's debut and the 2014 world premiere of state-regulated legal marijuana sales.
As the site's founder and original editor-in-chief, journalist and thought leader Ricardo Baca was brokenhearted to hear the news.
"I am absolutely gutted today," says Mr. Baca, who founded Grasslands: A Journalism-Minded Agency in early 2017 after resigning from The Post, where he worked as a reporter, critic and editor for 15 years. "We were so lucky to know The Cannabist as we did, and The Denver Post was lucky that we caught this lightning in a bottle during those historic days. We avoided the blind, pro-legalization activism of publications like High Times, and we also were an objective news source to counter prohibitionist misinformation that had plagued so much of the mainstream media's irresponsible coverage of cannabis throughout the last eight decades.
"But it's devastating to have helped create a news and culture site that changed the way so many people, journalists included, talked about marijuana—and to watch it fall apart, especially now that legal cannabis is increasingly becoming the law of the land. Now more than ever, we need serious journalists covering these state-legal marijuana markets, but this trend is not encouraging, as we're also seeing staff reductions at the San Francisco Chronicle's Green State vertical and elsewhere. If The Post's most recent staff reduction broke my heart, which it unquestionably did, this news about The Cannabist losing its dedicated staff is thoroughly drubbing the rest of my internal organs with a meat tenderizer.
"These layoffs are putting The Cannabist on life support and destroying The Post's ability to comprehensively cover Colorado, and it is entirely to blame on Alden Global Capital, the black-hearted hedge fund that owns Digital First Media and 100 American newspapers, including The Post. These vulture capitalists are literally hated throughout Denver, and while everyone from Gov. John Hickenlooper and Mayor Michael Hancock stands in support of The Post, we need to continue to let Alden Global Capital know that they are not welcome in Colorado, and they need to sell The Denver Post to a more responsible owner who will finally curb this undemocratic bloodletting."
In less than two years under Mr. Baca's leadership, The Cannabist was luring more readers than veteran publication High Times' website, according to media-tracking organization comScore. In less than three years, Mr. Baca had grown the staff from just himself to a seven-person full-time team that included four editorial and three advertising employees.
But after Mr. Baca resigned from The Post in December 2016, the newspaper started making cuts to the vertical's staff, nixing the General Manager advertising position and reassigning the remaining two Cannabist-focused sales staff in early 2017. That December, The Cannabist's editorial staff was cut from four to three during a separate newsroom-wide staff reduction.
And in April 2018, after the newspaper's editor told newsroom staff that it would be laying off one-third of its editorial employees, two Cannabist staffers announced they were leaving for other opportunities; later that month, Cannabist editor-in-chief Alex Pasquariello was told the paper was cutting editorial staffing to the site and that his position no longer existed.
The Denver Post has been in the national news recently because of a historic staff reduction and the resulting editorial-page public revolt against the newspaper's hedge-fund ownership via a package of op-eds and columns. Mr. Baca returned to newsprint recently to pen one of the cover op-eds for The Post'sattention-grabbing opinion section.
Mr. Baca's agency Grasslands is in early discussions with Post leadership about potentially purchasing The Cannabist should they decide to sell it.
# # #
About Grasslands
Grasslands is a journalism-minded agency, helping clients in a variety of industries with informed public relations, thoughtful content marketing, contextual social media, top-notch thought leadership work, impactful newsletter campaigns and compelling event execution. The Content Team, led by 20-year newspaper veteran Ricardo Baca, has nearly 45 years of top-level journalism experience at outlets including The Denver Post, the Chicago Sun-Times, the Rocky Mountain News, The Daily Beast and elsewhere. The Public Relations Team, led by 20-year New York City agency veteran Shawna McGregor, has nearly 35 years of high-level communications experience with clients including People magazine, IKEA North America, K12 Inc. and the American Wind Energy Association. Join the Grasslands conversation on Facebook, Twitter and Instagram.
FDA Rejects Anti-Legalization Pharma Co's Cannabis Drug Request
The same drug company that donated $500,000 to a campaign to defeat marijuana legalization in its home state of Arizona in 2016 is now actively fighting to deter competition against its own synthetic THC product. Efforts to extend its exclusive right to manufacture the drug have resulted in a back-and-forth with a federal agency that ultimately resulted in the pharma firm's request being summarily rejected.
Insys Therapeutics, a pharmaceutical company that came under fire over its anti-legalization election spending, is also known for producing potent opioids and a drug called Syndros, a synthesized THC product containing dronabinol that's similar to Marinol, except that it's a liquid preparation rather than a pill.
To many advocates, the company's anti-legalization spending reeked of conflicts of interest. Was Insys worried that legal weed in Arizona represented a threat to its bottom line? The company essentially admitted as much in 2007, writing in a disclosure statement to the Securities and Exchange Commission (SEC) that "the market for dronabinol product sales would likely be significantly reduced and our ability to generate revenue and our business prospects would be materially adversely affected" if marijuana or synthetic cannabinoids were legalized.
Now, according to publicly available documents, Insys is engaging in another type of battle. It wants extended exclusivity over its oral dronabinol product. And in October 2017, the company asked the Food and Drug Administration (FDA) to decline applications from competitors seeking to produce generic versions of Syndros.
Insys has already sued two such drug companies, Par Pharmaceuticals and Alkem Laboratories, after learning that they had submitted Abbreviated New Drug Applications (ANDA)—the first step in the process of gaining approval for generic versions of existing drugs—which "triggered a 30-month stay" in one case, Insys senior vice president of regulatory affairs Stephen Sherman noted in a October 2017 citizen petition to the FDA.
Citizen Petition From Insys Therapeutics, Inc (2) by KyleJaeger on Scribd
In light of disclosures that drugmakers were submitting FDA applications to develop generic versions that referenced Syndros, which might eventually provide patients with cheaper alternatives, Insys appealed to the FDA.
Its request was in two-parts: 1) It asked the FDA to decline to "receive or approve" any ANDA applications that didn't establish "in vivo bioequivalence" to its drug, and 2) that any ANDA applications for its drug "include fed and fasted state bioequivalence studies."
In essence, Insys argued that its drug was too complex to be replicated by generic competitors that didn't first conduct extensive testing demonstrating its biochemical likeness.
In a letter made public earlier this month, the FDA flatly denied the company's petition. The government agency disputed the claims Insys included in its letter and clarified how the ANDA approval process works.
Petition Response Letter From FDA CDER to Insys Therapeutics, Inc (1) by KyleJaeger on Scribd
Robin Feldman, professor of law and director of the Institute for Innovation Law at UC Hastings College of the Law in San Francisco, literally wrote the book on all the different ways that mainstream pharmaceutical companies try to subvert generic competition.
She told Marijuana Moment that the bioequivalence testing Insys requested was already required in any ANDA application, so it was kind of like "petitioning the FDA to say 'we insist that you do what it is that we all know you're going to do.' And with that, you get five months of delay." In a phone interview, Feldman couldn't help but laugh as she was read another section of the drug company's citizen petition. That section says:
"Insys notes that it is currently awaiting an FDA exclusivity determination with respect to SYNDROS and expects to receive three years of exclusivity based on the submission of new clinical studies essential to approval."
"Companies pile these exclusivities on one after another to keep generic competitors off the market as long as possible," Feldman said. "So the reason I laughed is what you are seeing is a multipronged effort by the brand company to stave off generic entry as long as possible."
"They're using a variety of techniques: citizen petition, additional regulatory exclusivity, and adding these on. Each delay may be of limited time, but they may be extremely valuable—and together, they can add up to significant costs to the consumer," she said.
In her book and published studies, Feldman reported that approximately 80 percent of citizen petitions, like the one submitted by Insys, were denied by the FDA. Submitting a citizen petition is often a delay tactic for drug companies hoping to maintain exclusivity over their brands, because "[d]elaying generic competition for as little as six months can be worth half a billion dollars in sales for a blockbuster drug," she wrote in an op-ed for STAT.
False or misleading citizen petitions from drugmakers are so common, in fact, that Feldman created a beta "alert system" for users to submit and detect suspect petitions. When she ran Insys's October 2017 petition through the system, it "came back with red flags," she said.
Insys Therapeutics did not respond to requests for comment by the time of publication. This story will be updated if the company sends comment.