States Have Collected More Than $10 Billion In Adult-Use Marijuana Tax Revenue, Report Finds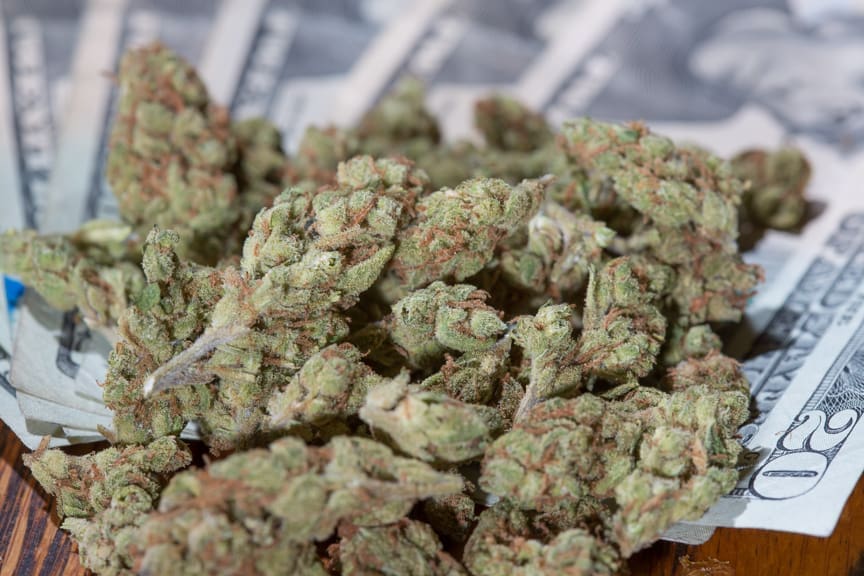 States that have legalized marijuana have collectively garnered more than $10 billion in cannabis tax revenue since the first legal sales started in 2014, according to a report released by the Marijuana Policy Project (MPP) on Thursday.
The adult-use legalization movement that started in Colorado and Washington State has greatly expanded in the years since, with 18 states having moved to end prohibition and most taxing and regulating marijuana sales. As of December 2021, sales have translated into about $10.4 billion in tax revenue for states that are now using those dollars to fund various programs and initiatives, the report found.
That doesn't even include tax revenue from separate medical cannabis programs that are in place in a majority of U.S. states.
The report from MPP—which expands on an earlier analysis it released in May—breaks down revenue numbers from legal states, how those tax dollars are being used and what kinds of tax schemes will soon be in effect as more states like New York, New Jersey and Montana implement legalization.
"States that have legalized cannabis for adults are reaping significant economic benefits. The legal adult-use cannabis industry has now generated over $10 billion in new tax revenue, and in many instances that revenue is being distributed to much needed public services and programs, including reinvesting in communities that were devastated by the war on drugs," Karen O'Keefe, director of state policies at MPP, said. "This is in stark contrast to prohibition, which costs taxpayers billions of dollars each year to enforce."
While marijuana tax revenue might not be a panacea for state and local governments, it's clear that many of the dollars derived from these regulated markets are supporting important initiatives. MPP offered several examples:
In Alaska, half the revenue from adult-use cannabis sales "is invested in the Recidivism Reduction Fund and supports reentry programs for currently and formerly incarcerated individuals," the report says.
"More than $100 million has been distributed to community groups and local nonprofit programs that benefit people adversely impacted by punitive drug laws" in California.
California also announced in June that it is awarding about $29 million in grants funded by marijuana tax revenue to 58 nonprofit organizations, with the intent of righting the wrongs of the war on drugs. The state collected about $817 million in adult-use marijuana tax revenue during the 2020-2021 fiscal year, state officials estimated last summer. That's 55 percent more cannabis earnings for state coffers than was generated in the prior fiscal year.
Nearly $500 million of cannabis tax revenue in Colorado has supported the state's public school system.
Illinois, which has seen its market rapidly expand since its launch in January 2020, is dedicating portions of tax revenue to mental health services, as well as local organizations "developing programs that benefit disadvantaged communities."
The state generated almost $100 million more in tax revenue from adult-use marijuana sales than from alcohol in 2021, state data shows. And cannabis tax dollars have exceeded those for liquor every month since February.
In July, state officials put $3.5 million in cannabis-generated funds toward efforts to reduce violence through street intervention programs.
In Washington State, "for every $1 billion in revenue collected from the cannabis sales tax, nearly $600 million is funneled into public health initiatives, including a fund that provides health insurance for low-income families," MPP said.
Reform advocates aren't the only ones interested in seeing how states are approaching the tax side of marijuana legalization. The U.S. Census Bureau also has plans to begin collecting and compiling data on revenue that states generate from legal cannabis.
GOP-Controlled New Hampshire House Votes To Legalize Marijuana Possession And Cultivation