Senate's Bipartisan Infrastructure Deal Aims To Let Researchers Study Marijuana From Dispensaries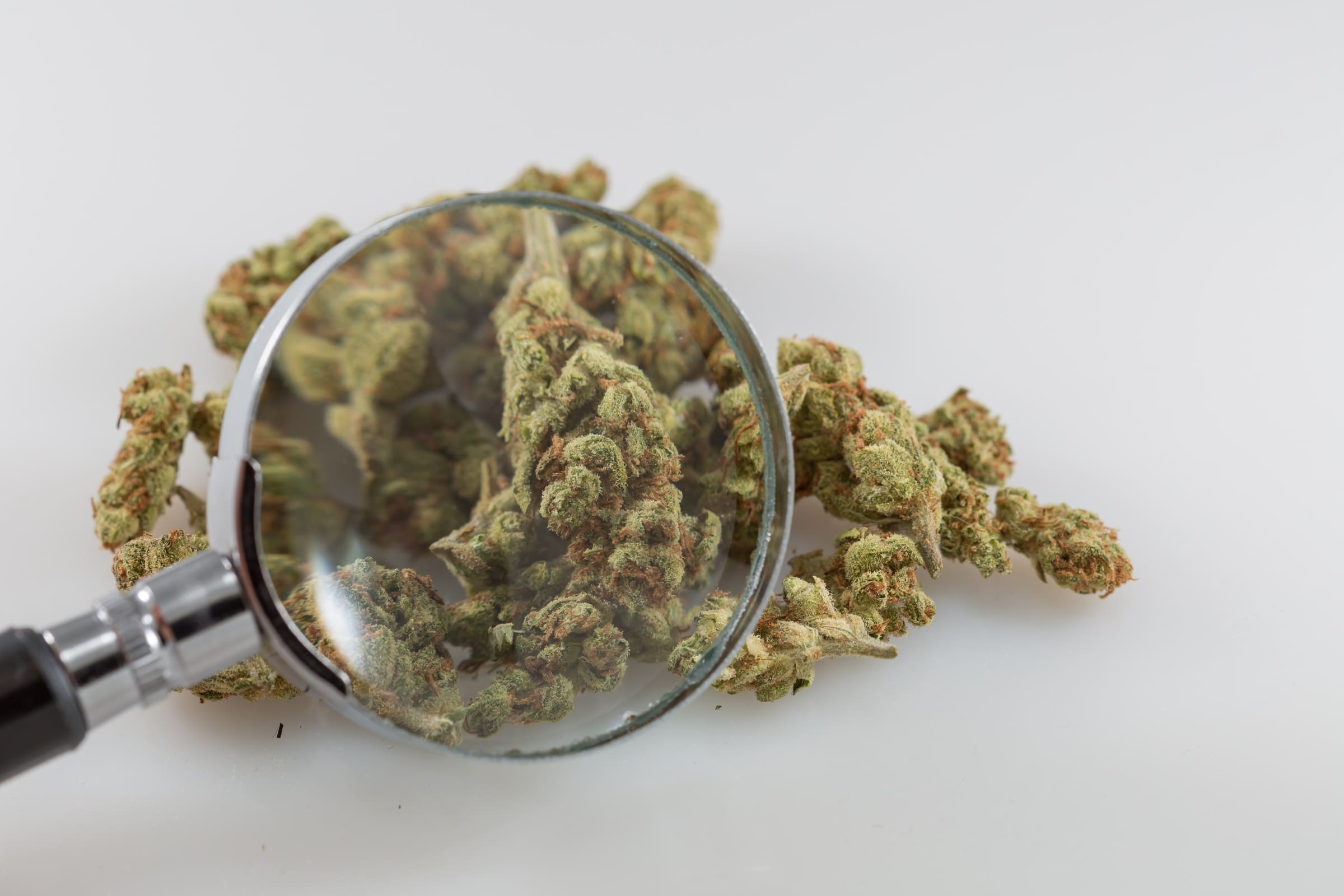 Senate leaders released a massive and long-anticipated infrastructure bill late on Sunday—and after weeks of bipartisan negotiations, the legislation includes provisions that aim to allow researchers to study the actual marijuana that consumers are purchasing from state-legal dispensaries instead of having to use only government-grown cannabis.
The bill also encourages states that have enacted legalization laws to educate people about impaired driving.
The language on scientists' access to retail cannabis products was attached to an earlier version of infrastructure legislation in a Senate committee, and it's substantively the same as a provision included in a House-passed infrastructure bill.
The measure makes it so the transportation secretary would need to work with the attorney general and secretary of health and human services to develop a public report within two years of the bill's enactment that includes recommendations on allowing scientists to access retail-level marijuana to study impaired driving.
The cannabis provision stipulates that the report must contain a recommendation on establishing a national clearinghouse to "collect and distribute samples and strains of marijuana for scientific research that includes marijuana and products containing marijuana lawfully available to patients or consumers in a state on a retail basis."
It specifies that scientists from states that have not yet enacted legalization should also be able to access to dispensary products that are being sold in jurisdictions that have ended prohibition.
Sen. John Hickenlooper (D-CO) sponsored the committee amendment that contains these reforms, and he argued that the changes are necessary in order to promote research into impaired driving and create a national standard for addressing such activity.
Advocates have been waiting to see whether the committee-approved language would make it into the bipartisan negotiated bill. And the fact that it did stay intact following extensive negotiations between Democrats and Republicans who worked to craft the deal is significant. The Senate is expected to take up the bill on the floor this week.
If it passes, the amended legislation would then need to go back to the House for consideration before heading to President Joe Biden's desk.
The bill says the cannabis research report must also broadly examine "federal statutory and regulatory barriers" to studies on marijuana-impaired driving.
The transportation legislation also contains a separate section that would require legal marijuana states—and only those states—to consider methods of educating people about and discouraging impaired driving from cannabis. Advocates take issue with that language simply because it targets legalized jurisdictions while ignoring the fact that marijuana-impaired driving takes place regardless of its legal status.
An earlier version of the transportation bill cleared the House last Congress with identical marijuana provisions but did not advance in the GOP-controlled Senate.
Since its initial introduction last year, some steps have been taken to resolve that issue. Most notably, the Drug Enforcement Administration (DEA) recently notified several companies that it is moving toward approving their applications to become federally authorized marijuana manufacturers for research purposes.
That marks a significant development—and one of the first cannabis-related moves to come out of the Biden administration. There is currently a monopoly on federal cannabis cultivation, with the University of Mississippi having operated the only approved facility for the past half-century.
But that move from DEA would still not free up researchers to access marijuana products from state-legal retailers in the way the transportation legislation would encourage if enacted.
While advocates are supportive of measures to reduce impaired driving, some have raised issues with the implication that legalizing cannabis increases the risk of people driving while under the influence. Research isn't settled on that subject.
A federally funded study recently promoted by the National Institute of Justice also found that the amount of THC in a person's system after consuming marijuana is not an accurate predictor of impairment.
Colorado Could Vote On Marijuana Tax Hike To Fund Education Programs After Campaign Submits Signatures