Rhode Island Marijuana Dispensary Sues To Overturn Labor Provisions Of Legalization Law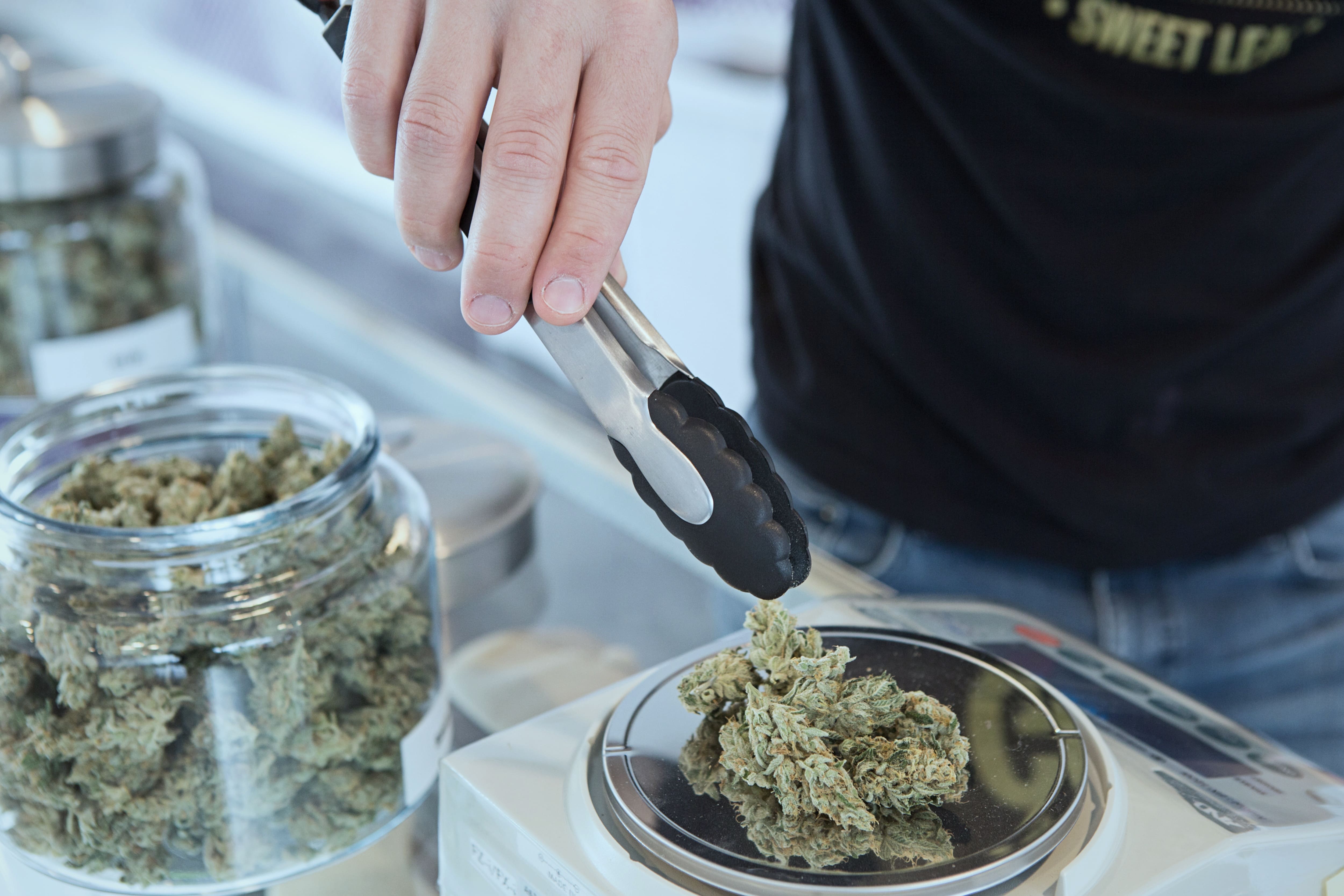 "To me, it just seems outrageous that Greenleaf, which has been fighting worker organizations at its dispensary tooth and nail, is insulting its workforce once again."
By Nancy Lavin, Rhode Island Current
Amid growing tensions with its workers over labor standards and unionization, a Portsmouth marijuana dispensary is taking aim at the state's recreational cannabis law.
Greenleaf Compassion Center filed a complaint in federal court on Monday, contending that the marijuana legalization law signed in May 2022 violates the U.S. Constitution and national labor standards. The lawsuit comes on the heels of a second settlement agreement between the company and its workers for alleged federal labor law violations.
The sweeping Rhode Island Cannabis Act established a process to legalize, tax and sell marijuana, while expunging civil and criminal records for marijuana possession. A single-page section of the 125-page document requires all retailers to enter into "labor peace agreements" with their workers, which allow employees to unionize in exchange for not picketing, boycotting or stopping work.
Which is where Greenleaf takes issue, alleging that the labor agreement requirement "deprives employers of their bargaining power, forces them to agree to unfavorable terms, and deprives employees of their right to engage in labor activities protected under federal law, such as strikes."
Specifically, the lawsuit filed in the U.S. District Court for the District of Rhode Island says the forced labor agreement violates the Supremacy Clause of the U.S. Constitution as well as the National Labor Relations Act.
The cannabis dispensary, which first applied for a license in 2010, began selling products to medical marijuana customers in 2013. In April 2021, Greenleaf workers voted to join the local chapter of the United Food and Commercial Workers. Negotiations between Greenleaf and Local 328 continued through the following year, with the first union contract ratified in August 2022.
During the collective bargaining process, the state legalized recreational marijuana, including the provisions for labor peace agreements. Greenleaf in its complaint says that the union was "intransigent" and "unwilling to compromise because it knew it would soon have increased leverage through the LPA mandate."
The complaint also cites the terms of the contract, which include a $1,000 ratification bonus for workers, as "largely unfavorable" to the company, warning that it will "continue to suffer harm for so long as the LPA mandate is in place and enforced."
Union representatives paint a different picture.
"We have seen few employers so egregiously violate workers' rights to the extent that Seth Bock [company founder and CEO] has at Greenleaf," Sam Marvin, an organizing director for Local 328, said in an emailed statement Tuesday.
"Because of the actions of employers like Seth Bock, labor peace agreements have become a necessity to protect workers' rights. This component took effect long after workers had already organized and won their election 21 to 1 in 2021, despite fierce union-busting attempts by Bock."
Back pay ordered
Last month, the National Labor Relations Board ordered Greenleaf to stop threatening, demoting, and laying off workers because of their union support and to give more than $116,000 in back pay to workers who were unjustly fired as well as remaining employees who became part of the union.
It was the second time the Portsmouth company will have to pay back employees for violating federal labor laws. A prior settlement announced by Local 328 in December 2021 included six weeks of back pay for workers, along with agreements to rectify other alleged workers' rights violations.
Greenleaf declined to offer additional comment beyond the lawsuit.
The complaint, which names Local 328 as a defendant, asks a federal court judge to declare the labor peace requirement unconstitutional and nullify its existing collective labor agreement with employees. It also seeks to stop the state from enforcing the labor peace mandate. The lawsuit names as defendants the three members of the newly created Cannabis Control Commission—Kimberly Ahern, Robert Jacquard and Olayiwola Oduyingbo—as well as Matthew Santacroce, deputy director of the R.I. Department of Business Regulation; and Erica Ferrelli, chief of the Office of Cannabis Regulation.
Matthew Touchette, a spokesperson for the Department of Business Regulation and the Office of Cannabis Regulation, said the state does not comment on pending litigation.
Marvin also declined to provide additional comments beyond the emailed statement.
Other union organizers and labor advocates continued to back the labor provisions of the law.
"It is in workers' interest to be able to have a labor peace agreement," said Patrick Crowley, a union organizer and secretary-treasurer for the RI AFL-CIO. "But it's also in the employer's interest."
Greenleaf claimed in the complaint that the labor agreement was not created to benefit the state—which would make it legally defensible—but rather, "to accomplish policy goals as a result of lobbying efforts."
Crowley disagreed, citing the high taxes and regulation as reasons why the state has a vested financial interest in the nascent marijuana industry's success, including preventing worker boycotts. State licensed pot shops, including Greenleaf, reported a combined $8.9 million in sales in May, the latest data available, according to the Department of Business Regulation.
"This really sounds like an employer trying to play hardball with taxpayer resources," Crowley said.
Daniel Denvir, an organizer with the progressive group Reclaim Rhode Island, put it more bluntly.
"To me, it just seems outrageous that Greenleaf, which has been fighting worker organizations at its dispensary tooth and nail, is insulting its workforce once again," he said.
Reclaim RI was among the advocates playing an active role in shaping the legislation, including provisions for workers' rights.
Greenleaf did not participate in public hearings over the proposal, according to Rep. Scott Slater, who sponsored the House version of the bill. Hence why the Providence Democrat was surprised by the lawsuit.
Slater acknowledged, as Greenleaf alleged, that the original bill did not include the labor requirement. But he disagreed with Greenleaf's accusation that the provision was added to appease lobbyists.
"I was always open to making sure jobs, and not just folks lucky enough to get a license, but their employees, were protected and had protections," Slater said.
Other states, particularly on the West Coast, have included similar labor peace agreement provisions in their cannabis laws, said Shaleen Title, a Boston-based attorney who previously served on Massachusetts Cannabis Control Commission. Massachusetts' law does not include these labor protections, which Title said was likely because workers' rights were not top-of-mind among lawmakers when the state passed the law in 2016.
"I think if we were having that discussion today, workers' rights would have come up," Title said.
This story was first published by Rhode Island Current.
Massachusetts Marijuana Sales Hit New Record High Of $152 Million In June, With State Nearing $5 Billion In Recreational Purchases Since Market Launch