Prohibitionist Group Narcs On Wells Fargo And Maryland Officials Over Accounting Of Marijuana Tax Revenue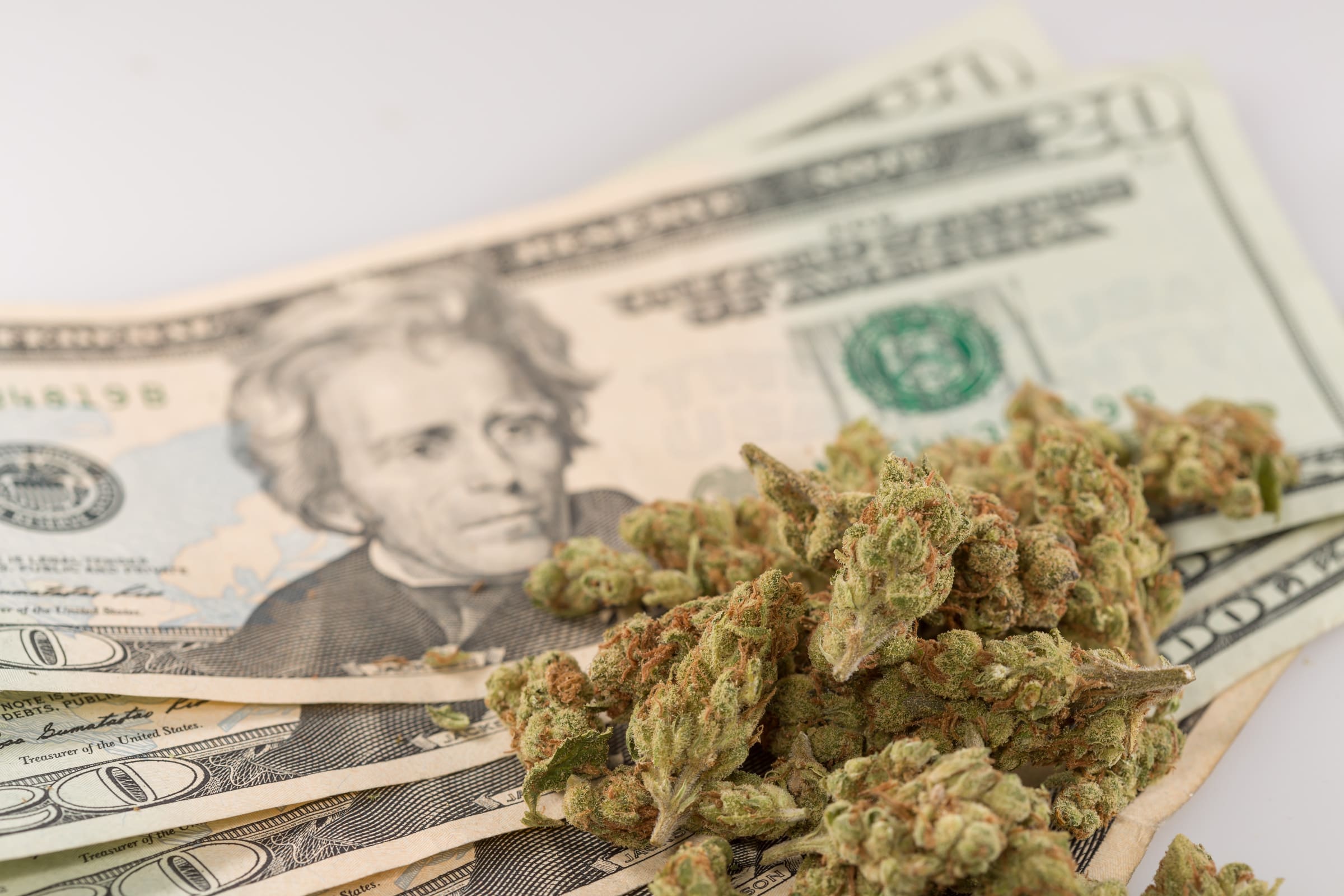 An anti-marijuana advocacy group is taking aim at a banking arrangement between Wells Fargo and the state of Maryland that allows officials to receive and process tax revenue generated by state-legal cannabis businesses, calling the scheme "an active effort to protect the banks who are breaking federal law" and making an attempt to alert federal officials about it.
The state, for its part, has said it "complies with applicable laws and regulations."
Smart Approaches to Marijuana (SAM), which opposes marijuana legalization, made the allegations in a press release late last month following media reports of the banking arrangement, including in Marijuana Moment.
The also group sent an open letter to Maryland officials and Wells Fargo, while CCing several federal officials, requesting that "Wells Fargo cease working with Maryland state officials to circumvent federal laws and regulations."
"The workaround by the Maryland government reported on in the media is a clear attempt to protect banks from thoughtfully crafted federal regulations," the prohibitionist group's letter says.
Among those copied on the letter are Erek L. Barron, the U.S. attorney for Maryland, whose office would oversee any potential federal prosecutions in the state, as well as Attorney General Merrick Garland and Treasury Secretary Janet Yellen.
MARYLAND – WELLS FARGO DRUG MONEY PARTNERSHIP DESERVES GREATER SCRUTINY

Read about it here: https://t.co/LMoKFvVZ00 pic.twitter.com/FlWp0wEkdm

— SAM (@learnaboutsam) August 28, 2023
In a prepared statement, SAM President and CEO Kevin Sabet called the situation "a slippery slope that should be deeply concerning to Marylanders."
"By permitting banking access for marijuana revenues linked to an increasing drug use and addiction crisis, Maryland is opening the door for banks to benefit from the sale of other illicit substances," he said in the release.
The attack was prompted by comments made last month by Rob Scheerer, director of the Maryland Office of the Comptroller's Revenue Administration Division. Speaking at a conference of county government officials, he said that "in order to protect the banks, we can't even call this cannabis on the tax return." Instead, he added, "We have craftily called this 'A sale subject to the 9 percent rate under Senate Bill 516 of 2023,'" referring to the bill that legalized and regulated marijuana sales in the state.
After a Marijuana Moment report about Scheerer's comments, the state Comptroller's Office emailed the following statement:
"Under Maryland law, the Comptroller's Office is responsible for collecting the sales and use tax on all taxable goods and services in the State, including adult-use cannabis, which was passed by voter referendum in November 2022 and the Maryland legislature in 2023, and established a 9% sales and use tax on adult-use cannabis sales.
"Wells Fargo Bank provides lockbox and other treasury management services to the State of Maryland, including such services related to the collection of state tax revenue. All due care has been taken by State officials and Wells Fargo to ensure that the collection of the Maryland sales and use tax, and the State's handling of that tax revenue, complies with applicable laws and regulations. Any inference or assertion that these processes have been designed to evade any applicable laws or regulations is incorrect."
It's not clear whether state officials have yet responded to SAM's open letter. A spokesperson told Marijuana Moment on Tuesday that the Comptroller's Office had no further comment.
Wells Fargo, for its part, sent a reply letter to SAM and Sabet last week, spokesperson Gabriel Boehmer told Marijuana Moment. While the company declined to provide the full correspondence, Boehmer forwarded what he said was an excerpt of the letter.
"Recent media reports that we have been working with the State of Maryland to bank the marijuana industry are false," it says. "We provide certain services to the State of Maryland related to the State's collection of tax revenue."
It then references the Maryland comptroller's earlier statement.
SAM's executive vice president told Marijuana Moment that as of Tuesday the group still hadn't received Wells Fargo's reply to its letter.
To be clear, neither Marijuana Moment nor Maryland Matters, which first published Scheerer's comments about tax handling, reported that Wells Fargo was providing banking services to cannabis businesses themselves.
Because marijuana remains illegal under federal law, banks and credit unions can face potential penalties from federal banking regulators for working with cannabis businesses. Under the 1970 Banking Secrecy Act, money identified as coming from federally illegal activity must be flagged through a suspicious activity report (SAR). Boehmer declined to provide an on-the-record response when asked whether Wells Fargo filed SARs related to the Maryland cannabis tax revenue.
Federal lawmakers have been working to address banking headaches caused by the state–federal conflict on marijuana through a bill called the Secure and Fair Enforcement (SAFE) Banking Act, which was reintroduced for the current legislative session in April. If passed, it would provide safe harbor for banks who do business with the cannabis industry.
In a floor speech Tuesday, Senate Majority Leader Chuck Schumer (D-NY) reiterated his commitment to advancing banking reform as the chamber comes back into session from the August recess.
The majority leader made similar points in a Dear Colleague letter that was distributed last week, listing "safeguarding cannabis banking" right after "lowering the cost of insulin and prescription drugs."
The next step for the marijuana banking bill is a markup in the Senate Banking Committee, which advocates and stakeholders hope will be scheduled within weeks.
Possibly adding momentum to the reform as lawmakers return to Capitol Hill, the U.S. Department of Health and Human Services (HHS) is now recommending that marijuana be moved from Schedule I to Schedule III of the Controlled Substances Act (CSA)—a move that would, among other things, free up state-licensed cannabis businesses to take federal tax deductions.
At a press conference in late July before lawmakers broke for recess, Schumer said that senators were "making good progress" in bipartisan negotiations over the legislation and predicted a a "very, very productive fall in the Senate."
The bill "has always been a priority for me," he said at the time. "So there's a lot to do when we get back."
GOP Congressman Worries That Moving Marijuana To Schedule III Could 'Allow Big Pharma To Control It'