Oklahoma Could Generate Nearly Half A Billion In Marijuana Tax Dollars Over Five Years If Voters Approve Legalization Next Month, Analysis Shows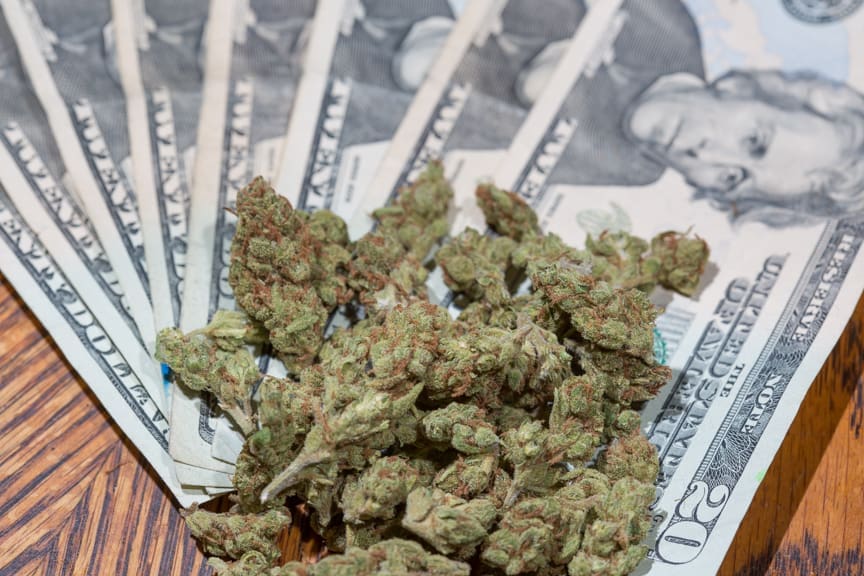 Oklahoma stands to generate nearly half a billion dollars in revenue from adult-use marijuana sales in the first five years of implementation if voters approve the reform at the ballot next month, according to a new economic analysis.
The Yes on 820 campaign released the report on Thursday, showing the state's projected combined tax revenue from medical and recreational marijuana sales from 2024-2028 at $821 million.
The proposed 15 percent excise tax for adult-use cannabis products would account for more than half of that revenue, at $434 million, the analysis that was conducted by Vicente Sederberg LLP and the Oklahoma Cannabis Industry Association found.
Assuming passage, the state is estimated to bring in more than $65 million in cannabis tax dollars from recreational sales in 2024 after just one year of implementation, rising to an annual haul of $105 million by 2028.
Adult-use sales are expected to reach $1.8 billion over the first five years, while medical cannabis purchases are projected to be $2.5 billion during that time period for a combined total of $4.3 billion.
State Question 820 is on the special election ballot for Oklahoma on March 7—and advocates are strongly pushing voters to back it after facing procedural setbacks in their efforts to place the reform on the 2022 ballot.
"Passage of State Question 820 would fuel economic activity, create jobs, and generate a new permanent stream of tax revenue for the state," Andrew Livingston, director of economics and research at Vicente Sederberg, said in a press release.
"Marijuana tax revenue is not a panacea, but it can support a lot of critical government services that would otherwise go unfunded," he said. "With hundreds of millions of dollars in tax revenue and thousands of jobs on the line, the economic stakes are quite high for Oklahoma in the March 7th special election."
(Disclosure: Vicente Sederberg supports Marijuana Moment's work with a monthly pledge on Patreon.)
Michelle Tilley, campaign director of the Yes on 820 campaign, said that "Oklahoma could reap almost a half billion dollars in new revenue to invest in our public schools, law enforcement agencies, mental health programs, and other priorities."
"This is a game changer when it comes to investing in our children's futures, the safety of our communities, and even physical infrastructure like roads and bridges," Tilley said. "Meanwhile, local economies in every corner of the state will benefit from good paying jobs and the creation of a new, multi-billion-dollar industry."
"It is critical that everyone gets out and votes this March 7," Tilley said during a virtual press conference on Thursday. "We know we will be creating a multibillion dollar industry that will lead to economic growth, jobs and investments all across our great state."
Activists had pushed to place a cannabis legalization measure on last year's ballot, but it faced obstacles in the state Supreme Court after complaints were filed and procedural deadlines passed.
Gov. Kevin Stitt (R) issued a proclamation in November stipulating that the initiative from Oklahomans for Sensible Marijuana Laws (OSML) and Yes on 820 would go before voters during the upcoming special election.
This is the first time in U.S. history that voters will go to the polls in a special election to decide solely on a marijuana measure. Nothing else is on the March 7 ballot. The Yes on 820 campaign is working to inform voters of the election and to get people registered by the February 10 deadline to participate.
Stitt, the governor, doesn't support adult-use legalization—though he did say last year that he thinks the federal government should end prohibition to "solve a lot of issues from all these different states" that have legalized cannabis.
He also said last year that he thought voters were misled into approving an earlier medical cannabis legalization initiative in 2018.
OSML collected enough signatures to qualify legalization to go before voters this year and had anticipated it would happen in November. But they faced a setback when signature verification took longer than expected and state officials said there was not enough time to print and mail ballots for overseas voters with the cannabis question included.
The court did shut down a total of four separate legal complaints against the measure that challenged the signature certification and ballot title, however.
OSML spent a significant amount of time in the state Supreme Court this election cycle. Hopes were raised after the court handed activists a temporary win by announcing that it would be delaying its decision on ballot placement, but it ultimately rejected the group's push to force the measure onto the November ballot.
Here's what the cannabis legalization initiative would achieve: 
The measure would allow adults 21 and older to purchase and possess up to one ounce of cannabis, grow up to six mature plants and six seedings for personal use. The current Oklahoma Medical Marijuana Authority would be responsible for regulating the program and issuing cannabis business licenses.
A 15 percent excise tax would be imposed on adult-use marijuana products, with revenue going to an "Oklahoma Marijuana Revenue Trust Fund."
The funds would first cover the cost of administrating the program and the rest would be divided between municipalities where the sales occurred (10 percent), the State Judicial Revolving Fund (10 percent), the general fund (30 percent), public education grants (30 percent) and grants for programs involved in substance misuse treatment and prevention (20 percent).
People serving in prison for activity made legal under the measure could "file a petition for resentencing, reversal of conviction and dismissal of case, or modification of judgment and sentence." Those who've already served their sentence for such a conviction could also petition the courts for expungement.
OSML, which is being backed by the national New Approach PAC, is one of two citizen efforts that tried to put legalization on the ballot last year. The other campaign, Oklahomans for Responsible Cannabis Action (ORCA), did not end up collecting enough signatures, and one of its leaders filed legal challenges against the successful OSML effort.
Oklahoma Rep. Scott Fetgatter (R) said in an op-ed for Marijuana Moment that was published last year that states should legalize cannabis, but he wants to see the legislature craft thoughtful regulations for an adult-use program, rather than leave it to voters at the ballot.
New Hampshire House Chair Floats Amendment To Marijuana Legalization Bill From Bipartisan Leaders, With Vote Expected Next Week