New Zealand Government Releases Details Of Marijuana Legalization Referendum
Details about legislative plans to legalize and regulate marijuana in New Zealand were released on Tuesday.
The three political parties who are part of a minority government coalition agreed to basic elements of a referendum to allow for the use, possession, sale and cultivation of cannabis for adults 20 and older, which is set to appear on New Zealand's 2020 ballot.
Justice Minister Andrew Little confirmed in a press release that the measure will be binding—meaning that if voters approve the measure, the government will be obliged to follow through on the voters's will. The proposal will allow for limited home cultivation and licensed areas where people can consume marijuana socially. It will also include restrictions on advertising.
Andrew Little makes cannabis referendum announcement #FOCUSLIVE https://t.co/JjW8b7ZjoO

— nzherald (@nzherald) May 6, 2019
"Officials are now empowered to draft the legislation with stakeholder input, and the Electoral Commission will draft the referendum question to appear on the ballot," Little said in a press release. "The voters' choice will be binding because all of the parties that make up the current Government have committed to abide by the outcome."
"We hope and expect the National Party will also commit to respecting the voters' decision," he said, referring to the leading opposition party that is not part of the governing coalition.
"Cabinet has agreed to hold a binding referendum at the 2020 General Election to determine whether personal use of recreational cannabis should be legalised," he wrote in an executive summary of the plan. "If the binding nature of the referendum is to be meaningful it will be necessary to be as clear and certain about the outcome of a 'yes' vote as possible."
"The referendum question should provide voters with a clear choice on this important matter," he said. "Also, there may be merit in allowing for the public education in the lead up to the referendum to better understand the final regulatory model that is adopted."
Little outlined four separate referendum options for the Cabinet to choose from. It appears that parties agreed on the option that reads as follows:
"A question referring to an exposure draft piece of legislation that outlines the suggested regulatory model for cannabis but was not introduced into the House until the result of the referendum was known: 'Do you support legalising the personal use of recreational cannabis in accordance with [published draft legislation]?". This exposure draft would be provided in confidence to limited stakeholders for consultation and a final exposure draft that would be the subject of the referendum would follow."
Little argued that simply decriminalizing cannabis would "impede the ability to control quality of products" and "any of the harm minimization associated with removing criminal elements." Legalizing and regulating marijuana, on the other hand, would create a "controlled and tightly regulated market" that would allow the government to "steer market behaviour towards achieving the objective of minimising harm, while providing safe and legal access to cannabis."
Here are the primary and secondary goals of the proposed referendum, as Little outlined in a 30-page briefing document:
"Primary objectives:

Address the wellbeing of New Zealanders and harm reduction—the model should minimise harms associated with cannabis, such as health-related harm, social harms and harm to youth.
Lower the overall use of cannabis over time through education and addiction services – with a particular focus on lowering the use amongst youths by increasing the age of first use. Revenue raised through the regulation of cannabis should contribute to relevant health-related measures.
Secondary objectives:
Disempowering the gangs and the illegal trade in cannabis;
Lowering the prison population over time and lowering the number of New Zealanders (especially Maori) whose future opportunities are negatively affected by cannabis use charges;
Ensure product safety and control of THC levels via legislation and regulation;
Be consistent with the rule of law – the model should uphold New Zealand's constitution. It should also minimise opportunities for the illicit market and be clear and easy to follow;
Tailored and workable for New Zealand – the model should recognise and reflect our cultural practices and the values of New Zealand society so that it can be accepted by New Zealanders;
Fiscal sustainability – the model should seek to fund mechanisms that directly address cannabis-related harms, while also aiming to lower use over time."
Chlöe Swarbrick, a Green Party member of Parliament who joined Little at Tuesday's presser, released a video celebrating the development.
Aotearoa New Zealand could be the first country in the world to nationally legalise and regulate cannabis through a vote of the people. Here are the details. @NZGreens pic.twitter.com/GbeZKV2V4q

— Chlöe Swarbrick (@_chloeswarbrick) May 6, 2019
"In line with a health-based approach, consumption will be limited to private spaces or to those that are licensed," she said. "We are also guaranteeing that there is going to be no advertising because the last thing we want to do is open the door to big corporates and invite another 'Big Tobacco' or 'Big Alcohol' and replace the black market with some big corporate control."
"This is, of course, massive news and the first solid piece of information we can give you guys on the cannabis referendum," she added. "Over the next year and a half, I will be doing my utmost to get around the country and hear from all of you about how we can create the best possible piece of legislation."
The proposal also calls for a licensing scheme that would "provide for safe spaces for people to use cannabis away from home."
The timeline for steps toward drafting the legislation and ballot question were laid out by the justice minster as follows:
New Zealand has previously demonstrated interested in pursuing a public health-orientated approach to drug policy. Officials instructed law enforcement not to criminalize possession and consumption of synthetic drugs, which is at the center of a drug crisis in the country, and to instead treat such cases as public health concerns.
A poll released in January found that 60 percent of New Zealand residents would approve a referendum to legalize cannabis. Only 24 percent of respondents voiced opposition to the policy and 16 percent were left undecided.
Should the country opt to legalize and regulate marijuana, it would be following in the steps of Canada and Uruguay, which have already done so. Mexican lawmakers are also pushing ahead on a legalization plan.
"Subject to Cabinet decisions, any legislation to be enacted before the referendum that includes provisions relating to the overall system of cannabis, including the cultivation, sale and supply, and use of recreational cannabis in New Zealand would preferably be passed by December 2019, with March 2020 as an absolute deadline in order to undertake the referendum at the 2020 General Election," Little wrote.
Mexican Lawmakers Plan To Tackle Marijuana Legalization This Summer
Photo courtesy of Brian Shamblen.
Senate Schedules Second Cannabis Hearing For Next Week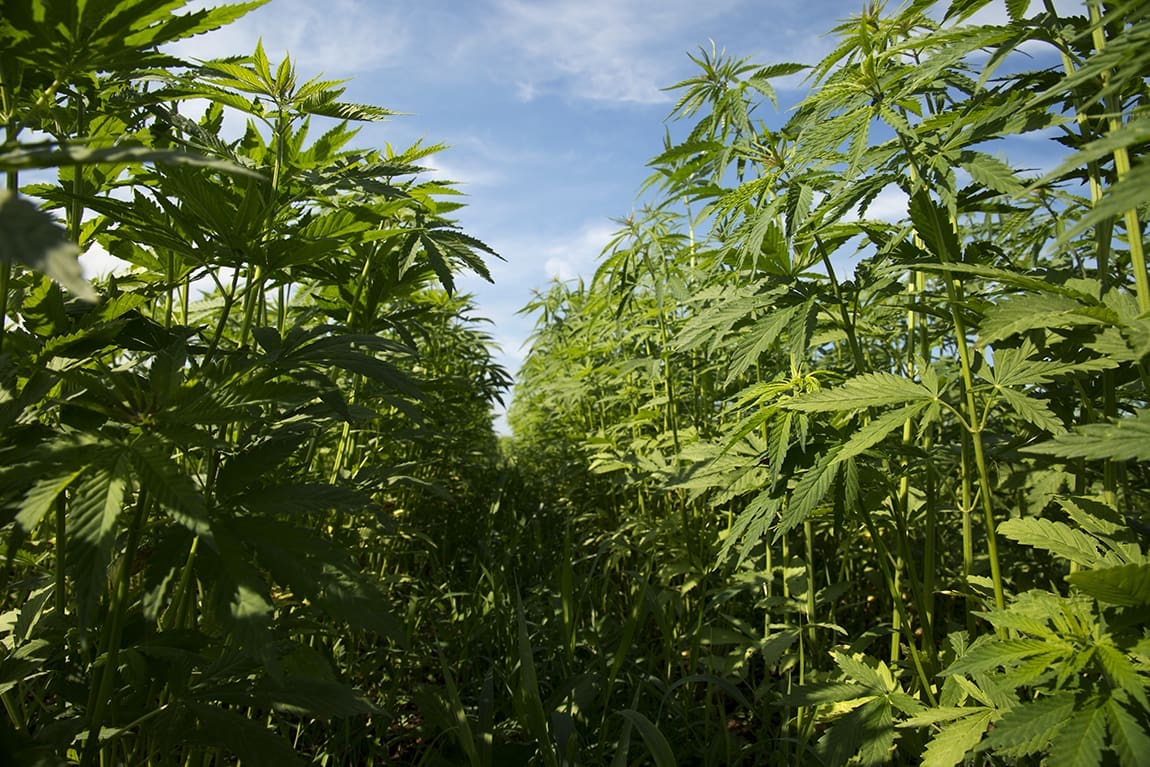 A key Senate committee will hold a hearing next week to discuss hemp production, featuring witnesses from the U.S. Department of Agriculture (USDA), the Food and Drug Administration (FDA) and the Environmental Protection Agency (EPA).
In the months since hemp and its derivatives were federally legalized under the 2018 Farm Bill, there's been strong interest in developing USDA and FDA regulations for the crop and its compounds such as CBD, and lawmakers have repeatedly pressed the agencies to speed up the rulemaking process to unlock the industry's potential.
While the hearing notice doesn't go into detail about what will be discussed, the meeting's title—"Hemp Production and the 2018 Farm Bill"—and list of witnesses indicate that the conversation will revolve around the development of federal guidelines for hemp businesses.
.@SenateAgGOP +@SenateAgDems Announce 7/25 #Hemp Production Hearing https://t.co/b28TC831Sa #FarmBill pic.twitter.com/HZBfgx0TjG

— Sen. Ag Republicans (@SenateAgGOP) July 17, 2019
USDA Marketing and Regulatory Programs Under Secretary Greg Ibach, USDA General Counsel Stephen Vaden, FDA Principal Deputy Commissioner Amy Abernethy and EPA Assistant Administrator of Chemical Safety and Pollution Prevention Alexandra Dunn will appear before the Senate Committee on Agriculture, Nutrition, and Forestry on July 25.
I am honored to be called by the Senate Committee on Agriculture, Nutrition, & Forestry to testify next week (7/25) on "Hemp Production and the 2018 Farm Bill." As FDA, we recognize how important the topics of hemp and cannabidiol (CBD) are to Americans. https://t.co/bHMBGth1bL

— Dr. Amy Abernethy (@DrAbernethyFDA) July 18, 2019
Other invited witnesses include Kentucky farmer Brian Furnish, National Hemp Association Executive Director Erica Stark and Red Lake Band of Chippewa Indians Tribal Chairman Darrell Seki.
The Senate Agriculture Committee meeting will mark the chamber's second cannabis-related hearing of the week. The Committee on Banking, Housing and Urban Affairs announced on Tuesday that it will meet to discuss marijuana banking issues on July 23.
FDA and USDA have both recently signaled that they were cognizant of widespread interest in creating regulatory pathways for hemp and its derivatives, with USDA stating that it planned to release an interim final rule on the products in August and FDA's Abernethy writing that the agency is "expediting" its rulemaking process. FDA added that it hoped to release a report on its progress by early fall.
That said, heads of the departments have also tried to temper expectations. Agriculture Secretary Sonny Perdue said that USDA wouldn't be expediting regulatory developments but that he expected them to be issued ahead of the 2020 planting seasons.
Former FDA Commissioner Scott Gottlieb, meanwhile, cited policy complications that would make it difficult for the agency to create an alternative regulatory pathway for hemp-derived CBD products to be lawfully marketed as food items or dietary supplements. He said that without congressional action, it may take FDA years to establish those rules.
Separately, officials from both FDA and USDA will participate in hemp conferences in August, where they're also expected to update stakeholders on their progress.
Senate Schedules Hearing On Marijuana Business Banking Access
Photo courtesy of Brendan Cleak.
As More States Legalize, DEA Chops Down Fewer Marijuana Plants, Federal Data Shows
The Drug Enforcement Administration (DEA) seized far fewer marijuana plants in 2018 compared to the previous year but made significantly more cannabis-related arrests, according to federal data released this month.
More than 2.8 million indoor and outdoor marijuana plants were seized last year as part of the DEA's Domestic Cannabis Eradication/Suppression Program. That marks a 17 percent decline from 2017 levels.
NORML first noted the DEA report, which also shows that marijuana-related arrests the agency was involved with increased by about 20 percent in a year. And while the overall number of plants that were seized dropped, DEA said that the value of the assets totaled about $52 million—more than twice as much as it reported the previous year.
State-level legalization efforts appear to have played a role in the declining number of plant seizures, particularly those cultivated outdoors. In the same year that retail cannabis sales started in California, DEA confiscated almost 40 percent fewer outdoor plants in the state compared to 2017.
That data point is consistent with recent research showing that legalization is associated with a decrease in the number of illicit cannabis grows in national forests, which are often targets for DEA enforcement action.
It's not clear why there was a significant uptick in marijuana-related arrests, but those increases generally did not occur in states where legal cannabis systems were recently implemented.
For example, arrests in Kansas, where marijuana is strictly prohibited, increased by more than 3,500 percent—from 15 to 544—from 2017 to 2018. Louisiana likewise experienced a 168 percent increase in cannabis arrests.
The data covers federal law enforcement actions and does not include those of local police agencies that did not partner with the agency.
Year-over-year decreases in cannabis seizures through DEA's eradication program have been viewed by advocates as evidence that state-level legalization systems effectively displace the illicit market, removing the incentive to illegally cultivate cannabis.
Similarly, a separate recent report from the U.S. Sentencing Commission showed that federal prosecutions for marijuana trafficking dropped precipitously in 2018—another sign demonstrating that state-level legalization is disrupting the illicit market, advocates argue.
NORML Deputy Director Paul Armentano told Marijuana Moment that "federal eradication programs are a holdover from a bygone era."
"At a time when roughly one-quarter of the country resides in a jurisdiction where adult marijuana use is legal, and when members of Congress are openly discussing removing cannabis from the federal Controlled Substances Act, it is time for these federal anti-marijuana efforts to be put out to pasture and for federal agencies to take positions that more closely comport with cannabis' rapidly changing cultural status in America," he said.
DEA has also faced criticism of its cannabis eradication efforts from a non-partisan federal watchdog agency last year for failing to adequately collect documentation from state and local law enforcement partners funded through the program.
The Government Accountability Office said in a report that DEA "has not clearly documented all of its program goals or developed performance measures to assess progress toward those goals."
At the same time that DEA is seizing fewer plants grown illicitly, it's also setting higher goals for federally authorized cannabis cultivation for research purposes. In 2019, the agency said it hoped to grow approximately 5,400 pounds of marijuana to meet research demand, which is more than double its quota for 2018.
Legalizing Marijuana Leads To Fewer Illegal Grow Sites In National Forests, Study Finds
Senate Schedules Hearing On Marijuana Business Banking Access