New York Opens Marijuana Business License Application Period As Governor Highlights Efforts To Combat Illegal Market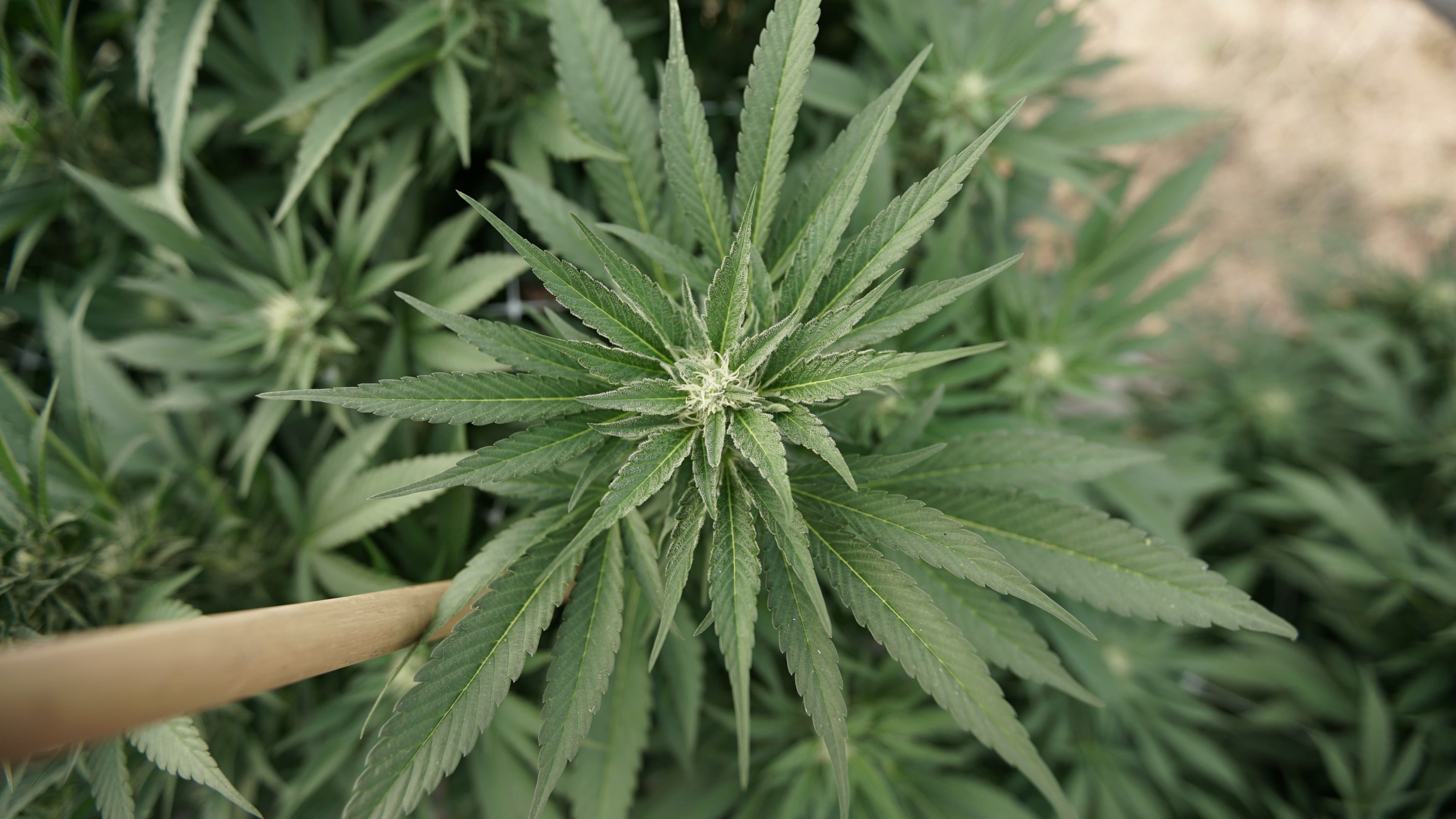 New York opened the application period for hundreds of new marijuana business licenses on Wednesday, marking the beginning of a massive expansion of the state's legal cannabis system. So far only about two dozen retailers have opened statewide since adult-use sales began last December.
Applications will be open until December 4, and regulators are expected to begin awarding the new licenses early next year.
Gov. Kathy Hochul (D) announced the launch of the new application period on Wednesday, at the same time emphasizing her administration is "ramping up" law enforcement efforts to go after unlicensed marijuana businesses, which have proliferated amid delays to the state's legal rollout.
Both expanding business licensing and targeting illegal actors are meant to help speed New York's transition from the underground marijuana market to licensed retailers.
"Today's an important milestone in our efforts to stand up a brand new industry," Hochul said in an interview with Spectrum News NY1 about the announcement. She said she expects "tens of thousands" of license applicants, who will be selected through a lottery process. "We expect, over the next year, to have over 1,000 legal cannabis shops," she said.
The same day as the announcement, New York City's Department of Small Business Services announced an educational program for entrepreneurs that the office said "connects cannabis business owners with free, high-quality training and advice proctored by leading players in the legal cannabis industry." Applications for the so-called FastTrac program are due by October 18.
Applications to legally grow, process, distribute, & sell cannabis are now open— the largest expansion of our market to date!

We're growing a cannabis industry that will generate millions in revenue annually, create or sustain thousands of jobs, and prioritize equity and safety. pic.twitter.com/Ue0qLBmi5k

— Governor Kathy Hochul (@GovKathyHochul) October 4, 2023
Hochul estimated that there are more than 2,000 illegal marijuana stores currently operating in the state, many of which operate with impunity in New York City.
"We had talked about our enforcement against the illegal cannabis shops, and how by the end of the summer, we'd have many more—dozens more—legal places open," the governor said, "and then the lawsuits started."
Frustrations over New York's cannabis program have compounded over recent months, as regulators have worked to stand up a market that prioritizes social equity, awarding conditional licenses to people who've been most impacted by prohibition. The process has been slow, however—and illicit cannabis businesses have proliferated in the interim. Meanwhile, lawsuits have temporarily halted cannabis licensing, further complicating the issue.
Hochul described the legal challenges as coming from "big companies from out of state, you know, greedy corporations that wanted their piece of it before we can make it available to veterans and [minority- and women-owned business enterprises] and focus on a social equity component, which was the intent of the law."
"But today's a breakthrough," the governor continued. "We're going to keep going, and by the end of the year we should be seeing a process that is much smoother than it has been today."
In a press release about the license application, Hochul's office simultaneously touted the results of "continued aggressive enforcement against the illegal sale of cannabis across the state," which has so far seized more than four tons of illicit products. Officials value the seized marijuana at $42 million.
Since we launched our crack down on illegal sales in June, we've seized 8,500 pounds of illicit product — an estimated value of more than $42 million.

We're ramping up that work by bringing multiple levels of government together against those who sell cannabis illegally.

— Governor Kathy Hochul (@GovKathyHochul) October 4, 2023
"We know there's room for improvement as New York works to launch a brand-new cannabis industry and crack down on illicit operators, and I'm committed to working with all stakeholders to get the job done right," the governor said in a statement. "My Administration is laser-focused on shutting down illegal storefronts, protecting the health and safety of children, and helping small businesses thrive. We will continue working to build the most equitable adult-use cannabis industry in the nation that invests in communities and rights the wrongs of the past."
Speaking to NY1, Hochul said her office is "going to continue to empower every entity from the attorney general's office to the sheriff's office and really encourage local police departments to step up and do what they have to do. Let's shut them down. Let's padlock them. We're intent on making this be successful. Ultimately we will."
State Attorney General Letitia James (D) said in a statement that "expanding the number of cannabis licenses while simultaneously taking action against unlicensed sellers is a common sense way to support small businesses and incentivize entrepreneurs to legally enter the marketplace" under the state's legalization law, the Marihuana Regulation and Taxation Act (MRTA).
"By holding unlicensed cannabis sellers accountable," James continued, "my office is helping ensure New York can realize the intended purpose of MRTA, namely to remediate some of the societal harm caused by the so-called war on drugs."
Want to learn more about the application process? Register for upcoming #RoadmaptoAU events:

📍Tue, 10/10 in Harlem: 163 W 125 St, 10027 – https://t.co/77PQJORf0y

📍Thu, 10/12 in Albany: 161 Washington Ave, 12206 – https://t.co/ZZpzCGCdfy pic.twitter.com/eTsVsFWvTS

— NYS Office of Cannabis Management (@nys_cannabis) October 3, 2023
Chris Alexander and Tremaine Wright, who lead the state's Office of Cannabis Management (OCM) and Cannabis Control Board (CCB), respectively, both issued statements echoing Hochul's optimism.
"This is a significant moment for entrepreneurs who have been waiting for an opportunity to join this consequential market," Alexander said. "We're building the biggest and fairest cannabis market in the world, and the opening of a new application window means an expansion of opportunity. New York's market is centered around equity, with the nation's strongest anti-trust protections in place that ensures small operators will forever have a place in our cannabis industry."
Currently the state has issued 270 conditional licenses, 40 conditional processor licenses and 23 conditional adult-use licenses across the state, according to OCM.
Added Wright: "New York State remains steadfast in its efforts to build an equitable, competitive and diverse cannabis industry. Today, the day our general application window opens, marks a huge step forward in making our vision of an equitable and accessible New York cannabis market a reality."
Separately, lawmakers are seeking broad input on challenges facing the legal cannabis industry. Earlier this week, Sen. Jeremy Cooney (D), who chairs the legislature's first-ever cannabis committee, invited members of the public to apply to testify at an upcoming hearing on the matter.
Cooney first announced the marijuana hearing in early September, saying its purpose is to "finally address the many challenges that we have seen with the rollout of adult-use cannabis here in New York."
Regulators are already making moves—some of them controversial—to broaden access to the legal market. Last month the state Cannabis Control Board (CCB) adopted a change to open retail licensing to all applicants, including big businesses from outside the state and existing medical marijuana companies. The change sparked an outcry from social equity applicants, who said it will undercut the state's ambitious plan to prioritize small businesses and companies owned by people most directly impacted by prohibition.
As part of the state's effort to speed consumer access to legal marijuana, regulators also launched a program, known as the Cannabis Growers Showcase (CGS), an initiative of New York's Office of Cannabis Management (OCM) that allows licensed growers and processors to sell directly to consumers.
Regulators voted to approve that program in July and quickly began accepting applications. The first pop-up event kicked off in the Hudson Valley in August, and another was held down the road from this year's state fair.
Late last month, 66 state lawmakers—about a third of the entire state legislature—also wrote to Hochul urging her to sign a bill that would allow licensed marijuana producers to sell products to tribal retailers. The plan would offer a release valve to hundreds of cannabis farmers who are currently sitting on surpluses but have no place to sell their products.
The circumstances have resulted in more than 250,000 pounds of unsold cannabis being held by growers, the letter says. "Farmers who took out loans and leveraged all their assets to cultivate these crops are demoralized and facing financial disaster unless we act quickly to provide them with an alternate market."
Maryland Sells Record Amount Of Adult-Use Marijuana In September As Medical Sales Dip Slightly
Photo courtesy of Chris Wallis // Side Pocket Images.