Missouri Probation Officers Send Patients Back To Prison For Using Legal Medical Marijuana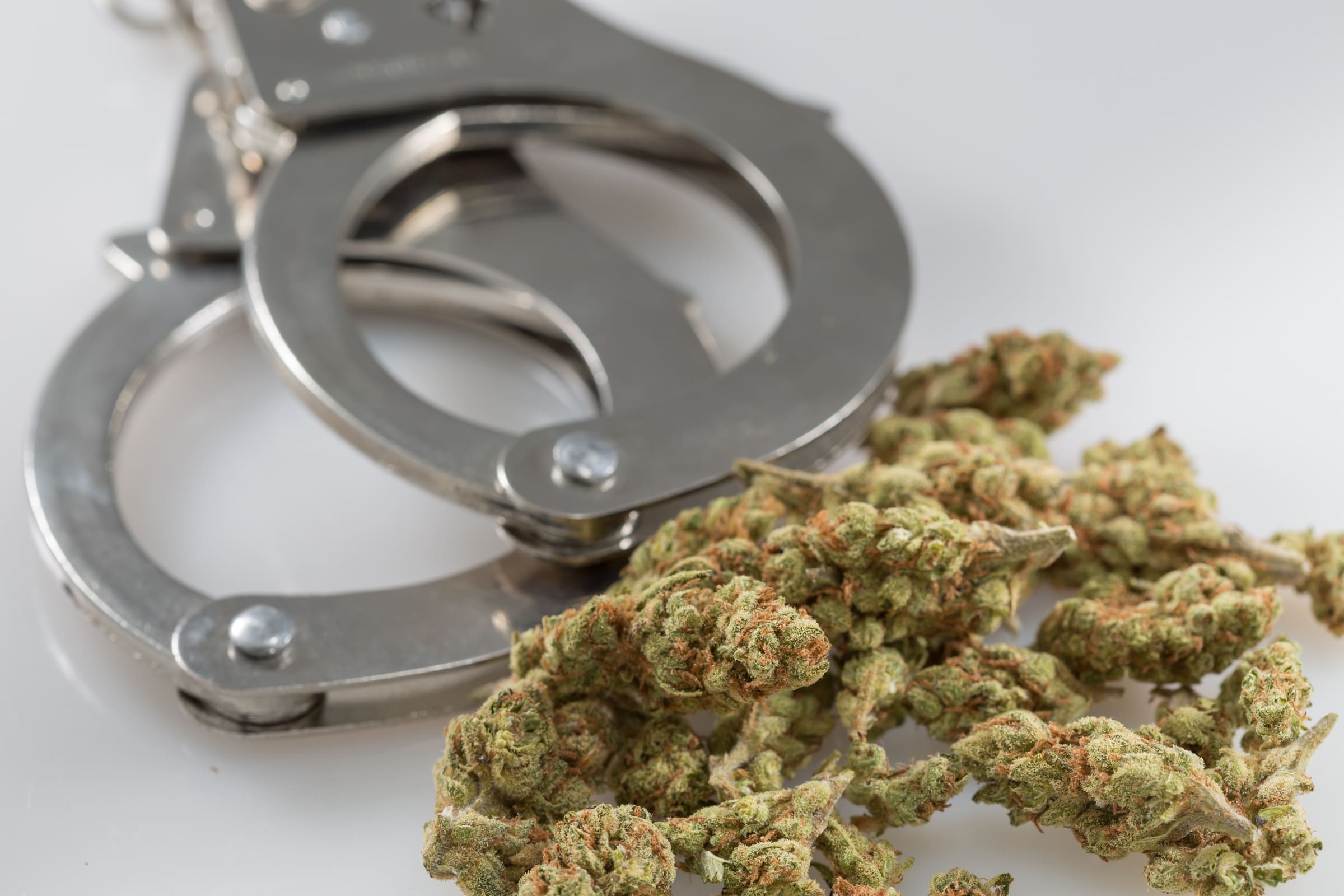 Voters legalized medical cannabis, but some patients are still being incarcerated for it. 
By Niko Vorobyov, Filter
On June 23, 29-year-old Ray Breer walked through the gates of the Western Reception Diagnostic Correctional Center north of Kansas City into the arms of his family.
"My girlfriend, my mom and my son were all waiting for me on the other side of the gate," he told me over Zoom. "We got yelled at by the guards 'cuz we're all stood there, taking pictures…."
There was a lot of catching up to do. He'd missed the birth of his son, having been taken into custody a few weeks before, in February.
And his "crime," which cost him his liberty? He's a registered medical marijuana patient, serving probation for… a marijuana charge. He initially got in trouble with the law for a possession charge back in August 2019, and went to prison for a short spell in 2020 after getting kicked out of drug court for smoking joints. In order to stay safe while on probation, he obtained a medical marijuana card, as is his constitutional right in Missouri.
Yet after a pee test came up positive for THC, that was enough for his probation officer to send him to prison. In court, they told him it's a privilege to be on probation and that in the future, they are most likely not going to offer probation to medical marijuana patients.
Breer was one of many drug-war prisoners in the Show-Me State supported by the Canna Convict Project (CCP), which brought in expert witnesses to try and sway his case.
"Probation and Parole and DOC is not recognizing a patient's ability to medicate while on supervision."
"Our mission is to assist our non-violent Missouri cannabis inmates—POWs, we call them—with their exit from incarceration, and assisting them with their re-entry needs," co-founder Christina Frommer told Filter. "They kind of become family. I create a relationship with all of the POWs, with their families. I buy their children presents. We try and give the whole person care."
CCP is fighting for the rights of the many impacted patients across the state to be allowed to access their medicine. Even though cannabis has widely recognised medical uses, many Missouri law enforcement and probation officers still view it as the devil's narcotic, an assumption being challenged in the courts.
"The probation and parole issue here in Missouri is that PNP [Probation and Parole] and DOC [Department of Corrections] is not recognizing a patient's ability to medicate while on supervision," Frommer said. "Some of the individuals have really cool probation officers or parole officers, and they've been allowed to medicate while they've been on supervision, no problem. And others have gone as far as receiving sanctions and gotten put back in prison."
In November 2018, 65 percent of Missouri voters approved an amendment to the constitution, which states that: "the possession of marijuana … shall not subject the possessor to arrest, criminal or civil liability, or sanctions … provided that the possessor produces on demand to the appropriate authority a valid qualifying patient identification card; a valid qualifying patient cultivation identification card; a valid physician certification while making application for an identification card; or a valid primary caregiver identification card."
Breer had such a card, on account of his mental health condition and bipolar II disorder. It didn't help.
It isn't just those already in the justice system who get in trouble, either. In November 2019, 48-year-old Jamie Wilson was pulled over with his grandson by a Highway Patrol trooper while driving through Daviess County. The officer found 8 ounces of weed in his truck, which was within the limits he was allowed as a card-carrying marijuana patient. But Wilson was arrested for possession and child endangerment. The charges were later dropped, but it goes to show the drug-war mentality that persists in the state.
A Legal Battle Brewing
Canna Convict has identified many more cases of Missourians being locked up for their lawful medication, including those convicted on all sorts of non-drug charges. It is now taking the Missouri authorities to court with the help of lawyer Timothy Intessimone (the case is not being filed on behalf of Breer or Wilson, but another one of Intessimone's clients).
"My involvement with CCP was after I met Christina and seeing the work her, Joani [Harshman]and Chris [Smith] were doing," Intessimone told Filter. "I was highly impressed with the dedication and devotion to criminal justice reform, so my office really meshed with the groove of the project."
Intessimone said his work is motivated by a desire to give back to others, especially those from poorer communities disproportionately impacted by criminalization.
"Civil rights is kind of my wheelhouse … and what the law's impact is on people that cannot afford attorneys," he said. "I grew up very, very low-income–roach-infested house, mom working multiple jobs to get her associate's degree for a better life. The same people that are disproportionately affected … are the same people that may not have a voice to stand up and fight."
In the United States, marijuana currently lies in a kind of legal purgatory, between a confusing array of state laws, some fully legalized and others less so, and federal law, which remains staunchly prohibitionist. Taking it across state lines remains a federal crime, even if you're unlikely to run into a DEA checkpoint in the Lincoln Tunnel.
The argument Intessimone will bring before the court is that of states' rights: If the issue is one of federal law, how are the wishes of Missourians being taken into account?
"Without a doubt, every state that has a medical [marijuana] program had to deal with this in one way or another," he explained. "And it's like anything else: You go to Nevada, you can go to a brothel, it's been voted on by the people in Nevada. Why is the federal court getting involved in what the people in Missouri, or Nevada, or Colorado want to do? We're dealing with a new, multi-billion dollar industry, and we're at a point where the federal government says, 'yeah, you can do it, and we're not going to come in and stop you from doing it.' But at the same time, they're saying, 'well, you can't do it.'"
"We're asking the court to decide and clarify whether he [the client] can lawfully use medical marijuana, with a valid Missouri medical card, while on probation," he continued. "However, that's not what the case is really about. The case is more about the Missouri Constitution. It is about whether a state agency, acting under state law, under the state constitution, can punish someone while the amendment plainly states that they cannot be criminally punished under the state constitution."
Marijuana is still classed as a Schedule I controlled substance by the DEA, with "no currently accepted medical use," even though it's known to be efficient in treating conditions including multiple sclerosis and for pain relief. The official stance of the Missouri authorities—when it comes to probation—seems to be in line with the feds.
"The terms of probation and parole vary from person to person," Karen Pojmann, communications director for the Missouri Department of Corrections, told Filter in an email. "These terms don't always align with the rights and behaviors exercised by people who have not been convicted of a felony. For example, in Missouri it's legal for adults to own firearms, consume alcohol, or interact with children. However, someone on probation or parole might be prohibited from doing one or all of these things as part of their conditions. Generally speaking, use of cannabis is prohibited, regardless of whether the person has a medical marijuana card."
This suggests that cannabis is still seen as a vice that those unlucky enough to fall into the state's clutches must avoid in order to become law-abiding citizens, rather than a medicine (which it is, according to state law).
The next hearing of the case is set for August 23.
Ray Breer, meanwhile, is still on probation. He's trying to find work and spending more time with his son.
"He sleeps for a bit then he's up, and he's crying, but I still love it," he said. "I've had him almost every day. We went to the pool. I'm being a new father and I'm loving it."
This article was originally published by Filter, an online magazine covering drug use, drug policy and human rights through a harm reduction lens. Follow Filter on Facebook or Twitter, or sign up for its newsletter.
Kansas City Mayor Files Ordinance To Ban Pre-Employment Marijuana Testing For Most City Workers