Merkel May Agree To Legalize Marijuana In Germany Under Coalition Deal
Members of a potential German coalition government, including the party of Chancellor Angela Merkel, are nearing agreement on a deal to legalize marijuana, reports indicate.
Merkel's Christian Democratic Union and its ally the Christian Social Union together got the most votes in September's election, but they also lost seats and don't have a clear majority. That means they need the support of other parties to govern.
The conservative alliance is now in talks with Free Democrats and Greens to form a governing agreement and, as part of those negotiations, are nearing completion of a deal to legalize marijuana and have it legally distributed through pharmacies, the German newspaper Stuttgarter-Zeitung is reporting.
Members of the so-called "Jamaica coalition" (because the colors of the involved parties are reminiscent of those on the Caribbean nation's flag) are expected to formalize a marijuana policy agreement toward the tail end of the talks, after other issues are settled.
"We are ready to do that," Fritz Becker, Chairman of the German Pharmacists Association, said of distributing marijuana through pharmacies.
The regulated storefronts would provide "advice on risks and side effects, good customer service and ensure clean goods," he said.
Other issues at play in the potential German coalition government agreement include immigration and climate policy, Reuters reported.
If the negotiations result in a formal agreement to legalize marijuana, Germany would become the second country in a matter of weeks where an interparty governing deal forced a move toward ending cannabis prohibition.
Last week, a minority coalition government agreement in New Zealand led to new Prime Minister Jacinda Ardern pledging to hold a nationwide marijuana legalization referendum by 2020.
Former Republican A.G. Warns Sessions Against Marijuana Crackdown
Current U.S. Attorney General Jeff Sessions would be wrong to crack down on state marijuana laws, one of his Republican predecessors says.
"To prosecute an act that is otherwise lawful under state law, one could make the argument [that] as a matter of policy, we've got other priorities we ought to be spending our resources on," Alberto Gonzales, who served as attorney general during President George W. Bush's administration, said in an interview with Newsweek.
"With respect to everything else going on in the U.S., this is pretty low priority," he added.
And what's more, cracking down on seriously ill people who rely on medical cannabis and their providers who are following state laws would look bad, Gonzales warned his successor.
"The optics just aren't very good, quite frankly," he said.
As a U.S. senator, Sessions was long one of Congress's most vocal opponents of legalization, saying last year that "good people don't smoke marijuana."
But while deploying threatening and concerning comments about cannabis policy from time to time as attorney general, he hasn't moved to rescind Obama-era guidance that generally allows states to implement their own marijuana laws without federal interference. At least not yet.
Last week, at a House hearing, Sessions testified that the previous administration's approach remains in effect for now.
Gonzales, in the Newsweek interview, said that Sessions would probably clear any big cannabis moves with the White House first.
"What people often fail to understand or appreciate, is that the attorney general works for the president," he said. "While the attorney general has a great deal of say about law enforcement policy, so does the White House. When Jeff Sessions makes something, he responds to the White House."
On the campaign trail, President Trump repeatedly pledged to respect state marijuana laws, going so far as to say he personally knows people who benefit from medical cannabis.
Despite Gonzales's apparent supporting for letting states enact their own marijuana polices today, his Justice Department argued before the U.S. Supreme Court in 2004 that it had the right to punish medical cannabis patients who were following local policies.
Top GOP Senator's Bill Lets DC Legalize Marijuana Sales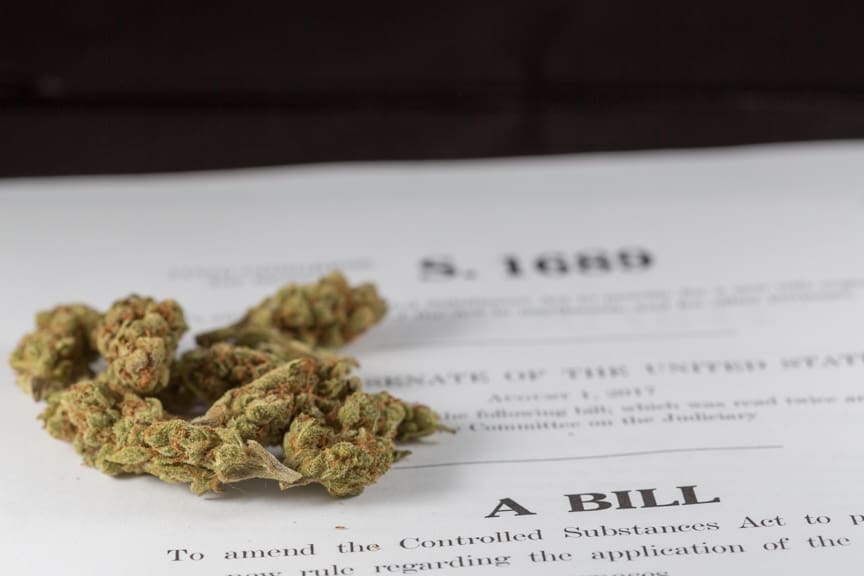 Washington, D.C. would finally be allowed to legalize marijuana sales under a new bill authored by a powerful Republican senator.
Voters in the nation's capital approved a ballot initiative that legalized cannabis possession and home cultivation in 2014. But under a current annual budget rider, the city is not allowed to spend its own money setting up a legal regulatory system for marijuana sales. As such, the city can't earn tax revenue on recreational marijuana like Colorado and seven other states that have ended prohibition are.
That would change under legislation released on Monday by Sen. Thad Cochran (R-MS), chairman of the powerful Appropriations Committee.
The new bill, which funds various federal agencies and concerns appropriations covering the District of Columbia government, is totally silent on the matter of D.C. marijuana sales. That means that if its language is enacted as part of a Fiscal Year 2018 spending agreement, the ban in current law will disappear.
But, unfortunately for marijuana legalization advocates, it's not that easy. The version of 2018 spending legislation approved by the House in September not only continues the current ban but actually broadens its language to close a potential loophole that advocates had urged D.C. officials to pursue in order to fund regulation of legal cannabis sales.
As a result, if the language in the new bill released by Cochran on Monday is approved by the Senate, the differences will need to be reconciled by a conference committee made up of a handful of members from either chamber. And at that stage, behind closed doors, anything could happen.
In 2015, Cochran made a similar move by excluding the D.C marijuana sales ban language in a chairman's mark. But the House-passed ban was included in that year's version of final spending legislation anyway.
New Sessions Memo: Does It Impact Marijuana?
Cannabis industry insiders are wondering how a new memo issued late last week by U.S. Attorney General Jeff Sessions could impact marijuana enforcement.
Under an Obama-era directive to federal prosecutors that Sessions himself recently said remains in effect, states can generally implement their own cannabis law without much federal interference, as long as they abide by certain guidelines set out by the Department of Justice.
But in a new document released on Friday, Sessions is asking Associate Attorney General Rachel Brand to review existing department guidance that "effectively bind[s] private parties without undergoing the rulemaking process."
It's unclear whether the new move puts the so-called "Cole memo" (named for the then-deputy U.S. attorney general who authored it in 2013) at risk.
"Guidance documents can be used to explain existing law," Brand said in a press release issued along with Sessions's new memo. "But they should not be used to change the law or to impose new standards to determine compliance with the law… This Department of Justice will not use guidance documents to circumvent the rulemaking process, and we will proactively work to rescind existing guidance documents that go too far."
Could that apply to the Cole memo, which some critics have viewed as an inappropriate unilateral workaround of federal prohibition without actually changing federal law?
On the one hand, the new Sessions directive seems mostly aimed at preventing federal agencies from issuing memos that directly tell entities outside the government what to do, rather than internal guidance about how Justice Department personnel should enforce the law.
The new memo "does not address documents informing the public of the Department's enforcement priorities or factors the Department considers in exercising its prosecutorial discretion," Sessions writes. "Nor does it address internal directives, memoranda, or training materials for Department personnel directing them on how to carry out their duties…"
But the wording of a few provisions of Sessions's new directive seems to leave its potential effects for the Cole memo within reach.
"To the extent guidance documents set out voluntary standards (e.g., recommended practices), they should clearly state that compliance with those standards is voluntary and that noncompliance will not, in itself, result in any enforcement action," one of its bullet points reads.
The Cole memo says states that don't effectively prevent impaired driving, youth access to cannabis or interstate diversion of marijuana, among other criteria, are at risk of federal interference.
While the directive was addressed to federal prosecutors, its language sends a clear warning to local officials that they'd better follow the letter of the memo lest they be invited to federal court by the Department of Justice.
"The Department's guidance in this memorandum rests on its expectation that states and local governments that have enacted laws authorizing marijuana-related conduct will implement strong and effective regulatory and enforcement systems," it read.
"Jurisdictions that have implemented systems that provide for regulation of marijuana activity must provide the necessary resources and demonstrate the willingness to enforce their law and regulations in a manner that ensures they do not undermine federal enforcement priorities," Cole warned. "If state enforcement efforts are not sufficiently robust to protect against the harms set forth above, the federal government may seek to challenge the regulatory structure itself in addition to continuing to bring individual enforcement actions, including criminal prosecutions, focused on those harms."
That passage could also implicate two other bullet points in Sessions's new directive.
"Guidance documents should not be used for the purpose of coercing persons or entities outside the federal government into taking any action or refraining from taking any action beyond what is required by the terms of the applicable statute or regulation."
"Guidance documents should not use mandatory language such as 'shall,' 'must,'
'required,' or 'requirement' to direct parties outside the federal government to take or
refrain from taking action, except when restating—with citations to statutes, regulations,
or binding judicial precedent—clear mandates contained in a statute or regulation."
There is nothing in the Controlled Substances Act or any other federal law that requires states to enact or spend resources to enforce bans on cannabis use or distribution.
The Drug Enforcement Administration remains free to go after people for violating federal marijuana prohibition regardless of state law, but federal authorities cannot force local officials to assist them in those actions.
But an argument could be made that the not-strictly-binding Cole memo effectively "coerces" them into doing so by making federal cannabis actions contingent on local officials' efforts to cut down on certain federal enforcement priority areas.
It is unclear if Sessions intends for the new memo to flag the Obama-era marijuana policy, but that could be one implication of a process that will not take place outside of his office.
"I direct the Associate Attorney General, as Chair of the Department's Regulatory Reform Task Force, to work with components to identify existing guidance documents that should be repealed, replaced, or modified in light of these principles," Sessions writes in the new document.
Of course, as attorney general, Sessions could rescind the Cole memo himself at any time, or direct a subordinate to replace it with a new policy. He doesn't need the new review process created by Friday's document to justify its deletion.
But by directing Brand to lead a review of existing guidance, Sessions could put a layer of political insulation between himself and an eventual flagging and rescinding of Obama-era cannabis enforcement policy that remains popular among voters and lawmakers of both parties.
Last week, Sessions testified at a House hearing that the Trump administration's cannabis policy "is the same, really, fundamentally as the Holder-Lynch policy, which is that the federal law remains in effect and a state can legalize marijuana for its law enforcement purposes but it still remains illegal with regard to federal purposes."
On the campaign trail, then-candidate Donald Trump repeatedly pledged to respect state marijuana laws.
But in April, Sessions directed a Justice Department task force to review the Obama administration memo and make recommendations for possible changes.
However, that panel did not provide Sessions with any ammunition to support a crackdown on states, according to the Associated Press, which reviewed excerpts of the task force's report to the attorney general.
It remains to be seen whether the Cole memo will be flagged during the new review.