John Boehner Is Now Selling Marijuana Stock Tips
John Boehner, who just a few years ago was two heartbeats away from becoming president of the United States, is now "all in on the cannabis industry," which he promises can "quite possibly" be worth as much as "$1 trillion" in the near future.
And the Republican former speaker of the House of Representatives wants you to join him on this gravy train. All you need to do is buy the very exclusive stock tips that Boehner is now selling.
Marijuana stocks have been in a free fall over the past few days, with formerly blue-chip Canadian companies—which saw their shares swell in value in the run up to nationwide legalization so quickly it caught the eye of Mad Money's Jim Cramer—suffering double-digit losses as amateur investors lose their nerve.
If Boehner shares their concern, he did not show it on Tuesday, when the erstwhile anti-marijuana lawmaker provided the star power for the launch of the National Institute of Cannabis Investors.
"This is the time," Boehner solemnly said, "to go all in on cannabis."
Boehner made waves earlier this year when he joined the board of advisors of Acreage Holdings, a New York City-based firm that says it runs medical marijuana dispensary and cultivation operations in 13 states. The company is now preparing to go public via a reverse takeover, plus plenty of internet hype.
That will presumably be very good news for John Boehner. In the meantime, the former speaker says he has other extremely good marijuana stock-related news to share with you—provided you pony up an untold sum of money for membership in the cannabis investors' network.
Exactly which companies Boehner suggests you invest in in order to build "the kind of wealth that lasts for generations," he did not say during Tuesday's nearly hourlong "American Cannabis Summit," an extended infomercial for the investors' network, though he and his co-presenters—veteran stock-tip salesman Mike Ward and Danny Brody, who helped take public a Canadian marijuana company that recorded $0 in sales in fiscal year 2018 and had zero kilograms of product in their inventory as of July, according to Seeking Alpha—did drop some clues.
One company manufactures the plastic containers in which retail marijuana is packaged. Another makes legal CBD oil—because, as Boehner said, he'd "think twice" before offering someone medical cannabis with more than 0.15 percent THC. Yet another could "help end our devastating opioid epidemic," Tuesday's presentation promised.
One of these companies could be "38 times bigger than GW Pharmaceuticals," the UK drug manufacturer with an FDA-approved cannabis-derived epilepsy medication. That's a bold claim, but such is Boehner's confidence. (It's also backed by "not one, but two 100 percent money-back guarantees," Ward said. So there is that.)
Other highlights from Tuesday's tease:
There is "nobody in cannabis more connected in Washington" than Boehner, whose post-retirement preparation for the cannabis industry involved playing lots of golf, smoking cigarettes and ripping in-power Republicans, including the president.
Boehner knows exactly how President Donald Trump feels about marijuana legalization but won't say, because "if I tell you about our private conversations, I won't have any more of them."
He does feel that federal legalization could happen within the next five years. "It's not a matter of if, but a matter of when," he said.
Because when has John Boehner ever been wrong about anything?
Former GOP House Speaker Backs Marijuana Descheduling, Joins Cannabiz
Photo courtesy of Gage Skidmore.
Trump Treasury Official Wants Congress To Fix Marijuana Businesses' Banking Issues
Congress needs to come up with a solution for banking access by the marijuana industry, a top federal Treasury Department official said on Wednesday. And he hopes that will happen by 2020, if not sooner.
Joseph Otting, the comptroller of the currency, told reporters that lawmakers "have to act at the national level to legalize marijuana if they want those entities involved in that business to utilize the U.S. banking system," according to PoliticoPro.
Comptroller of Currency Joseph Otting hopes for resolution to marijuana banking issues by 2020. Via @vtg2: https://t.co/G8drwnvAvM

— POLITICO Pro (@POLITICOPro) January 16, 2019
Cannabis businesses acting in compliance with state law face uncertainty when dealing with federally regulated financial institutions. And banks potentially risk being penalized for servicing those businesses, leading many to avoid the industry altogether.
That said, a steadily growing number of banks are operating accounts for cannabis companies anyway, federal data shows.
"If I'm a betting person, I'm like 25-30 percent maybe next year, but I would hope by 2020 we can get this issue resolved," said Otting, who was also recently assigned to double duty as acting director of the Federal Housing Finance Agency.
He previously called the existing situation "generally not healthy," echoing comments made by Federal Reserve Chairman Jerome Powell, who said "it would be great if [the banking issue] could be clarified."
Similarly, Treasury Secretary Steven Mnuchin has described the banking conflict as untenable. He said last year that his department was "reviewing the existing guidance," referring to a 2014 Obama-era policy memo meant to provide direction for banks on how to service marijuana businesses.
"We do want to find a solution to make sure that businesses that have large access to cash have a way to get them into a depository institution for it to be safe," he said.
More Banks Welcome Marijuana Business Accounts, New Federal Report Shows
Sen. Chuck Schumer Welcomes Major Cannabis Company To New York's Hemp Industry
Canadian marijuana giant Canopy Growth Corporation will enter the nascent U.S. hemp industry by building a massive farming and production center in southern New York, U.S. Senate Minority Leader Chuck Schumer (D-NY) announced on Monday.
Canopy has yet to finalize its plans for an exact location—a contract could be signed as soon as Monday, Schumer said—but the company could eventually support "up to 400 jobs" in hemp cultivation, processing and product manufacturing at what would be a "first of its kind" center for the just-legalized U.S. hemp industry, the senator said.
Once a key American crop—George Washington famously grew hemp at Mount Vernon, and there was a stand of hemp plants in northern Virginia where the Pentagon now stands—the U.S. now lags far behind other countries in hemp production, a result of the country's broad outlawing of cannabis decades ago.
Eventually, Canopy plans to invest "between $100-$150 million" into a New York State-based industrial hemp farm, Schumer said, with other companies potentially drawn to the sector by such a prominent anchor business.
"Hemp is a very valuable product and a burgeoning crop here" in southern New York, said Schumer, offering a very brief remedial education in the plant for those present at a press conference he convened. "I'm not kidding when I say this, but hemp is everywhere."
"This is going to be a major shot in the arm" for the area, he added.
"Hemp" is more of a legal than a botanical distinction. Under U.S. law, cannabis sativa with 0.3 percent or more THC is considered "marijuana" and falls under federal drug-control laws. Cannabis with less than 0.3 percent THC is considered industrial hemp.
Hemp has been legal to import and process, but until very recently, hemp cultivation was mostly illegal in the U.S.
That prohibition that ended when President Donald Trump signed the 2018 Farm Bill into law last month. The previous 2014 version of the Farm Bill created a pilot program for states that wished to legalize small-scale hemp cultivation as part of research programs.
Based on that success and on growing support for an end to cannabis prohibition nationwide, the 2018 Farm Bill legalized cultivation of hemp outright. Almost immediately, politicians began touting the crop's potential as a miracle product and an economic boon with enthusiasm once reserved only for acolytes of hemp evangelist Jack Herer.
Senate Majority Leader Mitch McConnell, who championed the hemp legalization provisions, signed off on the final version of the Farm Bill with a hemp pen—but for now, Schumer, his Democratic counterpart, may have stolen the top Republican's fire.
"I've always believed that states should be the laboratories of democracy," he said. "I've been very eager to have the hemp industry grow in New York and the Southern Tier."
Photo courtesy of Senate Democrats.
Alcohol Sales Aren't Impacted By Marijuana Legalization, Trade Association Finds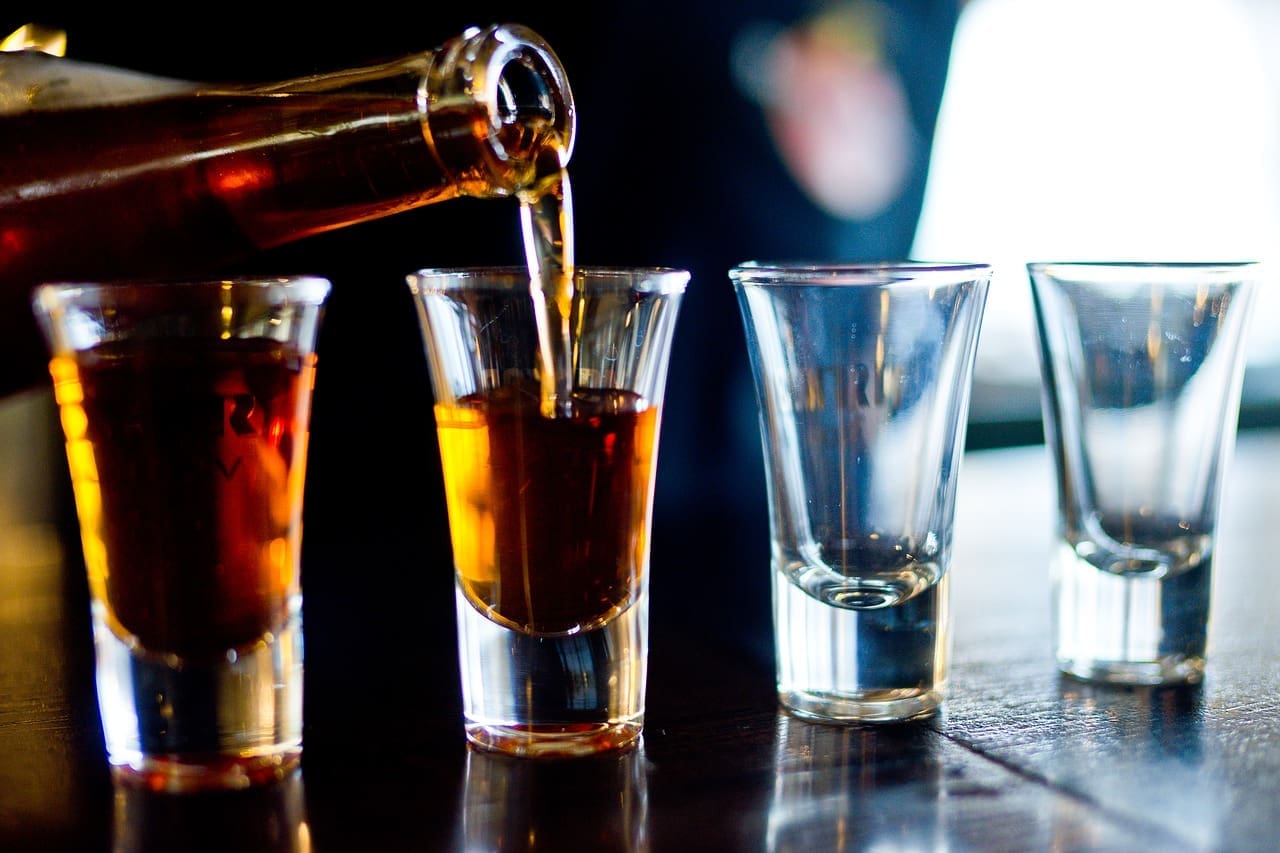 Marijuana legalization hasn't hurt alcohol sales in the years since legal markets were established in Colorado, Washington State and Oregon, according to a new study from an alcohol trade association.
The Distilled Spirits Council looked at alcohol tax and shipment data before and after legalization to determine whether cannabis reform impacted sales of spirits, beer or wine in legal states.
"Simply put, the data show there has been no impact on spirits sales from recreational marijuana legalization," the council's chief economist, David Ozgo, said in a press release on Thursday.
"We now have four years of retail recreational marijuana sales history in Colorado and Washington state, and three years in Oregon, and each of these markets remain robust for spirits sales," he said. "We did this study because there is a lot of misinformation circulating about the impact of recreational marijuana legalization on distilled spirits and the wider alcohol market."
Per capita spirits sales actually increased slightly in post-legalization years, which was consistent with national trends. Sales were up 7.6 percent in Colorado, 5.4 percent in Washington and 3.6 percent in Oregon.
The trade association also analyzed beer and wine sales during the same period. For beer, sales were down marginally, with drops of 3.6 percent in Colorado, 2.3 percent in Washington and 3.6 in Oregon. But again, that's consistent with national trends, according to the study.
Wine sales were mixed across the three states: Up 3.2 percent in Colorado, down 3.1 percent in Washington and up .7 percent in Oregon.
The Distilled Spirits Council also used their analysis as an opportunity to plug their policy recommendations to lawmakers in states considering marijuana legalization. While the association has declined to take a position on whether to legalize, it shared a list of recommendations ranging from equitable taxes on cannabis and alcohol to THC content disclosure requirements.
There is at least one major alcohol group that is willing to support states' right to legalize, though. The Wine & Spirits Wholesalers of America (WSWA) called for the end of federal marijuana prohibition last year and, in December, went so far as to host a briefing on cannabis policy for lawmakers and congressional staffers.
Reform advocates have questioned whether legal access to marijuana would adversely impact alcohol sales, with more people opting to consume cannabis over booze. There is some research that indicates the alcohol industry is being interrupted in medical marijuana states, but more data is needed.
Marijuana Is Safer Than Alcohol, Tobacco Or Sugar, Americans Say In New Poll
Photo courtesy of Pixabay.