Here's What The Midterm Congressional Election Results Could Mean For Federal Marijuana Reform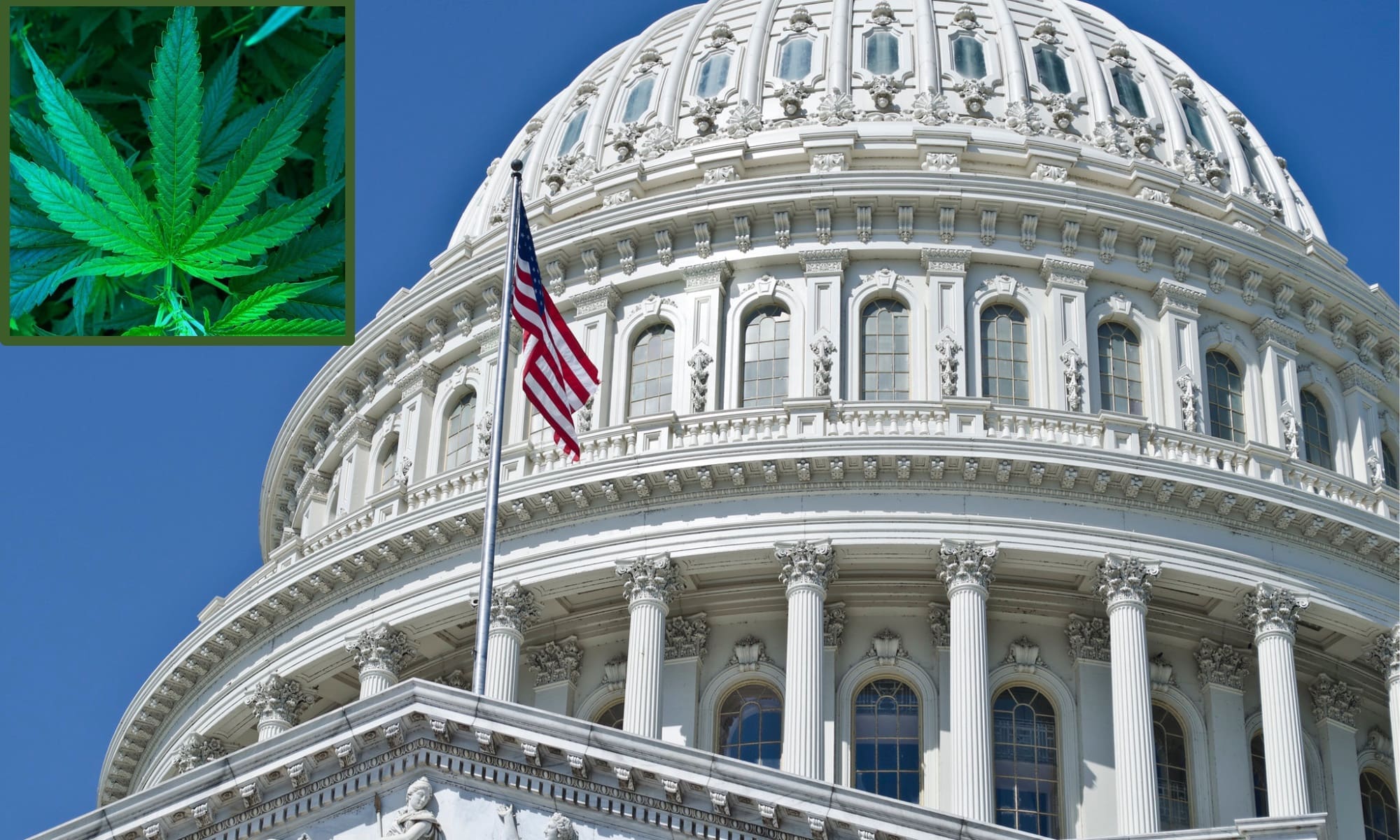 The composition of the 118th Congress is still be figured out as votes continue to be counted in key races following Tuesday's midterm elections—but no matter how it ultimately shakes out, there will be significant implications for federal marijuana reform efforts.
If the goal is to advance comprehensive cannabis legalization, the political forecast doesn't appear especially positive, as it seems unlikely that Democrats—who have generally led on the issue—will retain or expand their majorities in both the House of Representatives and Senate. But advocates say that alternative outcomes wouldn't necessarily spell doom for marijuana reform in 2023.
The current expectation of many analysts is that Republicans will take control of the House—with some saying that it's just a question of by what margin they do so. The situation in the Senate is less certain, especially with a seat in Georgia heading to a runoff next month after none of the candidates received more than 50 percent of the vote.
With most Senate races already called at this point, Democrats need to win two more seats out of a remaining three to secure at least 50 that will give them an effective majority with the vice president serving as the tie breaker.
In Nevada, incumbent Sen. Catherine Cortez Masto (D-NV) is currently trailing behind her GOP opponent, but that gap is expected to close as votes continue to come in from Clark County, which includes Las Vegas. In Arizona, Sen. Mark Kelly (D-AZ) is currently leading in the count, but the race has been characterized as too early to call.
All of this is to say that there's a lot of dust still in the air that needs to settle before definitive predictions about legislative implications in the 118th Congress can be made. But advocates have thought through each of the possible scenarios, so here's what people can expect for cannabis under each outcome:
Republicans take the House, Democrats keep the Senate
This is considered by many to be the most likely reality. And while it might be less ideal for advocates compared to a situation where Democrats keep or expand their majorities, there would still a range of legislative possibilities for cannabis reform, including (most optimistically) descheduling.
It's important to keep in mind that "the Senate usually sets the tone for the Congress in general," Justin Strekal, founder of the BOWL PAC, told Marijuana Moment.
And because key players like Senate Majority Leader Chuck Schumer (D-NY) and Senate Finance Committee Chairman Ron Wyden (D-OR) are "both very dedicated to this issue, they have pretty good leverage over the House if they want to bring them to the table on the issue," Strekal said.
(Disclosure: Strekal supports Marijuana Moment's work through a monthly pledge on Patreon.)
Senate Democratic leadership might not be able to force a Republican-controlled House to take up something like their comprehensive legalization bill, the Cannabis Administration and Opportunity Act (CAOA)—even if they were to pass it in their own chamber, something they have not yet accomplished. Only three House Republicans joined Democrats in approving a separate legalization measure in April, with even some pro-reform GOP members balking at some key provisions of the Marijuana Opportunity, Reinvestment and Expungement (MORE) Act.
However, short of broad legalization, lawmakers on both sides of the aisle have shown interest in advancing more incremental reform such as marijuana banking legislation. The Secure and Fair Enforcement (SAFE) Banking Act has passed the House in some form seven times now, with sizable bipartisan support.
Advocates certainly would like to see far bolder reform advance. Some activist factions, as well as certain lawmakers, have actively opposed moving the standalone banking bill given its general lack of focus on providing relief and support to communities that have been disproportionately impacted by the war on drugs.
But at the same time, Congress has so far failed to pass the type of comprehensive reform that advocates have pushed for, even with Democratic majorities in both chambers. The Senate has all but given up on CAOA this session, given the steep 60-vote threshold that would be required for enactment.
That might put pressure on the advocacy community to accept an incremental win with a Republican House majority.
Not everyone is resigned to the idea that only incremental reform would be achievable under that scenario, however.
"I don't see it being impossible to get even comprehensive reform across or through the House if it's controlled by Republicans," Morgan Fox, political director of NORML, told Marijuana Moment. "I think that if that were to happen, then the Senate would be a somewhat easier lift."
Meanwhile, the election results could also have a more immediate impact as lawmakers work to finalize a package of modest marijuana proposals that they hope to introduce and pass during the lame duck session before the start of the new Congress in January. Schumer has been spearheading that effort for what's colloquially known as SAFE Plus, because it's expected to including cannabis banking as well as other bipartisan measures on expungements and research.
The bill isn't expected to contain language to federally deschedule marijuana, but it's being crafted in a way that gives lawmakers from diverging views on the issue something to support.
Fox said that a Republican House/Democratic Senate situation "actually does provide a little bit more urgency for incremental measures in lame duck."
If Republicans take the House, it's reasonable to assume that leadership during the next session would still find itself being pressured on both sides to move on some form of marijuana reform, especially with vocal GOP advocates like Congressional Cannabis Caucus co-chairs Reps. Dave Joyce (R-OH) and Brian Mast (R-FL), as well as Rep. Nancy Mace (R-SC), who is sponsoring a broad legalization bill, the States Reform Act (SRA).
Joyce also has a bill to federally deschedule cannabis—without the specific equity and restorative justice components of Democratic-led measures—that could receive bipartisan buy-in.
A House Oversight subcommittee that Mace serves on as the GOP ranking member is scheduled to hold a meeting on federal and state marijuana reform developments next week, which could offer insights into the current, post-election Republican thinking on the issue.
So, at a top level, the general momentum for reform, the role of the Senate, the bipartisan House vote records on modest legislation and the potential influence of GOP House allies all signal that cannabis policy changes would continue to be pursued in this first scenario.
Still, a major question surrounds the willingness of Republican House leaders, who have not championed cannabis reform, to clear the way for bills from more supportive members of their caucus to advance to the floor to potentially then be sent over to a Democratic-controlled Senate.
—
Marijuana Moment is tracking more than 1,500 cannabis, psychedelics and drug policy bills in state legislatures and Congress this year. Patreon supporters pledging at least $25/month get access to our interactive maps, charts and hearing calendar so they don't miss any developments.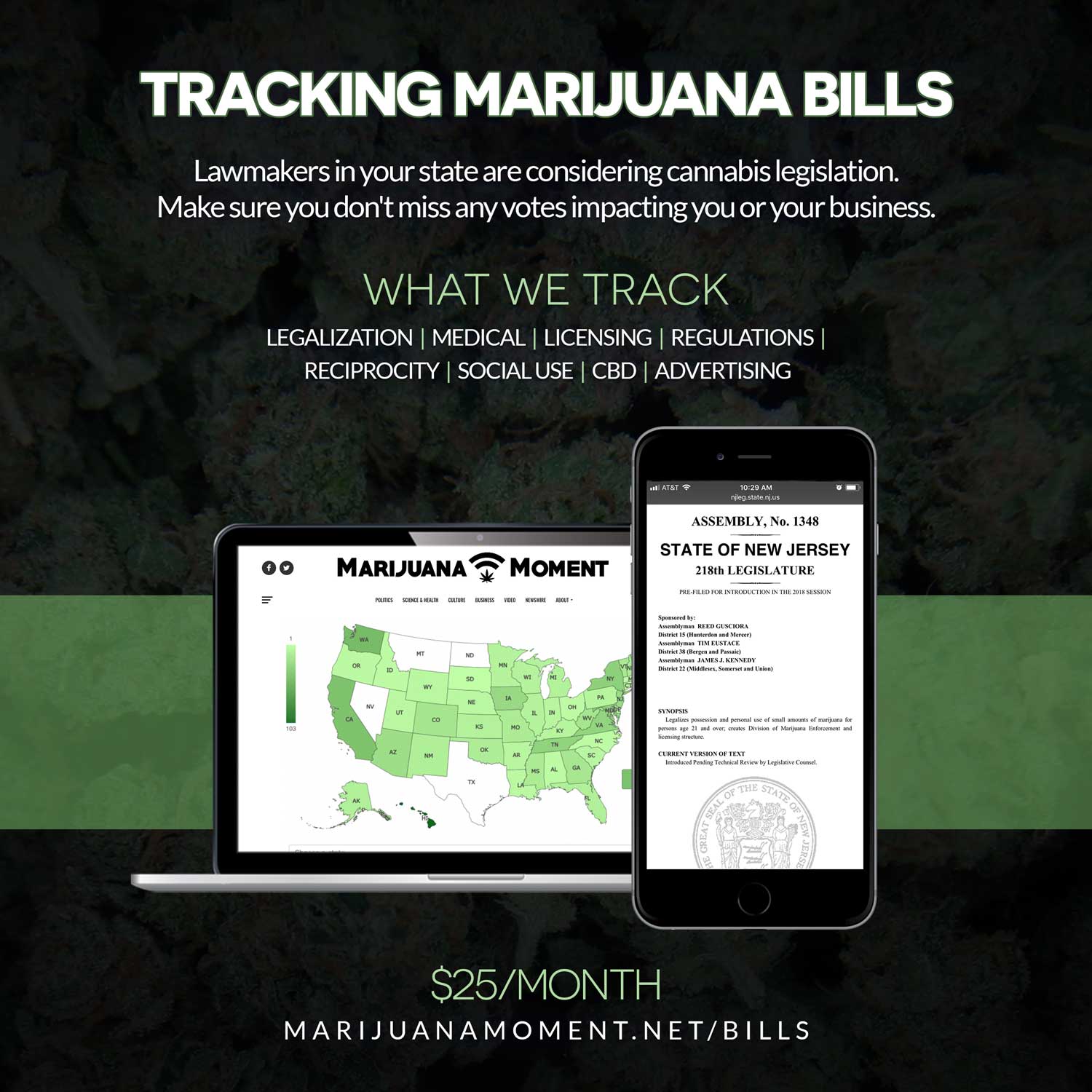 Learn more about our marijuana bill tracker and become a supporter on Patreon to get access.
—
Republicans take the House and Senate
In this case, the political dynamics decidedly do not favor advocates. And the chief problem is that Republican control of the Senate would likely put Minority Leader Mitch McConnell (R-KY) back at the helm of the congressional agenda.
McConnell might have played a critical role in federally legalizing hemp under the 2018 Farm Bill, but he's made abundantly clear that he's opposed to marijuana legalization and uninterested in taking on even more incremental reforms such as SAFE Banking. He would decide what bills go to the floor.
"It is incredibly difficult to see how we would address the underlying prohibition under a Republican Congress, especially if they take over both chambers," Strekal said.
"I think that there could be a pathway forward on something thoughtful and more robust" with Democrats keeping the Senate and Republicans taking the House, he said. "But Mitch McConnell loves prohibition—and it doesn't matter what committee chair is what, Mitch McConnell runs on the floor time in the Senate."
Strekal said that he's "heard some people in the industry claim that there's possible willingness" to advance cannabis banking reform even with a GOP Senate, but he has his doubts.
Fox, for his part, agreed that he thinks "the whole issue gets deprioritized significantly" if Republicans take both chambers.
However, he pointed out that there's been some speculation from political analysts that the party might see "an opportunity to steal the issue away from Democrats and begin passing at least incremental reforms like banking and research and veterans access and things like that."
And while the prospects would be seriously slim with McConnell as majority leader, Fox said it's not impossible to envision a scenario where GOP members move on simple descheduling or states rights-focused reform proposals.
That said, "I think we could probably not expect to see as much retroactive amnesty or social justice provisions in any Republican-led descheduling legislation," he added.
Asked whether he could see a scenario where a GOP-controlled Congress would advance something like Mace's SRA that does contain some equity language, Fox said the legislation "represents a raising of the floor for how far Republicans are willing to go on this issue," but "I think that it might go a bridge too far for some people."
Republicans taking both chambers would certainly add impetus to the current efforts to move SAFE Plus in the lame duck, with Democrats aware of the possibility that the window for any major policy changes could close for the foreseeable future. But it's not entirely clear how it might affect negotiations for the final product, as GOP members might feel empowered to either dilute the legislation or add more conservative provisions that could generate advocacy pushback. Under most scenarios, any reform bill would still require 60 votes—i.e. all Democrats and 10 Republicans—to advance to the president's desk.
Overall, the idea is that marijuana reform might not exactly be dead in the water under full Republican control—but the expectation is that the issue would be deprioritized, with the pool of achievable legislation drying up demonstrably.
Democrats keep the House and Senate
Of course, this is the current dynamic and has been for the past two years. So far, some language on streamlining marijuana research was included in a large-scale infrastructure bill that President Joe Biden signed into law—but meaningful action on all of the major reforms have been resigned to the House side.
That said, this would still likely be the best case scenario for advocates, allowing leadership in both chambers to continue to refine and advance cannabis legislation while building bipartisan consensus.
The challenge of passing comprehensive legalization would remain, as the 60-vote Senate threshold would continue to pose an obstacle unless Congress eliminates the filibuster. But it would buy Democrats critical time to find a path forward in the next session.
There's also a possibility that having Democrats keep control would help in efforts to pass SAFE Plus during the lame duck, giving GOP members more reason to engage in negotiations and try to steer the legislation in a mutually acceptable fashion.
But Democratic majorities would at the very least mean that the party would continue to set the agenda on the floor and in committee—and at a time when the president has given more attention to the issue, touting his recent mass pardons and directive for an administrative review of federal marijuana scheduling.
If Democrats had significantly expanded their majorities during the election and somehow managed to secure enough Senate seats to meet the 60-vote threshold, the analysis would be significantly different.
It should also be noted that while even some Democratic senators have previously indicated that they're not on board with comprehensive reform, the election saw two more states vote to legalize adult-use marijuana at the ballot, further demonstrating to federal representatives that the American public is eager for reform.
Republicans take the Senate, Democrats keep the House
There is, of course, a fourth hypothetical election outcome scenario for the 118th Congress: Democrats keep the House and Republicans take the Senate, but virtually every projection casts serious doubts about that possibility. It would mean that McConnell would be in charge of the Senate, while the House would be in the same position it is today.
When will we know?
It's not clear when the election results will be finalized.
If Democrats win both seats in the outstanding states of Arizona and Nevada once the votes are counted in the coming days, that will give a clearer picture in the short-term, as they would then have the 50 seats they need, combined with the vice president's vote, to maintain their Senate majority.
Republicans taking both of those seats would give the GOP an outright majority of 51, also quickly ending uncertainty about the Senate majority.
But if Democrats win just one of the Arizona and Nevada seats for now with Republicans taking the other, advocates would have to wait until the Georgia runoff on December 6 to get a better sense of what to expect for marijuana policy in 2023.
Meanwhile, it's also not clear when the House majority picture will crystalize, as it could potentially take weeks to count outstanding votes in California and other states where there are uncalled races.
Minnesota Senators Signal Plans To Advance Marijuana Legalization In 2023 With New Democratic Majority
Image element courtesy of Tim Evanson.