Gov't shutdown could allow Sessions medical cannabis crackdown (Newsletter: Dec. 5, 2017)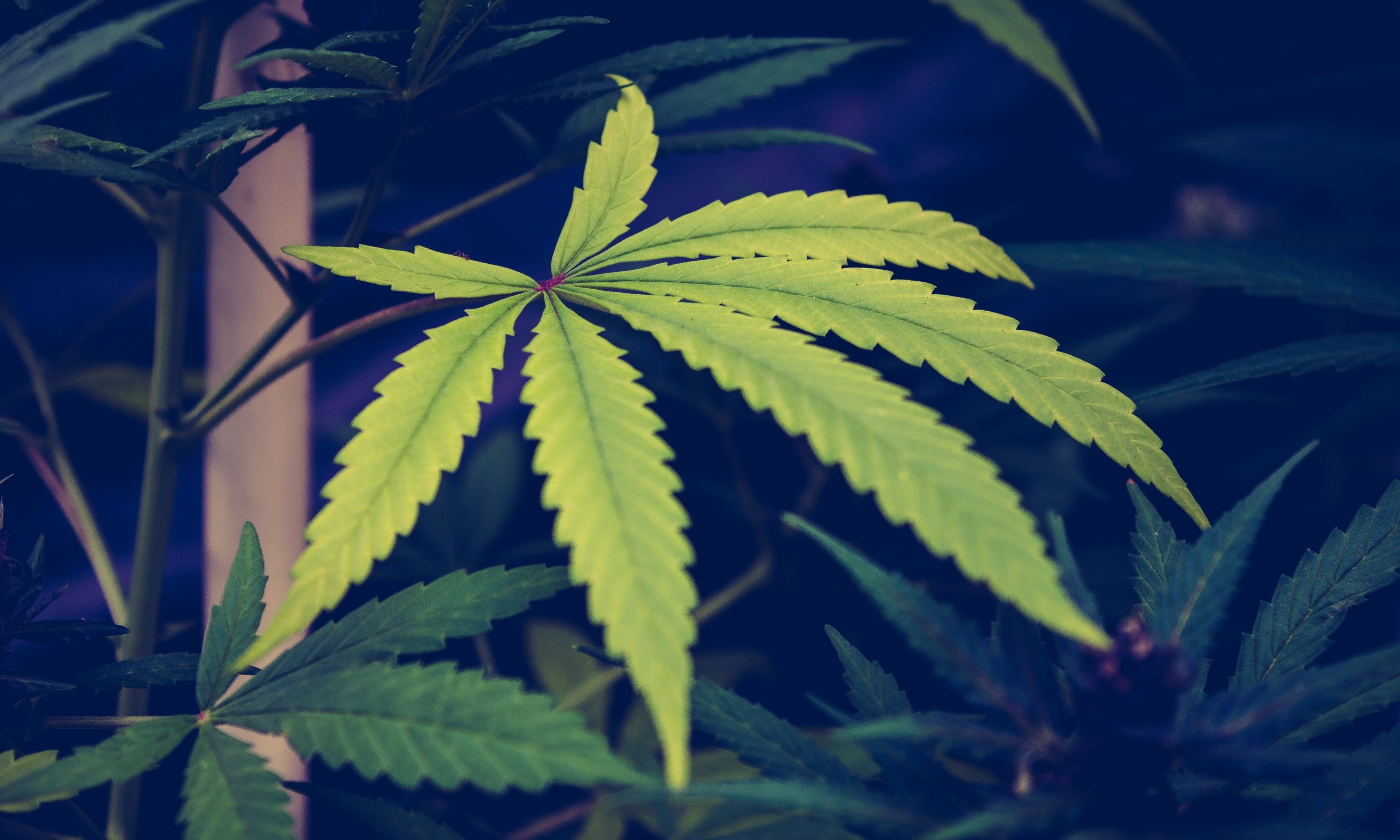 Subscribe to receive Marijuana Moment's newsletter in your inbox every weekday morning. It's the best way to make sure you know which cannabis stories are shaping the day.
Marijuana mentioned at SCOTUS argument; MI regulations; Warren questions Conway's drug war role
YOUR SUPPORT MAKES MARIJUANA MOMENT POSSIBLE
Many thanks to these readers who recently chipped in with monthly pledges to help me keep reporting big marijuana scoops and compiling all this cannabis news into daily dispatches for you:
Michael Bronstein, American Trade Association of Cannabis and Hemp: "Tom has put together the most authoritative and well sourced aggregation of marijuana news anywhere. I am proud to support this newsletter and ask that if you have not done so to please donate and keep this indispensable work going."

Andy Galica: "We need more serious individuals covering the cannabis space."

Joel Erickson: "Tom works tirelessly to research cannabis issues on both state and federal levels. I have greatly benefitted from his independent reporting, and I strongly feel that supporting that independence is important enough to invest in his future efforts. And you should, too."
If you rely on Marijuana Moment to stay informed about the many local, state, national and international marijuana news developments happening every day, please consider whether you can afford to start a monthly pledge so I can continue this work.
http://patreon.com/marijuanamoment
TOP THINGS TO KNOW
A potential federal government shutdown this week could allow U.S. Attorney General Jeff Sessions to launch a crackdown on medical cannabis patients and providers. If Congress fails to pass a budget extension the current rider protecting state medical marijuana laws would expire but, since DEA agents and federal prosecutors are exempt from furloughs, they would be empowered to go after state-legal operators.
https://www.forbes.com/sites/tomangell/2017/12/04/government-shutdown-could-allow-sessions-to-launch-marijuana-crackdown/
U.S. Supreme Court Justice Sonia Sotomayor briefly raised the issue of marijuana during an oral argument on a gambling case that could have implications for state cannabis legalization.
https://twitter.com/tomangell/status/937758743474909189
FEDERAL
In a letter to White House Chief of Staff John Kelly, U.S. Sen. Elizabeth Warren (D-MA) questioned Kellyanne Conway's apparent new role leading the federal response to opioid issues.
https://www.warren.senate.gov/?p=press_release&id=2122
//
http://www.washingtonexaminer.com/elizabeth-warren-questions-kellyanne-conways-qualifications-to-lead-opioid-battle/article/2642503
A federal judge rejected a California Native American tribe's request to resume hemp cultivation.
http://www.recordnet.com/news/20171202/hemp-farmers-lose-in-federal-court
Federal officials are investigating an unlicensed Oregon marijuana processing facility that exploded.
http://registerguard.com/rg/news/local/36158045-75/overheated-machinery-sparks-fire-at-cottage-grove-cannabis-oil-business.html.csp
Congressman Ro Khanna (D-CA) tweeted that "smart marijuana policy can lead to economic growth and boost job creation."
https://twitter.com/RepRoKhanna/status/937807228689563648  
STATES
Illinois Gov. Bruce Rauner (R) needs some education about marijuana, lawmakers sponsoring legalization legislation say.
https://capitolfax.com/2017/12/04/recreational-cannabis-sponsors-offer-to-educate-rauner-when-he-is-ready-to-deal-in-facts-not-scare-tactics/
Michigan regulators released emergency medical cannabis rules.
http://www.michigan.gov/som/0,4669,7-192-47796-453904–,00.html
//
http://www.detroitnews.com/story/news/politics/2017/12/04/snyder-signs-emergency-pot-rules/108310260/
Virginia's Senate majority leader announced additional details about marijuana decriminalization legislation he intends to introduce next year.
http://www.roanoke.com/news/politics/general_assembly/crime-commission-backs-expansion-of-dna-databank-does-not-vote/article_448cf3a1-8991-51dc-9c35-349ce301454d.html
Colorado regulators certified that four industrial hemp seed varieties passed a low-THC validation.
https://www.colorado.gov/pacific/agmain/news/1242017-cda-announces-colorado%E2%80%99s-2017-cda-approved-certified-hemp-seed-varieties
Ohio regulators began accepting applications for private medical cannabis testing licenses.
https://medicalmarijuana.ohio.gov/News?articleID=103
Alaska regulators rejected a proposed rule to restrict lease agreements between marijuana businesses and landlords.
http://www.alaskajournal.com/2017-12-04/marijuana-board-rejects-rule-aimed-lease-agreements
Missouri representatives prefiled bills to legalize marijuana and to allow CBD medical cannabis for more conditions.
http://www.house.mo.gov/Bill.aspx?bill=HB1448&year=2018&code=R
//
http://www.house.mo.gov/Bill.aspx?bill=HB1440&year=2018&code=R
//
http://www.house.mo.gov/Bill.aspx?bill=HB1441&year=2018&code=R
LOCAL
San Francisco, California officials are considering launching a public bank to serve the marijuana industry.
http://www.sfexaminer.com/san-francisco-advances-toward-launching-public-bank/
Here's a look at marijuana regulations the Los Angeles, California City Council is expected to consider on Wednesday.
http://www.latimes.com/local/lanow/la-me-ln-marijuana-rules-20171204-story.html
INTERNATIONAL
Philippines President Rodrigo Duterte ordered police to resume drug war operations.
http://cnnphilippines.com/news/2017/12/05/Duterte-allows-PDEA-drug-war.html
SCIENCE & HEALTH
A study suggested that "adolescent cannabis use may be an independent risk factor for future hypomania, and the nature of the association suggests a potential causal link."
https://academic.oup.com/schizophreniabulletin/advance-article/doi/10.1093/schbul/sbx158/4668709
OPINION & ANALYSIS
A poll found that 60% of New York voters support legalizing marijuana. When given several policy options, 40% supported legalization, 26% wanted to keep current policy (decriminalization and medical cannabis), 22% wanted to repeal medical cannabis and keep decrim and 11% wanted to make marijuana completely illegal.
http://files.constantcontact.com/d75ceb5f201/32e71155-6331-4eff-b948-42c072cba83e.pdf
The Mercury editorial board is urging U.S. Sens. Pat Roberts (R-KS) and Jerry Moran (R-KS) to cosponsor medical cannabis research legislation.
http://themercury.com/opinion/kansas-senators-should-support-bill-for-medical-marijuana-research/article_8729bef5-a30e-5d10-9b2f-5c72223a97d3.html
BUSINESS
GW Pharmaceuticals says it expects the U.S. Food and Drug Administration to rule on its CBD medical cannabis drug Epidiolex by mid-2018.
https://globenewswire.com/news-release/2017/12/04/1219873/0/en/GW-Pharmaceuticals-plc-Reports-Fiscal-Fourth-Quarter-2017-and-Year-End-Financial-Results-and-Operational-Progress.html
Canadian pharmacy chain Shoppers Drug Mart made a deal with Aphria to supply medical cannabis products.
http://business.financialpost.com/commodities/ontario-cannabis-company-aphria-to-supply-medical-marijuana-to-shoppers-drug-mart
Maryland medical cannabis dispensaries already ran out of product.
https://mjbizdaily.com/maryland-medical-marijuana-dispensaries-sell-product-days-opening/
Adweek looks at branding for marijuana companies.
http://www.adweek.com/brand-marketing/these-3-marijuana-heavyweights-want-to-become-the-pg-of-pot/
A survey found that more than a quarter of Nevada adults purchased marijuana in the last six months.
https://thenevadaindependent.com/article/whos-buying-pot-in-nevada-more-than-a-quarter-of-adults-according-to-survey
NE medical cannabis 'poison pill' bill filed (Newsletter: January 24, 2022)
MN Dem leaders talk legal marijuana plan for 2022; PA medical cannabis homegrow bill; Study: Legalization states see increased banking activity
Subscribe to receive Marijuana Moment's newsletter in your inbox every weekday morning. It's the best way to make sure you know which cannabis stories are shaping the day.
Your support makes Marijuana Moment possible…
Free to read (but not free to produce)! We're proud of our newsletter and the reporting we publish at Marijuana Moment, and we're happy to provide it for free. But it takes a lot of work and resources to make this happen. 
Graham Farrar of Glass House Brands:

"I just wanted to take a minute and say thank you for everything that you and the team at Marijuana Moment do. The amount I learn from you guys, the news, the commentary, it's really amazing. It's valued and I appreciate it. Thank you to you and the team."
If you value Marijuana Moment, invest in our success on Patreon so we can expand our coverage and more readers can benefit: https://www.patreon.com/marijuanamoment

/ TOP THINGS TO KNOW

A Nebraska Republican senator filed a limited medical marijuana bill that's backed by legalization opponents, but activists say it has poison pill provisions meant to undermine more far-reaching ballot measures to provide patients with access.

Minnesota Democratic legislative leaders discussed marijuana legalization plans for 2022—including reworking a bill that cleared the House last year and the uphill climb to advance it in the GOP-controlled Senate.

A bipartisan group of Pennsylvania senators filed a new bill to allow medical cannabis patients to grow their own medicine.

A study found that despite concerns about financial services access by the marijuana industry, banking activity actually increases in states that enact legalization.

/ FEDERAL

The U.S. Court of Appeals for the D.C. Circuit is being asked by the Hemp Industries Association to reconsider the Drug Enforcement Administration's authority to act against processors that handle hemp in excess of the legal THC limit.

Rep. Ed Perlmutter (D-CO) said Senate Majority Leader Chuck Schumer (D-NY) is under a "fantasy" that he has enough votes for a comprehensive marijuana legalization bill.

Rep. Dave Joyce (R-OH) tweeted, "Opportunities to enact effective #cannabis reform keep getting derailed. That's why I introduced the #HOPEAct with @RepAOC. Conservative in approach but progressive in scope, our bipartisan bill can reestablish a path forward. Leadership needs to put it up for a vote."

Louisiana Democratic Senate candidate Gary Chambers spoke out how his campaign ad showing him smoking marijuana is part of an effort to "cut through the noise" and get his message out. He also tweeted, "Recreational cannabis use is legal in 19 states. Our campaign took one of the boldest stances on cannabis. Proud to do so. So who wants to host a fundraiser in a legal state? Let's roll up & kick these facts about change. Email the team at [email protected]"

The House bill to deschedule marijuana and fund programs to repair drug war harms got two new cosponsors for a total of 105.

/ STATES

New Mexico Gov. Michelle Lujan Grisham (D) authorized lawmakers to include changes to the state's marijuana legalization law to the legislative agenda.

New Jersey Gov. Phil Murphy (D) said it's more important to get marijuana legalization implemented right than to roll it out quickly. (About 20 minutes into the video.)

Pennsylvania Gov. Tom Wolf (D) tweeted, "OTD 3 years ago, @FettermanLt  launched a statewide listening tour on recreational marijuana. Here's what you told him you wanted to see: ✅ Legalization 🚜 Cannabis grown on PA farms ⚖️ Decriminalization of nonviolent marijuana offenses. Legislators: Let's make this a reality."

Alabama Republican gubernatorial candidate Dave Thomas, currently mayor of Springville, spoke about his support for legalizing marijuana.

The South Carolina Senate put a medical cannabis bill on special order status for this week, but a spokesperson for the House speaker disputed the sponsor's claim that he has pledged to allow it to move through his chamber's committee process.

The South Dakota House State Affairs Committee voted to ban medical cannabis home cultivation. Meanwhile, the Senate Health and Human Services Committee advanced several other medical marijuana bills.

The Vermont House Judiciary Committee held a hearing on a drug decriminalization bill.

A Virginia House Courts of Justice subcommittee tabled a bill to defelonize drug possession.

Idaho lawmakers filed legislation to allow access to the cannabis-derived medical spray nabiximols.

A Delaware representative spoke about changes he made to his marijuana legalization bill to build support.

The New Hampshire Supreme Court ruled that people cannot be fired for off-the-job medical cannabis use.

Massachusetts marijuana regulators voted to approve a statement on pending impaired driving legislation that doesn't endorse or oppose it, reflecting a divide on the issue among members. Separately, the state's top cannabis regulator expressed concerns about "predatory financing deals" in the industry.

Florida regulators sent a bulletin about new medical cannabis purchase limits.

Oregon regulators sent a bulletin about new potency limits for marijuana edibles.

New York regulators plan to hold a series of community outreach events this month and next month.

Colorado Department of Revenue tweeted, "As part of Colorado's commitment to equity, diversity, and inclusion, Social Equity Licenses are one of the many ways our Marijuana Enforcement Division is supporting diversity initiatives in the cannabis industry."

Utah regulators sent an update on the medical cannabis program.

Arizona regulators posted a list of certified medical cannabis testing labs.

Nevada regulators will hold a public hearing on proposed changes to marijuana business rules on Tuesday.

—
Marijuana Moment is already tracking more than 1,000 cannabis, psychedelics and drug policy bills in state legislatures and Congress this year. Patreon supporters pledging at least $25/month get access to our interactive maps, charts and hearing calendar so they don't miss any developments.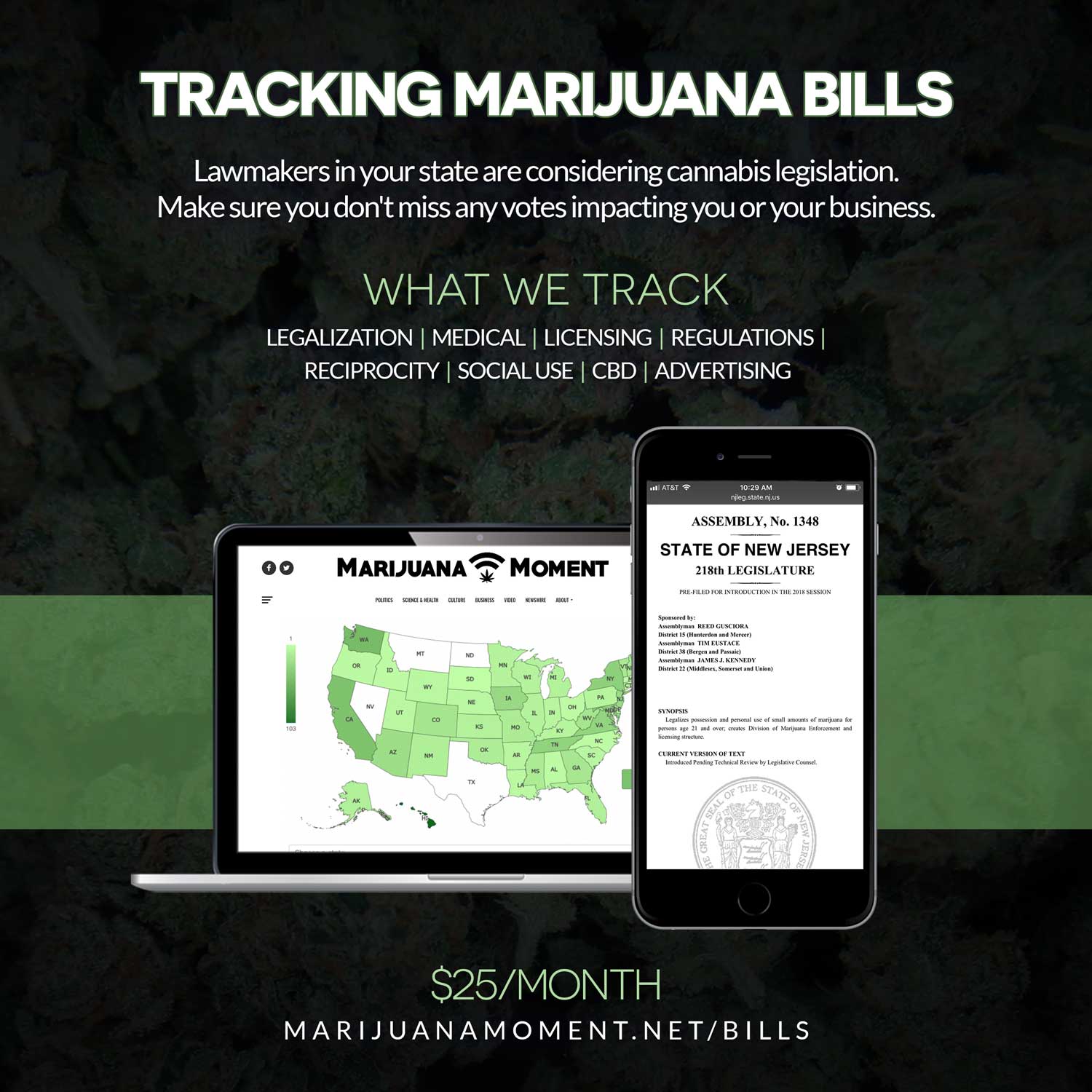 Learn more about our marijuana bill tracker and become a supporter on Patreon to get access.
—
/ LOCAL

The Marathon County, Wisconsin Criminal Justice Collaborating Council discussed a proposal to lower the fine for marijuana possession.

A DeKalb County, Georgia commissioner spoke about his proposal to scale back drug testing for marijuana for county employees.

/ INTERNATIONAL

Costa Rican President Carlos Alvarado is preparing a counterproposal to a medical cannabis and hemp bill that lawmakers sent him.

Colombia's Constitutional Court blocked President Iván Duque's plan to resume aerial fumigations of drug crops.

Former Mexican President Vicente Fox spoke about plans for Paradise, a cannabis company he owns part of, to reach a total of 200 stores across 32 U.S. states by the end of this year.

Pakistan's Ministry of Science & Technology tweeted about a Canadian company making a plane out of hemp.

The Alberta, Canada Association of Chiefs of Police said the province is "not ready" to decriminalize drugs.

/ SCIENCE & HEALTH

A study of mice found that CBD "inhibits SARS-CoV-2 replication" and highlights the substance as "potential preventative agent for early-stage SARS-CoV-2 infection."

A study concluded that "despite state-based advertising restrictions, recreational cannabis business pages use messages with youth appeal" and that "required safety message adherence is not typical on social media business pages."

/ ADVOCACY, OPINION & ANALYSIS

The Indiana Democratic Party tweeted, "@INDems have called on the state to legalize cannabis because it's a win-win for Indiana and Hoosiers. More than 80% of voters want some form of legal marijuana, and Democrats will hit the road to discuss this common-sense issue very soon."

The Mississippi Municipal League opposes recent changes to a medical cannabis bill.

/ BUSINESS

Dama Financial is acquiring GrowFlow Corp.

Numinus Wellness Inc. reported quarterly revenue of $0.8 million and loss of $5.4 million.

MedMen asked a California judge to order the company's former chief financial officer to repay more than $612,000 in legal fees.

Columbia Care Inc. received consent from noteholders to increase borrowing capacity to support growth initiatives.

Metro Bank is reportedly closing accounts for CBD businesses.

Snapchat is using automated systems to identify drug-related content.
Make sure to subscribe to get Marijuana Moment's daily dispatch in your inbox.
Photo courtesy of Chris Wallis // Side Pocket Images.
Biden's cannabis record after a year in office (Newsletter: January 21, 2022)
RI gov's legalization plan; Poll: Americans not optimistic about Biden's marijuana work; VA psilocybin bill has momentum; MO drug decrim measure
Subscribe to receive Marijuana Moment's newsletter in your inbox every weekday morning. It's the best way to make sure you know which cannabis stories are shaping the day.
Your support makes Marijuana Moment possible…
Your good deed for the day: donate to an independent publisher like Marijuana Moment and ensure that as many voters as possible have access to the most in-depth cannabis reporting out there.

Support our work at https://www.patreon.com/marijuanamoment

/ TOP THINGS TO KNOW

One year into President Joe Biden's administration, his key campaign pledges on marijuana reform remain largely unfulfilled—and he has even taken some overtly hostile actions on the issue, while at the same time overseeing some modest pro-reform developments. Marijuana Moment's in-depth analysis takes a comprehensive look at what the Biden administration has done—and more importantly not done—on cannabis since taking office one year ago.

A new poll found that a majority of Americans say President Joe Biden has made little to no progress on his marijuana decriminalization campaign pledge—and only 5 percent think he will make a lot of headway on it in 2022.

Rhode Island Gov. Dan McKee (D) again included marijuana legalization in his annual budget proposal—but this time with new automatic expungements provisions. Lawmakers say they're close to a legal cannabis deal that could be unveiled soon.

A bill to decriminalize psilocybin got bipartisan support at a Virginia Senate Judiciary Committee hearing—including from the Republican Senate minority leader. Members are planning to advance an amended version of the legislation next week.

A Missouri representative filed a bill to decriminalize possession of small amounts of marijuana, psilocybin, LSD, MDMA and cocaine.

/ FEDERAL

The U.S. Department of Agriculture's National Agricultural Statistics Service tweeted, "Thanks to work done in 2021, @usda_nass will have first-time data on hemp production, conservation practices & agroforestry to better inform decisions pertaining to the nation's agricultural markets."

The Drug Enforcement Administration museum is seeking new partner venues and cities to host its traveling exhibit, "Drugs: Costs and Consequences."

Rep. Ed Perlmutter (D-CO) said passing marijuana banking legislation "is one of my top priorities, and I am pursuing every possible avenue to get the bill signed into law before the end of the year."

Louisiana Democratic Senate candidate Gary Chambers tweeted, "If you agree with me that we should legalize cannabis nationwide. Expunge the records of those who have been charged with cannabis convictions & build equity into the business for Black & Brown people." He also tweeted, "My state is ranked #50 in crime. Policing cannabis isn't making us safer. I'm going to keep talking about how politicians have been smoking our tax resources to benefit only a few. They've left us in ashes because they won't bring meaningful change on a host of issues." And he spoke about his decision to show himself smoking marijuana in an ad.

/ STATES

Ohio Democratic congressional candidate John Cranley, currently Cincinnati's mayor, tweeted, "We need big, bold ideas and strategic plans to turn around Ohio. Not vague platitudes. That's why I have plans to create an energy dividend, legalize marijuana, and create over 30k new, middle-class jobs a year for Ohioans."

Mississippi's agriculture and commerce commissioner thanked lawmakers for removing his department from any role in a medical cannabis program with new amendments to pending legislation.

Texas's agriculture commissioner cut ties with a political consultant who was indicted in an alleged hemp licensing bribery scheme.

The Utah Senate approved a bill to force cities to recognize legal, medical cannabis cards held by government employees. Separately, the Department of Food and Agriculture created a Medical Cannabis and Industrial Hemp Division.

The Wisconsin Assembly approved a bill to increase penalties for the manufacturing of resin from marijuana plants using butane extraction.

The Vermont House Judiciary Committee discussed a bill to decriminalize drugs and will take testimony on the measure on Friday.

The Maine legislature's Veterans and Legal Affairs Committee held a hearing on a marijuana delivery bill and other cannabis legislation.

A New Jersey senator said he will "push like hell" to pass a bill legalizing marijuana home cultivation.

A North Carolina senator tweeted about how his dad's experience with cancer informs his support for medical cannabis.

South Dakota regulators issued the first medical cannabis dispensary licenses.

Hearings in a lawsuit against Georgia regulators' medical cannabis business licensing process will begin on Friday.

Oregon regulators are inviting questions about new marijuana and hemp rules.

The Pennsylvania Department of Community & Economic Development tweeted, "🌿 Clothes
🌿 Biofuel 🌿 Drywall 🌿 Vinyl siding 🌿 Beauty products — More than 25K products are currently made from #hemp. Take a look at how this budding industry has impacted #Pennsylvania and created a new business sector for our PA farmers."

Washington State regulators sent a newsletter with updates on cannabis issues.

New York regulators will discuss a marijuana social and economic equity fund and other issues on Tuesday.

The Minnesota Department of Agriculture will host a hemp forum on February 9.

/ INTERNATIONAL

The Thai Public Health Ministry's Food and Drug Administration proposed removing cannabis from its status as a prohibited substance.

Malta's new top marijuana regulator spoke about plans to implement legalization after having opposed the policy change.

/ SCIENCE & HEALTH

A series of case reports of people with attention deficit hyperactivity disorder suggested that "that cannabis played a complimentary role in the therapeutic regimen."

A study concluded that "medical cannabis companies regularly use associations with academia and academic research to imply that their products are safe and effective before these claims are causally confirmed" and that "this practice may mislead patients, policymakers, and the public into believing unconfirmed claims about the safety and efficacy of cannabis and cannabis-derived products."

/ ADVOCACY, OPINION & ANALYSIS

A poll of Americans who suffer from anxiety, depression or PTSD found that 65 percent believe psychedelic medicine should be made available to patients with treatment-resistant forms of those conditions.

The Tennessee Democratic Party's chairman tweeted, "@POTUS  could cancel student debt and order the HHS and DEA to begin the process of rescheduling marijuana, while offering a blanket pardon to those with non-violent marijuana possession charges. With the stroke of a pen, this can be done without fear of Manchin and Sinema blocking."

The South Carolina Sheriffs Association is speaking out against a pending medical cannabis bill.

A founding partner of RightForge criticized Democrats' marijuana legalization efforts.

/ BUSINESS

Eleusis is going public through a merger with Silver Spike Acquisition Corp. II.

PharmaCann Inc. completed an additional issuance of Senior Secured Notes worth approximately $39.5 million.

Curaleaf is facing a consumer complaint about inconsistent cannabis product prices across states.
Make sure to subscribe to get Marijuana Moment's daily dispatch in your inbox.
Photo courtesy of Chris Wallis // Side Pocket Images.
MS House approves medical cannabis bill (Newsletter: January 20, 2022)
NY legalization revenue; SC medical marijuana bill to floor; PA cannabis banking legislation; UT psychedelics therapy proposal; TX hemp bribery case
Subscribe to receive Marijuana Moment's newsletter in your inbox every weekday morning. It's the best way to make sure you know which cannabis stories are shaping the day.
Your support makes Marijuana Moment possible…
Paid for by readers like you. Marijuana Moment's newsletter and in-depth cannabis reporting is made possible by the 700+ people who subscribe to us on Patreon.

Support our work for $25/month and gain access to valuable insider data, exclusive interview audio, and more: https://www.patreon.com/marijuanamoment

/ TOP THINGS TO KNOW

The Mississippi House of Representatives approved a medical cannabis legalization bill. It now heads back to the Senate, which passed it last week, for a final vote on new amendments.

New York Gov. Kathy Hochul's (D) new budget plan projects that the state will generate more than $1.25 billion in legal marijuana tax revenue over the next six years.

The South Carolina Republican senator who is sponsoring a medical cannabis bill said it will be on the Senate floor next week for debate on special order, meaning that the body must vote on it before any other legislation is taken up.

The Republican chairman and top Democratic member of the Pennsylvania Senate Banking & Insurance Committee announced they'll be filing a state-level marijuana banking bill to serve as a companion to the federal SAFE Banking Act.

A Utah Republican representative filed a bill to create a task force to study and make recommendations on the therapeutic uses of psychedelics such as psilocybin for treating mental health disorders.

A political consultant to Texas's agriculture commissioner was indicted in an alleged hemp license bribery scheme.

/ FEDERAL

The Drug Enforcement Administration is proposing to place five tryptamine hallucinogens in Schedule I.

The U.S. Department of Agriculture said licensed hemp businesses are eligible for its Rural Energy Pilot Grants Program.

The Supreme Court heard oral arguments in a case about the terms of crack offense resentencing under federal criminal justice reform legislation.

Rep. Earl Blumenauer (D-OR) tweeted, "41 states across America (including OR) have voted to give terminally-ill patients the freedom to choose experimental treatments. But the federal government is blocking doctors from being able to facilitate psilocybin-related therapies. I'm leading the charge to change that."

Rep. Nancy Mace (R-SC) tweeted about discussing her marijuana legalization bill with a Harvard class.

Former Democratic presidential candidate Marianna]e Williamson tweeted, "Legalizing cannabis is taking on added urgency now, not only because of people unjustly incarcerated but also for medicinal and environmental reasons. Time to scrap what should never have been a prohibition in the first place."

Louisiana Democratic Senate candidate Gary Chambers spoke about his support for equitable marijuana legalization and his decision to smoke cannabis in a campaign ad.

California Democratic congressional candidate Lourin Hubbard tweeted, "The time has come to end the federal prohibition on Marijuana in this country. 91% of US want this done. Black and brown people are 4x more likely to be arrested for marijuana laws than white people with states spending $3.7 billion enforcing marijuana laws every year."

The House bill to deschedule marijuana and fund programs to repair drug war harms got one new cosponsor for a total of 103.

/ STATES

New Jersey Gov. Phil Murphy (D) said in his second inaugural address that "businesses in the new cannabis industry that we are setting up in the name of social justice" are part of efforts to "continue growing the innovation economy that will power our future and make us a model for the nation and the world."

Louisiana Gov. John Bel Edwards (D) criticized a Democratic U.S. Senate candidate's ad that shows him smoking marijuana.

A spokesperson for Indiana Gov. Eric Holcomb (R) said his opposition to marijuana legalization "hasn't changed" but that he will review any bills lawmakers send him.

Hawaii's Progressive Legislative Caucus is backing a marijuana legalization bill.

The South Dakota Senate Health and Human Service Committee voted to limit medical cannabis patients to three homegrown plants and approved other marijuana legislation.

The chairman of the Missouri House Veterans Committee said he would prefer lawmakers to pass marijuana legalization rather than have voters do it via a ballot initiative.

Kentucky lawmakers held a press conference to support marijuana legalization legislation. Separately, the representative sponsoring a medical cannabis bill said he thinks the votes are there to pass it but he must first convince Senate leadership to bring it up.

New Mexico lawmakers are only considering a handful of marijuana bills this session.

A New York assemblyman tweeted, "Since 2001, more than 30,000 veterans have died by suicide. When it comes to suicide prevention, we should have every treatment option on the table, which is why we need to pass medical Psilocybin now!"

Utah regulators launched an effort to expand medical cannabis access.

Ohio regulators suspended the medical cannabis employee license of Ancient Roots's CEO for allegedly giving out product samples.

Montana regulators are accepting topic submissions for an upcoming roundtable discussion about marijuana.

The Washington State Social Equity in Cannabis Task Force will meet on Monday.

Nevada regulators will consider marijuana business issues on Tuesday.

—
Marijuana Moment is already tracking more than 1,000 cannabis, psychedelics and drug policy bills in state legislatures and Congress this year. Patreon supporters pledging at least $25/month get access to our interactive maps, charts and hearing calendar so they don't miss any developments.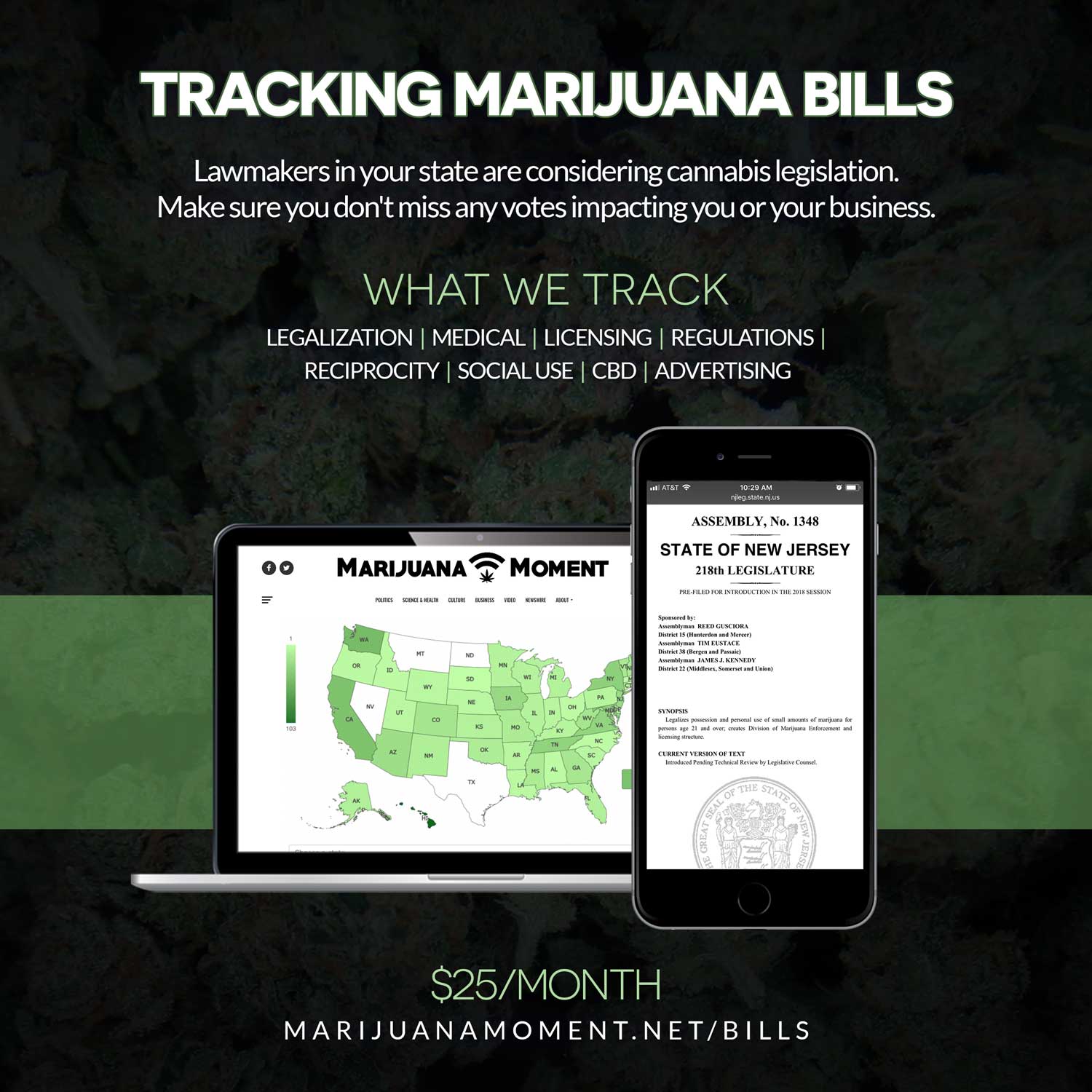 Learn more about our marijuana bill tracker and become a supporter on Patreon to get access.
—
/ LOCAL

San Bernardino County, California's sheriff and federal agencies are being sued by Empyreal Logistics for allegedly unlawfully searching transportation vehicles and seizing money from cannabis clients.

/ INTERNATIONAL

The Canadian Embassy to Belgium and Luxembourg tweeted about discussing cannabis issues with a Belgian lawmaker.

/ SCIENCE & HEALTH

A review concluded that "several preclinical and clinical studies have proposed that CBD may be a reliable agent to inhibit the reinforcing and rewarding impact of drugs" and that it "shows a good safety profile, mild side effects in animal preclinical and clinical research."

A review examined the "endocannabinoid system as a promising therapeutic target in inflammatory bowel disease."

/ ADVOCACY, OPINION & ANALYSIS

The Global Alliance for Cannabis Commerce, National Cannabis Industry Association, Minority Cannabis Business Association, United States Cannabis Council and National Cannabis Roundtable sent a letter urging Virginia lawmakers to include sentencing relief for people previously convicted of marijuana offenses in any legalization reenactment legislation considered this year.

The Weldon Project is teaming up with the Black Comics Collective and Burn1 on an NFT of a Snoop Dogg song and artwork to raise money for cannabis reform advocacy.

/ BUSINESS

Curaleaf Holdings, Inc. completed its acquisition of Bloom Dispensaries.

Fire & Flower Holdings Corp. filed a Form 40-F with the U.S. Securities and Exchange Commission in preparation to list on the Nasdaq.

Crecco Labs terminated its acquisition of Blair Wellness, LLC.

Leafly Holdings Inc. and Merida Merger Corp. I adjourned a special meeting to approve their merger to February 1.

HEXO Corp. detailed a cost-cutting plan.

Awakn Life Sciences Corp. signed a memorandum of understanding with the Multidisciplinary Association for Psychedelic Studies to explore a partnership utilizing MDMA-assisted therapy to treat alcohol use disorder in Europe.

/ CULTURE

Martha Stewart's CBD brand launched a line of topicals.

Make sure to subscribe to get Marijuana Moment's daily dispatch in your inbox.