GOP & Dems Team Up To Shield State Marijuana Laws From Jeff Sessions
The Justice Department should be blocked from enforcing federal marijuana prohibition in states that have enacted legalization, a bipartisan group of 59 lawmakers wrote in a new letter.
"We are concerned about the Department of Justice enforcing federal marijuana law in a way that blocks implementation of marijuana reform laws in those states that have passed such reforms," the lawmakers, led by Reps. Tom McClintock (R-CA) and Jared Polis (D-CO), wrote to top decisionmakers on the House Appropriations Committee on Friday. "The issue at hand is whether the federal government's marijuana policy violates the principles of federalism and the Tenth Amendment. Consistent with those principles, we believe that states ought to retain jurisdiction over most criminal justice matters within their borders. This is how the Founders intended our system to function."
The legislators want congressional leaders to insert a new provision into a funding bill covering the Justice Department's 2019 budget that would prevent federal prosecutors, the Drug Enforcement Administration and other agencies from spending money to go after people who are in compliance with state marijuana laws.
The language the lawmakers want included in the funding bill reads:
"None of the funds made available in this Act to the Department of Justice may be used to prevent any of the several states from implementing their own laws that authorize the use, distribution, possession, or cultivation of marijuana on non-Federal lands within their respective jurisdictions."
Separately on Friday, a group of 62 House Republican and Democrats sent a letter requesting the extension of existing, more limited appropriations protections that shield state medical cannabis laws from Justice Department intervention.
The medical marijuana provision has been part of federal since 2014, and has been extended with bipartisan House and Senate votes several times.
The broader protections to shield all state marijuana laws, including those that allow recreational use, from federal interference came just nine flipped votes short of passage in 2015. The number of states with legalization has more than doubled since then, and lawmakers from places with new laws would be more likely to support it if another vote were held, but House leaders have since blocked floor consideration of cannabis-related measures.
"As I have promised my fellow Coloradans, I will continue to advocate for this simple amendment to be added to the federal budget – shielding Colorado from the Trump administration's attacks on states that have legalized marijuana," Polis said in a press release about the new letter. "It would be a temporary, but urgent and necessary fix, as I continue to push for passage of my Regulate Marijuana Like Alcohol Act, which would finally lift the federal prohibition on marijuana."
In the letter, the lawmakers argue that letting states enact their own cannabis laws is in keeping with constitutional principles laid out by the Founders of the nation.
"Experiences of states that have legalized marijuana, as compared to the experiences of states that have not, constitute the very 'laboratories' of social and economic experiments that were described by Chief Justice Louis Brandeis when he wrote about the beauty of the Tenth Amendment," they said. "Our constitutional framework has afforded the whole nation the chance to allow states to differ on many matters of public policy, including marijuana."
Senate Votes To Send Hemp Legalization To President Trump's Desk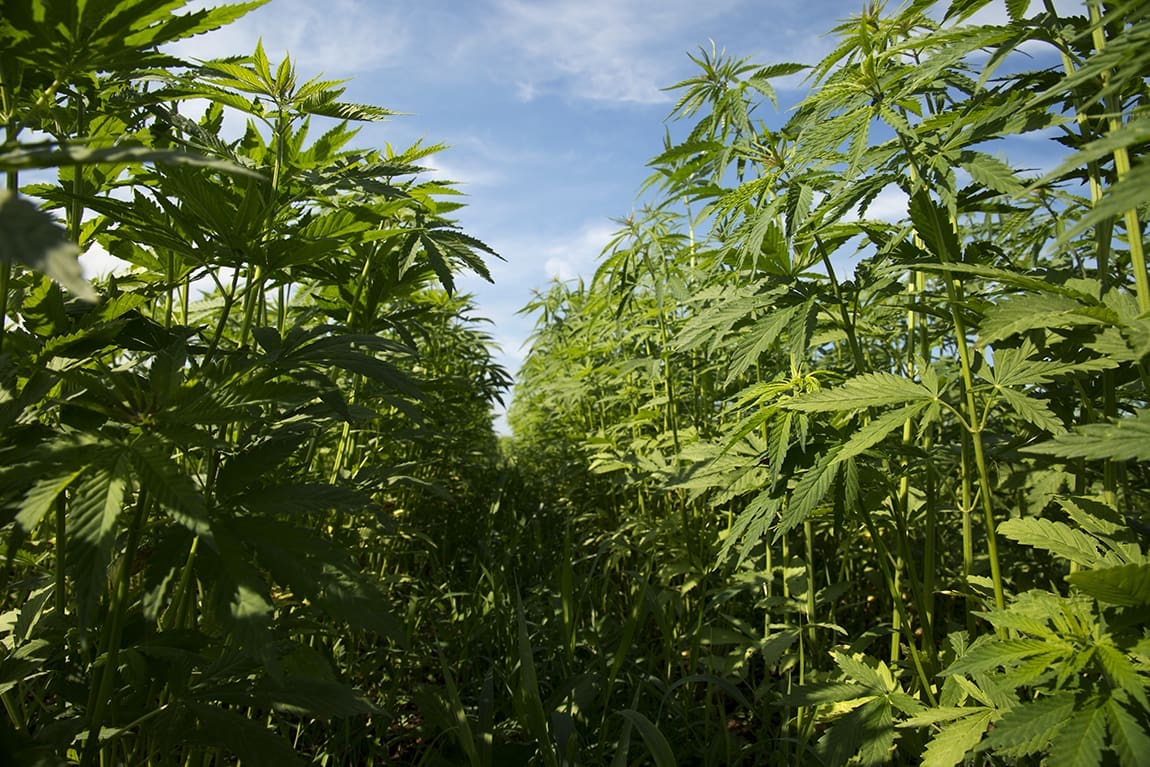 The Senate approved a far-reaching agriculture bill that includes a provision to legalize industrial hemp on Tuesday.
The vote gets the U.S. one step closer to ending its decades-long prohibition of a non-psychoactive plant in the cannabis family, empowering farmers to cultivate and sell a lucrative crop that can be used to create an exceptional range of products—from cosmetics to concrete.
The Senate and House Agriculture Committees had reconciled their respective versions of the 2018 Farm Bill last month, and lawmakers said they hoped to get it passed before the year's end.
It seems Congress is positioned to meet that projection. The bill passed 87-13 in the Senate, and the House is expected to take it up soon. If the House approves the bill, it will be sent to President Donald Trump's desk to be signed into law.
While debate on the legislation extended over several months, it quickly became apparent that the hemp legalization provision had bipartisan support. Separately, a compromise was reached over a provision that would ban people with felony convictions from participating in the hemp industry. The ban would be lifted after 10 years under the current legislation.
Hemp would no longer be controlled by the Justice Department if it's ultimately approved. Instead, the U.S. Department of Agriculture would lightly regulate the crop.
Senate Majority Leader Mitch McConnell (R-KY), Sen. Ron Wyden (D-OR) and others cheered the inclusion of legal hemp in the Farm Bill.
At a time when farm income is down and growers are struggling, industrial hemp is a bright spot of agriculture's future. My provision in the Farm Bill will not only legalize domestic hemp, but it will also allow state departments of agriculture to be responsible for its oversight

— Leader McConnell (@senatemajldr) December 11, 2018
You can read the full text of the hemp legalization provisions in the Farm Bill here.
Next House Agriculture Committee Chair Might Grow Hemp On His Farm
Photo courtesy of Brendan Cleak.
Trump Threatens Government Shutdown, Raising Concern For Legal Marijuana Industry
President Donald Trump is threatening to shut down the government if Democrats refuse billions of dollars in funding for a border wall—but the consequences of that action would extend far beyond border security.
WASHINGTON (AP) — Trump threatens gov't shutdown in heated meeting with Dem leaders over border wall, squabbling over election results.

— Zeke Miller (@ZekeJMiller) December 11, 2018
If the president makes good on his promise to withhold his signature from essential appropriations bills this time, that could inadvertently leave the legal marijuana industry vulnerable to federal drug enforcement actions. A spending bill rider that has protected state medical cannabis programs from federal intervention since 2014 would expire, while the Justice Department and prosecutors would generally remain operational.
That's because the Department of Justice has a contingency plan in place in the event of a government shutdown, and it exempts many employees, including U.S. attorneys and those who work for the Drug Enforcement Administration (DEA), from furlough.
"Criminal litigation will continue without interruption as an activity essential to the safety of human life and the protection of property," the Justice Department explains in its contingency plan. U.S. attorneys are protected because they're presidentially appointed and "are needed to address ongoing criminal matters and civil matters of urgency throughout the nation."
"All agents in DEA field organizations are excepted from furlough because they support active counternarcotics investigations," the document says.
The so-called Rohrabacher-Farr amendment would not be exempted, though. The legislation—which bars the Justice Department from using federal funds to interfere with state medical cannabis laws—is part of the the Commerce, Justice, Science, and Related Agencies (CJS) appropriations bill. While five out of the 12 annual appropriation bills for Fiscal Year 2019 have already been signed into law by the president, the CJS bill is yet to receive House of Senate floor votes.
Typically, the deadline to get appropriations passed is the end of the preceding fiscal year, September 30. But rather than hold a vote or allow federal departments to lose funding, lawmakers have passed a series of continuing resolutions this year, providing temporary funding and pushing back the deadline. The most recent two-week continuing resolution passed on December 7, so the new deadline is December 21.
It lawmakers don't pass, or President Trump doesn't sign, either a full-year or temporary extension of funding by then, the medical cannabis rider will expire, but federal drug enforcement capabilities will not. And that would leave medical marijuana patients and the businesses that serve them in a dicey position.
Similar concerns about the prospect of federal marijuana enforcement have been repeatedly raised under the Trump administration. In January, things seemed especially precarious, as the president's threat of a government shutdown came weeks after then-Attorney General Jeff Sessions rescinded an Obama-era memo that provided guidance on federal cannabis enforcement practices.
That decision stoked fears that a shutdown would empower the Justice Department to act on the attorney general's vehement opposition to marijuana reform. But after fewer than three days, a continuing resolution passed and state-legal marijuana activities continued unimpeded.
This time around, as the deadline approaches, the Justice Department head is Acting Attorney General Matthew Whitaker, who had served as Sessions's chief of staff. Whitaker has said he sympathizes with medical cannabis patients, but he's also criticized the Obama administration for its marijuana enforcement policies.
There's no telling at this point whether Whitaker, the DEA or federal prosecutors would take advantage of broad exemptions from furlough and crack down on legal medical marijuana states in the event of a shutdown. But as always, the possibility puts the cannabis industry is an uncomfortable position.
Bipartisan Lawmakers Push For Marijuana Protections In Funding Bill
Photo courtesy of Gage Skidmore.
Lawmakers From Both Parties Celebrate Hemp Legalization In The Farm Bill
Members of Congress on both sides of the aisle are celebrating a hemp legalization provision that made it into the final version of the 2018 Farm Bill.
Perhaps no one is more pleased than Senate Majority Mitch McConnell (R-KY), who fought for the provision over months of debate on the wide-ranging agriculture legislation. He even signed the conference report finalizing the bill language with a hemp pen on Monday.
In opening remarks from the Senate floor on Tuesday, McConnell said the inclusion of hemp legalization is "a victory for farmers and consumers throughout our country." It builds on the progress of the hemp pilot program he helped put in the 2014 Farm Bill, the results of which he said "have been nothing short of extraordinary."
At a time when farm income is down and growers are struggling, industrial hemp is a bright spot of agriculture's future. My provision in the Farm Bill will not only legalize domestic hemp, but it will also allow state departments of agriculture to be responsible for its oversight

— Leader McConnell (@senatemajldr) December 11, 2018
"Now American-grown hemp can be found in your food, in your clothes and even in your car dashboard," he said. "The results mean jobs, economic growth and new opportunity."
"At a time when farm income is down and growers are struggling, industrial hemp is a bright spot of agriculture's future."
Sen. Ron Wyden (D-OR) helped McConnell secure hemp legalization in the agriculture legislation and said "the outrageous and outdated ban on growing hemp has hamstrung farmers in Oregon and across the country" in a press release Tuesday.
The passage of this provision is a huge win for Oregon farmers and rural communities across the country that have been hamstrung by archaic laws, and unable to pursue the opportunities for economic growth this industry has to offer.

— Ron Wyden (@RonWyden) December 11, 2018
"Hemp products are made in America, sold in America, and consumed in America," Wyden said. "Now, hemp will be able to be legally grown in America, to the economic benefit of consumers and farmers in Oregon and nationwide."
Fellow Oregon lawmaker Rep. Suzanne Bonamici (D-OR) also cheered the "good news" that the provision made the cut.
Good news. The Farm Bill includes language I fought for to legalize #hemp production! https://t.co/eV6Gy9uFlT

— Suzanne Bonamici (@RepBonamici) December 11, 2018
Sen. Michael Bennet (D-CO) touted hemp legalization in a tweet Tuesday.
This bipartisan #FarmBill will legalize hemp, conserve land and water, combat climate change & bolster economic security in rural communities. The finish line is in sight. Now Congress needs to do what's right for Colorado & send this bill to @POTUS' desk by the end of the year. https://t.co/3fzUs1nEwb

— Michael Bennet (@SenBennetCO) December 11, 2018
"The finish line is in sight," Bennet wrote. "Now Congress needs to do what's right for Colorado & send this bill to [President Trump's] desk by the end of the year."
Sen. Mark Warner (D-VA) celebrated the hemp provisions as well.
I'm proud to support this bipartisan legislation that finally puts an end to a ban that has held back our farmers from participating in the emerging industrial hemp market, an industry that will help bring new business to Virginia and create new jobs.

— Mark Warner (@MarkWarner) December 11, 2018
As did Sen. Cory Gardner (R-CO).
My provisions provide farmers & ranchers relief from drought using technology to better implement dry-land farming practices, provides resources to combat deadly diseases wiping out hop fields, & makes industrial hemp legal so CO farmers can use their land how they see fit.

— Cory Gardner (@SenCoryGardner) December 11, 2018
Lawmakers are hoping to put the Farm Bill to a full House and Senate vote and deliver the legislation to the president this week. McConnell said on Tuesday that members of Congress should be prepared to work through the holiday break to make sure this and other bills, including criminal justice reform and legislation to fund parts of the federal government for Fiscal Year 2019, are seen all the way through.
Next House Agriculture Committee Chair Might Grow Hemp On His Farm
Via YouTube/Senate Majority Leader Mitch McConnell.