Feds To Spend $1.5 Million On Research Into Marijuana's Lesser Known Components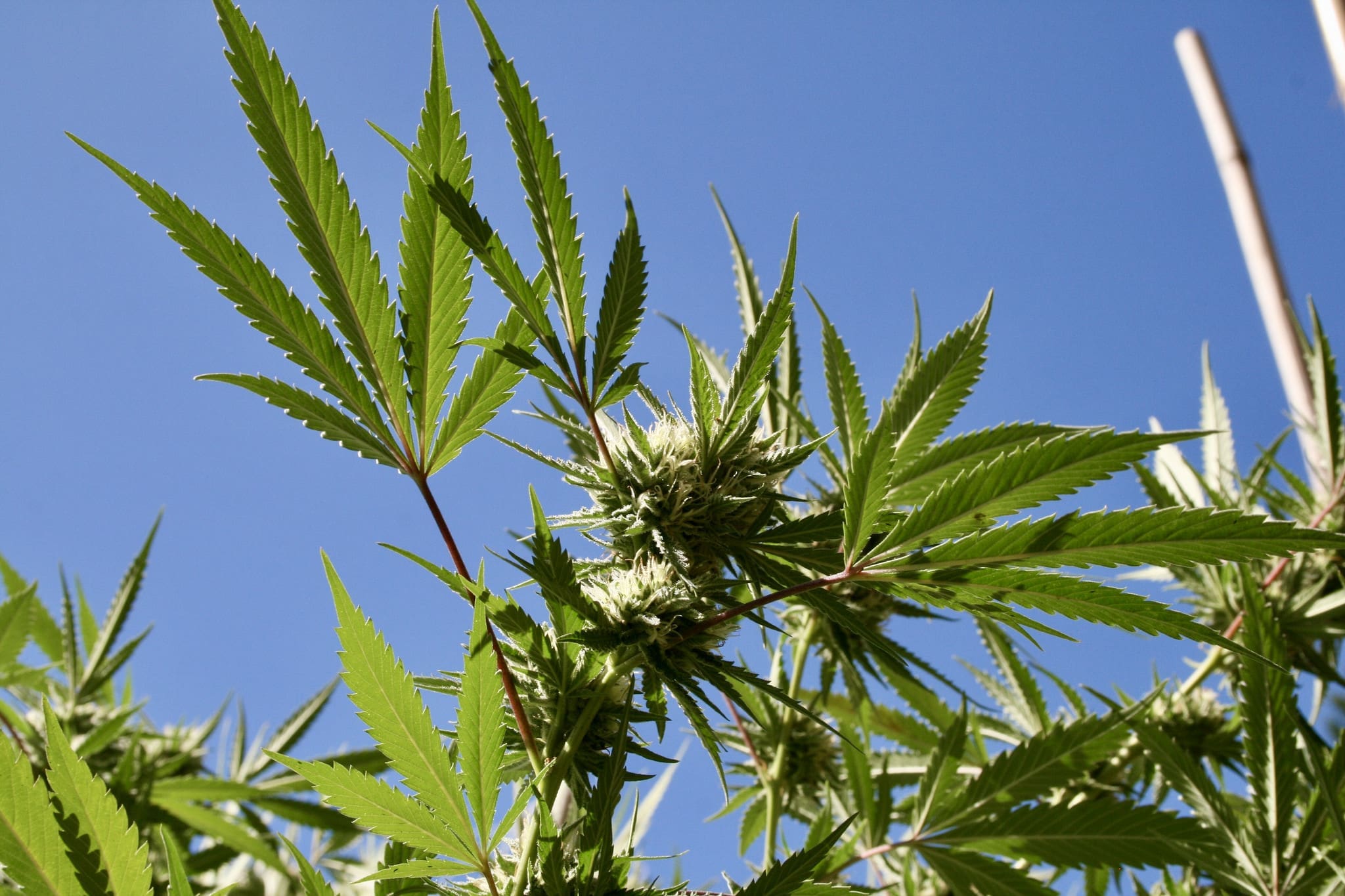 The federal government plans to award $1.5 million in grants during the 2019 fiscal year to researchers who study how components of marijuana other than THC affect pain.
In a notice about the funding opportunity published on Thursday, the National Center for Complementary and Integrative Health (NCCIH) said that it was seeking applications from researchers to conduct studies on "minor cannabinoids and terpenes." The aim of the grants will be to learn how these components work—separately and when combined—as potential pain-relieving agents.
The research is especially important given the widespread use of addictive opioid-based painkillers for pain management, NCCIH said. While THC has known analgesic properties, very little is known about the hundreds of other constituents in cannabis, which could represent viable alternatives to popular painkillers.
"Early clinical data suggest that cannabis may enhance the potency of opioids in relieving pain; and the synergy from using these products together may result in more effective pain relief with lower doses of opioids," the agency wrote. "Yet, it is unclear which components of cannabis may have these properties. In particular, few studies have examined whether and which cannabinoids and/or terpenes interact with the opioid pain pathways."
NCCIH, which is part of the National Institutes of Health, said that of particular interest are studies looking at cannabidiol (CBD), cannabigerol (CBG), cannabinol (CBN), cannabichromene (CBC), nyrcene, β-caryophyllene, Limonene, α-terpineol, linalool, α-phellandrene, α-pinene, β-pinene, γ-terpinene and α-humulene.
"A growing body of literature suggests that the cannabis plant may have analgesic properties; however, research into cannabis's potential analgesic properties has been slow," the funding opportunity says. "One key mechanism to investigate is whether potential analgesic properties of cannabis can be separated from its psychoactive properties. To address this question, more research is needed into the basic biological activity of the plant's diverse phytochemicals, specifically minor cannabinoids and terpenes."
NCCIH listed 11 areas of interest for prospective applicants:
* To investigate the potential analgesic properties and adverse effects of minor cannabinoids, alone or in combination with each other or terpenes;
* To investigate the mechanisms by which minor cannabinoids and terpenes may affect pain pathways, including ascending and/or descending neural pathways, cellular and molecular signaling pathways, neuroimmune interactions, or other innovative regulatory pathways related to pain;
* To explore the impact of sex, age and ethnicity on potential analgesic properties of minor cannabinoids and terpenes;
* To explore analgesic potential of minor cannabinoids and terpenes for different pain types (e.g., acute pain, chronic pain, inflammatory pain, neuropathic pain);
* To investigate the pharmacology (pharmacokinetic and pharmacodynamic profiles) of minor cannabinoids and terpenes;
* To explore binding affinities of minor cannabinoids and terpenes to cannabinoid and opioid and other pain-related receptors;
* To investigate the impact of dose and/or route of administration on potential analgesic effects of minor cannabinoids and terpenes;
* To characterize if/how specific terpenes may influence potential analgesic properties of cannabinoids;
* To explore potential opioid sparing effects of minor cannabinoids and terpenes;
* To explore the interaction between the microbiome and minor cannabinoids or terpenes;
* To improve methods to quantify systemic levels of minor cannabinoids and terpenes
Applicants are encouraged to submit letters of intent about their research proposals 30 days before the March 15 application deadline. The $1.5 million will be distributed among four grant recipients.
The agency first announced its intent to launch the funding opportunity in November.
"The mechanisms and processes underlying potential contribution of minor cannabinoids and terpenes to pain relief and functional restoration in patients with different pain conditions may be very broad," NCCIH said. "This initiative encourages interdisciplinary collaborations by experts from multiple fields—pharmacologists, chemists, physicists, physiologists, neuroscientists, psychologists, endocrinologists, immunologists, geneticists, behavioral scientists, clinicians, and others in relevant fields of inquiry."
The research opportunity is one of several marijuana-related projects the federal government has recently promoted. For example, NCCIH has four other grants available to researchers to study "natural products" such as cannabis, the National Institute on Drug Abuse is calling for bulk marijuana cultivators to supply research-grade cannabis and the Agency for Healthcare Research and Quality has asked the public to send them information about marijuana and Alzheimer's disease.
Feds Call For Even More Marijuana Research After Hosting Cannabis Workshop
Photo courtesy of Brian Shamblen.
Marijuana Legalization Doesn't Cause Increased Crime, Federally Funded Study Finds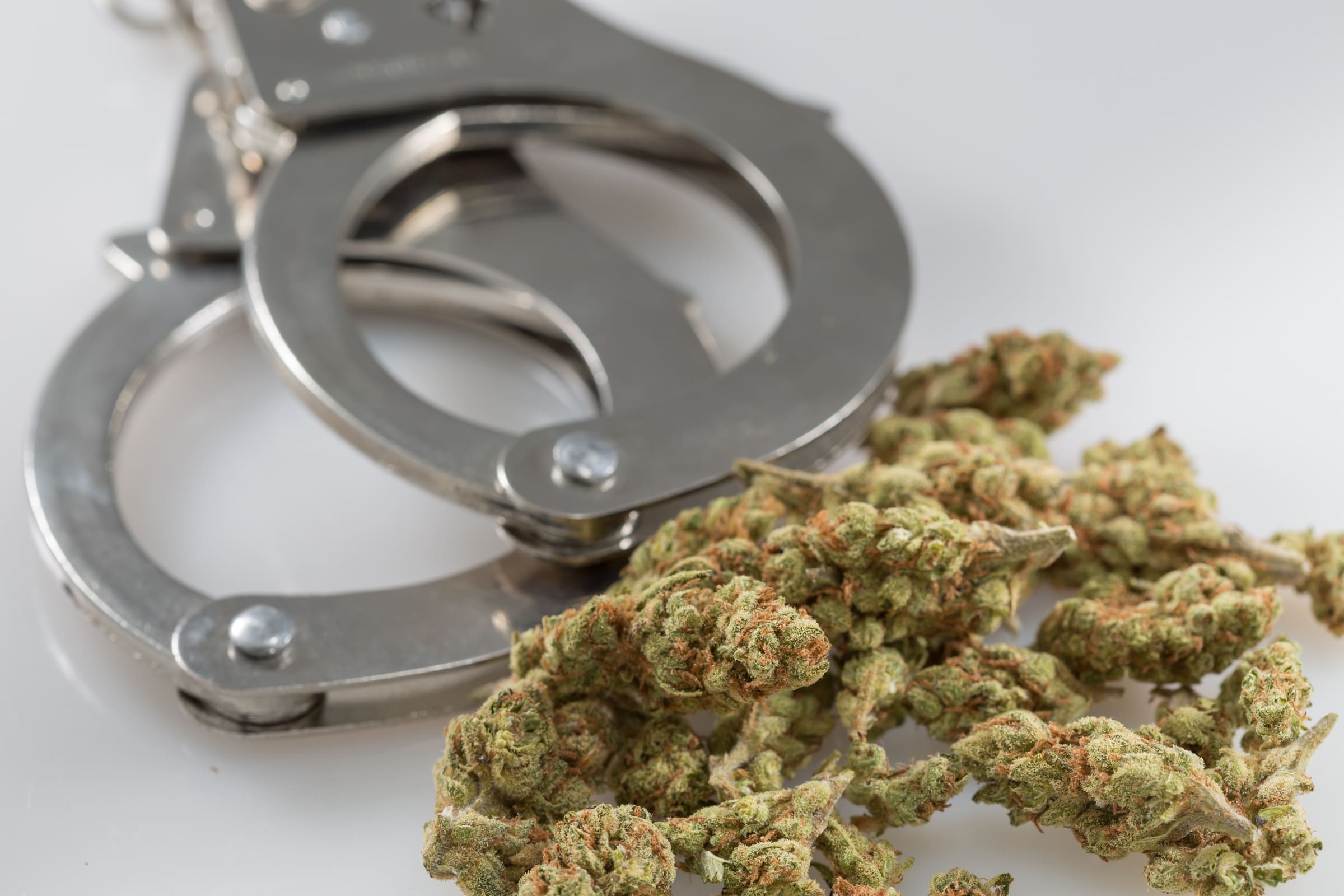 Legalizing marijuana has little to no impact on rates of violent or property crime, according to a new study that was funded by a federal agency. The policy change did seem connected to a long-term decline in burglaries in one state, however.
While previous attempts to understand the relationship between legal cannabis markets and crime have turned up mixed results, researchers involved in this study used an enhanced methodology—a "quasi-experimental, multi-group interrupted time-series design"—to produce stronger evidence.
The study, published in the journal Justice Quarterly and funded by the federal National Institute of Justice, found that violent and property crimes rates were not affected in a statistically significant way in the years after Colorado and Washington State became the first in the nation to legalize marijuana for adult use.
"Our results suggest that marijuana legalization and sales have had minimal to no effect on major crimes in Colorado or Washington," the paper concluded. "We observed no statistically significant long-term effects of recreational cannabis laws or the initiation of retail sales on violent or property crime rates in these states."
The study authors explicitly cited claims made by prohibitionist group Smart Approaches to Marijuana and author Alex Berenson as being contradicted by their findings.
To determine the impact of legalization, researchers designed experimental models that compared crime rates in Colorado and Washington to those in 21 non-legal states from 1999 to 2016. The analysis was based on FBI data on violent, property, aggravated assault, auto theft, burglary, larceny and robbery crime rates.
Following legalization, there were one-time increases in property crime in the two states, as well as a spike in aggravated assault in Washington, but those did not reflect long-term trends, "suggesting that if marijuana legalization influenced crime, it was short-lived," the study authors wrote.
There was one statistically significant long-term impact that the researchers did attribute to state marijuana laws: The burglary rate in Washington decreased, and that trend has held.
It's not immediately clear why that is the case, and the study's conclusion encourages future research that replicates and refines the design used for this experiment to solve answered questions.
"In summary, our results suggest that there may have been some immediate increases in crime at the point of legalization, yet there have been essentially no longterm shifts in crime rates because of legalization, aside from a decline in Burglary in Washington. Though the short-term increases might appear to suggest that marijuana increased crime, we caution against this interpretation as the increases do not reflect permanent shifts (that is, these are shifts in intercepts, not slopes) and could be artificially induced by the small number of time units between legalization and sales."
Dale Willits, a study coauthor, said in a press release that in light of the "nationwide debate about legalization, the federal classification of cannabis under the Controlled Substances Act, and the consequences of legalization for crime continues, it is essential to center that discussion on studies that use contextualized and robust research designs with as few limitations as possible."
"This is but one study and legalization of marijuana is still relatively new, but by replicating our findings, policymakers can answer the question of how legalization affects crime," he said.
Study authors also noted that their analysis did not take into account other crimes such as drug impaired driving.
"Given the likelihood of further liberalization of state and even federal marijuana laws, it is imperative that policy makers and research funders allocate the necessary resources to conduct these more rigorous and intensive types of contextualized studies," they concluded. "Large-scale policy shifts can take a considerable amount of time to produce stable and understandable effects."
This is the second recent study that's received Justice Department funding and arrived at a conclusion that runs against the logic of prohibition. Another example looked at the impact of legalization on law enforcement resources and trafficking trends.
Study Funded By Feds Debunks Myths About Marijuana Legalization's Alleged Harms
Pilot Study Shows Marijuana Can Help Chronic Pain Patients Stop Taking Opioids
When chronic pain patients participated in a program to reduce their use of opioids with medical marijuana, a quarter of them completely stopped taking opioid medications within half a year, a new pilot study reports.
"After 6 months, 156 patients (26%) had ceased taking opioids," the paper states. "An additional 329 patients (55%) had reduced their opioid use by an average of 30%. One hundred fourteen patients (19%) neither increased nor decreased their opioid use."
The study, led by Toronto-based chronic pain specialist Dr. Kevin Rod, was published in American Journal of Psychiatry and Neuroscience.
Research shows that marijuana can help patients with pain. In fact, when states legalize access to marijuana, the rates of opioid-related deaths and opioid prescriptions for pain decline.
For his pilot study, Rod recruited 600 chronic pain patients who received care at his practice, Toronto Poly Clinic. Their daily opioid doses averaged 120mg morphine equivalent; among the sample, 95 patients were taking between 180mg to 240mg a day to manage their pain.
Rod created a tapering plan for each patient based on their individual needs. Usually, that meant opioid doses were reduced approximately 10 percent every one to two weeks. As the study's participants lowered the dosage of pharmaceuticals they were taking to deal with pain, they were authorized to consume CBD and THC products in the range of 4 to 6 percent. The cannabis doses were related to the amount of opioids were tapered: that is, half a gram of marijuana a day for each 10 percent reduction in opioid dose as needed. To reduce the risk of additional harm, patients were advised to consume sublingually, orally or by vaping.
Additionally, patients received psychological support via a web-based mental health tool called Zendose, and were monitored regularly by physicians. During their visits to the clinic, patients were assessed for pain, quality of life, whether tapering appeared to be effective, and if there were any withdrawal symptoms, among other things.
Six months after beginning the program, 156 patients were weaned off opioids completely, while more than half of the sample (329) had reduced their intake by an average of 30 percent. These patients reported consuming 1 to 3 grams of cannabis per day. Nineteen percent (114), however, were unable to reduce the amount of opioids they were taking, though they also did not increase their dosage either. One participant did increase their opioid dosage due to "poorly controlled pain and an aggravated pain condition," the study states. "With that one exception, all patients expressed satisfaction with their pain control, sleep and quality of life. No opioid withdrawal symptoms were noted in follow-up appointments."
"This [Medical Cannabis – Opioid Reduction Program] pilot study outlines a patient-centered approach, with an individualized program for tapering opioid use," the study concludes. "The positive results justify further investigation."
Last year, Rod was a speaker at the World Cannabis Congress in New Brunswick. There, he advocated for the use of cannabis as a tool in the opioid crisis. "As front line fighters in the fight against pain," he said, "we're always looking for new ways to treat or manage chronic pain, and it's not very often that we have a new solution."
After Legalizing Marijuana, Colorado Saw 'Significant Decrease' In Opioid Prescriptions, Study Finds
Photo courtesy of Get Budding.
Study Funded By Feds Debunks Myths About Marijuana Legalization's Alleged Harms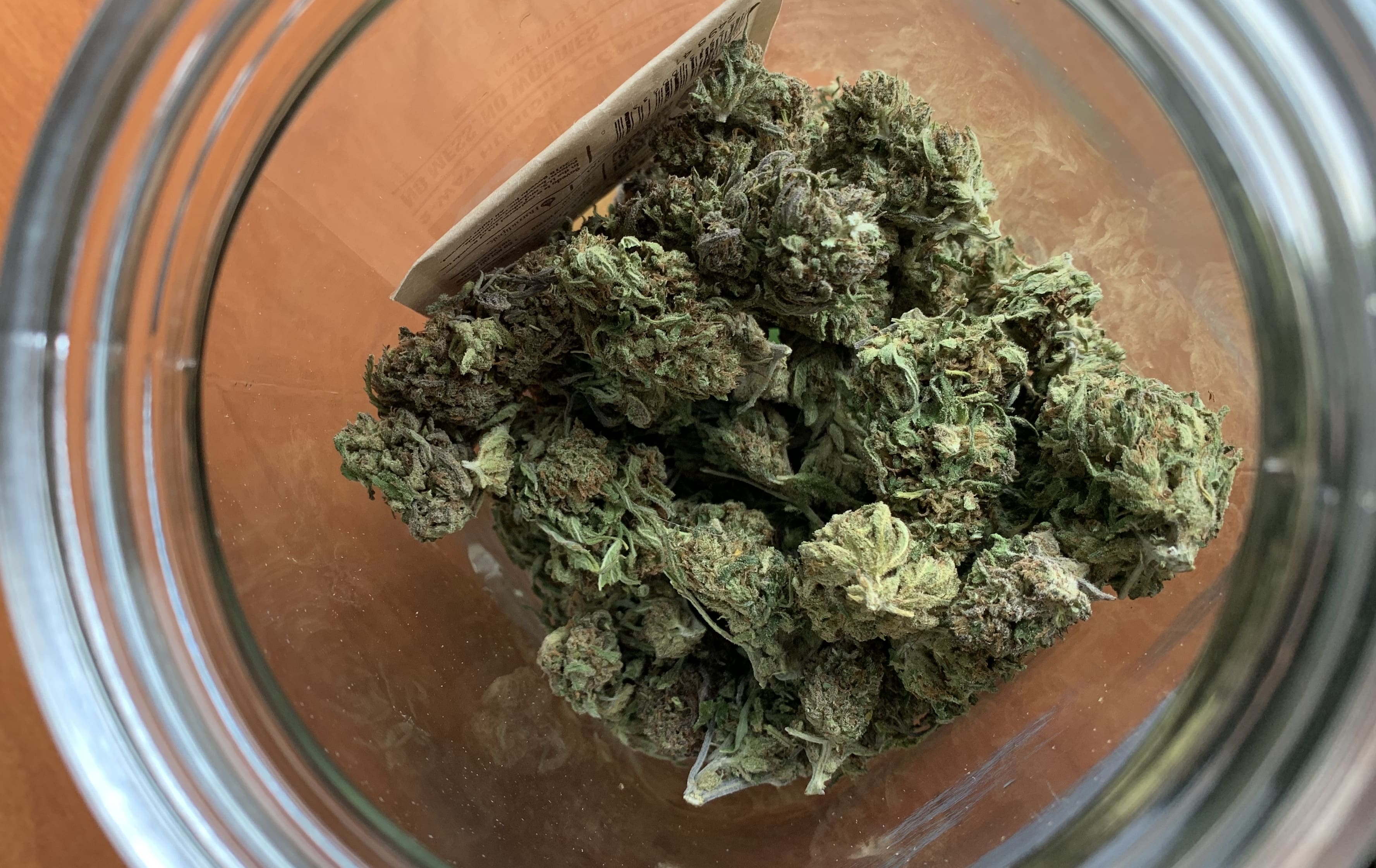 The Department of Justice paid for a new study on the impact of marijuana legalization that ended up showing cannabis programs do not seem to negatively affect neighboring, non-legal states.
The paper's authors said they sought to answer three questions in these analysis of state-level data: 1) How does legalization impact law enforcement resources in legal states? 2) How does it impact those resources in bordering, non-legal states? and 3) What does legalizing cannabis mean for drug trafficking?
To assess the impact, the researchers looked at statistics on drug possession and distribution arrests in a mix of legalized states and nearby ones that maintained prohibition. According to that data, legalization didn't cause the sky to fall.
"Legalizing marijuana did not have a noticeable impact on indicators in states that bordered those that legalized," the study concluded, adding that "there were no noticeable indications of an increase in arrests related to transportation or trafficking offenses in states along the northern or southern borders."
That is evidently a finding that the Justice Department does not want the public to think it endorses. At the beginning of the report—and on every other page—there's a disclaimer stressing that while federal funds were used to support the research, "[o]pinions or points of view expressed are those of the author(s) and do not necessarily reflect the official position or policies of the U.S. Department of Justice."
Here's what the study authors, who are affiliated with the Justice Research and Statistics Association, found:
Not surprisingly, arrests for marijuana possession dropped significantly in Washington after the state legalized cannabis in 2012. Those arrests continued to drop after retails sales became available. Distribution arrests followed a similar trend.
There was less data on Oregon at the time of the study in 2015, as the state legalized the previous year. However, the statistics showed that during "the post-legalization period, arrests for marijuana possession, already low, dropped to close to zero." Cannabis distribution charges in the state also followed a downward trend.
The researchers then looked at neighboring states that did not legalize. While cannabis accounted for the vast majority of drug possession arrests in Oklahoma, where cannabis is still prohibited for adult use, the arrest rate dipped marginally during the post-legalization years in Colorado from 2012 to 2014.
Arrests for sales and manufacturing of cannabis in Oklahoma also dropped in that timeframe, with the exception of a small spike in 2013.
Arrests for possession "increased from 2003 to 2008, but did not change much from 2009 to 2013 (except for a slight increase in 2012)" in Nebraska.
The findings from Nebraska and Oklahoma are particularly notable since those two states sued Colorado over its marijuana legalization law in 2014, alleging that it effectively polluted their jurisdictions with illegal cannabis. The Supreme Court declined to take the case, and the new study seems to undermine the prohibitionist states' claims about the impact their neighbor's legalization law had across their borders.
"No noticeable change in the trend line for marijuana occurred after recreational use was legalized in Colorado," the study authors said of data on possession convictions in Kansas from 2011 to 2014.
Finally, the researchers looked at drug trafficking trends in Idaho, where cannabis is not legal, and Washington state.
Trafficking arrests actually increased significantly in 2012 and 2013, but at the same time, the number of cases that were ultimately dismissed far outpaced those that ended in a guilty plea in the post-legalization period.
In Washington, seizures of marijuana plummeted after the state legalized cannabis. Those seizures continued to drop, with the exception of a significant spike in January 2014.
The researchers supplemented their report with interviews with several law enforcement officials. Despite the data-based findings on arrest rates for possession, distribution and seizures, police broadly expressed anecdotal concerns about issues such as perceived increases in youth usage, THC potency, drug-impaired driving and an influx in out-of-state visitors that have taxed their departments.
Colorado-based interviewees apparently indicated that the increased availability in higher potency THC products has mitigated the influence of Mexican drug cartels. However, Oregon respondents "reported that Russian and Afghani groups who steal crops and cash from local growers are now heavily involved in drug trafficking."
After discussing the data limitations of the study, the authors concluded that "it indeed seems to be the case that legalizing the recreational use of marijuana results in fewer marijuana related arrests and court cases" and that while law enforcement sources voiced various concerns, several "indicated that methamphetamine and heroin were much larger problems for their agencies than was marijuana."
The team "saw no evidence that marijuana legalization had an impact on indicators in border states," adding that they "found no indications of increases in arrests related to transportation/trafficking offenses."
"Again, it is possible that different indicators, examined over a longer period of time, might reveal impacts of marijuana legalization on drug trafficking," they wrote.
Majority Of Americans Support Decriminalizing All Drugs, Poll Finds
Photo courtesy of Kimberly Lawson.