Feds Reviewing Marijuana Banking Protections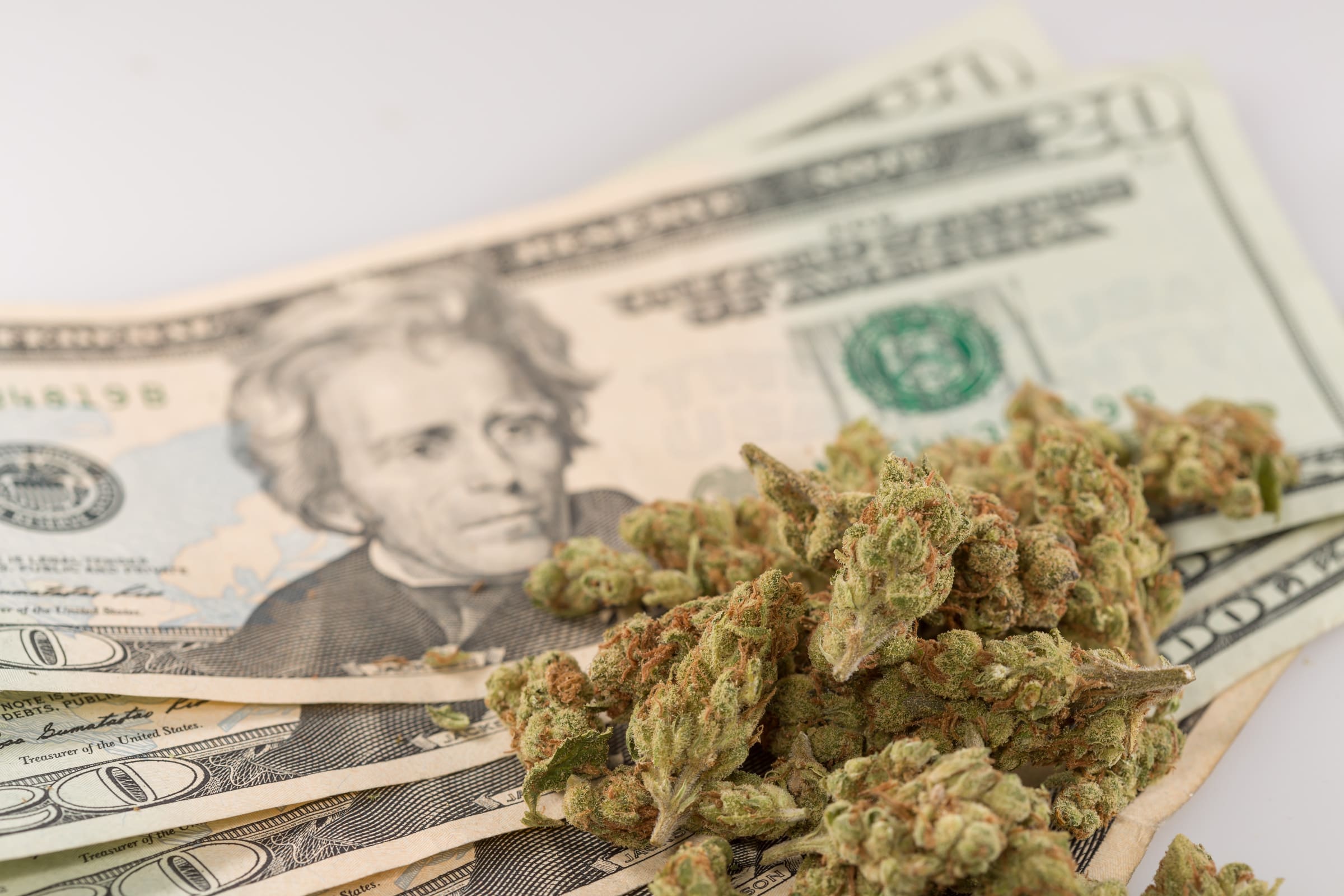 A top official with the U.S. Treasury Department says the Trump administration is currently reviewing whether to keep or rescind Obama-era guidance that provides a process for banks to serve the marijuana industry without running afoul of federal regulators.
"We are reviewing the guidance in light of the attorney general's recent decision to revoke a Justice Department memorandum on this issue," Sigal Mandelker, the department's deputy secretary, said at a Senate hearing on Wednesday.
However, she added that the Treasury guidance "remains in place," at least for now. "We're taking a look at it in light of the Justice Department's announcement."
Earlier this month, U.S. Attorney General Sessions rescinded a 2013 memo that has generally allowed states to implement their own cannabis laws without federal interference.
Mandelker was responding to questions from Sen. Bob Menendez (D-NJ) about a separate guidance memo issued by the Treasury Department's Financial Crimes Enforcement Network (FinCEN) in 2014 that laid out a process for how banks can open accounts for marijuana businesses and avoid triggering federal enforcement actions.
Medical marijuana dispensaries help many chronically ill NJans, including veterans, and provide a non-opioid alternative for those who badly need it. That's why I pressed Trump Admin. officials to keep in place guidance for banks who want to serve marijuana-related businesses. pic.twitter.com/notbqpFvSD

— Senator Bob Menendez (@SenatorMenendez) January 18, 2018
The policy, which requires financial institutions to regularly file reports on their cannabis customers, was intended to provide clarity and assurances to banks, but many have remained reluctant to work with marijuana businesses because of overarching federal prohibition laws.
Nonetheless, documents released by FinCEN last month showed that the number of banks willing to work with the marijuana industry has steadily grown over time, though those figures were collected prior to Sessions's move to revoke the previous Justice Department guidance.
Reuters reported last week that FinCEN was not consulted in advance about Sessions's decision.
On Wednesday, a bipartisan group of 31 House members sent a letter asking the agency not to rescind the cannabis banking guidance.
"FinCEN's stated priorities have allowed such businesses to conduct commerce more safely through financial institutions which reduces the use of all cash, improves public safety, and reduces fraud," the lawmakers wrote. "Leaving your guidance unchanged will continue to encourage small companies to make investments by freeing up access to capital. It will also further provide for well regulation and oversight through suspicious activity reports. Rescinding this guidance would inject uncertainty in the financial markets."
A bipartisan group of 15 senators followed up with their own letter on Thursday.
.@SenJeffMerkley & I led a bipartisan effort, urging Financial Crimes Enforcement Network to keep guidelines in place enabling financial institutions to provide banking services for legitimate cannabis businesses in states that have legalized marijuana. https://t.co/N49vKZZ8f3

— Sen. Lisa Murkowski (@lisamurkowski) January 18, 2018
"Attempts to disrupt this market are dangerous and imprudent," they wrote. "We see the removal of protections on financial institutions, which are operating in accordance with state laws, as a poor alternative to creating meaningful policy through the political process."
In a separate letter, Menendez and Sen. Cory Booker, a fellow New Jersey Democrat, wrote that "without access to the banking sector, [marijuana] businesses will face serious challenges paying their employees, conducting transactions with vendors, and meeting state tax obligations."
Mandelker's comments at the Senate hearing were first reported by Law360.
A growing bipartisan group of members of Congress has sought a legislative solution to the cannabis businesses' banking access problems. House and Senate bills to provide permanent clarity to the banking industry about working with marijuana businesses have earned increasing cosponsor numbers, but haven't been scheduled for hearings or votes.
In 2014, the House voted 231 to 192 in favor of an amendment to prevent federal authorities from punishing banks for servicing the legal marijuana industry. But the language was not included in the final version of annual appropriations legislation that year and was not enacted into law. Congressional Republican leaders have since prevented similar measures from even being considered for attachment to subsequent spending bills.
In November, the chair of the House Financial Services Committee used a procedural ruling to block a vote on a cannabis banking amendment offered to a bill on stress testing for financial institutions.
Mexican Government Officials Visit Canada To Learn About Marijuana Legalization
The office of Mexican President-elect Andrés Manuel López Obrador announced on Friday that key members of his incoming cabinet will discuss marijuana legalization with Canadian government officials on a visit to the country next week.
As part of the trip by seven secretaries-designate, officials from the two nations will meet about issues such as human rights, inclusive governance and "regulation of cannabis use," a press release from López Obrador's transition team said.
Among those taking the trip north will be Olga Sánchez Cordero, the likely next interior secretary of Mexico, who has previously said she would encourage the new president to legalize marijuana and pursue broader drug policy reforms.
Canada's marijuana legalization law went into effect this week.
López Obrador will be sworn in as president on December 1.
Canadian Lawmaker Vapes Marijuana And Doesn't Care What Anyone Thinks
A Canadian member of Parliament openly consumes marijuana, something he says will be completely normal and not at all noteworthy soon in light of the country's new legalization law that went into effect this week.
"Just as someone might have a glass of wine or a scotch on a Friday night, I would turn to my vaporizer," MP Nathaniel Erskine-Smith said in an interview with CBC news.
But it's not all about getting high for fun and relaxation for the member of Liberal Prime Minister Justin Trudeau's party. He also consumes cannabis medicinally.
"I have Crohn's, so sometimes I turn to it for that reason as well," he said.
Within a matter of years, though, no one will care whether lawmakers toke up, Erskine-Smith believes.
"Five years from now, no one will be interested in this question because we'll all recognize we're responsible adults, and this is far less harmful than alcohol, far less harmful than tobacco," he said. "And we should use it responsibly, yes, because there are potential harms."
"Certainly Canadians are capable of doing this because we've been doing it for decades."
On that point, Erskine-Smith acknowledged that he too has been consuming cannabis before prohibition officially lifted on Wednesday.
"It would be sort of silly for me to stop now, wouldn't it?" he asked.
Trudeau himself previously admitted that he illegally smoked marijuana while serving in Parliament, but said this week that he has no intention of consuming cannabis now that it is legal.
MP Nathaniel Erskine-Smith says he enjoys cannabis, and that five years from now, no one will care to ask him about it. pic.twitter.com/L7U3N46EwW

— CBC News: The National (@CBCTheNational) October 18, 2018
Canada's Liquor Stores Will Heavily Outnumber Marijuana Stores On Legalization's Launch
Photo courtesy of Cannabis Culture.
Missouri Campaign Finance Records Show Medical Marijuana Ballot Battle Heating Up
New quarterly campaign finance documents from Missouri medical marijuana ballot committees, covering activity from July 1 to September 30, show some coalescing of support for one of three measures on the ballot, while a recently created committee that opposes all of the medical cannabis options has yet to report any financial support.
Here's what the fundraising and expenditures for the key committees behind each of the three proposed measures look like:
(Note: only those committees with major activity in Q3 are displayed)
Missouri has one of the most confusing sets of marijuana ballot options to ever go before voters in any state, with two proposed constitutional amendments and one proposed statutory measure to choose from. Each option was sponsored by a separate committee that actively attacked the others in the months leading up to qualifying this summer to get on the ballot, with hostile campaign tactics continuing since then—including lawsuits and opposition research into the personal finances of advocates.
In the last few months, two additional organizations entered the fray. One is the only ballot committee that opposes both of the amendments and the proposition. Citizens for SAFE Medicine registered on September 20, and did not report any financial contributions or expenditures on its October 15 report. Judy Brooks, listed as Treasurer of the organization, is also a founder of Jefferson City's Council For Drug Free Youth.
The other is "Patients Against Bradshaw Amendment Formally Known As Find The Cures Political Action Committee." The committee, which registered August 27, opposes Amendment 3 and supports Amendment 2. It raised $1,441 cash from five donors, and has spent $447 of that on campaigning.
Its verbose name is a reference to Dr. Brad Bradshaw, the main financial contributor to Find the Cures, a committee that registered in September 2015 to support the measure now designated as Amendment 3. Between October 2017 and June 2018, he provided loans to Find the Cures to the tune of $1.2 million. The committee spent over $800,000 of that to hire a signature collection firm to get on the ballot.
Bradshaw's measure would, among other things, create a research center that many suspect he intends to run himself. It had already come under fire from Missouri NORML, which backs New Approach Missouri and its preferred proposal, Amendment 2. Find the Cures had already raised $1,556,705 in the first half of 2018 (much of that in the loans from Bradshaw), but started the most recent quarter with just $79 in the bank. From July through September, the committee took in another $209,111, with $186,121 of that in the form of additional loans from Bradshaw. It spent $164,739 on advertising and campaign staff, leaving $44,451 cash on hand for the remaining weeks before the election.
Under Amendment 2, doctors would be allowed to recommend medical cannabis for any condition they feel it is needed. Registered patients and caregivers would be permitted to grow up to six marijuana plants and purchase up to four ounces from dispensaries per month. Medical cannabis sales at dispensaries would be taxed at four percent. As previously reported by Marijuana Moment, the St. Louis chapter of the NAACP, Freedom Incorporated and the St. Louis American newspaper support Amendment 2. It also recently garnered an endorsement from the St. Louis Post-Dispatch.
New Approach Missouri was the most active committee in terms of continuing to raise and spend funds in quarter three of 2018. The group, which had already raised $1,057,263 for the election, took in another $256,924 cash and $15,368 worth of in-kind contributions. They spent $229,122 in the quarter, for events, legal fees, database management, media creation and public affairs in support of Amendment 2. One employee has been paid a total of $116,180 over the course of the campaign. They had $39,878 in the bank at the end of September.
Long-time political action committee Show-Me Cannabis Regulation, which has been around for seven years, had little activity last quarter, bringing in $350 and spending $72, leaving $2,250 on hand. It has however seemingly thrown its support behind New Approach Missouri, providing $5,000 in in-kind support to the committee.
Here's a chart using a logarithmic scale that includes more of the committees, even those with relatively paltry finances:
(Note: scale is logarithmic in order to depict smaller committees)
Missourians for Patient Care, which supports Proposition C, had little money activity in the most recent reporting period, suggesting that it is perhaps stepping back from active campaigning at this point. The group had raised a whopping $1,393,360 in 2018, but had only $31,077 left on hand at the beginning of July. In the last three months, it brought in $115 and reported no expenses.
One additional committee that formed, "Missouri Medical Marijuana," that supported "medical marijuana measure," has terminated its operations.
On Election Day, we will see whether the millions of dollars spent result in Missouri voters enacting one of more of the cannabis ballot proposals.
North Dakota's Marijuana Legalization Supporters Outraised By Opponents, Filings Show