Bipartisan Lawmakers Push For Marijuana And Psychedelics Amendments To Defense Bill, But Committee Action Is Delayed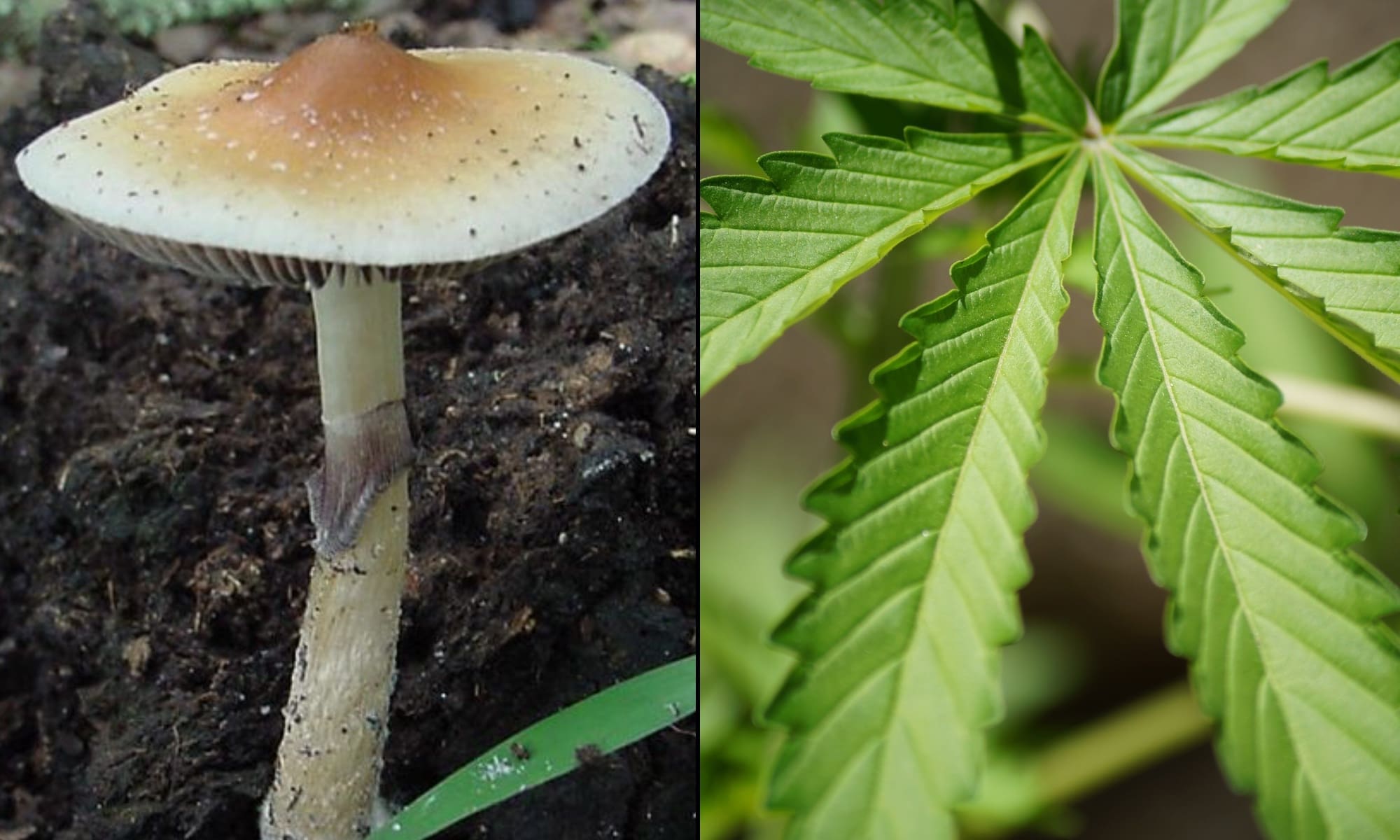 Bipartisan lawmakers pushed for the adoption of marijuana and psychedelics amendments as part of a large-scale defense bill at a House committee meeting on Tuesday—but the proposals' fate remains uncertain following complications over unrelated measures being pushed by conservative members.
The House Rules Committee did clear 290 largely non-controversial amendments to the National Defense Authorization Act (NDAA) for floor votes as the leadership negotiates with House Freedom Caucus members who are demanding adoption of contentious measures on issues like abortion, gender-affirming care for service members and pulling back support for Ukraine.
So now the Rules Committee will need to revisit the measure and address the hundreds of remaining amendments, including more than a dozen drug policy reform proposals.
At Tuesday's meeting, Rep. Matt Gaetz (R-FL) advocated for his own amendment to end drug testing for cannabis for military members.
7. I do not believe we should be testing for cannabis for people who want to join the military. We should embrace them for stepping up to serve our country. My amendment will rectify this policy. pic.twitter.com/BDJW3XV5LN

— Rep. Matt Gaetz (@RepMattGaetz) July 11, 2023
"We have seen cannabis policy at the federal level awry for a long time, and we should be thinking about cannabis more in terms of alcohol," he said. "We are having a recruiting crisis. Under most states in this country, people use cannabis under the color of state law."
He added that his amendment would not prevent the Department of Defense from maintaining policies prohibiting the use of cannabis while actively serving in the military, "but for people who seek to be in the military, it seems like an unnecessary gate that we continue to maintain."
Prior to Tuesday's meeting, the House Armed Services Committee had already revised the NDAA include two medical cannabis and psychedelics provisions.
Under the psychedelics measure from Rep. Morgan Luttrell (R-TX) that's already part of the bill following committee action, the defense secretary would be required to carry out a clinical study into the therapeutic benefits of psychedelics for active duty service members with PTSD, traumatic brain injury or chronic traumatic encephalopathy.
The clinical studies would need to involve psilocybin, MDMA, ibogaine or DMT. The secretary would need to provide lawmakers with a report within one year of the enactment of the legislation with information about trial findings. A few of the proposed revisions to NDAA that were considered in the Rules Committee seek to further amend this language.
"There's a lot of evidence that it is effective," Rep. Dan Crenshaw (R-TX), who is sponsoring standalone legislation that would achieve similar effects and is behind an NDAA amendment to expand Luttrell's proposal, said at the Rules Committee hearing on Tuesday. "There have been previous studies, but we need to study it more. We need to understand it so that it can be applied properly to service members who are truly suffering. The the outcomes are unbelievable."
"This is a really amazing stuff that we have to study and put the work towards," he said.
Crenshaw said that while supporters were able to secure the core psychedelics language in the NDAA's Armed Services Committee stop, it was necessary to file a supplementary amendment because, he said, the panel's staff removed key language "without authorization" that significantly watered it down from what had been agreed upon.
The congressman said that it needed to be revised to specify that the required research would have to involve a "clinical trial," instead of using the vaguer term "study." And it also needed to include provisions providing funding for the trials.
"They stripped all that out before we could get to it. And they managed to make that into the markup," he said. "So now we have to be here to to push for an amendment that makes this bill whole again."
Meanwhile, the cannabis amendment that has been attached to the bill in committee calls for a defense department medical cannabis pilot program that would examine the health impacts of marijuana use by veterans and service members who are VA beneficiaries. To be eligible for the program, the VA participant would need to have been diagnosed with post-traumatic stress disorder (PTSD), depression or anxiety, or have been prescribed pain management.
Also during Tuesday's hearing, Rep. Mikie Sherrill (D-NJ) discussed her amendment to eliminate the sentencing disparity between crack and powder cocaine offenses.
"As the former outreach and reentry coordinator at the U.S. Attorney's Office in New Jersey, I saw firsthand how disparities between crack and cocaine sentencing guidelines unfairly targeted communities of color," she said. "Our nation was built on the principles of equality and justice for all. With this legislation, we can end one of the most race-targeted disparities in the sentencing guidelines."
But the Rules Committee ultimately did not make any of the key drug policy amendments in order for floor consideration as part of the first non-controversial package. Members will need to consider that proposals at a later meeting that's yet to be scheduled.
Here are all of the marijuana and psychedelics amendments that are on the table: 
Rep. Robert Garcia (D-CA): Prohibit the denial of security clearances for defense department workers based solely on their use of marijuana if the activity is legal at the state level.
Gaetz: Prohibit drug testing for marijuana as a requirement for military enlistment.
Rep. Tony Gonzales (R-TX): Prevent the Department of Defense (DOD) from punishing military servicemembers from using CBD or other hemp-derived products.
Reps. Brian Mast (R-FL), Barbara Lee (D-CA), Dave Joyce (R-OH) and Earl Blumenauer (D-OR): Allow VA doctors to issue medical cannabis recommendations to veterans living in states where marijuana has been legalized for therapeutic purposes.
Reps. Dave Joyce, (R-OH), Earl Blumenauer (D-OR) and Jason Crow (D-CO): Require the defense secretary to develop a plan to provide reenlistment waivers to service members who test positive for THC.
Sherrill and Reps. Earl Blumenauer (D-OR), Dina Titus (D-NV), Jared Moskowitz (D-FL), Salud Carbajal (D-CA), Rick Larsen (D-WA): Expedite the waiver process for military recruits and applicants who admit to prior cannabis use by allowing the lowest-level defense employees to issue such waivers. A second amendment with a similar aim was also filed by the same sponsors.
Reps. Madeleine Dean (D-PA), Nancy Mace (R-SC), Bill Johnson (R-OH), Jasmine Crockett (D-TX) and Blumenauer: Empower the Drug Enforcement Administration (DEA) to transfer drugs like psilocybin and MDMA that have received "breakthrough therapy" designations from the Food and Drug Administration (FDA) from Schedule I to Schedule II of the Controlled Substances Act (CSA).
Reps. Dan Crenshaw (R-TX) and Morgan Luttrell (R-TX): Expand the bill's existing psychedelics study provisions to create a DOD grant program to fund research that investigate the therapeutic utility of the substances for the treatment of post-traumatic stress disorder (PTSD) and traumatic brain injury (TBI).
Rep. Susan Wild (D-PA): Following the DOD-led clinical trial into the therapeutic efficacy of psychedelics that's already in the bill, the agency would need to include in its report a recommendation on next steps for further exploring the therapeutic option.
Rep. Rashida Tlaib (D-MI): Require the defense department to submit its findings on the psychedelics trials that it would be required to conduct under the bill to VA, the U.S. Department of Health and Human Services (HHS) and relevant congressional committees—and not just the House Armed Services Committee as the legislation currently says.
Rep. Ken Buck (R-CO): One amendment would express the sense of Congress that MDMA "should be recognized as a treatment" for PTSD and require the head of VA to create a plan for such treatment if FDA approves its use. A second amendment contains the same expression of the sentiment of Congress but does not include the action item for VA.
Rep. Lou Correa (D-CA): Express the sense of Congress that officials should investigate "all potential therapies, including the use of medicinal cannabis or psychedelics, to help our veterans to heal their visible and invisible wounds when returning home."
Sherrill and Reps. Kelly Armstrong (R-ND), Stephanie Bice (R-OK), Nancy Mace (R-SC), Tom McClintock (R-CA), Steven Horsford (D-NV), Bobby Scott (D-VA), David Trone (D-MD) and Brian Fitzpatrick (R-PA): Eliminate the sentencing disparity between crack and powder cocaine.
Rep. Alexandria Ocasio-Cortez (D-NY): Ban the U.S. military practice of aerial fumigation in Colombia to eradicate crops like the coca plant used to manufacture cocaine.
Rep. Tom Tiffany (R-WI): Authorize the use of military resources to combat illegal drug trafficking at the U.S.-Mexico border.
—
Marijuana Moment is tracking more than 1,000 cannabis, psychedelics and drug policy bills in state legislatures and Congress this year. Patreon supporters pledging at least $25/month get access to our interactive maps, charts and hearing calendar so they don't miss any developments.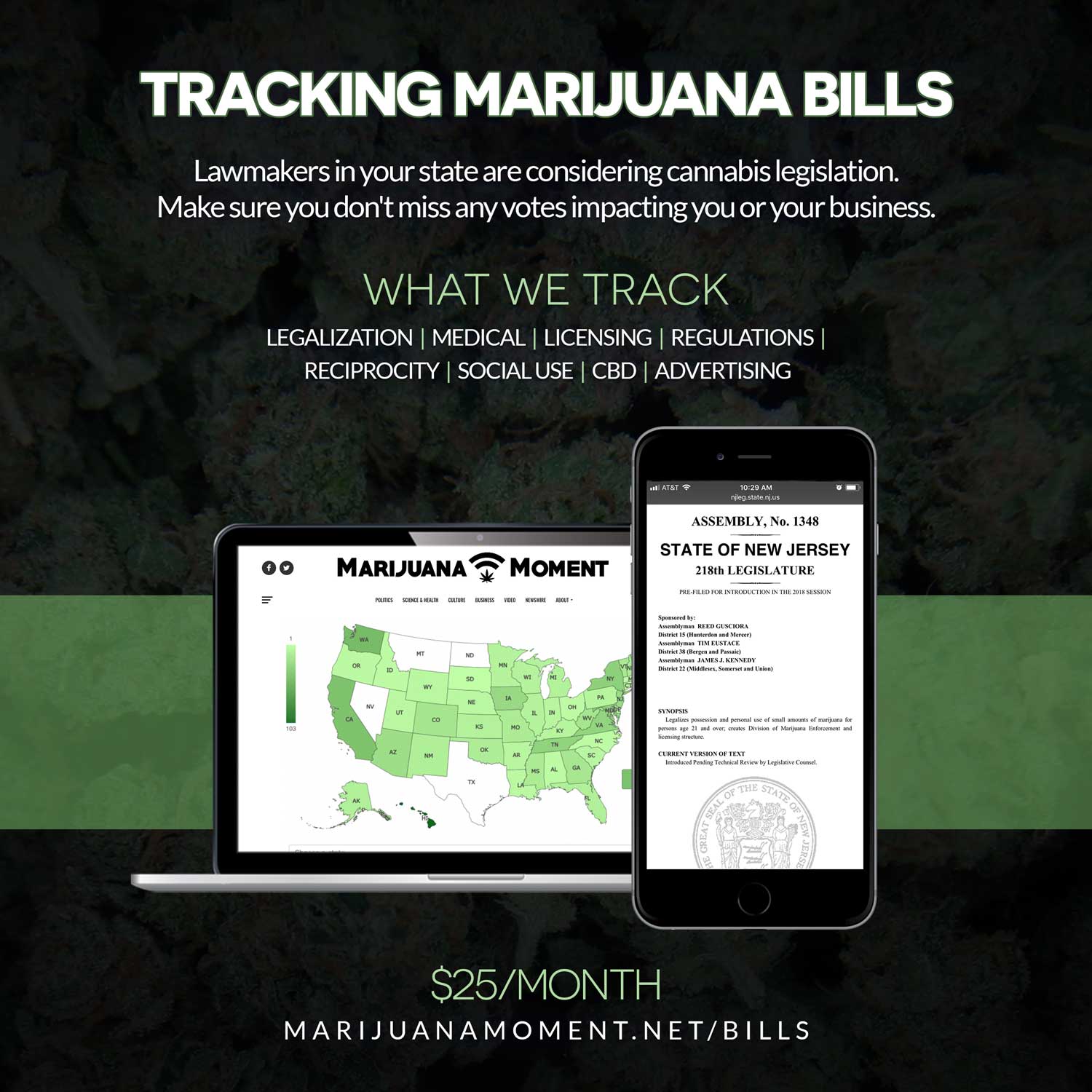 Learn more about our marijuana bill tracker and become a supporter on Patreon to get access.
—
Garcia said ahead of Tuesday's meeting that he believed there could be "very bipartisan support" for the marijuana-related amendments, including his own on preventing security clearance denials for federal workers who admit to prior cannabis use.
While two psychedelics-related provisions of the House's version of the NDAA were omitted from the final deal last year, lawmakers did secure report language instructing the secretary of defense to conduct a study looking at the "feasibility and advisability of conducting a study on the use of certain pharmacologic or potential plant-based therapies as alternatives to prescription opioids for the treatment of PTSD, TBI, or chronic pain."
A number of other marijuana items—including an attempt to pass cannabis banking reform through the must-pass defense bill—were also excluded, to the disappointment of advocates and stakeholders.
Separately, the Senate Appropriations Committee recently released a report for a spending bill that calls on VA to facilitate medical marijuana access for veterans and explore the therapeutic potential of psychedelics.
DEA Says Instead Of Doing Drugs You Should Spend More Time On Instagram And Playing Video Games For A 'Natural High'
Image element courtesy of Kristie Gianopulos.