Biden Cabinet Pick Defends Proposal To Use Marijuana Tax Dollars To Fund Schools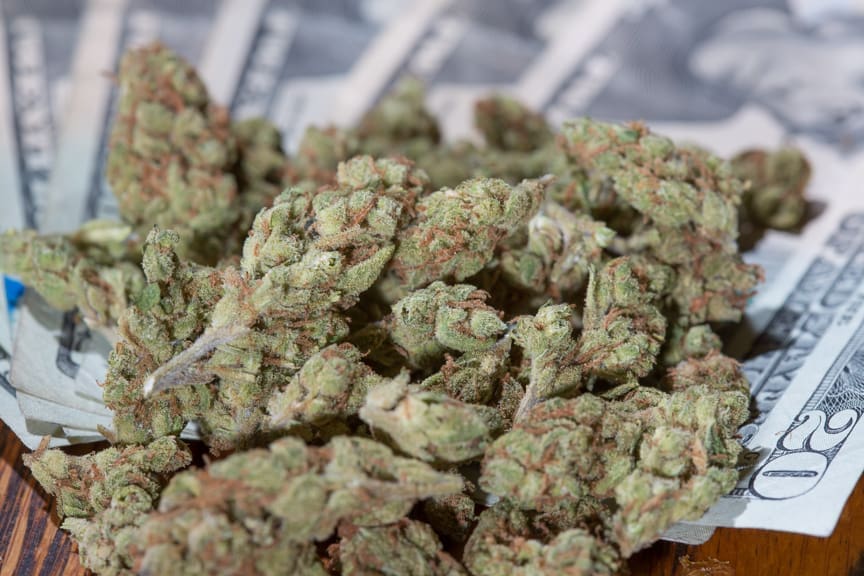 President Joe Biden's pick for secretary of the Interior Department on Tuesday defended a past campaign promise to support marijuana legalization as a means to diversify her state's economy and help fund public education.
Rep. Deb Haaland (D-NM) was pressed on her 2018 remarks during a confirmation hearing before the Senate Energy and Natural Resources Committee. Sen. John Barrasso (R-WY), the panel's ranking member, asked whether it was still her position that tax revenue from cannabis sales could be used to support schools as a replacement for oil and gas royalties as part of a plan to shift away from fossil fuels.
"Well, I think the point of that, ranking member, was to say that we should diversify our funding streams for education and not just rely on one," she replied.
"Is selling marijuana among what the Biden administration calls 'better choices' that the Biden administration has promised to give displaced oil and gas workers?" Barrasso asked. "Is that the better choice? Marijuana?"
"I honestly don't know what President Biden's stance is on cannabis currently," the nominee said.
Biden's Interior nominee Deb Haaland stands by past comments, wants to use marijuana to fund schoolshttps://t.co/BDtqCrdcJp pic.twitter.com/P5UzBp5ZwM

— RNC Research (@RNCResearch) February 24, 2021
The president's position on marijuana does depart with Haaland's, as he has maintained an opposition to adult-use legalization and hasn't signaled that he'd be interested in enacting the reform as a way to raise revenue for any particular initiative. He supports legalizing medical cannabis, decriminalizing low-level marijuana possession, modestly rescheduling the plant, expunging prior cannabis convictions and letting states set their own policies.
In any case, the senator—along with the Republican National Committee (RNC), which circulated Haaland's 2018 comments ahead of the hearing—apparently feels that the marijuana position of his nominee to head Interior are damning, despite the bipartisan public support for legalization and broad sentiment that tax revenue from cannabis should be effectively utilized for public services.
FLASHBACK: Deb Haaland suggests marijuana will plug school funding deficit caused by fossil fuels banhttps://t.co/cEdKMa9fzI pic.twitter.com/07kEzqUc8b

— RNC Research (@RNCResearch) February 23, 2021
"We know what your stances on replacing the revenue, the energy jobs, the jobs that power our economy and the energy that powers our country. And your preference is to turn to drugs is what you've recommended to the voters," Barrasso said. "At a time when there's high unemployment and energy workers lose their jobs—we've seen it in West Virginia, we've seen it around the country—there's been an opioid crisis in this nation. And yet what I hear from you is the answer in a better choice world is marijuana."
Later in the hearing, Sen. Maria Cantwell (D-WA) returned to the ranking member's line of questioning and said "just to be clear on the marijuana issue, this isn't a Seattle issue. Out of 39 counties, 20 to 25 counties in the state of Washington supported legalizing cannabis."
"I don't blame our legislature or others from getting revenue from that and put it towards public health issues in the state of Washington," she said. "This is respecting the wishes of the voters and then putting it to good use."
Watch Cantwell's marijuana comments, starting around 55:45 into the video below: 
Marijuana also came up during Haaland's initial committee confirmation hearing on Tuesday, with Rep. Don Young (R-AK) introducing Haaland and joking about her energy policy by saying that "anybody who thinks you're going to cut off fossil fuel immediately is smoking pot—that's legal in the state of Alaska, by the way."
Watch Young's cannabis comments, about 37:00 into the video below:
For advocates, while it's encouraging to see administration nominees embrace pro-reform positions, this was not the most consequential cannabis comment during a confirmation session this week. On Monday, Merrick Garland, the president's nominee for attorney general said it is not "a useful use of limited resources" to go after people who are complying with state marijuana laws. He also citied cannabis enforcement as an example of the racially discriminatory impact of the criminal justice system.
Another New Mexico House Committee Approves Marijuana Legalization Bill