A Complete History of Marijuana, According To Scientists
New studies on marijuana are churned out nearly every day, with most of them focusing on novel findings about the plant's therapeutic potential and the implications of legalization.
But cannabis itself isn't new. Far from it. And a study published this month in the Journal of Ethnopharmacology documents the fascinating evolution of humanity's relationship with marijuana over the course of thousands of years of history.
Researchers compiled a trove of documents from around the world and examined earlier studies in order to "provide a critical and comprehensive evaluation, from the ancient times to our days, of the ethnological, botanical, chemical and pharmacological aspects of [cannabis], with a vision for promoting further pharmaceutical research to explore its complete potential as a therapeutic agent."
There's a lot to learn from the paper. Here are a few things that stood out.
Where does cannabis come from?
Central Asia and Southeast Asia are considered the regions where the plant originated. It's also where cannabis was domesticated. The regions are "believed to play a vital role in its evolution," according to the study.
What was it used for?
Before its medical properties became known, the fibrous plant was commonly used for textile manufacturing. Archeologists have discovered "sophisticated plaited basketry" based on cannabis at Czech Palaeolithic sites, for example.
"In fact, it has been referred to as the oldest known cultivated fibre plant and even today it is used as a constituent of fishing nets," the researchers, who are from Italy and Sweden, wrote.
How did people discover its potential as a recreational botanical?
There are a couple schools of thought on this topic. But from a "Western-centered viewpoint," researchers generally believe that natural events caused the plant to be accidentally burned, inadvertently revealing its "psychotropic nature."
Where has cannabis been featured in religion?
All over the place, apparently. Religious texts where marijuana is referenced span from the Old Testament, where it was seemingly mentioned as an "incense and sacred oil," to Hinduism and tantric Buddhism, where the plant was once believed to "facilitate the meditation and communication with the spirits," according to the new paper.
When was marijuana first used as medicine?
There's certainly room for debate on this, but the researchers said that the timeline started about 5,000 years ago in China. The so-called "father" of Chinese agriculture, emperor Chen Nung, included the plant in the first Chinese pharmacopeia. That text said cannabis was prescribed for "fatigue, rheumatism and malaria."
"Moreover, Chinese physicians used the seeds of [cannabis] mainly for their vegetal oils and proteins."
When did cannabis first appear in the Americas?
Marijuana didn't show up on American shores for thousands of years after it was first discovered. It was "not known in the Americas until the arrival and settlement of the first European colonists," according to the researchers. "During this period [cannabis] was used primarily for the strength and the resistance of its fibres."
"Indeed, the Spanish and English colonies in the Americas mainly imported the botanical varieties ideal for textile manufacturing."
What are the origins of prohibition?
In 1484, Pope Innocent VIII issued a "papal bull" that denounced both witchcraft and the use of marijuana. Of course, the bulk of prohibitionary policies were introduced in the 20th century—with the "Marijuana Tax Act" in the United States in 1937 and an Act of Parliament in the United Kingdom in 1971.
Where did the name "Cannabis sativa" come from?
Swedish botanist Carl Linnaeus coined the term "Cannabis sativa" in the middle of the 18th century, the researchers wrote. Subsequently, French naturalist Jean Lamark distinguished between Cannabis sativa and Cannabis indica, writing that the former was a European plant and the latter came from "Indian origin varieties."
Marijuana Looks Like An Alien World Under An Electron Microscope
Photo courtesy of Max Pixel.
Elon Musk: 'I Have No Idea How To Smoke Pot'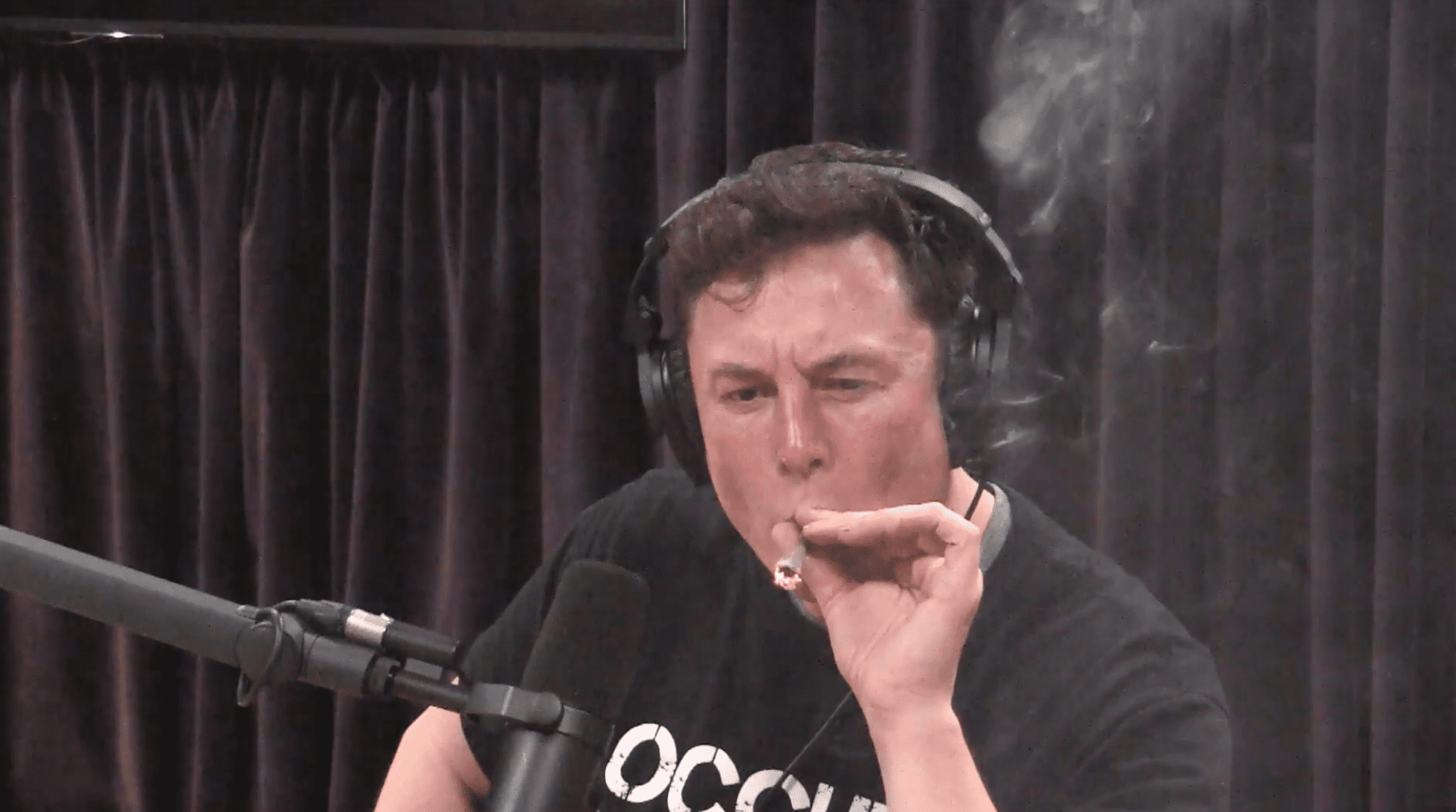 Elon Musk got himself into a bit of trouble after smoking marijuana during an appearance on Joe Rogan's podcast in September.
The move reportedly led to NASA launching an investigation into his company SpaceX's "workplace safety" and "adherence to a drug-free environment."
But now, in a new interview 60 Minutes, the Tesla founder indicated the on-camera puffing was a fluke and that he actually doesn't even know how to smoke weed.
"I do not smoke pot," he said.
"As anybody who watched that podcast could tell, I have no idea how to smoke pot or anything. I don't know how to smoke anything, honestly."
Musk seems to be telling the truth, at least judging from the widespread reaction to the fact that he didn't seem to actually inhale the blunt that Rogan passed him.
I'm sure this point has been made but @elonmusk clearly didn't inhale

— Ryan Lizza (@RyanLizza) September 7, 2018
elon musk didn't inhale lmao baby lungs

— MATT MIGGZ (@mattmiggz) September 7, 2018
"elon musk didn't inhale"

he doesn't inhale smoke

because he doesn't inhale oxygen

because he is a simulation

— kalabar's revenge (@itzthelimit) September 10, 2018
Elon Musk didn't inhale and his stock plummets 6% hahaha

— Parabolic Retard 🤪 (@Crypto_STEEZ) September 8, 2018
The full 60 Minutes interview with Musk is set to air on Sunday.
U.S. Air Force Warns About Grandma's Marijuana-Infused 'Miracle Sticky Buns'
The U.S. Air Force wants its members to be extra careful around "grandma's miracle sticky buns" that might contain marijuana.
In a post on the Air Force Medical Service site on Wednesday, the military branch reminded members that cannabis is illegal under federal law and that testing positive for THC metabolites will result in likely separation from service under "less than honorable conditions" and other possible punishments.
"Marijuana consumption is not permitted in any fashion, period."
The department stressed that with state-level legalization expanding, there's wider availability of "THC containing products," so military members "need to be extra vigilant about the foods and drinks they consume, especially during the holiday season."
"Many of us attend parties or gatherings with friends and relatives and have meals and libations prepared by others."
Maybe the Air Force got the memo from the National Highway Traffic Safety Administration, which also recently put out an advisory about holiday-related cannabis consumption and encouraged people to "#DitchDanksgiving."
While the message was serious, the warning to military members at least ended on a lighter note, seeming to acknowledge the therapeutic use of cannabis edibles, something that federal law still doesn't officially recognize:
"Your friend's grandma's miracle sticky buns might look mighty tasty and get rave reviews at the big shindig, but if you're in the military or work for the federal government you might want to think twice and make sure they weren't made to treat her bad hip first before you jeopardize your career."
To be sure, more seniors are using marijuana, primarily for medical purposes. But unless they're homemade, marijuana products are generally labeled accordingly. So federal workers should probably pay closer attention to pastry packaging if they want to avoid accidentally ingesting prohibited sticky buns.
The Feds Are Hiring Professional Marijuana Joint Rollers…Kind Of
Photo courtesy of Stacy Spensley.
Michael Moore: Put Marijuana On The Ballot To Drive Voter Turnout In 2020
Documentary filmmaker and activist Michael Moore says that if Democrats want to win in the 2020 election, they ought to put marijuana legalization proposals on the ballot in states across the country, especially in swing states.
Moore, whose home state of Michigan legalized cannabis during the midterms earlier this month, said the outcome of the election—in which Democrats won the state's gubernatorial, attorney general and U.S. Senate races—proved that ballot initiatives "are the answer" to electoral victories.
"This is what we did in Michigan two weeks ago: we had a ballot proposal to legalize marijuana," he said on MSNBC's The Last Word. "Largest turnout of young people in we don't know when came out to the polls."
It's not entirely clear how large youth turnout specifically was in the state compared to past elections. But in general, Michigan turnout reached its highest levels in 56 years—and across the country, young people did cast ballots in higher numbers.
Besides marijuana legalization, Moore said putting issues like free college and outlawing gerrymandering on the ballot will drive Democrats who "don't vote that much" or "don't like the politicians" to the polls. He emphasized the need to get those issues on the ballot in swing states.
The filmmaker also seems to be speaking from a place of experience, as he made his vote in favor of Michigan's legalization measure a late night TV spectacle when he filled out his absentee ballot in an appearance earlier this month on NBC's Late Night with Seth Meyers.
Michael Moore Votes For Marijuana Legalization During Late Night TV Appearance
There's some limited data that seems to support Moore's theory about marijuana and voter turnout, too. For example, an October survey of registered voters in Wisconsin found that 56 percent said they'd be more likely to cast their ballot if it included a cannabis-related question.
The Midwest May Be the Next Frontier In Marijuana Legalization
Photo courtesy of MSNBC.