Texas Lawsuit Challenges State's New Ban On Smokable Hemp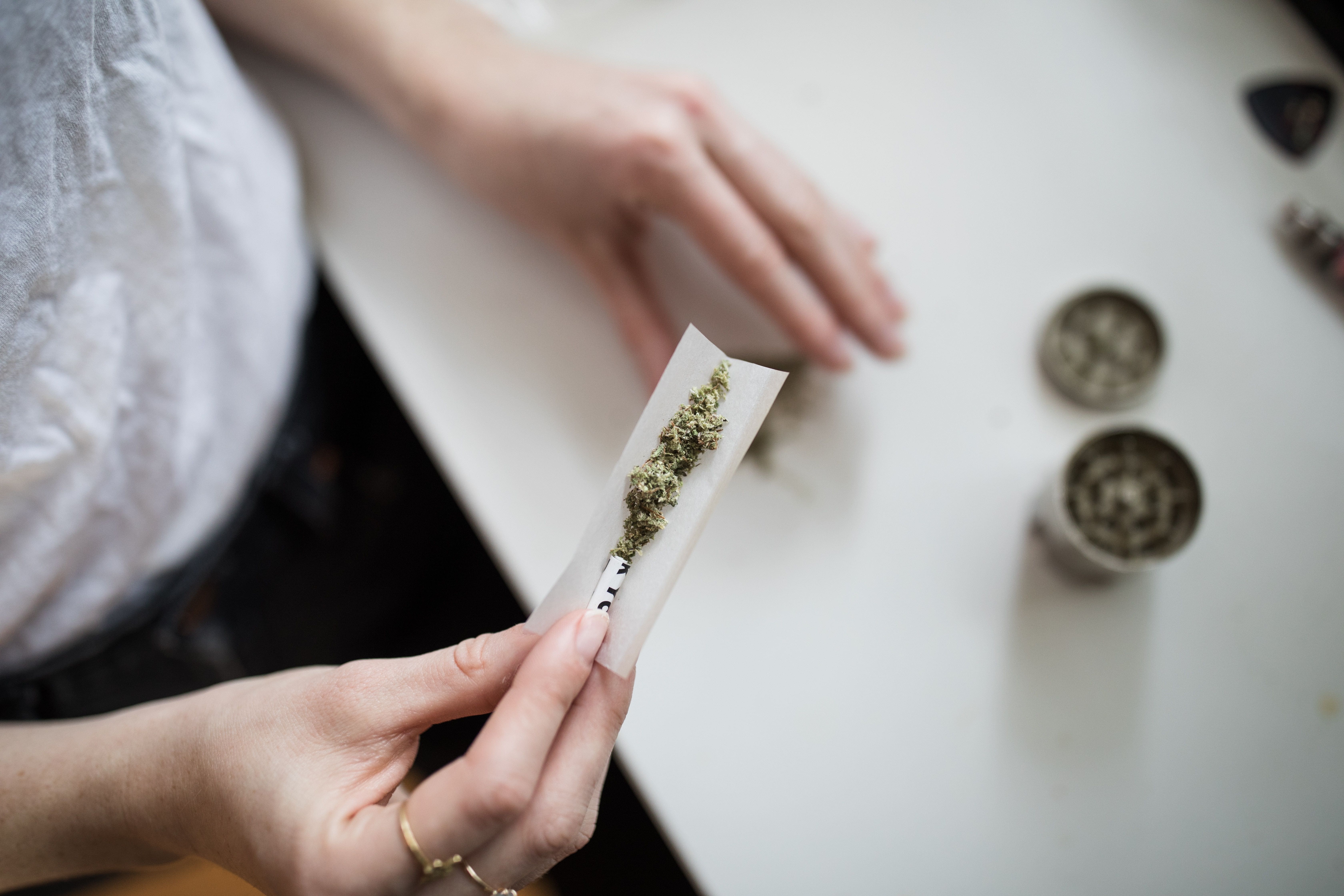 Four Texas companies are suing to overturn the state's new ban on the manufacture and sale of smokable hemp products, which they warn will shut Texas companies out of a multibillion-dollar industry and lead to inaccurately labeled products on store shelves.
In a lawsuit filed in Travis County District Court on Wednesday, the companies are asking a judge to declare the ban unconstitutional and allow hemp products intended for smoking or vaping to be produced and sold legally across the state.
"At a time when the Texas economy is reeling from the fiscal impact of COVID-19, it is unfortunate that the State chose to foreclose such a large economic opportunity for our state and instead chose to force long-standing Texas businesses and jobs across the border to neighboring states, such as Oklahoma," said attorney Chelsie Spencer, counsel for lead plaintiff Crown Distributing LLC.
"Crown Distributing, which manufactures the popular Wild Hemp brand of smokable products, stands to lose $59.6 million in revenue over the next five years if the bans are upheld," Spencer told Marijuana Moment in an email. "The state of Texas stands to lose $2.9 million in sales tax revenue alone."
Texas legalized hemp in 2019, in large part to capture a piece of an industry that is booming following the federal legalization of the crop through the 2018 Farm Bill. Hemp, a category of cannabis that contains less than 0.3 percent THC, has a variety of uses: Its seeds are a nutritious food source, its fibrous stalks can be made into textiles or building materials and its flowers can produce a variety of cannabinoids, most notably cannabidiol (CBD).
Texas's hemp law as passed by the legislature specifically prohibited the manufacture of hemp products intended for smoking or vaping, though it left open the door for selling products made out of state. But a year later, regulators at the Texas Department of State Health Services (DSHS) issued rules extending that ban to forbid the retail sale of any smokable hemp products. That restriction took effect on Sunday.
Plaintiffs in the lawsuit argue that both those provisions should be overturned. The state legislature's ban on processing and manufacturing smokable products violated the state constitution's protection of economic freedom, they say, while DSHS lacked the authority to extend lawmakers' ban to include retail sales.
"DSHS characterizes banning distribution and retail as 'a logical extension' of banning manufacturing," the lawsuit says. "But even if this were true (it is not), agencies have no authority to enact rules that they deem to be a 'logical extension' of law."
Cannabis advocates in the state agree, calling the change a regulatory overreach.
"Hemp regulators are over-stepping their authority and encroaching on the economic liberty of Texas business owners," Heather Fazio, director of Texans for Responsible Marijuana Policy, told Marijuana Moment. "It's absurd to forbid the in-state sale of products that are completely legal in Texas and across the country. Consumers can simply make their purchases online and have it shipped, legally. Cutting local entrepreneurs out of this thriving market is bad for business and bad for Texas."
Joining in the lawsuit are America Juice Co. LLC, a Crown affiliate that also manufacturers smokable products; Custom Botanical Dispensary LLC, an Austin-based retailer that sells smokable hemp products; and 1937 Apothecary, also based in Austin, which makes and sells consumable hemp products including tea, smokables and gummies.
"If allowed to move forward, these bans on smokable hemp products will shutter businesses across the state, resulting in a loss of jobs and tax revenue," the companies said in their complaint. "They impede the economic liberty of Texas businesses, pose an existential threat to Texas hemp manufacturers, farmers, and retailers, and are sure to stifle growth of a budding Texas industry."
As for the ban on producing and manufacturing smokable hemp products, the companies say it violates the state constitution's protections against arbitrary economic restrictions.
"There is no plausible law enforcement benefit from banning the Texas manufacture and processing of smokable hemp products," the lawsuit argues. "Imposing an arbitrary constraint here is particularly perverse because the law does not ban the use or consumption of smokable hemp products. As such, Texas consumers will simply buy smokable products made out-of-state."
"Stated differently," it continues, "if Texas had banned the processing and manufacture of cheese in Texas, Texans wouldn't stop eating cheese."
Banning in-state sales are also problematic from a practical standpoint, the lawsuit argues. Because smokable hemp flower is indistinguishable from hemp flower intended to be used for other purposes, the companies argue, marketers will be encouraged to mislabel products in efforts to skirt the ban.
"The retail ban—especially in view of DSHS's public comments—has no more logic to it than the ban on processing and manufacturing smokables," the lawsuit says. "Texans can still purchase and use smokable hemp products manufactured out-of-state. Texans can also purchase hemp that is not labeled or marketed 'for smoking'—for example, hemp marketed as 'tea'—and they can use that hemp to make their own smokables or with the vaporizing devices shown above. If anything, the Rule and DSHS commentary encourages Texas farmers and retailers to mislabel hemp flower so that consumers will still be able to purchase hemp flower grown in Texas."
While Texas's legalization of hemp last year was met with considerable fanfare, its rollout has been bumpy. In addition to industry frustration over bans on smokables, legalization has also sparked unintentional disruptions in marijuana enforcement across the state.
Because hemp—whether as flower or vape liquid—is virtually indistinguishable from marijuana without testing, law enforcement agencies across the state say they're now unable to bring sound criminal cases without analyzing seized cannabis for THC. Facing backlogs and high costs of private labs, prosecutors have dropped hundreds of low-level cases. The situation has led to a patchwork of marijuana enforcement policies across the state and uncertainty for consumers, who still risk arrest for hemp products that are perfectly legal.
In February, state officials announced a crucial caveat to a long-awaited test to help determine whether samples were hemp or marijuana: State labs wouldn't perform testing in misdemeanor cases. The Texas Department of Public Safety "will not have the capacity to accept those," a letter from Director Steve McCraw said.
In the meantime, Texas hemp companies that once saw the state as a business-friendly environment are considering whether to set up shop elsewhere. The new lawsuit says that Crown is already weighing a move to Oklahoma, citing concerns of more than $50 million in lost revenue during the next five years and as many as 60 lost jobs.
It's not just about profits, the companies insist. "To the extent the Legislative Ban purports to address law enforcement concerns or health related concerns," they argue, "it does nothing."
"The Legislative Ban cannot rationally be understood to reduce the prevalence of smokable hemp in Texas. On the contrary, it works against promoting safe and effective products for consumers," the lawsuit says. "Rather than keeping the manufacture and processing of smokable hemp products in-state, the products will be manufactured and processed out-of-state and shipped into Texas outside its full regulatory reach for consumer safety. The state of Texas will have little to no regulatory oversight over these products."
Read the full lawsuit challenging Texas's ban on smokable hemp below:
Texas Smokable Hemp Lawsuit by Marijuana Moment on Scribd
Texas Marijuana Prosecutions Have Dropped By More Than Half Following Hemp's Legalization
Missouri Launches Medical Marijuana Sales At State's First Dispensaries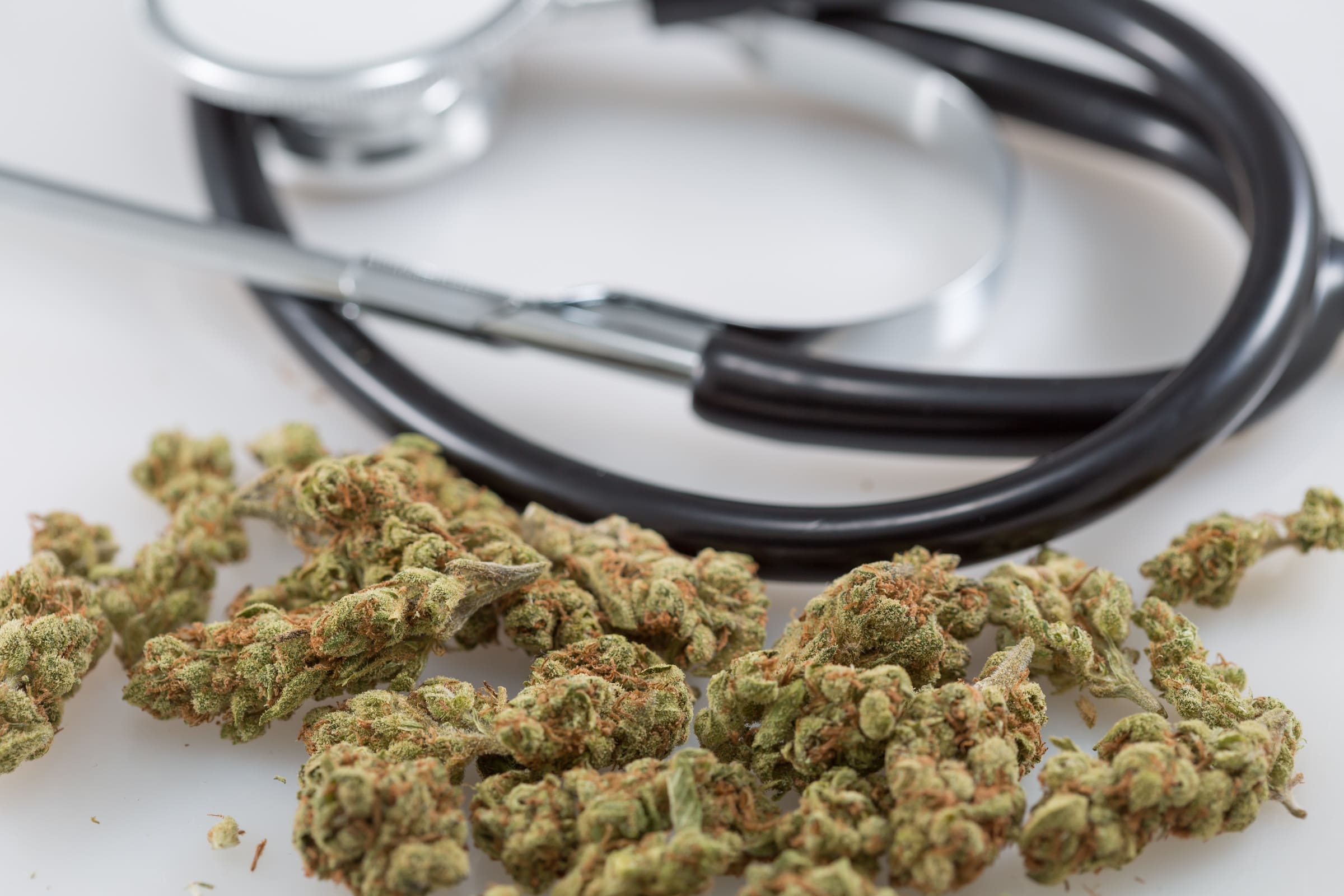 Less than two years after Missouri voters approved a ballot measure to legalize medical marijuana, dispensaries made the state's first cannabis sales to patients on Saturday.
N'Bliss Cannabis opened the doors of two separate St. Louis County locations, in Ellisville and Manchester.
I was honored to watch Larry, a cancer survivor, and his wife Sue, an RN, make the state's first legal medical cannabis purchase this morning in St Louis. @mocanntrade @NewApproachMO pic.twitter.com/rCudrkdbfI

— Jack Cardetti (@jackcardetti) October 17, 2020
"Missouri patients have always been our north star as we work to implement the state's medical marijuana program," Dr. Randall Williams, director of the Missouri Department of Health and Senior Services, said in a press release. "We greatly appreciate how hard everyone has worked so that patients can begin accessing a safe and well-regulated program."
Officials have touted the speed with which they have gotten the voter-approved cannabis program off the ground, saying it is "one of the fastest implementations of a medical marijuana program in the United States."
"A tremendous amount of work has occurred by the licensed facilities and our team to get us to this point, and we continue to hear from more facilities that they are ready or almost ready for their commencement inspection," Lyndall Fraker, director of the Section for Medical Marijuana Regulation, said in a press release. "We look forward to seeing these facilities open their doors to serve patients and caregivers."
First #medicalmarijuana sales to patients in #MO take place today.

DHSS interactive facility map: https://t.co/Os2yc0jBdU pic.twitter.com/tpzztI9sOh

— Mo Health & Sr Srvcs (@HealthyLivingMo) October 17, 2020
The impending launch of sales on Saturday was first announced by the Missouri Medical Cannabis Trade Association on Friday and reported by The Springfield News-Leader.
The wait is finally over! Tomorrow morning at 9am @NBlissCannabis will open the doors to their Ellisville and Manchester locations for the first medical marijuana sales in Missouri! Congrats to the whole N'Bliss team! The #MOMMJ industry is up and running! pic.twitter.com/wyZIcoyLBv

— MoCannTrade (@mocanntrade) October 16, 2020
The state, which has so far licensed 192 dispensaries and expects most of them to open their doors by the end of the year, posted an interactive map that tracks the status of approved medical marijuana businesses.
For months, regulators have been caught up in lawsuits and appeals challenging their licensing decisions, with revenues that would otherwise go to supporting veteran services instead being allocated to covering legal costs.
Missouri isn't the only state to see medical cannabis sales launch this weekend. Virginia's first medical marijuana dispensary also held its grand opening on Saturday.
Meanwhile, recreational sales of marijuana rolled out in Maine last week—four years after voters there approved a legalization ballot measure.
Another New Jersey Poll Shows Marijuana Legalization Passing By A Huge Margin
Illinois Continues Record-Breaking Marijuana Sales Streak, New State Data For September Shows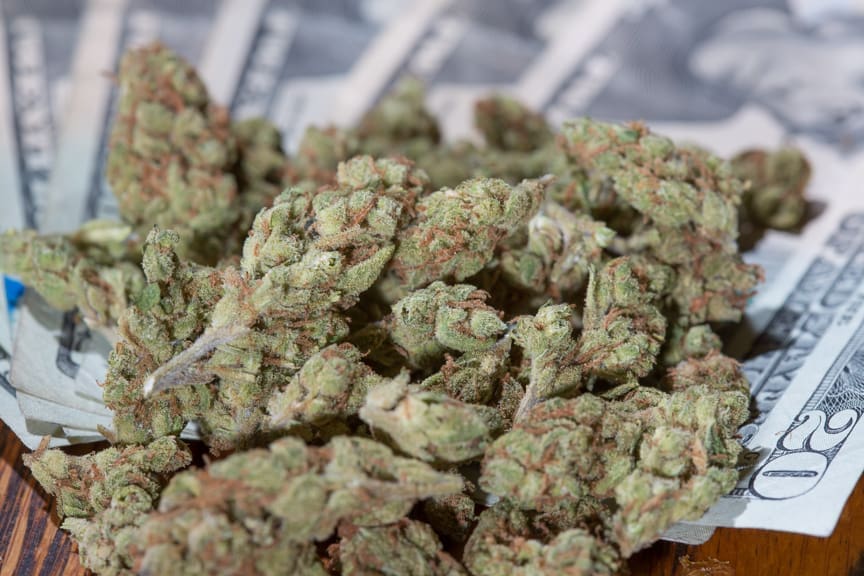 For the fifth month in a row, Illinois is again reporting record-breaking marijuana sales, the state Department of Financial and Professional Regulation announced on Monday.
Despite the coronavirus pandemic, Illinois has seen escalating cannabis sales month-over-month. In September, consumers purchased more than 1.4 million marijuana products worth a total of nearly $67 million. Almost $18 million of those sales came from out-of-state visitors.
In August, the total sales reached about $64 million—the previous monthly record. The new adult-use sales figures don't include data about purchases made through the state's medical cannabis program.
This latest data seems to support the notion that the state's marijuana market is "recession-proof" and "pandemic-proof," as a top regulator said in August.
State officials have emphasized that while the strong sales trend is positive economic news, they're primarily interested in using tax revenue to reinvest in communities most impacted by the drug war. Illinois brought in $52 million in cannabis tax revenue in the first six months since retail sales started in January, the state announced in July, 25 percent of which will go toward a social equity program.
"We were not doing this to make as much money as fast as we possibly could," Toi Hutchinson, senior cannabis advisor to Gov. J.B Pritzker (D), said. "We were actually doing this for people," with a focus on supporting communities most impacted by the drug war.
In May, the state also announced that it was making available $31.5 million in restorative justice grants funded by marijuana tax revenue.
That said, ensuring an equitable market as promised hasn't been easy. Regulators have recently faced lawsuits after dozens of would-be social equity licensees were denied an opportunity to participate in a licensing lottery over alleged problems with their applications. The state said it would approve 75, but only 21 ultimately qualified—and critics complain that the resources it takes to submit an acceptable application creates barriers for the exact people the special licenses are supposed to help.
The governor announced last month that new procedures would be implemented allowing rejected applicants to submit corrected forms. But on Monday, three investors who are finalists from the initial round filed a lawsuit against the state, alleging that the administration's decision to permit resubmissions was politically motivated and illegal.
For now, the out-of-state sales data seems to support Pritzker's prediction during his State of the State address in January that cannabis tourism would bolster the state's coffers.
Prior to implementation, the pardoned more than 11,000 people with prior marijuana convictions.
Over in Oregon, officials have been witnessing a similar sales trend amid the global health crisis. Data released in August reveals that the state saw about $106 million in medical and recreational cannabis sales, marking the third month in a row that sales exceeded $100 million.
Vote For Marijuana Legalization Referendum To Promote Social Justice, New Jersey Governor Says
California Governor Approves Changes To Marijuana Banking And Labeling Laws
California Gov. Gavin Newsom (D) signed a handful of marijuana bills into law on Tuesday, making a series of small adjustments to the nation's largest legal cannabis system. More sweeping proposals such as overhauling the state's marijuana regulatory structure will have to wait until next year, the governor said.
Among the biggest of the new changes are revisions to banking and advertising laws. With many legal marijuana businesses are still unable to access financial services, Newsom signed a bill (AB 1525) to remove state penalties against banks that work with cannabis clients.
"This bill has the potential to increase the provisions of financial services to the legal cannabis industry," Newsom wrote in a signing statement, "and for that reason, I support it."
Democrats in Congress, meanwhile, have been working for months to remove obstacles to these businesses' access to financial services at the federal level. A coronavirus relief bill released by House Democratic leaders on Monday is the latest piece of legislation to include marijuana banking protections. Past efforts to include such provisions have been scuttled by Senate Republicans.
In his signing statement on the banking bill, Newsom directed state cannabis regulators to establish rules meant to protect the privacy of marijuana businesses that seek financial services, urging that data be kept confidential and is used only "for the provision of financial services to support licensees."
Another bill (SB 67) the governor signed on Tuesday will finally establish a cannabis appellation program, meant to indicate where marijuana is grown and how that might influence its character. The system is similar to how wine regions are regulated.
Under the new law, growers and processors under the new law will be forbidden from using the name of a city or other designated region in product marketing unless all of that product's cannabis is grown in that region. Similar protections already apply at the county level.
For outdoor growers, the new law recognizes the importance of terrior—the unique combination of soil, sun and other environmental factors that can influence the character of a cannabis plant. For indoor growers, it provides a way to represent a hometown or cash in on regional cachet.
Most of the other new changes that the governor signed into law are relatively minor and will likely go unnoticed by consumers. One, for example, builds in more wiggle room on the amount of THC in edibles (AB 1458), while another would allow state-licensed cannabis testing labs to provide services to law enforcement (SB 1244).
The bills were approved by state lawmakers earlier this month, as the state's legislative session drew to a close.
Other pieces of cannabis legislation passed by the legislature this session were met with the governor's veto. On Tuesday, Newsom rejected a proposal (AB 1470) that would have allowed processors to submit unpackaged products to testing labs, which industry lobbyists said would reduce costs. Currently products must be submitted in their final form, complete with retail packaging. Newsom said the proposal "conflicts with current regulations…that prevent contaminated and unsafe products from entering the retail market."
"While I support reducing packaging waste, allowing products to be tested not in their final form could result in consumer harm and have a disproportionate impact on small operators," Newsom said in a veto statement.
Those changes to testing procedures should instead be considered next year, Newsom said, as part of a pending plan to streamline California's cannabis licensing and regulatory agencies.
"I have directed my administration to consolidate the state regulatory agencies that currently enforce cannabis health and safety standards to pursue all appropriate measures to ease costs and reduce unnecessary packaging," he wrote. "This proposal should be considered as part of that process."
Newsom also last week vetoed a bill (AB 545) that would have begun to dissolve the state Bureau of Cannabis Control, which oversees the legal industry. In a statement, the governor called that legislation "premature" given his plans for broader reform.
"My Administration has proposed consolidating the regulatory authority currently divided between three state entities into one single department," Newsom wrote, "which we hope to achieve next year in partnership with the Legislature."
Earlier this month, the governor signed into law one of the industry's top priorities for the year—a measure (AB 1872) that freezes state cannabis cultivation and excise taxes for the entirety of 2021. The law is intended to provide financial stability for cannabis businesses in California, where taxes on marijuana are among the highest in the nation.
The state's leading marijuana trade group, the California Cannabis Industry Association (CCIA), applauded the governor's moves. All the bills approved by Newsom this week had the industry group's support.
"We thank Governor Newsom for prioritizing these bills, which seek to reduce regulatory burdens, improve enforcement, expand financial services and enhance the state's cannabis appellation's program," CCIA Executive Director Lindsay Robinson said in a message to supporters on Wednesday. "Like so many, the cannabis industry has faced a series of unexpected challenges and setbacks in 2020. We look forward to continuing to work with the Newsom Administration, and the Legislature, as we pursue a robust policy agenda in 2021."
New Jersey Governor Works To Get Out The Vote For Marijuana Legalization Referendum
Image element courtesy of Gage Skidmore