Study Funded By Feds Debunks Myths About Marijuana Legalization's Alleged Harms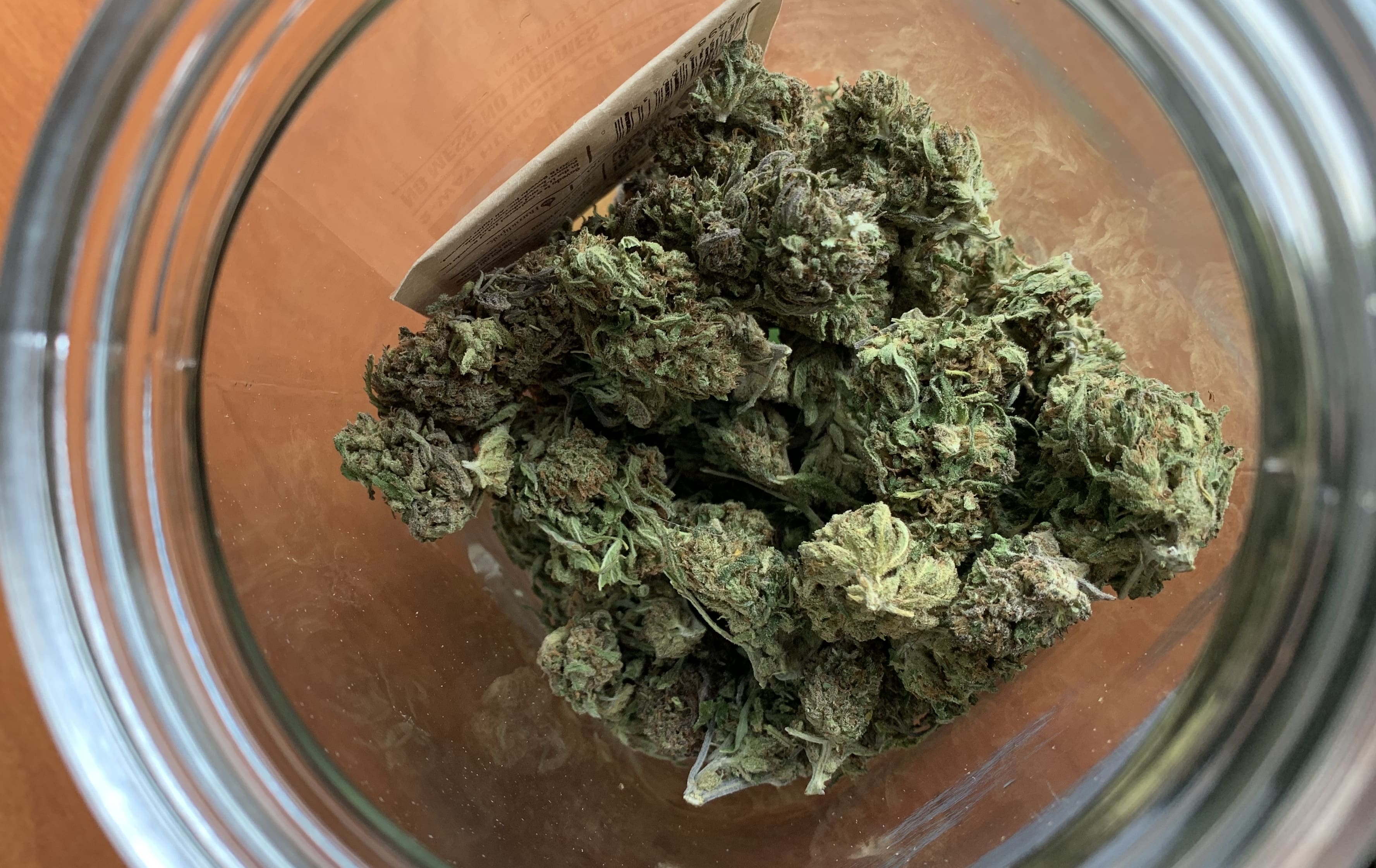 The Department of Justice paid for a new study on the impact of marijuana legalization that ended up showing cannabis programs do not seem to negatively affect neighboring, non-legal states.
The paper's authors said they sought to answer three questions in these analysis of state-level data: 1) How does legalization impact law enforcement resources in legal states? 2) How does it impact those resources in bordering, non-legal states? and 3) What does legalizing cannabis mean for drug trafficking?
To assess the impact, the researchers looked at statistics on drug possession and distribution arrests in a mix of legalized states and nearby ones that maintained prohibition. According to that data, legalization didn't cause the sky to fall.
"Legalizing marijuana did not have a noticeable impact on indicators in states that bordered those that legalized," the study concluded, adding that "there were no noticeable indications of an increase in arrests related to transportation or trafficking offenses in states along the northern or southern borders."
That is evidently a finding that the Justice Department does not want the public to think it endorses. At the beginning of the report—and on every other page—there's a disclaimer stressing that while federal funds were used to support the research, "[o]pinions or points of view expressed are those of the author(s) and do not necessarily reflect the official position or policies of the U.S. Department of Justice."
Here's what the study authors, who are affiliated with the Justice Research and Statistics Association, found:
Not surprisingly, arrests for marijuana possession dropped significantly in Washington after the state legalized cannabis in 2012. Those arrests continued to drop after retails sales became available. Distribution arrests followed a similar trend.
There was less data on Oregon at the time of the study in 2015, as the state legalized the previous year. However, the statistics showed that during "the post-legalization period, arrests for marijuana possession, already low, dropped to close to zero." Cannabis distribution charges in the state also followed a downward trend.
The researchers then looked at neighboring states that did not legalize. While cannabis accounted for the vast majority of drug possession arrests in Oklahoma, where cannabis is still prohibited for adult use, the arrest rate dipped marginally during the post-legalization years in Colorado from 2012 to 2014.
Arrests for sales and manufacturing of cannabis in Oklahoma also dropped in that timeframe, with the exception of a small spike in 2013.
Arrests for possession "increased from 2003 to 2008, but did not change much from 2009 to 2013 (except for a slight increase in 2012)" in Nebraska.
The findings from Nebraska and Oklahoma are particularly notable since those two states sued Colorado over its marijuana legalization law in 2014, alleging that it effectively polluted their jurisdictions with illegal cannabis. The Supreme Court declined to take the case, and the new study seems to undermine the prohibitionist states' claims about the impact their neighbor's legalization law had across their borders.
"No noticeable change in the trend line for marijuana occurred after recreational use was legalized in Colorado," the study authors said of data on possession convictions in Kansas from 2011 to 2014.
Finally, the researchers looked at drug trafficking trends in Idaho, where cannabis is not legal, and Washington state.
Trafficking arrests actually increased significantly in 2012 and 2013, but at the same time, the number of cases that were ultimately dismissed far outpaced those that ended in a guilty plea in the post-legalization period.
In Washington, seizures of marijuana plummeted after the state legalized cannabis. Those seizures continued to drop, with the exception of a significant spike in January 2014.
The researchers supplemented their report with interviews with several law enforcement officials. Despite the data-based findings on arrest rates for possession, distribution and seizures, police broadly expressed anecdotal concerns about issues such as perceived increases in youth usage, THC potency, drug-impaired driving and an influx in out-of-state visitors that have taxed their departments.
Colorado-based interviewees apparently indicated that the increased availability in higher potency THC products has mitigated the influence of Mexican drug cartels. However, Oregon respondents "reported that Russian and Afghani groups who steal crops and cash from local growers are now heavily involved in drug trafficking."
After discussing the data limitations of the study, the authors concluded that "it indeed seems to be the case that legalizing the recreational use of marijuana results in fewer marijuana related arrests and court cases" and that while law enforcement sources voiced various concerns, several "indicated that methamphetamine and heroin were much larger problems for their agencies than was marijuana."
The team "saw no evidence that marijuana legalization had an impact on indicators in border states," adding that they "found no indications of increases in arrests related to transportation/trafficking offenses."
"Again, it is possible that different indicators, examined over a longer period of time, might reveal impacts of marijuana legalization on drug trafficking," they wrote.
Majority Of Americans Support Decriminalizing All Drugs, Poll Finds
Photo courtesy of Kimberly Lawson.
New York City Opens First Safe Consumption Sites For Illegal Drugs In The U.S.
New York City is officially the first jurisdiction in the U.S. to open safe consumption sites where people can use currently illicit drugs in a medically supervised environment and receive treatment resources.
It's a harm reduction service that advocates have long argued could serve a critical role in reducing the overdose crisis. Other cities like Philadelphia and San Francisco have moved to allow safe consumption sites, but legal and political challenges have kept the facilities from opening.
The first two sites will begin operating on Tuesday, located at existing facilities that provide syringe exchange services, Mayor Bill de Blasio's (D) office announced.
For more than 29 years, we have dedicated our lives to ending #overdose deaths & the criminalization & stigma associated with substance use. Being the 1st OPC site in the US is an honor & incredible step forward in ending the #overdosecrisis #wearethemedicine #THISSITESAVESLIVES pic.twitter.com/3NuuDCSh9C

— NYHRE (@NYHarmReduction) November 30, 2021
"New York City has led the nation's battle against COVID-19, and the fight to keep our community safe doesn't stop there. After exhaustive study, we know the right path forward to protect the most vulnerable people in our city. And we will not hesitate to take it," de Blasio said in a press release.
"Overdose Prevention Centers are a safe and effective way to address the opioid crisis," he said. "I'm proud to show cities in this country that after decades of failure, a smarter approach is possible."
According to an @nycHealthy study, these sites could save 130 lives a year from overdose. During 2020, over 2,000 people died of a drug overdose in New York City, the highest number since reporting began in 2000. https://t.co/ieZozFxyqz

— Commissioner Dave A. Chokshi, MD (@NYCHealthCommr) November 30, 2021
What remains to be seen is how the federal Justice Department will approach the novel centers. Under the Trump administration in 2019, DOJ sued to block a Philadelphia non-profit, Safehouse, from opening a safe injection site. In October, the Supreme Court rejected a request to hear a case on the legality of establishing the facilities.
The current secretary of the U.S. Department of Health and Human Services (HHS), Xavier Bacerra, recently signaled that the Biden administration would not move to block the establishment safe injection sites, stressing that "we are literally trying to give users a lifeline."
But a department spokesperson later walked those remarks back, stating that "HHS does not have a position on supervised consumption sites" and the "issue is a matter of ongoing litigation." In any case, it would be up to DOJ to decide whether to pursue operators of the facilities under the Controlled Substances Act.
Bacerra was among eight top state law enforcement officials who filed an amicus brief in support of the Safehouse's safe injection site plan when he served as California's attorney general.
Advocates have put the current situation in no uncertain terms. They say the harm reduction centers could mean the difference between life and death for countless Americans who consume currently illegal drugs.
In New York City specifically, the health department conducted a feasibility study that found the safe consumption sites could save as many as 130 lives per year.
"The national overdose epidemic is a five-alarm fire in public health, and we have to tackle this crisis concurrently with our COVID fight," Health Commissioner Dave Chokshi said. "Giving people a safe, supportive space will save lives and bring people in from the streets, improving life for everyone involved. Overdose prevention centers are a key part of broader harm reduction."
The nonprofits New York Harm Reduction Educators and Washington Heights Corner Project will run the operations with plans to merge and expand under the name OnPoint NYC.
The national overdose epidemic is a five-alarm fire in public health, and we have to tackle this crisis concurrently with our #COVID19 fight. Giving people a safe, supportive space will save lives. Overdose prevention centers are a key part of broader harm reduction.

— Commissioner Dave A. Chokshi, MD (@NYCHealthCommr) November 30, 2021
The Biden administration has generally promoted the concept of harm reduction as part of its drug policy, but it hasn't formally weighed in on safe consumption sites in particular.
Chokshi told The New York Times that he's had "productive conversations" with state and federal officials and feels the New York City facilities will be permitted to operate based on "a shared sense of urgency" to curb the overdose crisis.
Manhattan District Attorney Cyrus Vance Jr., meanwhile, said that "we have always been trying to strike the right balance between enforcement, rehabilitation and prevention."
"I would rather have people who are going to shoot up do it in a safe and secure venue as opposed to a McDonald's bathroom, an alleyway or a subway staircase," he said.
The legal complication for these harm reduction sites is principally related to a so-called federal "crack house statute" that makes it a felony to use a location for the manufacturing, distribution or consumption of controlled substances.
"We applaud Mayor de Blasio for showing leadership in fighting deadly overdoses in New York City by moving to establish Overdose Prevention Center pilots amid the worst-ever year for overdose deaths in New York," Kassandra Frederique, executive director of the Drug Policy Alliance, said.
"While other politicians have pointed to the lack of clarity in the Department of Justice's position on overdose prevention centers as an excuse for inaction, the Mayor has clearly stated that saving lives is more important to New York City," she said.
Yes. It's real. We're finally doing it! https://t.co/uHEADWHYE3

— CORNER Project (@cornerproject) November 30, 2021
Michael Botticelli, the former director of the Office of National Drug Control Policy (ONDCP) under the Obama administration, told the Times that "many cities have been waiting for someone to go first, particularly to see what the federal Department of Justice reaction is going to be."
"It's hugely important, not just from a public health perspective but for other communities around the country that have been contemplating this to be able to point to New York City and say we are doing this in the United States," Botticelli, who was in a position to provide guidance on these harm reduction issues while in office, said.
The current ONDCP head, Rahul Gupta, has faced criticism from advocates over his harm reduction record. As commissioner for the West Virginia Department of Health and Human Resources Bureau for Public Health, he oversaw the decertification of a syringe access program that was designed to mitigate the spread of diseases like HIV and offer resources to people with substance misuse disorders.
As the national conversation around drug policy and substance misuse continues to evolve, support for harm reduction centers has expanded outside of traditional advocacy circles.
A coalition of 80 current and former prosecutors and law enforcement officials—including one who is Biden's pick for U.S. attorney of Massachusetts—also previously filed a brief urging the Supreme Court to take up Safehouse's safe consumption case.
While New York City is the first to open the harm reduction centers, the governor of Rhode Island did sign a historic bill in July to establish a safe consumption site pilot program.
Massachusetts lawmakers advanced similar legislation last year, but it was not ultimately enacted.
A similar harm reduction bill in California, sponsored by Sen. Scott Wiener (D), was approved in the state Senate in April, but further action has been delayed until 2022.
Credit Unions Urge Congress To Pass Marijuana Banking Reform Through Defense Bill
Credit Unions Urge Congress To Pass Marijuana Banking Reform Through Defense Bill
Major associations representing U.S. credit unions are calling on Congress to pass marijuana banking reform through must-pass defense legislation.
It's the latest in a series of requests from lawmakers, stakeholders and advocates to advance legislation to protect financial institutions that work with state-legal cannabis businesses from being penalized by federal regulators.
Specifically, they want to see the Senate follow the House's lead in attaching language from the Secure and Fair Enforcement (SAFE) Banking Act to the National Defense Authorization Act (NDAA).
"We take no position on legalizing or decriminalizing medicinal or recreational cannabis at either the state or federal level," the associations said in a letter to key committee leadership. "However, credit unions operating in states where it is legal have members and member businesses involved in the cannabis market who need access to traditional depository and lending services, the absence of which creates a significant public safety issue."
The Credit Union National Association, Defense Credit Union Council and National Association of Federally-Insured Credit Unions signed the letter, which also touches on non-cannabis issues.
This week in #CUAdvocacy: The Senate will resume consideration of the #NDAA, and CUNA will be engaged in several hearings. Learn more: https://t.co/1vJfaEEymB

— CUNA (@CUNA) November 29, 2021
The groups, which wrote that they "strongly support" attaching SAFE Banking to NDAA, also stressed that "financial institutions that choose not to bank the cannabis industry still risk unknowingly serving those businesses in states where cannabis is legal."
"Indirect connections are often difficult to identify and avoid because like any other industry, those offering cannabis-related services work with vendors and suppliers," the letter continues. "Under the existing status quo, a credit union that does business with any one of these indirectly affiliated entities could unknowingly risk violating federal law."
"Inclusion of the SAFE Banking Act puts in place necessary protections to bring revenue from state-sanctioned cannabis businesses into the financial services mainstream and, as a result, keeping communities safe," it concludes.
While the Senate has yet to independently add the banking reform language to its version of NDAA, supporters want to see the provisions adopted by negotiators in conference for the final legislation sent to President Joe Biden's desk.
Bipartisan members of the Senate Armed Services Committee recently sent their own letter urging leaders to include the SAFE Banking Act in the final NDAA. Shortly thereafter, U.S. senators representing Colorado made the same request in a separate letter.
The SAFE Banking Act has been approved in some form in the House five times now, but it's so far languished in the Senate. Stakeholders have held out hope that the chamber would advance the legislation with a Democratic majority, but some key players like Senate Majority Leader Chuck Schumer (D-NY) have insisted on passing comprehensive legalization—like a reform bill he's finalizing—first.
That said, Schumer has signaled that he's open to enacting banking reform through NDAA if it contained social equity provisions.
Earlier this month, a bipartisan coalition of two dozen governors implored congressional leaders to finally enact marijuana banking reform through the large-scale defense legislation.
A group of small marijuana business owners also recently made the case that the incremental banking policy change could actually help support social equity efforts.
Rodney Hood, a board member of the National Credit Union Administration, wrote in a Marijuana Moment op-ed last month that legalization is an inevitability—and it makes the most sense for government agencies to get ahead of the policy change to resolve banking complications now.
Meanwhile, an official with the Internal Revenue Service said last month that the agency would like to "get paid," and it'd help if the marijuana industry had access to banks like companies in other legal markets so they could more easily comply with tax laws.
Federal data shows that many financial institutions remain hesitant to take on cannabis companies as clients, however, which is likely due to the fact that the plant is a strictly controlled substance under federal law.
Read the letter from the credit union associations on marijuana banking below: 
Marijuana Had 'Unprecedented' Success In State Legislatures In 2021, NORML Report Shows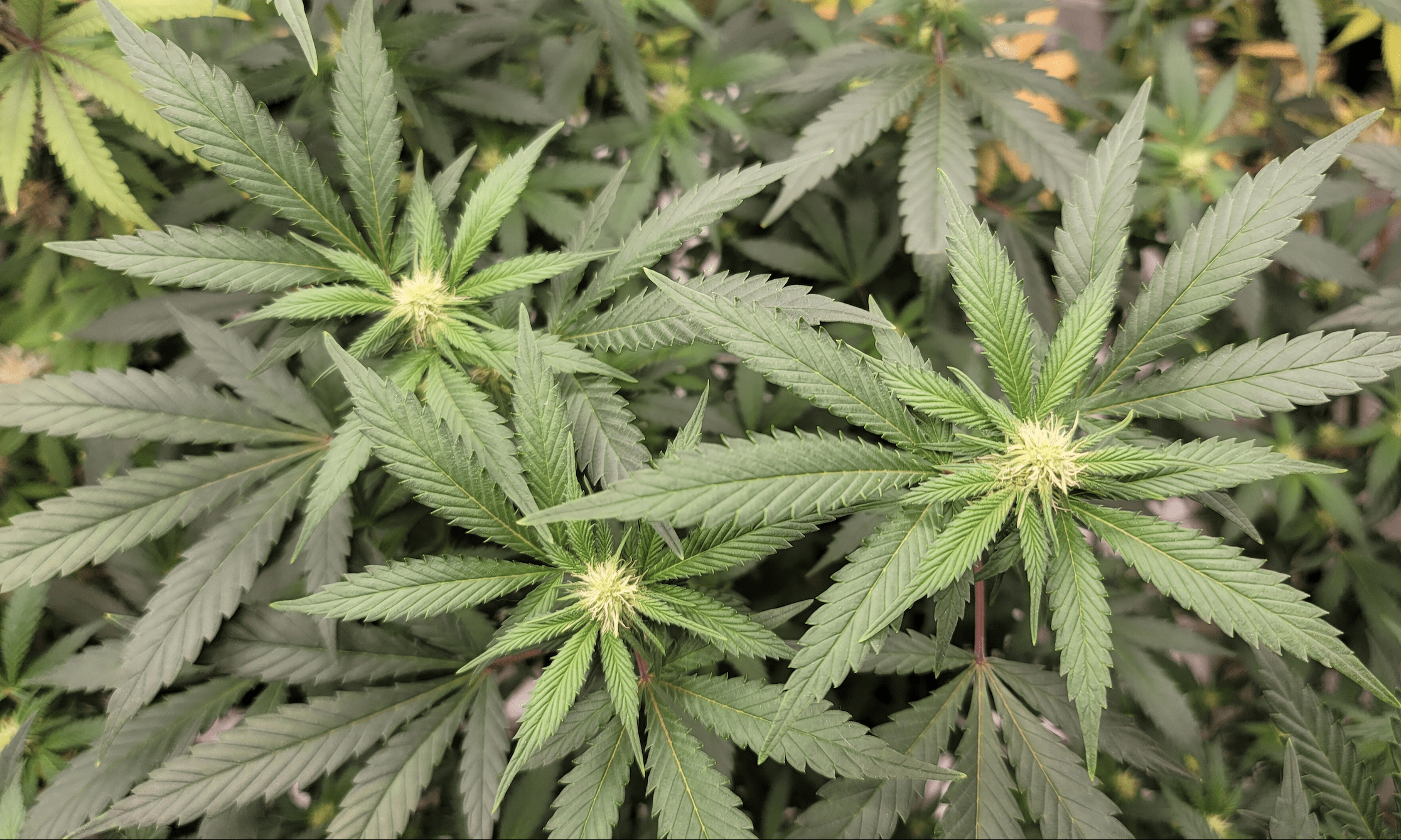 Lawmakers across the U.S. proved again in 2021 that marijuana reform will continue to advance on the state level despite the recalcitrance of Congress to end federal prohibition.
As more eyes turn to 2022 legislative sessions, a report from NORML that was released on Monday details advocates' progress on the cannabis front this year in more than 25 states, where over 50 pieces of marijuana reform legislation were enacted.
Most notably, legislatures and governors in five states enacted recreational legalization—a notable trend given that the reform has historically been decided by voters as ballot initiatives. But 2021 has also seen more modest policy changes related to medical cannabis, decriminalization and social equity.
"State lawmakers took unprecedented steps this year to repeal marijuana prohibition laws and to provide relief to those millions of Americans who have suffered as a result of them," NORML Deputy Director Paul Armentano said in a press release.
Of course, one of the primary objectives of reform advocates is to comprehensively end prohibition. To that end, the legislatures of Connecticut, New Jersey, New Mexico, New York and Virginia each legalized marijuana for adult use this year. (New Jersey's action came months after voters approved a referendum on the issue during last November's election.)
In Rhode Island, the Senate approved a marijuana legalization bill in June. While legislative leaders discussed holding a special session to send a final measure to the governor's desk, it now appears more likely that the issue will be taken up again in 2022.
North Dakota's House also passed a recreational legalization bill, but it was later rejected in the Senate.
Louisiana lawmakers, meanwhile, passed legislation this year that decriminalizes possession of up to 14 grams of cannabis.
With respect to expungements for prior marijuana convictions, reform measures meant to help provide people with relief were approved in Colorado, Delaware, New Mexico and Virginia, NORML reported.
As an example, the governor of Colorado signed a bill in May to double the marijuana possession limit for adults in the state—and he also directed state law enforcement to identify people with prior convictions for the new limit who he may be able to pardon.
Separately, Alabama's governor signed legislation that same month to legalize medical cannabis in the state.
—
Marijuana Moment is already tracking more than 1,200 cannabis, psychedelics and drug policy bills in state legislatures and Congress this year. Patreon supporters pledging at least $25/month get access to our interactive maps, charts and hearing calendar so they don't miss any developments.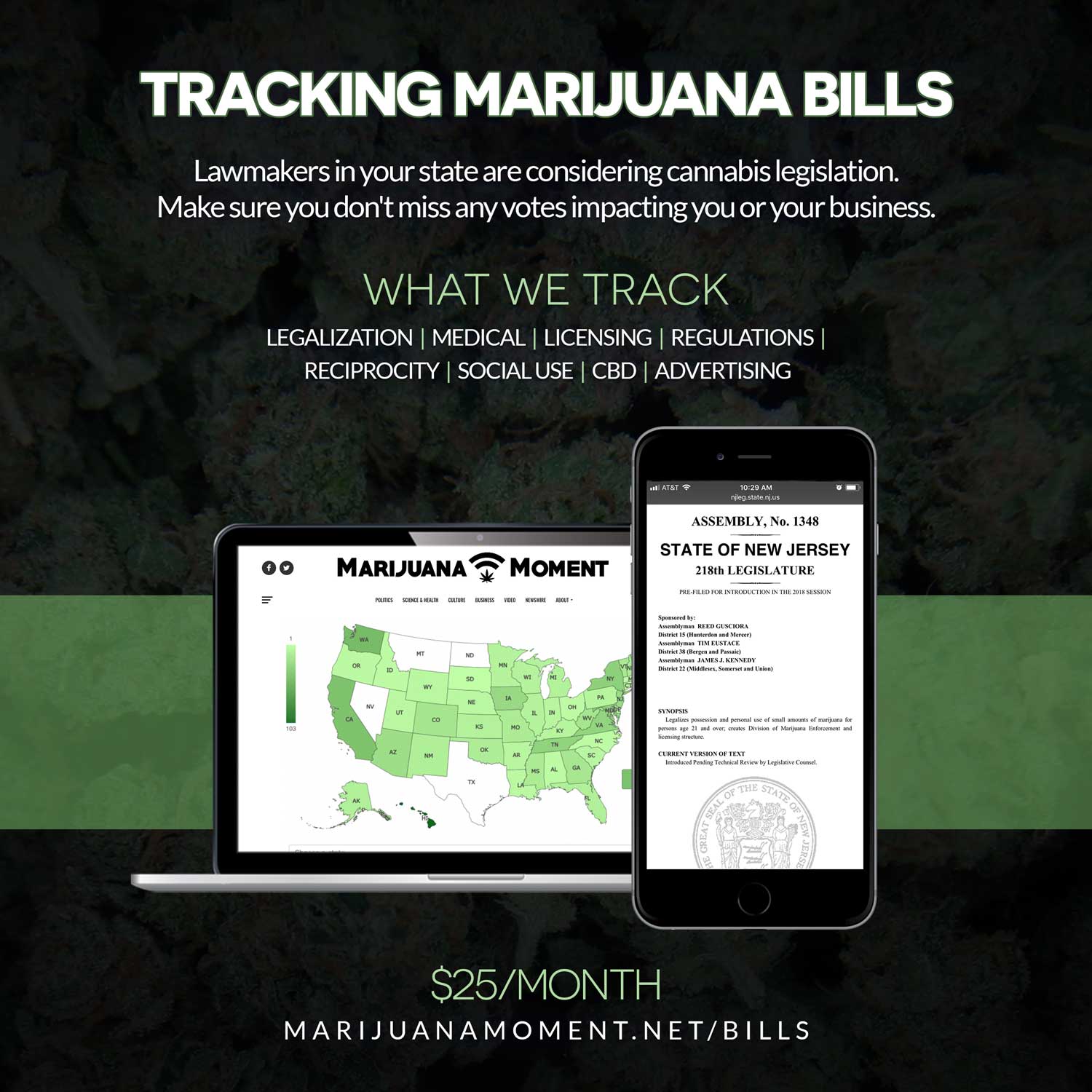 Learn more about our marijuana bill tracker and become a supporter on Patreon to get access.
—
At least 15 states took steps to expand existing medical marijuana programs. They range from California, where hospitals will now be required to permit medical cannabis use by certain patients, to Texas, where patients can now qualify for low-THC marijuana products if they suffer from post-traumatic stress disorder or cancer.
As state markets have continued to evolve, some lawmakers have turned their attention to enhancing social equity in the industry. And to that end, five state legislatures advanced reform this year.
For example, Illinois passed a bill to create additional marijuana licensing lotteries to expand business opportunities. And in Michigan, the governor signed a bill this month that makes it so people with cannabis-related felony or misdemeanor convictions on their record are no longer disqualified from obtaining a medical cannabis business license.
NORML also documented other reform bills related to the business industry, driving/DUI policies, juvenile justice and more. One miscellaneous measure that was enacted in California, for example, makes it so non-intoxicating cannabinoids, including CBD, can be sold as dietary supplements and as ingredients in food and beverages.
"As we approach the 2022 legislative session and the elections next November, it is important for lawmakers of all political persuasions to recognize that advocating for marijuana policy reforms is a political opportunity, not a political liability," NORML's Armentano said. "These policies are popular among voters, regardless of political party."
Activists and lawmakers have made clear that the cannabis reform momentum will continue through the new year.
On Monday, for instance, a Kentucky lawmaker announced that she is pre-filing bills to legalize possession, limited sales and home cultivation of marijuana in the state for the 2022 session.
In the South Dakota legislature, a cannabis reform bill has been formally recommended by a leadership panel for the upcoming session. And activists will also continue collecting signatures for a 2022 ballot initiative—though they hope to work with lawmakers to advance reform legislatively ahead of next year's election.
The Indiana Democratic party is mounting a push for marijuana legalization and calling on state lawmakers to enact the reform in 2022.
Arkansas activists are also hoping to place marijuana legalization on the state's 2022 ballot.
Last month, Oklahoma activists filed a pair of 2022 ballot initiatives to legalize adult-use marijuana and remodel the state's existing medical cannabis program.
In Nebraska, advocates unveiled the language of a pair of initiatives to legalize medical marijuana in the state last month.
This summer, New Hampshire lawmakers discussed a new strategy to legalize marijuana in the state that involves putting a proposed constitutional amendment on the ballot for voters to decide on in 2022.
Wyoming activists, meanwhile, are working to collect signatures for 2022 ballot initiatives to legalize medical marijuana and decriminalize cannabis possession.
A Maryland House working group has been tasked with studying marijuana and preparing a legalization referendum that the speaker wants to put on next year's ballot.
Just months ago, Ohio activists were cleared to begin collecting signatures for a 2022 ballot initiative to legalize marijuana in the state. And the campaign says it expects to have enough valid signatures by the end of this month.
Idaho advocates are also pursuing a 2022 cannabis legalization ballot initiative as well as a separate proposal focused on medical marijuana.
Kentucky Lawmaker Pre-Files Marijuana Legalization Bills For 2022 Session
Photo courtesy of Mike Latimer.