Senate Amendment Requires Feds To Study Marijuana Legalization's Impact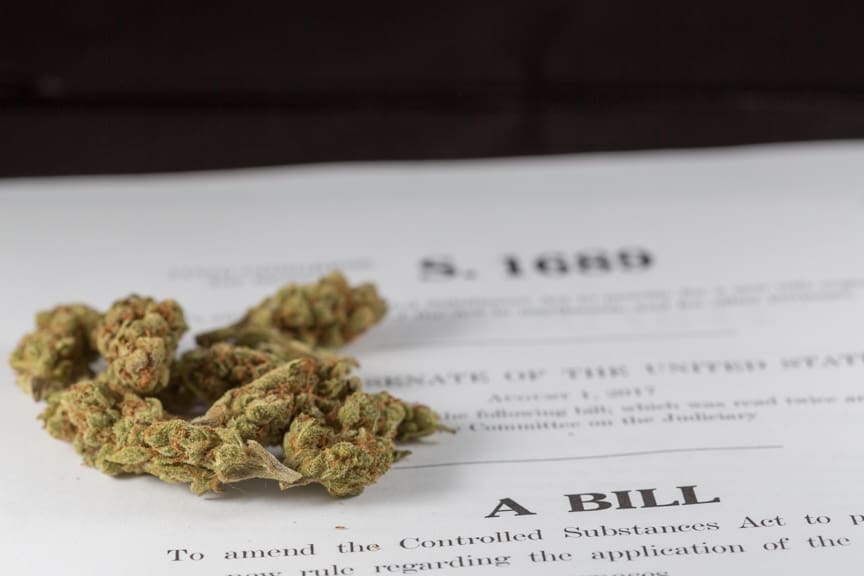 The U.S. Senate may consider an amendment next week that would require federal agencies to conduct a study on how marijuana legalization is impacting states that have adopted it.
The measure, filed on Thursday by Sen. Robert Menendez (D-NJ), would direct the Departments of Justice, Labor and Health and Human Services to contract with the National Academy of Sciences for a 10-year examination of "monetary amounts generated" by legal cannabis tax revenue, as well as "rates of medicinal use" and "rates of overdoses with opioids and other painkillers" in states with some form of legalization, among other datapoints.
"The need for Congress to pull its head from the sand regarding the implications of functional regulated marijuana markets is dire," Justin Strekal, political director for NORML, told Marijuana Moment. "No senator can intellectually justify remaining willfully ignorant to the results of successful state-legal programs and the National Academy of Sciences can prove to be the neutral arbitrator in assessing the real world impact that is happening in 31 medical or adult-use states throughout the country."
The Senate amendment's text is similar to standalone House legislation that Reps. Tulsi Gabbard (D-HI, Carlos Curbelo (R-FL) and others filed last month.
Watch Congresswoman Tulsi Gabbard And Other Federal Reps File New Marijuana Bill
The senator is seeking to attach the language to a bill to fund parts of the federal government, including the Departments of Defense, Labor, Education and Health and Human Services, for Fiscal Year 2019. The legislation has been on the floor this week, with consideration expected to resume on Monday.
Menendez's Senate proposal isn't identical to Gabbard's House bill, as it leaves out directives from the earlier legislation for federal agencies to study legalization's impact on criminal justice and employment. Advocates said that those sections weren't germane to the title of the appropriations bill the senator is seeking to amend, and therefore had to be excluded.
Separately from the amendment, the senator plans to file a standalone companion bill containing the full text of the Marijuana Data Collection Act, his communications director, Patricia Enright, told Marijuana Moment in an email.
"Senator Menendez believes that as more and more states, including New Jersey, legalize medical or recreational marijuana, it makes good sense that we provide for independent, science-based research and analysis of current legalization policies and their impacts on communities," she said. "If federal policy-makers are going to be a productive part of the conversation moving forward, it's important that they be informed by objective, evidence-based data."
For now, it is not clear if the Menendez amendment will be debated or receive a vote on the Senate floor before the body finalizes the spending legislation.
Marijuana Moment Patreon supporters can see the full text of Menendez's marijuana study amendment below: