Pro-legalization lawmakers' drug war vote questioned (Newsletter: Feb. 13, 2019)
Kamala Harris under fire for marijuana smoking claim; Senators ask about cannabis at opioids hearing; Study: CBD can help people with substance misuse
Subscribe to receive Marijuana Moment's newsletter in your inbox every weekday morning. It's the best way to make sure you know which cannabis stories are shaping the day.
Your support makes Marijuana Moment possible…

This issue of Marijuana Moment, and our original reporting that is featured in it, are made possible by the generous support of 370 Patreon sponsors. Cannabis industry professionals receive valuable rewards for pledges of $25 and up.

Check out the perks of being a sponsor on our Patreon page.
https://www.patreon.com/marijuanamoment

/ TOP THINGS TO KNOW

Drug policy reform advocates are slamming pro-legalization members of Congress like Reps. Earl Blumenauer (D-OR) and Barbara Lee (D-CA), among others, for supporting an amendment that blocks people with drug felonies from certain employment opportunities.
"House Democrats should be ashamed of themselves for using their new majority to promote Willie Horton politics," the Drug Policy Alliance's top staffer in DC said.
Sen. Kamala Harris (D-CA), a presidential candidate, is being called out for her impossible claim that she smoked marijuana in college while listening to Snoop Dogg and Tupac, who didn't release albums until years later. The episode exemplifies that in 2019, political marijuana scandals no longer have to do with simply whether a candidate consumed cannabis, which in and of itself isn't controversial any more.

A bipartisan group of lawmakers, including Sens. Mitt Romney (R-UT) and Doug Jones (D-AL) raised questions about medical cannabis at a hearing on opioids.

A scientific review sheds light on how CBD can help people with substance use disorders.

/ FEDERAL

Former Attorney General Eric Holder said he he would vote for marijuana legalization if he were a member of Congress, and implied that he lobbied unsuccessfully internally to get the Obama administration to reschedule cannabis.

A federal jury convicted Mexican drug cartel leader Joaquin "El Chapo" Guzman.

The U.S. attorney for the Southern District of West Virginia tweeted, "Marijuana IS a dangerous drug. That's just a fact… Big issue affecting our kids & families."

The U.S. attorney for the Western District of Tennessee cheered the sentencing of an Oregon couple he prosecuted and who had previously appeared on a TV show called "Weed Country," saying, "we are not 'weed country,' and this office will enforce the rule of law by prosecuting marijuana cultivation, distribution, and possession aggressively, consistently, and unapologetically."

Former House Speaker John Boehner (R-OH) is scheduled to speak about marijuana at SXSW next month.

Sen. Kamala Harris (D-CA), a presidential candidate, launched an online petition on legalizing marijuana and sent an email about it to her list.

Sen. Cory Booker (D-NJ), a presidential candidate, tweeted a video featuring a man who was sentenced to life in prison for a nonviolent drug offense but was released under criminal justice reform legislation.

Sen. Ron Wyden (D-OR) tweeted a photo of himself with a printout of the Farm Bill's hemp legalization provisions.

Rep. Paul Gosar (R-AZ) called Democrats' Green New Deal "a socialist fairy tale" and claimed they are trying to "replace six-figure energy jobs with bioenergetic hemp farms and wind-powered coffee shops."

Rep. Earl Blumenauer (D-OR) said he thinks President Trump would probably sign a marijuana reform bill if one reaches his desk.

/ STATES

Virginia Gov. Ralph Northam (D) and the state's attorney general are being asked by local officials and black leaders to issue mass pardons and endorse marijuana decriminalization, respectively, if they choose to remain in office following controversy surrounding revelations that they wore blackface.

Tennessee Gov. Bill Lee (R) is asking lawmakers to "explore alternatives" before legalizing medical cannabis.

Pennsylvania Gov. Tom Wolf (D) launched an online form for people to send feedback about the possible legalization of marijuana.

New Jersey lawmakers are considering dropping demands about the regulatory structure for legal marijuana as a way to end an impasse with Gov. Phil Murphy (D).

Kentucky Gov. Matt Bevin (R) reiterated his willingness to sign a medical cannabis bill.

Nevada Gov. Steve Sisolak (D) announced that the first meeting of the advisory panel tasked with forming a Cannabis Compliance Board will be held on Friday.

Alaska Gov. Mike Dunleavy's (R) two appointments to the state's marijuana regulatory board faced a confirmation hearing.

The Arizona Senate unanimously approved a bill allowing state agencies to share medical cannabis sales data with one another.

The Florida House Health and Human Services Committee approved a bill to let doctors recommend the smoking of pre-rolled filtered medical cannabis cigarettes. A Senate committee also moved to rescind a previously adopted restrictive amendment requiring patients to get approvals from two doctors to be able to smoke medical marijuana. Meanwhile, an appeals court heard arguments in a case that could allow patients to grow their own medicine.

West Virginia delegates defeated an amendment on marijuana rescheduling.

The Washington State Senate Law & Justice Committee held a hearing on a bill to vacate marijuana convictions.

The Minnesota Department of Corrections is being sued over allegedly preventing a man on parole from accessing medical cannabis.

Missouri House Democrats and the Legislative Black Caucus are supporting legislation to expunge marijuana convictions.

Michigan regulators are moving to reduce fees on medical cannabis patients and growers.

Oklahoma regulators redirected staff from a medical cannabis call center to focus on processing licensing applications.

—
Marijuana Moment is already tracking more than 600 cannabis bills in state legislatures and Congress this year. Patreon supporters pledging at least $25/month get access to our interactive maps, charts and hearing calendar so they don't miss any developments.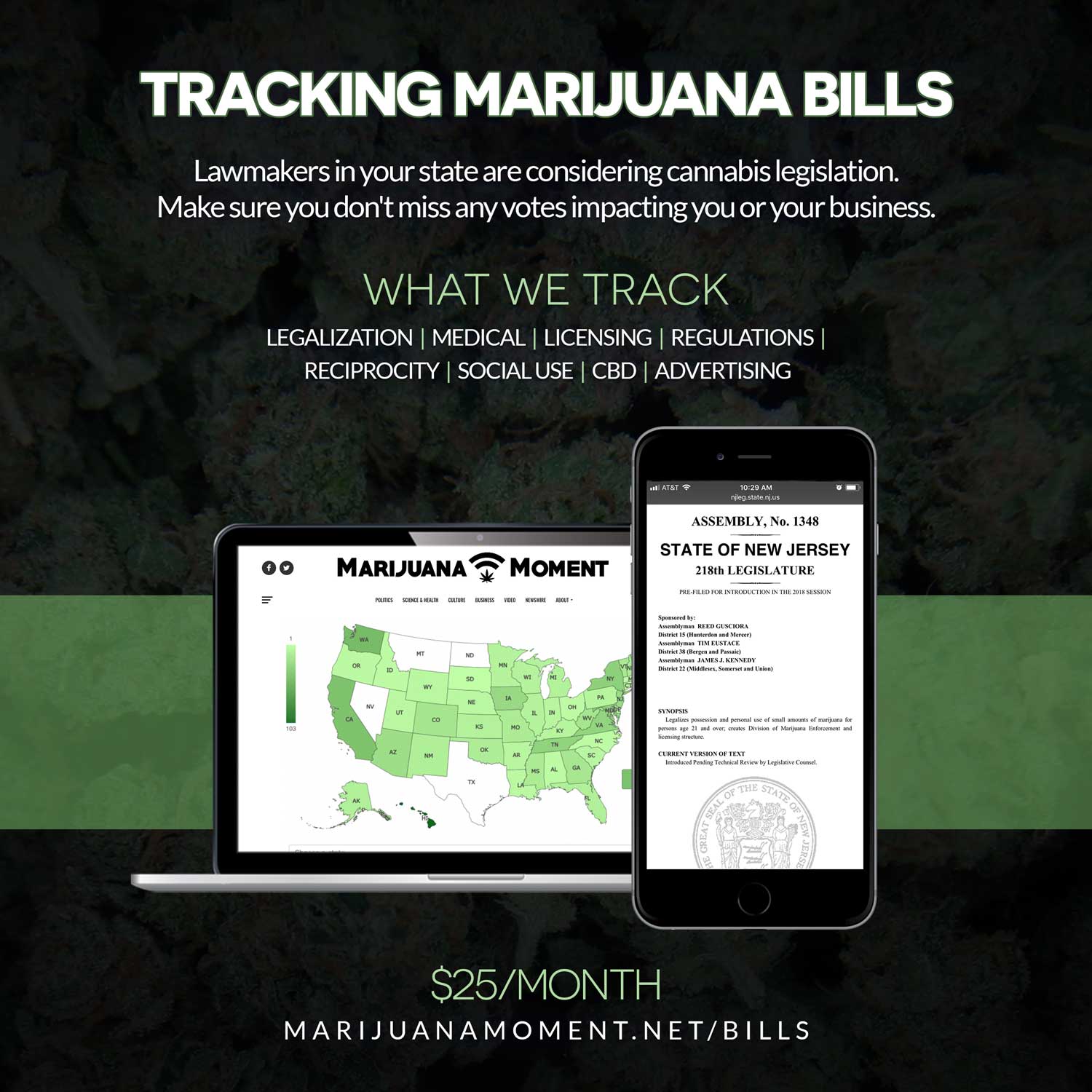 We followed more than 900 pieces of cannabis legislation in 2018. Learn more about our marijuana bill tracker and become a supporter on Patreon to get access.
—
/ LOCAL

Some Chicago, Illinois mayoral candidates are supporting the decriminalization of all drugs as well as opening safe consumption sites for illegal drugs.

Denver, Colorado's mayor tweeted he's "proud of where the marijuana industry has grown from and we're ready to plan the next 5-10 years, including our new cannabis process navigator position to how we can innovate research and more."

Shorewood, Wisconsin trustees are considering lowering the fine for marijuana possession to $1.

The Lawrence, Kansas City Commission is also weighing lowering marijuana possession fines to $1.

/ INTERNATIONAL

Former Mexican President Vicente Fox said he thinks his country will be the next to legalize marijuana.

Indonesian police physically dragged an American man arrested for marijuana possession to a press conference.

/ ADVOCACY

Prohibitionist group Smart Approaches to Marijuana is circulating an alternative "decriminalization" bill to New York lawmakers in an effort to siphon away votes from legalization.

/ SCIENCE & HEALTH

Prescribers' Digital Reference, a source for doctors formerly known as the Physicians' Desk Reference, started listing CBD products for the first time.

/ BUSINESS

MedMen hired Spike Jonze and Jesse Williams to make a short film on the history of marijuana. Separately, the company's CEO reacted to a lawsuit alleging racist and sexist statements and fiscal malfeasance.

Aurora Cannabis's stock dropped after it reported lower quarterly margins stemming from rising costs.

Colorado marijuana dispensary Kind Love is selling eighths to striking Denver Public School employees for a penny.

Colorado retailers have sold more than $6 billion in marijuana products since the launch of legalization in 2014.

Oklahoma medical cannabis dispensaries sold more than $4.3 million worth of products in January.

/ CULTURE

Actor John Leguizamo tweeted, "There's a Senate bill to legalize marijuana. They're calling it S.420, because apparently they want to make stoners giggle more than they want to pass the bill."
Make sure to subscribe to get Marijuana Moment's daily dispatch in your inbox.