Lawmakers Work New Angles To Pass Marijuana Banking Legislation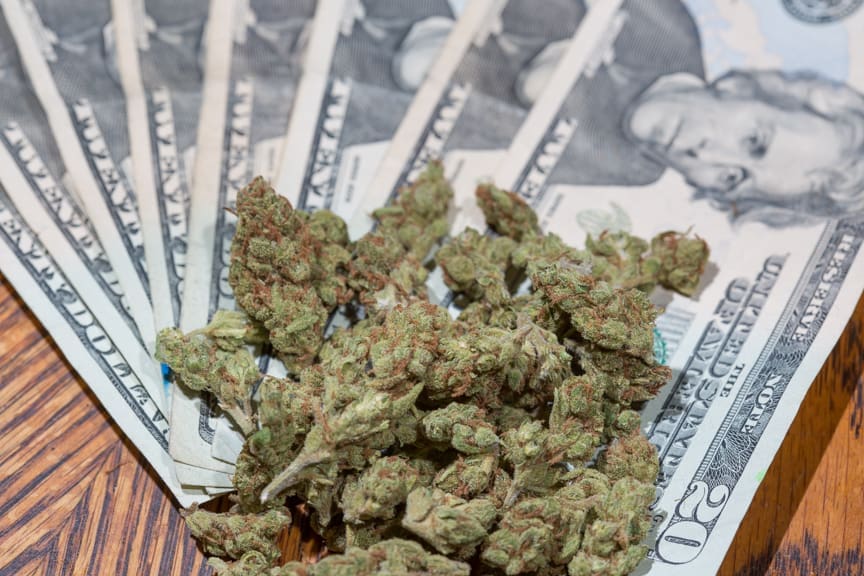 Advocates of expanding marijuana businesses' access to banks are pursuing two new strategies: amending pending standalone legislation to broaden its GOP appeal as well as supporting a separate a rider on the issue that was recently attached to a large-scale appropriations bill.
While lawmakers have primarily focused on the bipartisan standalone bill, which would provide safeguards for banks that service marijuana businesses in states where it's legal, House Democratic leaders released a new version of an annual spending package on Sunday that includes language providing similar protections.
The section in the appropriations bill states that none of the funds it appropriates "may be used to penalize a financial institution solely because the institution provides financial services to an entity that is a manufacturer, a producer, or a person that participates in any business or organized activity that involves handling marijuana, marijuana products, or marijuana proceeds, and engages in such activity" in compliance with state law.
That's not to say that momentum behind the more focused Secure And Fair Enforcement (SAFE) Banking Act is waning. The bill cleared the House Financial Services Committee in March, and it currently has 191 cosponsors, including 23 Republicans, with a floor vote expected within the next several weeks.
Despite its sizable bipartisan appeal in the House, however, its fate in the Republican-controlled Senate has been uncertain.
For one, the chair of the Senate Banking Committee, Sen. Mike Crapo (R-ID) has declined to commit to bringing a companion bill that now has 30 lawmakers signed on to a vote, though some of his Republican colleagues recently told Marijuana Moment that the chair could well come around to giving the legislation a fair hearing. And while Senate Majority Leader Mitch McConnell (R-KY) is a strong proponent of hemp, he remains opposed to more broadly reforming federal cannabis laws.
To sweeten the deal, lawmakers are looking at adding at least two provisions: one would expand the banking protections to businesses marketing hemp and hemp-derived CBD products and the other would block regulators from going after certain businesses such as payday lenders and firearm dealers on the alleged basis that they're common vessels for money laundering.
Politico first reported about the proposals that Rep. Ed Perlmutter (D-CO), the chief sponsor of the marijuana banking bill, is actively discussing with Republicans.
While it's unclear why the hemp protections would be necessary considering that the crop was federally legalized and descheduled under the 2018 Farm Bill, some lawmakers have indicated that uncertainty persists in the hemp market and have sought out added assurances on top of the agriculture legislation.
McConnell, for example, recently inserted a provision securing access to federal crop insurance for hemp farmers into disaster relief funding legislation even though similar language was already included in the Farm Bill that legalized the plant last year. It's possible that he'd be more amenable to the banking legislation if it could help ensure access to financial services for the hemp industry, which is particularly important to Kentucky.
"While it is currently legal for banks to provide services to hemp companies as a result of the recent descheduling from the Controlled Substances Act, given the uncertainty of the marketplace and stringent definition of hemp and its derivatives, it's understandable that increased protections would lead to a more stable economic climate," Justin Strekal, political director for NORML, told Marijuana Moment. "At the end of the day, transparency and certainty is needed, which can only be achieved through thoughtful and effective regulatory climate for both consumers and companies."
Rep. Andy Barr (R-KY), who voted against the cannabis banking bill in committee, told Politico that if the legislation did include the hemp provision, "then that helps me get to a yes."
During a House hearing last month, Barr pressed federal financial officials about hemp businesses' ongoing lack of access to financial services like credit card processing.
On a similar note, Crapo is strongly supportive of preventing regulators from interfering in businesses under the Obama-era "Choke Point" initiative, which many conservatives regard as a politically motivated means of punishing certain sectors—particularly gun sellers and small-dollar lenders.
Standalone legislation to block future programs along those lines passed in a 395 to 2 House vote in 2017.
"Our goal is for SAFE Banking to be a bipartisan slam dunk in the House and build a case that the Senate can no longer ignore this legislation, or this issue," Michael Correia, director of government relations for the National Cannabis Industry Association, told Marijuana Moment. "Successful campaigns are built on consensus and compromise, and we welcome Rep. Perlmutter's efforts to broaden support and find a solution to this critically important safety and accountability issue."
Another potential incentive for those on the fence about the bill comes from the Congressional Budget Office (CBO). The CBO released its score of the banking legislation last month, finding that if passed, it would end up saving the federal government millions of dollars over time.
What happens in the next few weeks and months is not set in stone. But if both or either of the proposed amendments do make their way into the legislation, it's reasonable to assume that the numbers will shift in the bill's favor. And if all else fails, banks could get similar reassurances that they won't be penalized for working with marijuana businesses, at least by the Treasury Department, if the appropriations legislation is approved.
Marijuana Banking Bill Has A Chance In The Senate, Republican Lawmakers Say