Bill Maher's Liberal States' Rights Rant Includes Legal Marijuana
"States' rights" has long been an adage of the political right.
But on Friday's night's episode of his HBO show, "Real Time," liberal comedian Bill Maher spun it around, pointing out that Democratic-leaning states like California are enacting progressive local policies in defiance of the Republican-controlled federal government.
For Maher, that includes marijuana legalization, protections for immigrants and environmental regulations.
"We don't much cotton to when the federal government thinks it knows better how to do things that we do here in our own state," he said, putting on a fake Southern conservative accent that sounded not very much unlike that of U.S. Attorney General Jeff Sessions, an ardent legal cannabis opponent.
"We're just following in a long and hallowed conservative tradition," he said. "It's just that now we're the state that wants to be left alone."
Still image screencapped from HBO's "Real Time" YouTube page.
South By Southwest Fans Choose From Dozens Of Marijuana-Themed Panels For 2019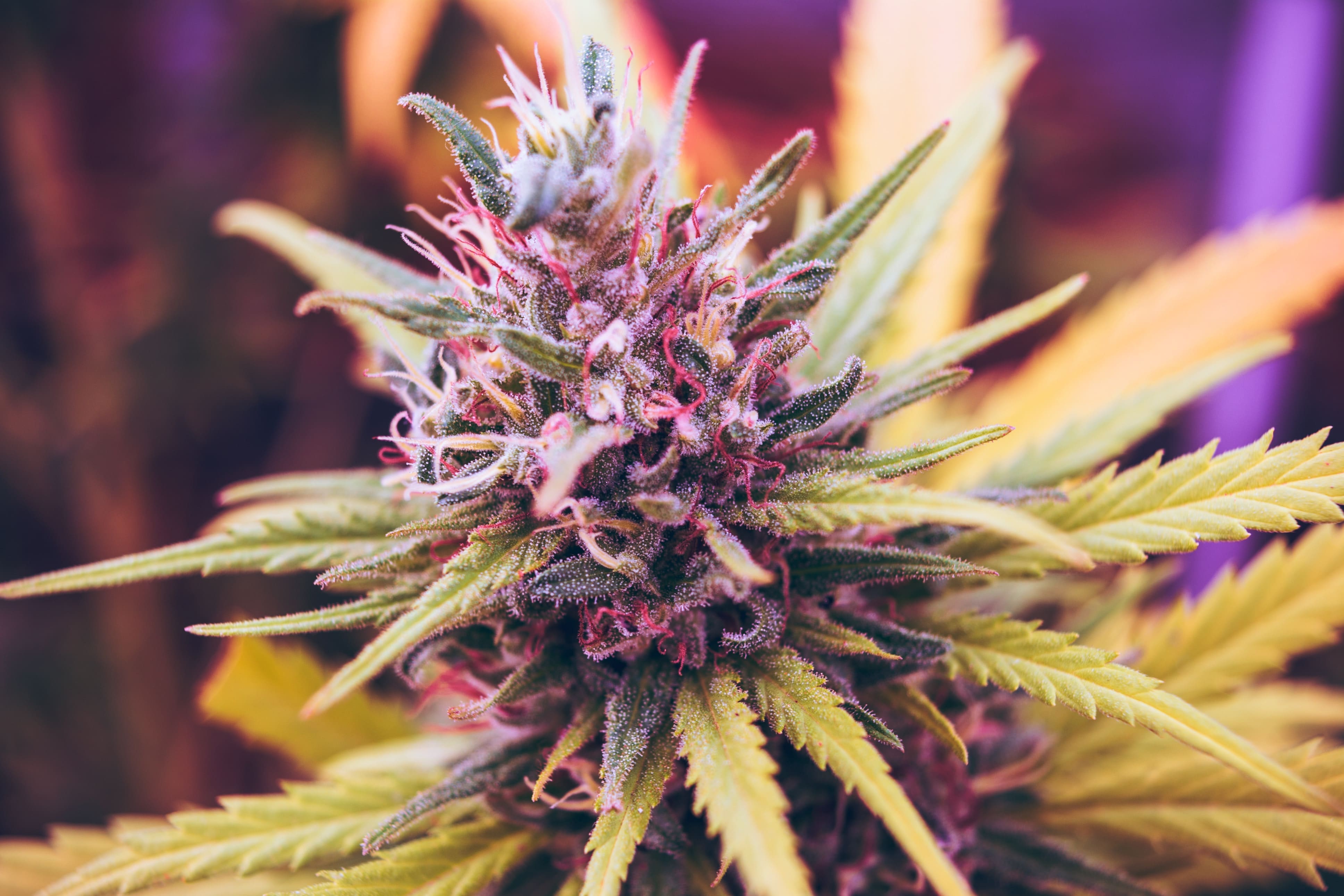 No longer just something smuggled past security on the way in, festival organizers are now actively trying to cash in on growing cultural (and perhaps financial) interest in marijuana.
In Austin, that liberal refuge surrounded by the rest of Texas, the industry will be officially in attendance for the second year in a row at South By Southwest 2019.
Voting is currently open for choosing panels at next year's bacchanal of tech, art and industry. Tracks for next year range from blockchain and cryptocurrency to virtual and augmented reality.
And right now, the SXSW Cannabusiness track has 62 submitted panels to vote on, with such topics as:
Cannabis Research Shackled by Politics Since 1968, organized by noted marijuana researcher Dr. Sue Sisley, will focus on "the abuses of the DEA / NIDA cannabis monopoly."
Breaking the Grass Ceiling: Women, Weed, and Tech will discuss the opportunity for women to lead, and launch companies in, the cross section of marijuana and technology.
Legal Cannabis & Black Male Entrepreneurship lays out the case for why "Black men should be an integral part of the industry to rectify the damage from the drug war."
When Can We All Get High Together? (Legally) features Denver mayoral candidate and cannabis entrepreneur Kayvan Khalatbari and Vicente-Sederberg partner Josh Kappel talking about social use.
There's also a few about repairing the harms caused by the war on drugs, several Texas-specific panels and one more focused on women. There's even Parenting and Cannabis, an expanding issue as more marijuana reform takes place and social attitudes shift. The large majority of proposals, as to be expected, are about starting and running cannabis businesses.
In addition to the 62 categorized under the Cannabusiness track, several other proposed panels in other tracks seem to focus at least partially on marijuana issues. One such panel in the Brands & Marketing track, is about cannabis-based beauty products. Another categorized under Food highlights the flavors and effects of terpenes. And one under Design focuses on the "changing aesthetics of pot."
At this year's SXSW event, in March, there were two panels on cannabis tech, one on the Future of Cannabis, a cannabis health meet up and a panel on the role of marijuana in pro sports led by former NFL player Eben Britton. (Noticeably absent? A social-justice-focused topic.) But considering the 62 panel topics submitted for next year, it seems likely there will be more expansive marijuana discourse at the 2019 event.
The number of contenders to talk pot at next year's SXSW isn't the only sign of rising interest in formal marijuana programming at prominent cultural events. Last weekend in San Francisco, Outside Lands debuted Grass Lands, a "curated cannabis experience" at the 10-year-old music fest in Golden Gate Park. They're "the first major U.S. music festival" to do so, according to an announcement by organizers.
For all its popularity, though, the 2019 SXSW cannabiz track doesn't have nearly as many entries as, say, Intelligent Future (374) or Tech Industry and Expertise (251). But it has considerably more than Touring & Live Experience (25) or Esports Industry (28). Nearly tied is Coding and Development with 61 options.
Through the Community Voting system, participants make a profile so they can cast votes on which panels they want to see next year. Public support only makes up 30 percent of the total programming decision, however, with input from SXSW Staff and the Advisory Board making up the other 30 percent and 40 percent respectively.
Voting on SXSW 2019 panels is open until August 30. SXSW descends on Austin March 8 – 17, 2019.
Cypress Hill Rapper Who Opposed California Legalization Opens A Marijuana Store
On Wednesday, rapper B-Real of Cypress Hill and Prophets of Rage will celebrate the grand opening of his new "Dr. Greenthumb" recreational marijuana dispensary in southern California.
It's the latest stage in what's been a significant evolution for the prominent cannabis-friendly musician, who less than two years ago declared himself opposed to the state's marijuana legalization ballot measure that is making his new venture possible.
In a press release issued Friday advertising "an all day blowout" at Dr. Greenthumb in Sylmar, California, B-Real is described as "a prominent figure at the forefront of cannabis legalization for over two decades."
"We have a lot of history behind us as it relates to music and the pro-legalization movement," B-Real said, according to the statement.
That history includes opposing Proposition 64, which legalized marijuana for adults 21 and over and also paved the way for regulated commercial storefronts like the one B-Real is opening.
In the run-up to the November 2016 election, where Prop. 64—also known as the Adult Use of Marijuana Act—passed with more than 57 percent of the vote, the rapper used social media to agitate against its passage.
These are the lines in between the lines. Read up Cali! People from out of our state have no clue but people in Washington can relate pic.twitter.com/v4rWHLsLLb

— B Real ™ (@B_Real) October 11, 2016

On October 10, 2016, less than a month before Election Day, the rapper shared an image on social media that claimed Prop. 64 "helps keep the drug cartels in business," "sets up HUGE growing operations for rich white people, destroying small businesses" and "turns rights into priviledges" [sic].
"Read up Cali!" B-Real wrote on Twitter, where he posted the image that claimed "This is NOT Legalization. VOTE NO."
B-Real's opposition was similar to anti-legalization messaging coming from other marijuana advocates, many of whom claimed that the measure was a corporate giveaway that would harm small-and-medium producers. At least some of that has come to pass as the cannabis economy adapts in response to the new reality of broader legalization.
But B-Real seems to have adjusted to the new reality almost immediately.
On Election Night, after cannabis ballot measures won in California, Maine, Massachusetts and Nevada, he posted a message of congratulations.
"Although I'm someone that was and is concerned about prop 64, California made history tonight and to that I tip my hat," he wrote.
In an e-mail sent via a spokeswoman in response to Marijuana Moment's questions about B-Real's evolution on California legalization, the rapper took a free-market approach. He opposed Prop. 64 because of legalization's regulations and taxes, he explained.
"I was opposed to it at the time because some of the new regulations and penalties along with overwhelming taxation which seemed to be unfair to smaller businesses," he wrote. "Additionally, a number of other complicated issues that are just now being addressed with new and changing policies. I still think there are things that need further due diligence to give the small business owner a chance at succeeding before the big businesses start to come into play."
A week after the election, B-Real released a record that, according to a press release, "passionately advocates for marijuana legalization across all 50 states."
In promotional material for "Prohibition Part 3," B-Real appeared in a photoshopped image smoking marijuana in public—an act that, were he to do it in real life, is punishable only by a $100 citation thanks to Prop. 64.
And earlier this year, B-Real gave an interview to a New Zealand-based website in which he declared that legalization has "been great."
"For most of us that have been in the culture for a long time, we're just seeing and waiting for more of the regulations to happen to know how it's going to operate officially," he told Under the Radar. "Right now all the rules and regulation aren't implemented and in place so we're just taking it as each day comes and try to be informed and being a step ahead. But it's been great, a lot of people are happier."
Regulated and taxed commercial sales of marijuana began in California on January 1.
B-Real, whose musical repertoire with Cypress Hill includes "Hits from the Bong," "Dr. Greenthumb" has been trying to enter the marijuana-dispensary business since 2015.
In February of that year, he won a lottery drawing to open one of the first medical-cannabis dispensaries in Santa Ana, in Orange County, California.
But by September 2016, shortly before B-Real's public disavowal of marijuana legalization, the dispensary had still yet to open.
Now, thanks to the passage of Amendment 64 over his own objections, B-Real will be able to sell cannabis to adults over 21 years of age regardless of whether they have a doctor's recommendation.
"I never changed that stance, but I do have a brand that myself and my partners have been building for a number years in the cannabis industry aside from my over 20 years of advocacy," B-Real said in his statement to Marijuana Moment about his concerns with the measure. "My intention was always open a shop when the right opportunity presented itself and that we could be fully compilant [sic]. This would ultimately allow me to have a landing place for our brands in the cannabis community for recreation and medicinal consumers."
The rapper also said that he plans to use some of the proceeds from the new retail operation to "give back to the community and create programs for the youth and show the positive impact from the cannabis community and break some of the still existing opposition."
"Good can come from this community and we plan to educate through our example," he said.
Photo courtesy of Festivalsommer // Biha.
Watch Rep. Barbara Lee Talk Marijuana In This Hilarious Comedy Central Appearance
Congresswoman Barbara Lee (D-CA) sat down with Comedy Central host Jim Jeffries this week to talk immigration, the Trump administration and, of course, marijuana.
Despite some overworked munchies jokes from Jeffries, the California representative fired back with sharp wit. After Jeffries mentioned that Lee is protecting the state from President Trump's "stubby little fingers," talk turned to a bill Lee filed earlier this year to shield states that have passed laws to legalize and regulate marijuana from federal interference.
"The federal government needs to stay out of our business," Lee said, touting her the Restraining Excessive Federal Enforcement and Regulations of Cannabis (REFER) Act.
Jeffries joked, "Why don't you call it the REEFER Act?" (Insert sad trombone sound effect here.)
The Congresswoman replied, "If you smoke it's reefer; if you don't, it's refer." Easily one of the best responses from a lawmaker to a lowball pot joke in recent memory.
Did you catch me on the @JefferiesShow last night? I had a blast with @JimJefferies talking marijuana policy, sex education & more. Watch the full interview HERE → https://t.co/AIMdO8MxYQ pic.twitter.com/bZPLq4EcnZ

— Rep. Barbara Lee (@RepBarbaraLee) August 8, 2018
After confirming the lack of an increase in crime since California began allowing recreational marijuana, Jeffries implied Doritos sales are on a sharp upswing. Then he asked the congresswoman if she partakes, and Lee kept the host on his toes by replying, "Do I eat Doritos?" And she followed that with, "I don't even drink wine." A shining example of doing the right thing for public policy despite a lack of any personal proclivity towards cannabis.
It's almost like Lee has heard these jokes a hundred times (spoiler alert: she probably has). But even pushing through the uninspired soft lobs from Jeffries, she shined like the beacon of hope and progress that she is. There's no reason a Comedy Central host should be making tired munchies jokes a la Colorado Governor John Hickenlooper in 2012. But Lee's sharp, woke replies should be an example to us all.
For real, journalists, politicians, talk show hosts, et al.: WE. CAN. DO. BETTER. It's 2018. Worn-out pot puns weren't funny when Colorado and Washington legalized marijuana six years ago and they haven't gotten any funnier since. Next time you see the opportunity for an easy marijuana joke, just don't. I could've said "puff puff pass on using it," but I didn't. See how easy that was? Flex that creative muscle, maybe enjoy some marijuana and give consumers something to really laugh about.
New Congressional Bill Handcuffs Sessions's Marijuana Enforcement
Photo courtesy of Comedy Central.