After Legalizing Marijuana, Colorado Saw 'Significant Decrease' In Opioid Prescriptions, Study Finds
Since Colorado legalized recreational marijuana, the amount of opioid prescriptions for pain fell significantly compared to two states where access to cannabis for adult-use is still illegal, a new study finds.
While a robust body of research has demonstrated a link between legal access to medical marijuana and lower use of opioids, less is known about how broader adult-use laws affect the prescribing rates of pharmaceuticals used for pain management. Researchers at the Geisinger Commonwealth School of Medicine and the University of New England were interested in addressing this gap in the literature.
For their analysis, they chose to compare Colorado with Maryland and Utah based on the fact that those two states are similar to the first-to-legalize jurisdiction in different ways: While Maryland has similar demographics in terms of population size, home ownership, education level and uninsured rates, Utah was the most geographically similar state with comparable Body Mass Index and median household income.
According to the study's findings, which were pre-published on bioRxiv earlier this month and have yet to be peer-reviewed: "Colorado had a larger decrease in opioid distribution after 2012 than Utah or Maryland. Therefore, marijuana could be considered as an alternative treatment for chronic pain and reducing use of opioids."
"There has been a significant decrease in the prescription opioid distribution after the legalization of marijuana in Colorado."
Using data from a federal program managed by the Drug Enforcement Administration to keep an eye on the distribution of certain narcotics, the study's authors looked at the prescription rates from 2007 to 2017 for nine opioid pain medications (oxycodone, fentanyl, morphine, hydrocodone, hydromorphone, oxymorphone, tapentadol, codeine, and meperidine) and two medications used to treat opioid use disorder (methadone and buprenorphine) in the three states. For a baseline comparison, they converted the amount of each drug distributed into what the equivalent would be in a dose of oral morphine in milligrams (MME).
According to the study's analysis, Maryland had the highest amount of total pharmaceuticals distributed during the study period: In 2011, the weight of all 11 opioids peaked at 12,167 kg MME. That amount was more than twice the weight determined in Colorado and Utah, which peaked at 5,029 kg MME in 2012 and 3,429 kg in 2015, respectively. The two narcotics distributed the most in all three states were oxycodone and methadone.
When researchers looked specifically at medications prescribed to help people who misuse opioids—that is, methadone and buprenorphine—they found Utah had cut back by 31 percent over the study period. Colorado and Maryland both increased these prescriptions by 19 percent and 67 percent, respectively.
For pain medications specifically, Utah had lower rates in every year and in every drug compared to Colorado. However, its prescription rate increased by almost 10 percent over time. Meanwhile, Colorado's prescribing rates decreased by approximately 12 percent during the decade studied, while Maryland saw a decrease of 6 percent.
"This finding was particularly notable for opioids indicated predominantly for analgesia such as hydrocodone, morphine and fentanyl."
"Colorado and Maryland experienced an overall decrease in opioid distribution, but Colorado's decrease was larger," the study states. "While the nation as a whole was experiencing a decrease in opioid distribution, it was promising that Colorado's greater decrease gives consideration to the potential impact of recreational marijuana."
It's unclear why Colorado saw such a significant drop in prescriptions for pain medication, but it's hard to ignore the fact that Colorado legalized marijuana for adult use in 2012. Recent research also shows that many customers purchase marijuana from recreational dispensaries for the same reasons medical cannabis patients do: to help with pain and sleep.
There may be other variables at play, however, including guidelines issued by the Centers for Disease Control and Prevention in 2016 to address prescribing narcotics for chronic pain, the study states. Additionally, Maryland lawmakers passed a medical cannabis law in 2013, while Utah voters didn't approve medical access until 2018.
Importantly, the authors say that lawmakers "have the duty" to consider other options to address the opioid crisis, including "marijuana as a treatment option for chronic pain."
"If there is an initial reduction in opioid distributions in states with recreational marijuana laws, it is conceivable that opioid misuse, addiction, and overdose deaths could also fall," they conclude. "Therefore, it may be time to reconsider the practice of automatically discharging patients from pain treatment centers for positive marijuana screens, considering this use might actually reduce their overall opioid use."
Patients Are Substituting Marijuana For Addictive Pharmaceutical Drugs, Two New Studies Show
CBD-Infused Mouthwash Works Better Than Regular Products, Industry Study Shows
Is marijuana the future of mouthwash? Companies racing to develop cannabis-based health products say cannabidiol (CBD) and other cannabis-derived compounds are emerging as promising new tools to prevent oral health issues such as plaque and gingivitis.
In a recent study out of Belgium, researchers reported that cannabinoid-infused mouthwash was just as effective at killing certain plaque-related oral bacteria as chlorhexidine, an active ingredient in many prescription mouthwashes. The cannabinoid mouthwash was also more effective at killing bacteria than two popular over-the-counter products.
Authors said the efficacy of the mouthwashes, which separately contained CBD and cannabigerol (CBG), "demonstrate the potential of cannabinoids in developing efficient and safer mouthwash products and next generation oral care products."
"Most of the reported studies show chlorhexidine containing mouthwash as the most effective mouthwash, however tooth staining is an unacceptable side effect of chlorhexidine," the study says. "Mouthwash products with cannabinoids infusion offer a safer and effective alternative without any fluorides or alcohol."
The study, published late last month in the peer-reviewed Journal of Cannabis Research, evaluated mouthwashes made by CannIBite, a Belgium-based company that develops cannabinoid-based dental products. The company designed and funded by the study, and Veronica Stahl, a dental practitioner and the founder of CannIBite, was one of the two co-authors.
"To our knowledge this is the first report on such efficient mouthwash product with natural key ingredients including cannabinoids and without any kind of fluoride or alcohol."
The products tested do not include THC, the main intoxicating ingredient in marijuana.
Traditional mouthwashes serve a variety of purposes. Most freshen breath, and simple swishing (even with water alone) can remove food and other particles stuck between teeth.
A major reason for using mouthwash is to reduce harmful oral bacteria that can build up and cause problems such as plaque and gingivitis. As the study notes, chlorhexidine is considered the industry-standard microbial rinse, and people with periodontal diseases are frequently prescribed mouthwashes containing the drug, though some evidence suggests it can also pose health threats by disrupting beneficial bacteria.
In any case, mouthwash today is a multibillion-dollar industry, and companies that make cannabis-derived health products now want a piece of it.
In the study, oral bacteria from plaque samples of 72 adults were grown in a lab and then treated with fives different mouthwashes: a solution of 0.2 percent chlorhexidine, a solution with CBD and spearmint oil, a solution with CBG and spearmint oil, and two common over-the-counter products—one with essential oils and alcohol as well as an alcohol-free mouthwash with fluoride. After periods of either 24 or 36 hours, the samples were measured to see how the mouthwashes affected bacterial growth.
Results of the experiment indicated that the two cannabinoid-infused mouthwashes significantly inhibited the growth of bacteria—on par with the chlorhexidine. The two over-the-counter mouthwashes, meanwhile, had little to no detectable effect.
"Cannabinoids (CBD / CBG) infused mouthwashes together with other natural key ingredients shows promising bactericidal activity in vitro against total-culturable aerobic bacterial content in dental plaque," the study says, "with efficiency equivalent to or better than that of the gold standard (0.2% chlorhexidine)."
"Cannabinoid infused mouthwash products perform equal or better than that of chlorhexidine 0.2%"
Photos of agar plates published along with the study underscore the findings. Areas treated with cannabinoid mouthwashes or the chlorhexidine solution appear as circles free of visible bacteria. Samples treated with over-the-counter mouthwashes are covered in a filmy, speckled haze.
Given that chlorhexidine has side effects including tooth discoloration, the study says, cannabinoid-based mouthwashes could offer appealing alternatives that are more effective at killing germs than over-the-counter products.
"Based on our in vitro study, the cannabinoids infused CannIBite mouthwash products offer a much safer, efficient and natural alternative to alcohol and/or fluoride containing mouthwashes," the authors wrote. "It will be interesting to study the in vivo performance of CannIBite mouthwash products in future to examine for other properties such as tooth discoloration and to examine the oral health benefits."
CannIBite, which also makes toothpaste and a "protective oral spray," has patents pending for the application of cannabinoids in dental care. But the company is hardly alone in trying to capitalize on cannabis in oral hygiene. Other companies, such as Impression Healthcare in Australia and San Diego-based Axim Biotechnologies, which also make cannabis-based oral-care products, are testing CBD toothpaste and mouthwash formulas of their own.
John W. Huemoeller II, CEO of Axim, told Forbes last month that "CBD is a powerful antibiotic and anti-inflammatory, so we have found it has great benefits in relation to oral care after year of offering our patented CBD-based chewing gum."
With companies scrambling to roll out new products to curious customers, it could be only a matter of time before more cannabinoid-based dental products make their way to store shelves.
"As CBD comes to light as a health supplement with a range of potential treatments," Huemoeller said, "the FDA is already feeling the pressure from the CBD industry and its consumers to allow the non-psychoactive compound to be added into foods and beverages."
FDA Notifies Public About Recall Of CBD Product That Tested High For Lead
Photo courtesy of Chris Wallis // Side Pocket Images
'Lazy Stoner' Stereotype Smashed By Study Finding Marijuana Consumers Exercise More
Does marijuana ruin an exercise routine? You might be surprised. A new study of older Americans found that cannabis consumers tended to do more formal exercise and engage in more physical activities than non-consumers during the course of a four-month trial.
While authors cautioned the findings are preliminary, they contribute to a growing body of evidence challenging the lazy-stoner stereotype.
"Compared to older adult nonusers," says the study, out of the University of Colorado at Boulder, "older adult cannabis users had lower [body mass index] at the beginning of an exercise intervention study, engaged in more weekly exercise days during the intervention, and were engaging in more exercise-related activities at the conclusion of the intervention."
In other words, not only were adults over 60 who used marijuana generally in better shape than their peers who abstained from cannabis, they were also more responsive to an assigned four-month "exercise intervention trial"—essentially a regimen of physical activity prescribed by a clinician.
"These findings suggest that it may be easier for older adults who endorse using cannabis to increase and maintain their exercise behavior, potentially because cannabis users have lower body weight than their non-using peers," wrote the study's authors, a team at CU's Department of Neuroscience and Psychology. "At minimum, the evidence suggests that cannabis use does not hinder older adults' ability to engage in physical activity, to participate in a supervised exercise program, or to increase their fitness as a result of physical activity."
"In this study, current cannabis use was associated with lower BMI and more exercise behavior in healthy older adults wishing to increase their physical activity."
Researchers said the analysis, published this month, is especially important because more and more older Americans are consuming marijuana for medical or personal use. "Adults over the age of 50," the study notes, "are the fastest-growing population of cannabis consumers in the US, with national prevalence rates estimated at up to 9.1% in 2013." Of that group, people 65 and older showed even greater increases in use.
While those numbers may be several years old, the trend of rising marijuana use among older adults has continued.
"We haven't seen a big spike in consumption" across most age groups, then-Colorado Gov. John Hickenlooper (D) told Rolling Stone in 2018. "The only increase in consumption is among senior citizens, which we think is either Baby Boomers coming home to roost or arthritis and the aches and pains of growing older—people finding that marijuana is better pain solution than opioids or other things."
Yet with so many older Americans failing to meet recommended daily activity levels, the researchers in the new study wanted to better understand how cannabis might affect exercise routines.
"Given the plethora of negative health consequences associated with inactivity and the protective factors associated with exercise," they wrote, "efforts must be made to understand factors, like cannabis use, that may affect older adults' engagement in exercise."
The study looked at American adults age 60 and older who researchers classified as sedentary, defined as completing less than 80 minutes of moderate physical activity per week. Some were assigned to a training program of moderate physical activity, while others were put in a program with low-intensity exercises. A total of 164 participants completed the study through the eight-week checkpoint, with 153 making it through the 16-week timepoint.
Researchers measured participants' body mass index (BMI) and other health parameters at the beginning, midpoint and end of the study period. Participants also self-reported their exercise behavior in journals. All participants' exercise programs included supervised training at the research facility three days per week, the paper notes. "Thus, we would expect both groups to be exercising a minimum of 3 days per week."
"These preliminary data suggest that current cannabis use status is not associated with a negative impact on fitness and efforts to increase exercise in sedentary older adults."
Researchers admit they're not entirely sure why cannabis use is associated with lower BMI scores or why people who consumed marijuana were better at sticking to their workout schedules. "Future work," the paper says, "should employ methods that allow for a target exploration of the mechanisms by which cannabis might be associated with exercise, be it via lower body weight, increased enjoyment, decreased pain, or faster recovery." All of those potential factors, the team noted, have been hinted at by existing research.
A separate study out of the University of Colorado published last year found that a majority of marijuana consumers reported that cannabis use before or after exercising improves the experience and aids recovery.
The new study highlights an association between cannabis use and exercise, but it leaves many questions unanswered. Researchers didn't ask participants, for example, about whether they used marijuana before, during or after their exercise. And the study's measure of cannabis use, the authors wrote, "was coarse and lacked detail," such as how often and how much marijuana each participant consumed.
"We did not query what form of administration (ie, smoked, vaporized, edible, topical) or cannabinoid content (ie, THC and/or CBD potency) was used," the study says. "We also did not query whether users' perceptions of any relationship between cannabis use and exercise, such as increased enjoyment of and/or recovery from exercise, or decreased perceptions of pain, might be driving the association between cannabis group membership and exercise."
Nor did the researchers ask participants about any negative side-effects of their marijuana use.
Limitations aside, the researchers argue that their findings should encourage further research into how marijuana and exercise might coexist. "It may be that different types of exercise, such as those that that require minimal fine motor coordination or present low injury risk, might be most positively associated with cannabis use," they write.
Perhaps most optimistically, the authors suggest cannabis could even be used to encourage older adults to stay active. "Whereas the results are preliminary," the study says, "with both more extensive and rigorous additional research needed, the discovery of a role for cannabis as a potential facilitator of physical activity among older adults may hold promise."
The paper begins on page 420 of the July edition of the American Journal on Health Behavior.
Study Finds Marijuana Motivates People To Exercise, Smashing Lazy Stoner Stereotype
Photo courtesy of the Drug Policy Alliance, Sonya Yruel.
Military Invests $27M To Develop New Class Of Psychedelics-Inspired Drugs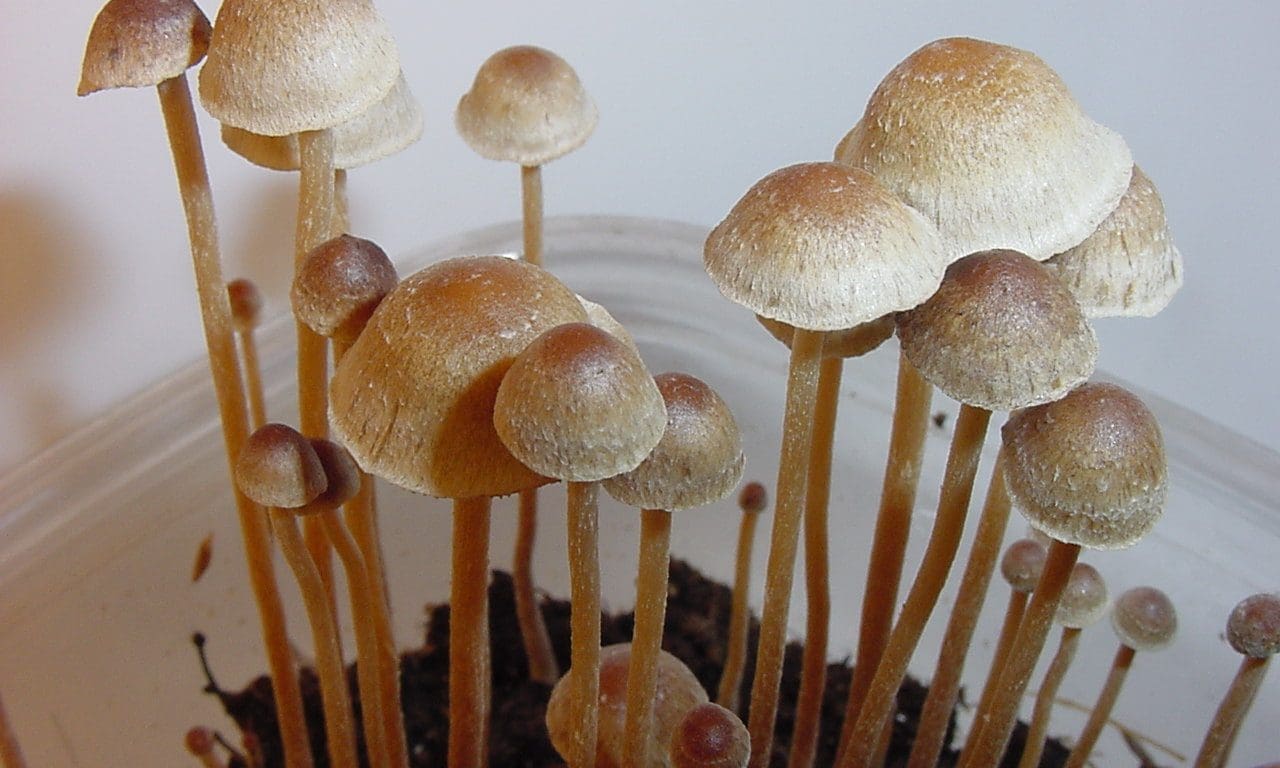 The successful use of controlled substances such as ketamine and psilocybin mushrooms to treat mental health issues like depression and anxiety has ushered in a new era of interest in psychedelic drugs. But for researchers and clinicians eager to expand such therapies, an obvious question remains: Does treatment with psychedelics necessarily require a psychedelic experience?
An international research team hopes to answer that question by researching and developing a new class of drugs that offers the same fast-acting mental health benefits as traditional psychedelics without the disorienting, sometimes uncomfortable effects of a full-blown trip. Funded by $26.9 million from the U.S. Department of Defense's Defense Advanced Research Projects Agency (DARPA), a new project announced this month "aims to create new medications to effectively and rapidly treat depression, anxiety, and substance abuse without major side effects," according to a University of North Carolina (UNC) School of Medicine press release.
"Although drugs like ketamine and potentially psilocybin have rapid antidepressant actions, their hallucinogenic, addictive, and disorienting side effects make their clinical use limited," said Bryan L. Roth, a professor of pharmacology at UNC School of Medicine and the research project's leader. "Our team has developed innovative methods and technologies to overcome these limitations with the goal of creating better medications to treat these neuropsychiatric conditions."
Research into the possible therapeutic effects of currently illicit drugs such as ketamine, psilocybin, MDMA and others has expanded tremendously during the past decade. Nonprofit groups such as the Multidisciplinary Association for Psychedelic Studies have led the way, with university researchers and drugmakers entering the mix more recently.
In September of last year, Johns Hopkins University announced the launch of the nation's first-ever psychedelic research center, a $17-million project to study the use of psychedelics to treat conditions such as opioid use disorder, Alzheimer's disease, depression, anxiety and post-traumatic stress disorder (PTSD).
Government interest in psychedelic drugs has also grown. Also in September, DARPA, a federal agency that exists to support the development of emerging technologies for use by the U.S. military, announced its Focused Pharma program, meant to develop drugs "that work quickly and deliver lasting remedies for conditions such as chronic depression and post-traumatic stress."
While that DARPA announcement didn't mention specific substances or even use the word "psychedelics," it referred to "certain Schedule 1 controlled drugs that engage serotonin receptors" and that have "significant side effects, including hallucination."
The press release for the new DARPA-funded project, lead by Roth at UNC, mentions ketamine and psilocybin specifically. The team will use both biological modeling and sophisticated computational approaches in an effort to design fast-acting drugs inspired by psychedelics but free from what researchers call "disabling side effects."
"Depression, anxiety, and substance abuse affect large segments of the population," Roth said. "Rapidly acting drugs with antidepressant, anti-anxiety, and anti-addictive potential devoid of disabling side effects do not exist, not even as experimental compounds for use in animals. Creating such compounds would change the way we treat millions of people around the world suffering from these serious and life-threatening conditions."
At DARPA, Dr. Tristan McClure-Begley, Focused Pharma's program manager, said last fall that the agency's interest in developing such drugs is due to the country's large number of veterans with PTSD and other mental health conditions.
"It is research we need to undertake given the scale of the mental health crisis our veterans face," he said in September, "and if it works, the payoff is a completely new, safe, and effective therapeutic option that transforms complex and previously intractable mental conditions into something more acutely treatable."
Along with Roth at UNC Chapel Hill, the newly announced research project includes members Georgios Skiniotis and Ron Dror of Stanford University, Jian Jin of Icahn School of Medicine at Mt. Sinai, Brian Shoichet and Nevan Krogan of University of California at San Francisco and William Wetsel of Duke University.
Do Highly Potent Marijuana Concentrates Get Users More High? Not Exactly, Study Finds
Photo courtesy of Wikimedia/Workman