Chris Christie's Supreme Court Gambling Case Could Impact Marijuana Laws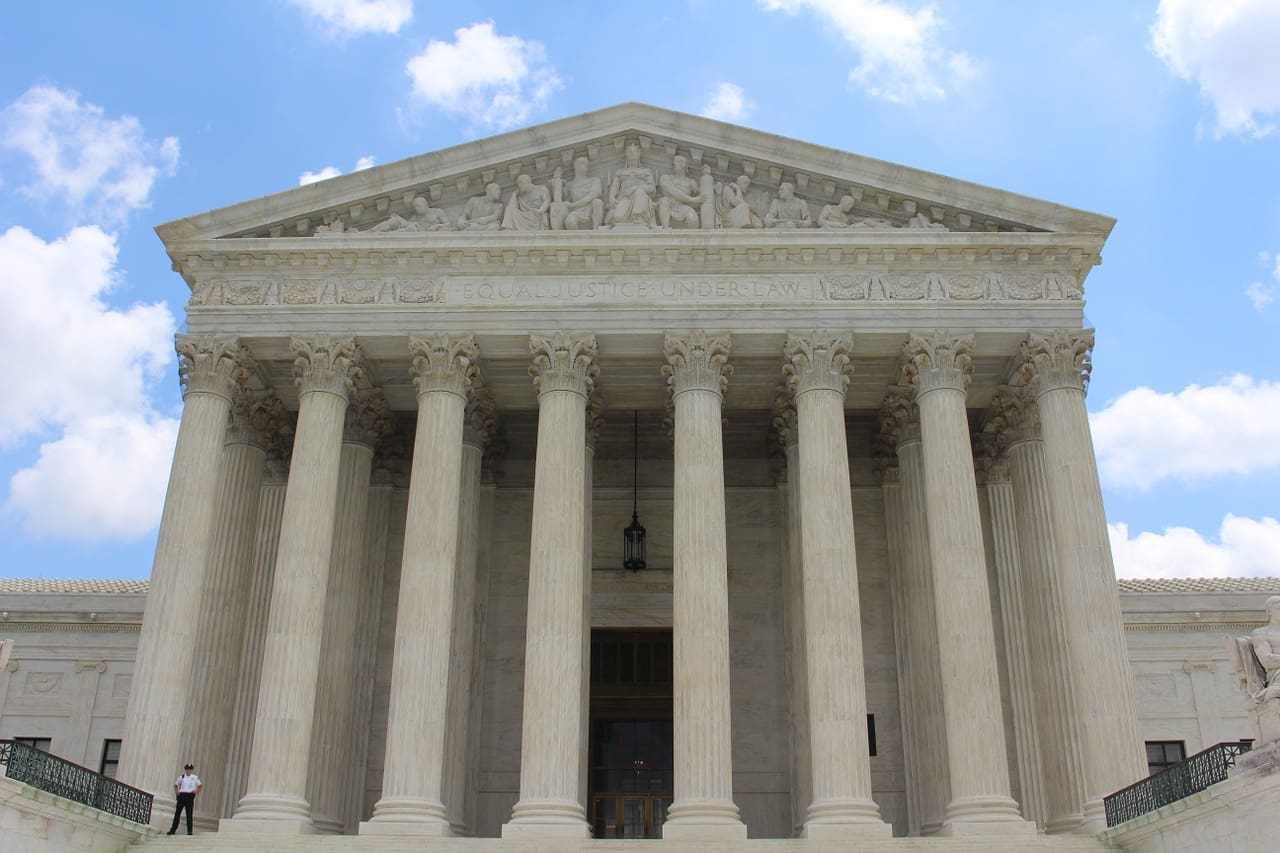 A case being heard by the U.S. Supreme Court on Monday could have huge implications for the ability of states to legalize marijuana.
The case, Christie v. NCAA, centers on whether the Constitution's anti-commandeering doctrine prevents the federal government from forcing states to keep prohibitions of certain federally- proscribed activities on their own lawbooks.
It began when New Jersey voters approved a 2011 ballot measure to legalize sports gambling. The following year, state lawmakers enacted legislation to regulate and license sports wagering at casinos and racetracks.
But the National Collegiate Athletic Association (NCAA) and four professional sports leagues sued, alleging that the state law violated a federal statute, the Professional and Amateur Sports Protection Act (PASPA). That law, enacted by Congress in 1992, prohibits states and local governments from licensing or otherwise authorizing betting on amateur or professional team sports. (It exempted prior state gambling schemes, namely the one that exists in Nevada.)
The U.S. Court of Appeals for the Third Circuit ruled for the sports leagues in 2013, interpreting PASPA to bar states from affirmatively licensing or permitting sports betting but not necessarily from merely repealing their own state prohibitions on gambling.
The Supreme Court rejected New Jersey's request to hear the case on appeal, so the state enacted a new law that deleted its own prohibitions on certain gambling activities without enacting a new authorization or licensing scheme to regulate betting.
The leagues filed suit again, against the narrower revised law. Once more, the Third Circuit agreed, ruling in 2016 that PASPA prevents states from repealing their own sports gambling prohibitions in addition to blocking them from affirmatively licensing the activity.
The court essentially ruled that the Constitution's anti-commandeering doctrine only prohibits the federal government from compelling states to adopt and enforce new policies and "does not command states to take any affirmative actions." In this way, the court reasoned, it's constitutional for the federal government to block states from amending policies they had previously adopted.
New Jersey appealed the case again, and this time the Supreme Court agreed to hear it. Oral arguments are scheduled for Monday morning and, although the statute in question concerns gambling, the outcome of the case could potentially throw up a huge roadblock to future state marijuana legalization efforts.
If the high court agrees with the Third Circuit, "the federal government may be able to regulate other areas like recreational marijuana…by freezing existing state laws in place, instead of through direct federal regulation," according to the Congressional Research Service.
Sam Kamin, who serves as the Vicente Sederberg Professor of Marijuana Law and Policy at the University of Denver's Sturm College of Law, filed an amicus brief in the case along with other law professors, arguing that the Supreme Court should rule in favor of New Jersey. He told Marijuana Moment that the Third Circuit's ruling is "shockingly wrong."
"If the federal government can make the states pass laws, or keep laws that its citizens hate on the books, the core promise of anti-commandeering is a lie," he said. "The point is that the citizens should be able to express their views through their state governments and should be able to remove those elected officials who are not working on their behalf. When the federal government meddles in this process, it muddies the waters and stifles the will of the voters."
That said, if the Supreme Court rules for the sports leagues in favor of the federal gambling law's broad reach, it wouldn't automatically invalidate state marijuana laws. Rather, Congress would then be empowered to pass a new law, broader than the current Controlled Substances Act (CSA), that requires states to keep cannabis prohibitions on the books.
Under the CSA as currently written, Congress specifically says it doesn't intend to "occupy the field" when it comes to drug policies, "including criminal penalties, to the exclusion of any State law on the same subject matter which would otherwise be within the authority of the State…" Instead, the CSA only seeks to preempt state laws that are so inconsistent with its provisions that the two cannot stand together.
Legalization supporters will likely take comfort that in the current political climate — in which a growing number of states are ending prohibition and polls continue to show growing bipartisan voter support for reform — it would be difficult for congressional marijuana opponents to form a majority of lawmakers in support of a new affirmative prohibition to punish states that dare to enact popular cannabis laws.
(That's of course separate from the issue of congressional leadership blocking measures to reform current federal marijuana laws, an issue which has become more prominent as the House Rules Committee, for example, has repeatedly prevented cannabis amendments from being considered on the floor over the course of the past year.)
It is more than a little ironic that New Jersey Gov. Chris Christie (R), an ardent and vocal legalization opponent, is bringing a case in defense of states' rights to enact their own laws which could have implications for cannabis policy.
During the course of his failed presidential campaign last year, Christie consistently pledged that if elected he would enforce federal marijuana prohibition even in states that have opted to legalize the drugs.
But in New Jersey's petition asking the Supreme Court to take up the case, the state makes a point to raise concern about the case's potential to block state marijuana reforms.
"If Congress can freeze in place existing state laws by prohibiting contrary state-law 'authorizations,' then the federal government can effectively force States to enact federal policies and thus will have greatly aggrandized its own power while foisting accountability for those policies entirely onto the States. Future efforts by States to legalize private conduct currently prohibited by state law—anything from recreational use of marijuana, to carrying concealed firearms, to working on Sundays—can be thwarted not just by a direct federally enforced prohibition of that conduct, but now also by a federal ban on state legislation that 'authorizes' such conduct. This is not a minor intrusion on state sovereignty. It is a sea change to our system of federalism. This Court should grant the petition to protect the Constitution's carefully calibrated federal-state design and restore the balance between state and federal power that the Third Circuit's decision has so thoroughly upended."
…
"If the Third Circuit's construction of 'authoriz[ation] by law' in PASPA as forbidding an undefined array of repeals is upheld, it is not difficult to imagine other examples in which Congress could dictate policy outcomes in States without ever having to legislate directly. Rather than enact gun control measures of its own, for example, Congress could prohibit States from relaxing existing restrictions on the purchase of firearms by particular persons. Or, no longer willing to expend the resources to police limitations on the usage of marijuana, Congress could repeal its own prohibitions on the use and sale of marijuana and instead prohibit States from repealing their own restrictions by enacting a PASPA-like law that prohibits States from authorizing the sale or use of marijuana 'by law.' Because few States would accept the choice of having totally unregulated gun possession or marijuana usage, Congress could achieve its policy objectives of stopping the spread of firearms or marijuana use even as it sets up the federal government's own exit from those fields of regulation."
The Trump administration, in a brief from its acting solicitor general filed in May, urged the Supreme Court not to take up the case.
A decision is expected sometime before next summer.
Vermont Governor Signs Marijuana Legalization Into Law
Vermont is officially the ninth state to legalize marijuana, and the first to end cannabis prohibition through an act of lawmakers.
On Monday, Gov. Phil Scott signed the legalization bill into law.
Please visit Forbes to read the rest of this piece.
(Marijuana Moment's editor provides some content to Forbes via a temporary exclusive publishing license arrangement.)
Photo courtesy of Harshil Shah.
State Lawmakers Push Back On Federal Anti-Marijuana Moves
This month the Trump administration tore up Obama-era guidance that has generally allowed states to implement their own marijuana laws without federal interference.
But states aren't taking the change sitting down.
On Monday, Vermont Gov. Phil Scott (R) signed into law a cannabis legalization bill that legislators in his state approved just hours after U.S. Attorney General Jeff Sessions rescinded the federal marijuana protections.
New Hampshire's House of Representatives also approved a legalization bill days after the Sessions move.
And in a number of other states, lawmakers have filed legislation or resolutions forcefully pushing back on what they see as a federal attack on their marijuana policy prerogatives.
In Arizona, California, Massachusetts and Washington State, lawmakers are considering bills to prevent state and local officials from assisting federal agents in any actions against legal marijuana businesses, effectively making them "sanctuary states" for cannabis.
On Friday, Hawaii senators introduced a bill claiming that "federal scheduling of cannabis as a controlled substance does not apply to the medical use of cannabis in Hawaii because the medical use of cannabis in Hawaii is currently accepted medical use in treatment in the United States."
It is unclear how the U.S. Department of Justice would react to the state measure, which obviously does not have the power to change marijuana's status under federal law.
But the claim by Hawaii lawmakers — as well as the other state bills to strip the federal government of any help it might hope for in moving against marijuana businesses and consumers — are just a small number of examples showing that local elected officials are prepared to strenuously oppose any cannabis crackdown that Sessions may launch.
Several state legislatures are also considering nonbinding resolutions that express the will of lawmakers that Trump administration should not interfere with local cannabis laws.
For example, last week, Iowa representatives filed a resolution calling on the federal government to reschedule marijuana.
Pennsylvania senators introduced a measure asking Congress to change gun laws to protect the Second Amendment rights of medical cannabis patients.
In Michigan, a pending resolution urges Sessions to "respect the people of Michigan's constitutionally-protected right to regulate medical marihuana at the state level," adding: "if he fails to do so, we call upon the President of the United States to replace him with a successor who will more faithfully fulfill this constitutional duty."
An Alaska measure asks the Trump administration to "forbear any federal interference in marijuana policy of states where marijuana has been legalized."
In Illinois, lawmakers concerned with the marijuana industry's banking access issues are pushing a resolution urging Congress to "amend federal law to provide immunity from federal prosecution and regulatory protections for financial institutions legally providing services to cannabis-related businesses, licensees, and consumers pursuant to applicable state law."
A more modest South Carolina Senate resolution wants Congress to remove "federal statutory and regulatory barriers that prevent" research on marijuana.
Kentucky representatives filed a measure asking Congress to remove hemp from the Controlled Substances Act, prevent the Drug Enforcement Administration from sending "agents onto farms and other sites where hemp is being grown, stored, and processed" and instruct the Food and Drug Administration to "accelerate clinical trials and other research on the health effects of cannabidiol (CBD) and other cannabinoids found in hemp."
Georgia representatives want the feds to "reclassify marijuana so that its medical benefits and effects may be further researched."
A New Jersey resolution asks Congress to pass laws "that are fair and compassionate, permit states to set their own medical marijuana policies without federal interference, and make marijuana accessible to the millions of Americans who would benefit from its medicinal properties."
A New Mexico representative wants his colleagues to approve a measure mandating that "formal request be made to the New Mexico congressional delegation to create new legislation protecting medicinal cannabis users in New Mexico from the threat of being sent to federal prison."
California lawmakers already passed a resolution late last year urging federal legislators to reschedule marijuana "from a Schedule I drug to an alternative schedule, therefore allowing the legal research and development of marijuana or cannabis for medical use and allowing for the legal commerce of marijuana or cannabis so that businesses dealing with marijuana or cannabis can use traditional banks or financial institutions for their banking needs." Now, they are considering a separate measure sending a message to federal prosecutors that "the enforcement priorities of the United States Department of Justice should not be undeservedly placed on California's lawful and closely regulated cannabis industry."
The state bills and resolutions are just one lens through which to view the overwhelming unpopularity of the Trump administration's move to undo state marijuana protections.
A large number of members of Congress from both parties also swiftly slammed the decision, and several national polls showed that voters strongly support the right of states to set their own cannabis laws without federal interference.
Bipartisan Lawmakers Push For Marijuana Protections In Funding Bill
Rand Paul Pushes Marijuana Amendments On Funding Bill
As Congress works to end a federal government shutdown that began at midnight on Friday, a Republican senator is trying to insert marijuana into the process.
Sen. Rand Paul of Kentucky has filed two far-reaching cannabis amendments that he wants to be part of a deal to reopen the government.
One measure would prevent the Justice Department from interfering with state recreational legalization and medical cannabis laws, a big concern in the wake of U.S. Attorney General Jeff Sessions's recent rescission of Obama-era guidance that has generally allowed local marijuana policies to be implemented without federal harassment:
                                ______
                                 
  SA 1910. Mr. PAUL submitted an amendment intended to be proposed by 
him to the bill H.R. 195, to amend title 44, United States Code, to 
restrict the distribution of free printed copies of the Federal 
Register to Members of Congress and other officers and employees of the 
United States, and for other purposes; which was ordered to lie on the 
table; as follows:

       At the appropriate place, insert the following:
       Sec. __.  None of the funds made available by this Act to 
     the Department of Justice may be used, with respect to any of 
     the States of Alabama, Alaska, Arizona, Arkansas, California, 
     Colorado, Connecticut, Delaware, Florida, Georgia, Hawaii, 
     Illinois, Iowa, Kentucky, Louisiana, Maine, Maryland, 
     Massachusetts, Michigan, Minnesota, Mississippi, Missouri, 
     Montana, Nevada, New Hampshire, New Jersey, New Mexico, New 
     York, North Carolina, North Dakota, Ohio, Oklahoma, Oregon, 
     Pennsylvania, Rhode Island, South Carolina, Tennessee, Texas, 
     Utah, Vermont, Virginia, Washington, West Virginia, 
     Wisconsin, and Wyoming, to prevent the State from 
     implementing State laws that authorize the use, distribution, 
     possession, or cultivation of marijuana on non-Federal lands 
     within the respective jurisdiction of the State.
                                 ______

Paul's other amendment concerns the ability of banks to open accounts for marijuana businesses without running afoul of federal regulators:
                                ______
                                 
  SA 1909. Mr. PAUL submitted an amendment intended to be proposed by 
him to the bill H.R. 195, to amend title 44, United States Code, to 
restrict the distribution of free printed copies of the Federal 
Register to Members of Congress and other officers and employees of the 
United States, and for other purposes; which was ordered to lie on the 
table; as follows:

       At the appropriate place, insert the following:
       Sec. __.  None of the funds made available by this Act may 
     be used by the Department of Justice for activities that are 
     not in compliance with the February 14, 2014, Department of 
     Justice memorandum from James M. Cole, Deputy Attorney 
     General, entitled ''Guidance Regarding Marijuana Financial 
     Crimes'', and the memoranda incorporated therein.
                                 ______
A top Treasury Department official testified before senators this week that the Trump administration is currently weighing whether to tear up an Obama-era memo on cannabis banking in line with Sessions's move to rescind the broader Justice Department guidance on state marijuana laws.
It is unclear if either of Paul's amendments will actually be considered and voted on as part of a deal to re-open the federal government following the Friday shutdown.
The lapse in spending legislation has put medical cannabis patients and providers at greater risk because an existing protection preventing the Justice Department from undermining medical marijuana laws has now expired, but drug enforcement has not. Under a federal contingency plan, anti-drug agents and prosecutors are exempt from furlough.
If Congress passes another bill to fund the government, the medical cannabis protections will go back into effect through whatever date to which the legislation continues spending levels. People complying with broader full-scale marijuana legalization laws will remain at risk of federal enforcement actions, however, unless Paul's relevant amendment is adopted.
Earlier this week, House leaders effectively blocked an amendment to protect state marijuana laws from federal interference from being considered on the floor.
Photo courtesy of Gage Skidmore.